Stuff
I will be getting up early on Thursday to get ready for my pre-audit meeting with my wonderful accountant. He is driving over from Largo. Next Wednesday Jim will be re-tracing his route when he drives me to the audit in Clearwater. I made time for a swim and an ice bath on Wednesday.
This blog post took about an hour to prepare; it should be published automatically at 6am on Thursday, September 24, 2015. Please remember to use my B&H affiliate links for your major gear purchases; online orders only; no phone orders. Won't cost you a penny! And helps me out tremendously. Many thanks for considering this important request.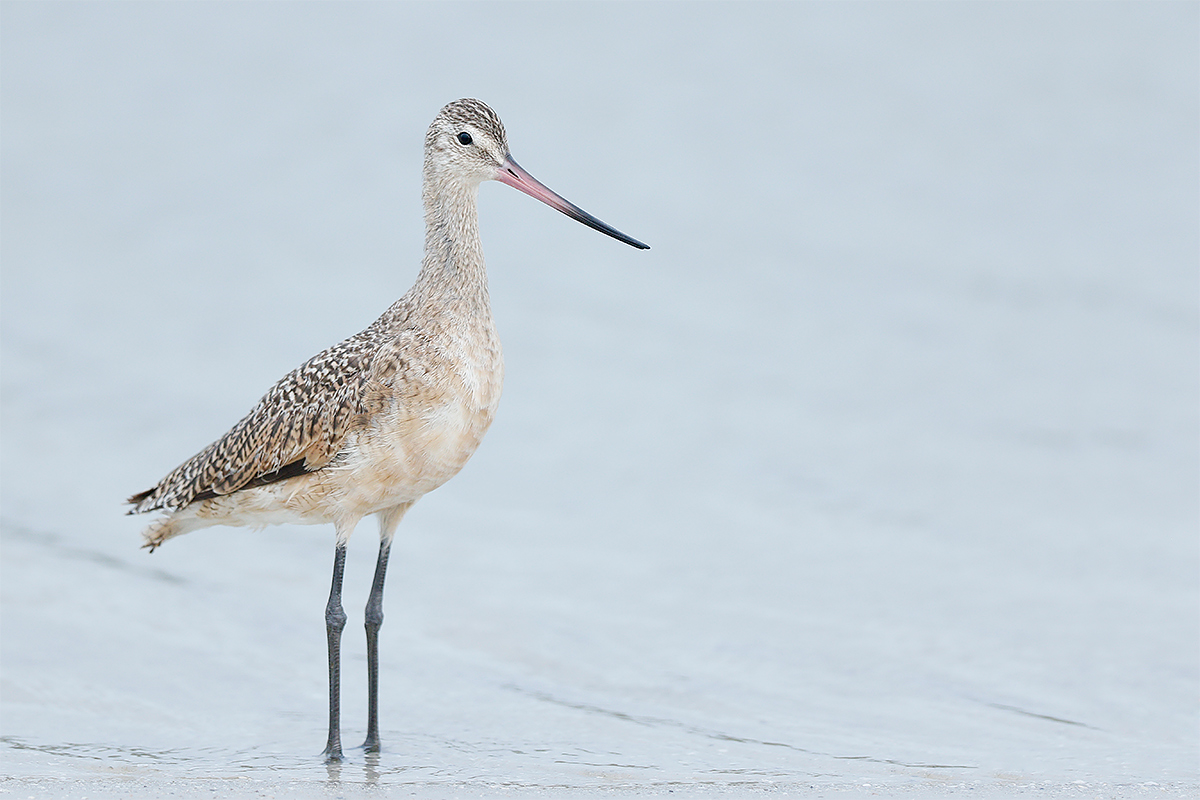 This image was created at Fort DeSoto with the hand held Canon EF 300mm f/2.8L IS II USM lens and the amazing Canon EOS 7D Mark II. ISO 640. Evaluative metering +1 2/3 stops: 1/640 sec. at f/2.8.
Two AF points to the left of the center AF point/AI Servo Expand/Rear Focus AF as framed was active at the moment of exposure (as is always best when hand holding). Click here to see the latest version of the Rear Focus Tutorial. Click on the image to see a larger version.
Marbled Godwit high key
Your browser does not support iFrame.
Another Depth-of-Field Lesson: What You See (at f/2.8) is What You Get: High Key Marbled Godwit
Here is a simple concept that most bird and nature photographers simply do not get. If you are looking at a bird in your camera's viewfinder and the whole bird looks sharp, the whole bird will be sharp in the resulting image. Even if you are at f/2.8. Many folks will routinely stop down, often to f/8 simply "to be there." Not me.
DSLRs utilize wide open viewing. If you are at f/2.8, what you see through the viewfinder accurately depicts the actual depth-of-field. Thus my comment, what you see is what you get. Trusting that the whole bird would be sharp at f/2.8 allowed me to work with plenty of shutter speed in very dingy conditions while saving several stops of ISO.
My mantra" Do not stop down unless you can verbalize a reason for doing so." Here, there was simply no reason to stop down. The whole godwit looked sharp through the viewfinder and thus the whole bird was sharp in the image.
Notes: Most modern digital camera bodies including the 7D II, the 1D X, and the 5D III allow you to view the image "stopped down" by pressing the d-o-f preview button. I use that so infrequently that I am not ever sure what Canon calls it. This bird was moved back in the frame using techniques from APTATS II.
The Fort DeSoto Site Guide
Learn to photograph birds at this great site like a pro with 15 years of visits under you belt. Hey! That's me and I share everything: exactly when, where and how. Why waste your time searching around when you can know where to be when on what wind and what tide in what light? Order your copy here. Learn about our other great site guides here.
Personality Plus Hairdos
With their bright red bill pouches, orange eyeskins, and raggedy hairdos, Dalmatian Pelican is one of the world's most photogenic bird species. Folks including us purchase live fish from the local boatman and have the pelicans come to us. It is rare that one or two Dalmatian Pelican images is not honored in one or more of the major photo contests in a given year. Do consider joining us in Greece for an amazing workshop.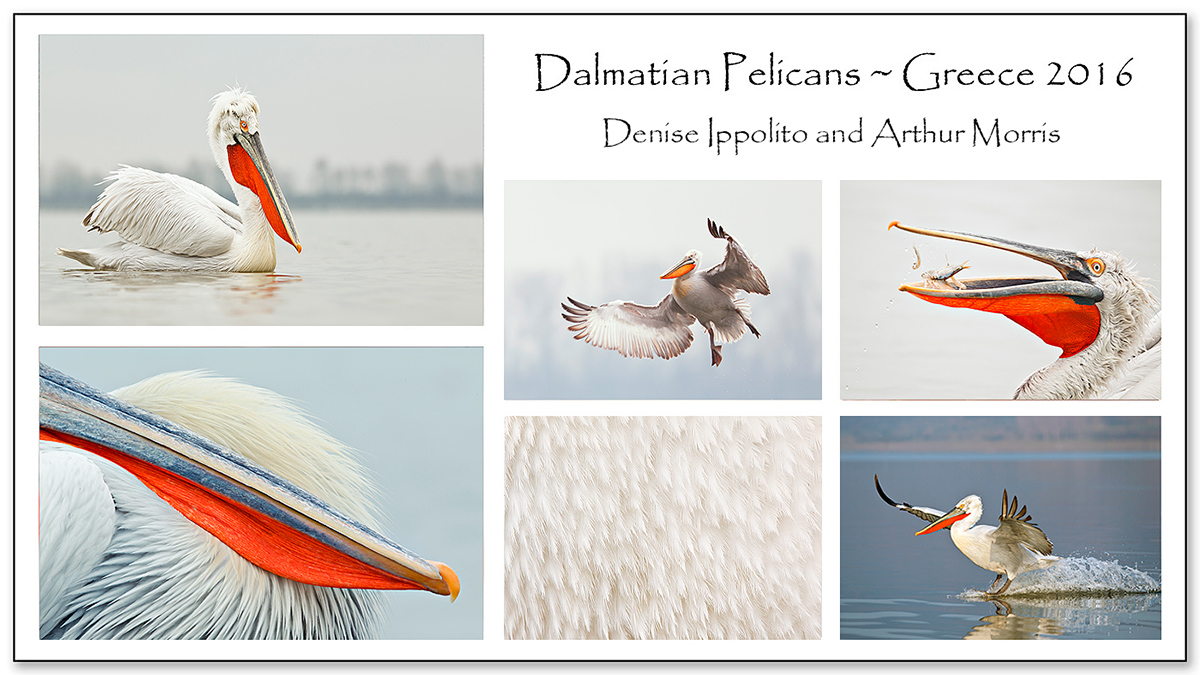 Images copyright 2011: Arthur Morris/BIRDS AS ART. Card design by Denise Ippolito.
Dalmatian Pelicans ~ Northern Greece
: A Creative Adventure/BIRDS AS ART Workshop/denise ippolito & arthur morris
. January 24th – 29th, 2016 ~ 5 Nights/ 4 Full days of photography: $2950. Limit: 8/Openings: 3.
This trip is a go.
Photograph beautiful Dalmatian Pelicans in Greece. Our trip will be from January 24-29th, 2016. Our hotel accommodations are located fifteen minutes from Lake Kerkini. This is a huge plus as we will be able to take advantage of great light at a moment's notice. This location is well known as the best location on the planet to photograph these beautiful, common, and extremely photogenic birds. And we will enjoy tons of flight photography. Though your 70-200 will be your very best friend, you will be able to use almost every lens in your gear bag. Wide angle shots, close portrait work, flight shots, creative blurs- you name it. Our expert guide knows the area like the back of his hand; he guides some of the most world renowned photographers.
There will be in-the-field instructional photography sessions each morning and afternoon from the shore and we will enjoy extended small boat sessions. Image review and post processing sessions will be informal; we will cover a ton of information during both our in-the-field and indoor session. With two great leaders that only thing that will limit your learning is a lack of stamina.
More than 100 pairs of Dalmatian Pelicans nest on specially constructed platforms on the lake. They remain at the lake during the winter. During our time in Greece the Pelicans will be in their brightest and most impressive breeding plumage. The birds hang around the local fisherman and in addition, we purchase live bait to bring the pelicans close. They are silly tame as they have been begging fish from the locals for many decades.
The groups of Dalmatian Pelicans are often accompanied by single Great White Pelicans, Pygmy Cormorants and Great Cormorants.
The price of this IPT IS $2950.00 per person USD, based on double occupancy; The single supplement is $360. The workshop fee includes hotel accommodations, WiFi, breakfast, lunch and dinner daily, round trip transfers from Thessaloniki Airport, all ground transportation during trip, boat fees and lots of fish.
Not included: Round trip airfare to Thessaloniki Airport, alcoholic beverages, personal items including but not limited to laundry, phone, or fax services.
This workshop is currently limited to 6 participants. A non-refundable deposit of $1000.00 is required to hold your spot for this workshop. Balances are are due on August 1st, 2015 and are also non-refundable. Payments in full are of course welcome at any time. All payments including the deposit must be made by check made out to "Arthur Morris." Please be sure to check your calendar carefully. If we do not receive your check for the balance on or before the due date we will try to fill your spot from the waiting list. If your spot is filled, you will lose your deposit. If not, you can secure your spot by paying your balance.
Please note that even though we have secured a top notch guide this is somewhat of a scouting trip (as denise has never been). The price of next year's trip will be considerably higher. There are only 2 slots open. This is an especially attractive deal for folks from Europe….
Please contact us via e-mail to check on availability or write with questions: artie or denise. All deposits and balances must be paid by personal check or money order made out to "Arthur Morris" and mailed to BIRDS AS ART, PO Box 7245, Indian Lake Estates, FL 33855. Overseas folks can, however, pay their deposits and balances by wire transfer; the registrant is responsible for the fees on both ends.
Travel Insurance Services offers a variety of plans and options. Included with the Elite Option or available as an upgrade to the Basic & Plus Options. You can also purchase Cancel for Any Reason Coverage that expands the list of reasons for your canceling to include things such as sudden work or family obligation and even a simple change of mind. You can learn more here: Travel Insurance Services. Do note that many plans require that you purchase your travel insurance within 14 days of our cashing your deposit check. Whenever purchasing travel insurance be sure to read the fine print carefully even when dealing with reputable firms like TSI.
We do hope that you can join us. artie and denise
Facebook
Be sure to like and follow BAA on Facebook by clicking on the logo link upper right. Tanks a stack!
Support the BAA Blog. Support the BAA Bulletins: Shop B&H here!
We want and need to keep providing you with the latest free information, photography and Photoshop lessons, and all manner of related information. Show your appreciation by making your purchases immediately after clicking on any of our B&H or Amazon Affiliate links in this blog post. Remember, B&H ain't just photography!
…..
Amazon.com
Those who prefer to support BAA by shopping with Amazon may use this link:
Amazon Canada
Many kind folks from north of the border, eh, have e-mailed stating that they would love to help us out by using one of our affiliate links but that living in Canada and doing so presents numerous problems. Now, they can help us out by using our Amazon Canada affiliate link by starting their searches by clicking here. Many thanks to those who have written.
Typos
In all blog posts and Bulletins, feel free to e-mail or to leave a comment regarding any typos or errors. Just be right :).