Stuff
I began work on re-doing my 2014 taxes based on what I learned preparing for the audit of my 2013 tax return. A nice swim and an ice bath as usual.
This blog post took about a 75 minutes to prepare. It should be published automatically at 6am on Saturday, September 26, 2015. Please remember to use my B&H affiliate links for your major gear purchases; online orders only; no phone orders. Won't cost you a penny! And helps me out tremendously. Many thanks for considering this important request.
Selling Your Used Photo Gear Through BIRDS AS ART
Selling your used (or like-new) photo gear through the BAA Blog or via a BAA Online Bulletin is a great idea. We charge only a 5% commission. One of the more popular used gear for sale sites charges a minimum of 20%. Plus assorted fees! Yikes. The minimum item price here is $500 (or less for a $25 fee). If you are interested please e-mail with the words Items for Sale Info Request cut and pasted into the Subject line :). Stuff that is priced fairly–I offer free pricing advice, usually sells in no time flat. After a big rush things have slowed down a bit over the past few week. Do know that prices on some items like the EOS-1D Mark IV, the old Canon 500mm, the EOS-7D, and the original 400mm IS DO lens have been dropping steadily.
You can see all of the current listings here.
Canon EF 500mm f/4L IS lens (the "old five")
Lowest-ever BAA Price!
Alan Walther is offering a used Canon EF 500mm f/4L IS lens (the "old five") in excellent plus condition for $3900. The sale includes the original lens hood, the original front lens cover, the rear cap, the lens trunk (carrying case), the instruction manual, the lens strap, the original shipping box with packing, a Really Right Stuff replacement foot #LCF-50-B, a Lens Coat, and insured shipping via Fed-Ex Ground.  Pictures available via email request. Your item will not ship until your check clears unless other arrangements are made. 
Please contact Alan by e-mail or by phone at 408-267-5977 Pacific Time.
As regular readers know the "old five" was the world's most popular super telephoto lens for many years. I owned and used one for more than a decade. Alan's lens is priced to sell immediately. artie 
This image was created from the deck of the Ortelius somewhere in the Scotia Sea between the Falklands and South Georgia with the hand held Canon EF 300mm f/2.8L IS II USM lens, the Canon Extender EF 1.4X III, and the rugged Canon EOS-1D X.. ISO 800. Evaluative metering +3 stops off the gray sky: 1/1600 sec. at f4.
Center AF point (Manual selection)/AI Servo shutter button AF as framed was active at the moment of exposure (as is always best when hand holding). The selected AF point was on the bird's feet at the moment of exposure…. Click on the image to see a larger version.
Intermediate phase Northern Giant Petrel in flight.
Your browser does not support iFrame.
Whaddya Mean–"Plus Three Stops Off the Sky?"
More than a few folks have been confused when I type one of my favorite phrases, "plus three stops off the sky."
At the September 8 blog post, David Arkin wrote:
Arthur I am trying to understand your nomenclature when you say you are 3 stops off the grey sky. I am a Nikon shooter so that may be part of my problem. In the eagle shot I am assuming you are in Evaluative Metering. Have you dialed in 3 stops, which moves the visible meter in viewfinder to-3 on the scale and then set the Manual Settings to get the visible meter back to Zero.
I have your book and read it but your actual process of setting up camera for exposure is confusing me.
I realize this question may be too confusing as I state it and understand if you don't answer. Thanks for all your hard work and glorious images. David
I replied:
Hi David, Nikon, Olympus, Canon, it makes no difference. Yes, I use Evaluative metering, similar to Nikon's Matrix metering. I point the lens at the sky. I am generally working at a fairly wide aperture. I set the aperture. Then I adjust the shutter speed until the analog scale shows 3 stops of over-exposure, +3.
There is no "dialing in." There is no Exposure compensation in Manual mode. You determine the EC by changing your settings (Aperture, Shutter Speed, & ISO) while looking at the analog scale. You might note that when you point the lens at the sky after you have adjusted your settings, that the analog scale shows +3. If you point it at some green grass, it might show +1/3. If you point it at black dirt, it might show -2/3. In other words, you must point the lens somewhere to note the EC; it changes as you move the lens from one tonality to another.
Once I have adjusted my setting to three stops above the reading off the sky (as detailed above), I start photographing, check the histogram, and adjust if needed! It's that simple. Have you read ABP II? Also, everything above appears in several blog posts dealing with working in Manual mode. But perhaps I did a better job of explaining it here since you and others have been confused. That working in manual mode info is so important that I re-post it fairly often.
The part of your comment that shows your confusion is this "which moves the visible meter in viewfinder to-3 on the scale and then set the Manual Settings to get the visible meter back to Zero."
I do not understand anything that you wrote there. 🙂
Let me know if my explanation helps. artie
On September 19, David wrote back:
Thank you for answering back. I now understand what you are doing and the terminology. Yes I have read your many excellent comments on Manual Mode; it was my inability to understand the steps you were taking. I won't even go into what I thought you were doing… When you say you are + three stops off the grey sky you are describing how the meter looks when you dial in aperture, shutter speed and ISO. I'm with you now.
Thanks again from a Brooklyn boy who went to Erasmus and loved to eat at Garfield's.
David
The Image Optimization
After converting the image in DPP 4 I brought it into Photoshop and moved the bird back in the frame using techniques detailed in APTATS II and smoothed the edge with a Regular Layer Mask. Then I executed an "Original Ratio" crop to put the bird exactly where I wanted it in the frame. Next was to select the bird with the Quick Selection Tool and apply a layer of my NIK Color Efex Pro 50/50 recipe followed by some Eye Doctor work and a Contrast Mask on the face.
APTATS I & II
Learn the details of advanced Quick Masking techniques in APTATS I. Learn Advanced Layer Masking Techniques in APTATS I. Mention this blog post and apply a $5 discount to either with phone orders only. Buy both APTATS I and APTATS II and we will be glad to apply at $15 discount with phone orders only. Please call Jim or Jennifer weekdays at 863-692-0906 to take advantage of this special offer. I am pretty sure that we have extended that offer to the BAA Online Store as well… No time to check right now. 🙂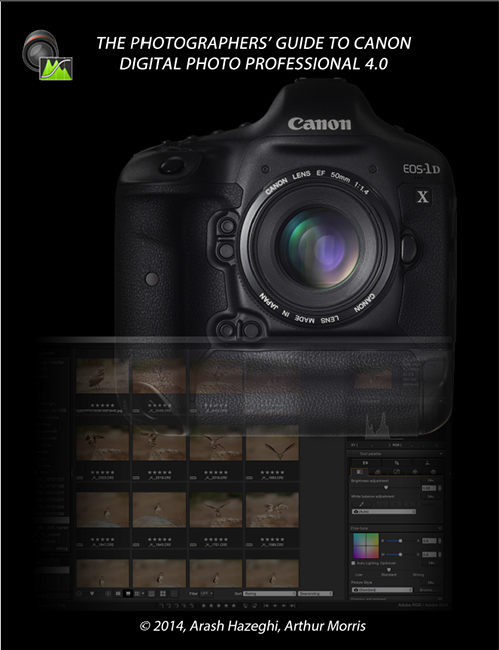 You can order your copy of "The Photographers' Guide to Canon Digital Photo Professional 4.0" (aka the DPP 4 Raw Conversion eGuide) by Arash Hazeghi and Arthur Morris by clicking here.
The DPP 4 eGuide (PDF)
Learn how and why I and many other discerning photographers choose and use only DPP 4 to convert their Canon RAW files in the DPP 4 RAW Conversion Guide by Arash Hazeghi and yours truly. The latest version supports all of the newer Canon camera bodies and several older models including the EOS-7D and the EOS-1D Mark IV. The DPP IV Guide is the ideal companion to the 7D Mark II User's Guide, a runaway best seller.
The DPP 4 eGuide (PDF) Updated for 1D Mark IV and the original 7D
The DPP 4 eGuide was recently updated to include the luminance and chrominance noise reduction values for both the 1D Mark IV and the original 7D. If you purchased your copy from BAA please e-mail Jim and request the DPP 4 1d IV/7D update. Please be sure to cut and paste page 1 into your e-mail as proof of purchase.
Facebook
Be sure to like and follow BAA on Facebook by clicking on the logo link upper right. Tanks a stack!
Support the BAA Blog. Support the BAA Bulletins: Shop B&H here!
We want and need to keep providing you with the latest free information, photography and Photoshop lessons, and all manner of related information. Show your appreciation by making your purchases immediately after clicking on any of our B&H or Amazon Affiliate links in this blog post. Remember, B&H ain't just photography!
…..
Amazon.com
Those who prefer to support BAA by shopping with Amazon may use this link:
Amazon Canada
Many kind folks from north of the border, eh, have e-mailed stating that they would love to help us out by using one of our affiliate links but that living in Canada and doing so presents numerous problems. Now, they can help us out by using our Amazon Canada affiliate link by starting their searches by clicking here. Many thanks to those who have written.
Typos
In all blog posts and Bulletins, feel free to e-mail or to leave a comment regarding any typos or errors. Just be right :).