What's Up?
I prepared this post on Sunday afternoon in my Santiago, Chile hotel room on November 15, 2015. Denise and I take a red-eye flight to Miami just before 11pm tonight arriving at 5:30am and then continuing on to our respective homes. It seems that my cold/sore throat/cough/congestion might be returning…. Not what I want for the long flight or the upcoming Bosque IPTs.
We rested up on Sunday when I spent most of the day listening and watching Jersey Boys and Frankie Valli & the Four Seasons on You Tube. Just so you know, the group was named after a bowling alley right after a failed audition….
If today's blog post inspires you to purchase some new gear please consider using my B&H affiliate links, the very best way to thanks me for my efforts here.
A must read: What BIRDS AS ART is About
I have long done my very best to help folks get the right gear into their hands and to teach them how to use it properly. As I have said over and over, "We will not sell you junk. We only carry gear that I have used and tested." Tripods are a perfect example: many of the mail order joints online carry as many as a dozen or more brands of tripods including some real clunkers. All that they care about it making the sale. For nearly two decades we sold only a very few models of Gitzo tripods. And then along came Induro: better and a lot less money…. So that is what we are pitching right now. And just so you know, I make a hell of a lot less selling you an Induro tripod than a Gitzo tripod. But at BAA, we want what is best for you….
Visit the BAA Online store here and feel free to shoot me an e-mail with your gear questions.
Ward Mitchell comment on the November 11, 2015 blog post:
Hi Artie, I just received my new Induro 304 and Mongoose 3.6 head. All I can say is WOW!, I can't thank you enough for taking the time to respond to my requests for information and getting me set up to do what we all love to do. It is way too easy to spend your hard earned dough on the wrong gear and trust me, a lot of those other guys are all too willing to take your money and watch you walk out the door.
BTW…..dealing with your office staff on the phone and through email has been one of the best and easiest experiences I have ever had.
Best Regards Ward Mitchell (Barrie Ontario-Ft Myers Florida)
Induro $50 Instant Rebate
From now until the end of the year there is an instant $50 rebate on all of our favored Induro tripods. Best news: you do not need to fill out or send in any forms! The dealer gets to do that after you make your purchase. Learn more here or click on the Induro logo-link above or the one on the right side of each blog post page to purchase. Great ballheads too!
Bosque Update/Late Registration Discount Offer
The first Bosque IPT has been sold out for months and now has a short waiting list. As far as I know, there are now just 2 openings on the second Bosque IPT. We would be glad to offer a late registration discount of $100. Please shoot me an e-mail if you are interested and then call Jim or Jen at the office at 863-692-0906 on Monday to register. Please leave a message if everyone is out of the office or call back on Tuesday. Please see the complete details on Bosque #2 below.
This image was created on Saunders Island in the Falklands with the Induro 304L?Mongoose M3.6 mounted Canon EF 400mm f/4 DO IS II USM lens and the Canon EOS-1D X.. ISO 400. Evaluative metering at about zero: 1/640 sec. at f/5 in Manual mode. AWB.
Left Upper Zone AF/AI Servo/Rear Focus AF as framed was active at the moment of exposure (as is always best when hand holding); it selected an AF point four to the right and one row up from the center AF point, below and to the right of the lefthand bird's eye. In any case, the image is sharp. I have been using Zone AF more and more when dealing with two birds in a horizontal frame, one on each side of the image. Click here to see the latest version of the Rear Focus Tutorial. Click on the image to see a larger version.
Black-browed Albatross/courting pair
I was glad that I got my 400 DO II in time for our 3 week trip. I used the 400 DO a lot in the Falklands, less so on South Georgia.
Your browser does not support iFrame.
The 300mm f/2.8L IS II or 400mm f/4 IS DO II?
Below is an e-mail conversation with blog-subscriber Tim Clifton. I have been wanting to run this for some time.
TC: Some advice if you will. I have a budget that will only allow one high end lens purchase along with both version III teleconverters. I have the 7D Mk II and am trying to decide between the 300 f2.8 and the 400 f4 DO. I believe the 7D MK II will allow center focus only with the TC 2 III with the 400. If that is correct then both lenses will function with AF using the 2x TC III. Again I understand center AF point only on the 400.
AM: That is correct. But you can get to AF Expand, the center AF point plus the four surrounding AF points.
TC: If you had to decide between the 300 f/2.8 L IS II and the 400mm f/4 IS DO II with the 7D Mk II which one you would choose?
My plan would be to get either the 300 II or 400 DO II along with both the 1.4X & 2X III TCs. I do appreciate all the information you provide, and since there is no difference in price, I am happy to support your efforts on the blog by using your B&H links.
AM: 🙂
AM: The call is a very close one…. Denise would go for the 300 II. Arash Hazeghi for the 400 DO II. So would I. I was able to get a 400 DO II just before the Galapagos trip so I need to sell my 300 II soon. I like the extra reach. As far back as in the original The Art of Bird Photography I wrote, "For birds, always choose a longer slower lens over a faster shorter one." And that is still pretty good advice today.
Before you decide which of these two great lenses is best for you you need to answer many questions: What is important to you? Need reach? Work with shy subjects? Go for the 400 DO. Speed? Go for the 300 II? Work with silly tame birds? The 300 II. Want to hand hold with the 2X? The 300 II. Work on a tripod with the 2X? The 400 DO. Live in or travel to places with lots of sun: the 400 DO II. Live in WA or OR with lots of clouds and rain? Then the 300 2.8. Do you travel to places with lots of tame birds? Either would be great.
In the end, it is your call. Please do send me your B&H receipt via e-mail when you purchase.
later and love, artie
ps: Be sure to read Arash's review of the 400 DO II here; he also compares it to the 300 II.
ps: Here are the links again for safekeeping:
Canon EF 400mm f/4 DO IS II USM Lens
Canon EF 300mm f/2.8L IS II USM Lens
Please remember: Web orders only; no phone orders!
The Bosque Site Guide
If you can't make or afford one of the two Bosque IPTs, be sure to get yourself a copy of our Bosque Site Guide. All BAA Site Guides are designed so that with a bit of study you can show up at a great place and know exactly where to be at what time on what wind and in what lighting conditions. And on what wind. With a Site Guide on your laptop you will feel like a 22-year veteran on your first visit. Site Guides are the next best thing to being on an IPT. If you plan on visiting Bosque it would be foolish to make the trip without having this guide in hand. Why spend money on gear and travel and then spend days stumbling around in the wrong spot? If you have visited previously, and are still unsure of where you should be at this time of day with that wind, this guide will prove invaluable to you as well. Even folks visiting Bosque for the tenth time will learn a ton as I share my secrets and hold nothing back….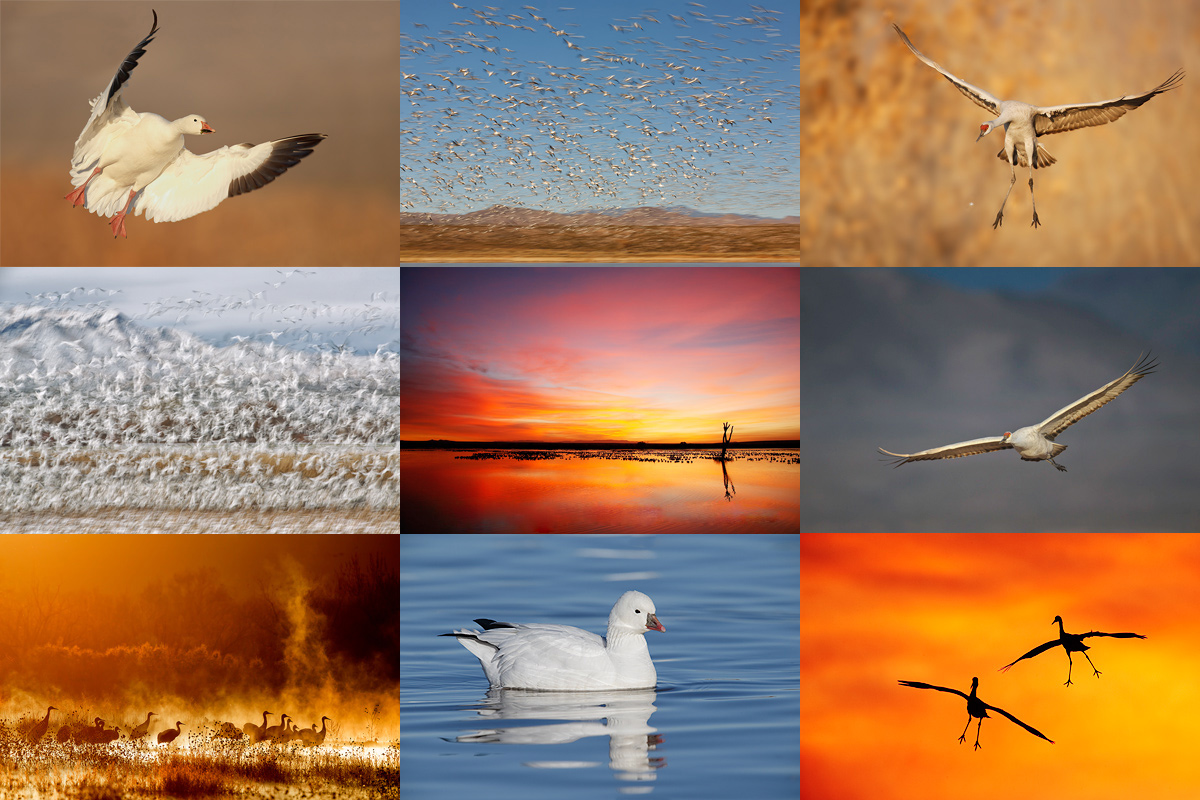 Bosque has been one of artie's three soul places since he created two BBC-honored images there on his first visit in 1994.
Bosque del Apache 2015 BIRDS AS ART/A Creative Adventure Instructional Photo-Tour (IPT). 3-FULL DAY IPT: NOV 22-24, 2015. $1149. Two great leaders: Denise Ippolito and Arthur Morris. Meet and greet and introductory slide program after dinner on your own at 7:00pm on SAT NOV 21.
Sold Out with a waiting list.
In 2015, we are offering a 3-DAY IPT before Thanksgiving and a 4-DAY IPT after the holiday. The first has been sold out for a while. There is some room on the second. See below for details.
We know that there are lots of less costly workshops being offered these days. Many of them are downright cheap. Please remember that you get exactly what you pay for. With us you will have two full time pros there for you every minute we are in the field. Together they have more than 28 seasons of experience at the refuge. If you want the finest in photographic instruction and want to be assured of being in the right spot at exactly the right time every day, do join us.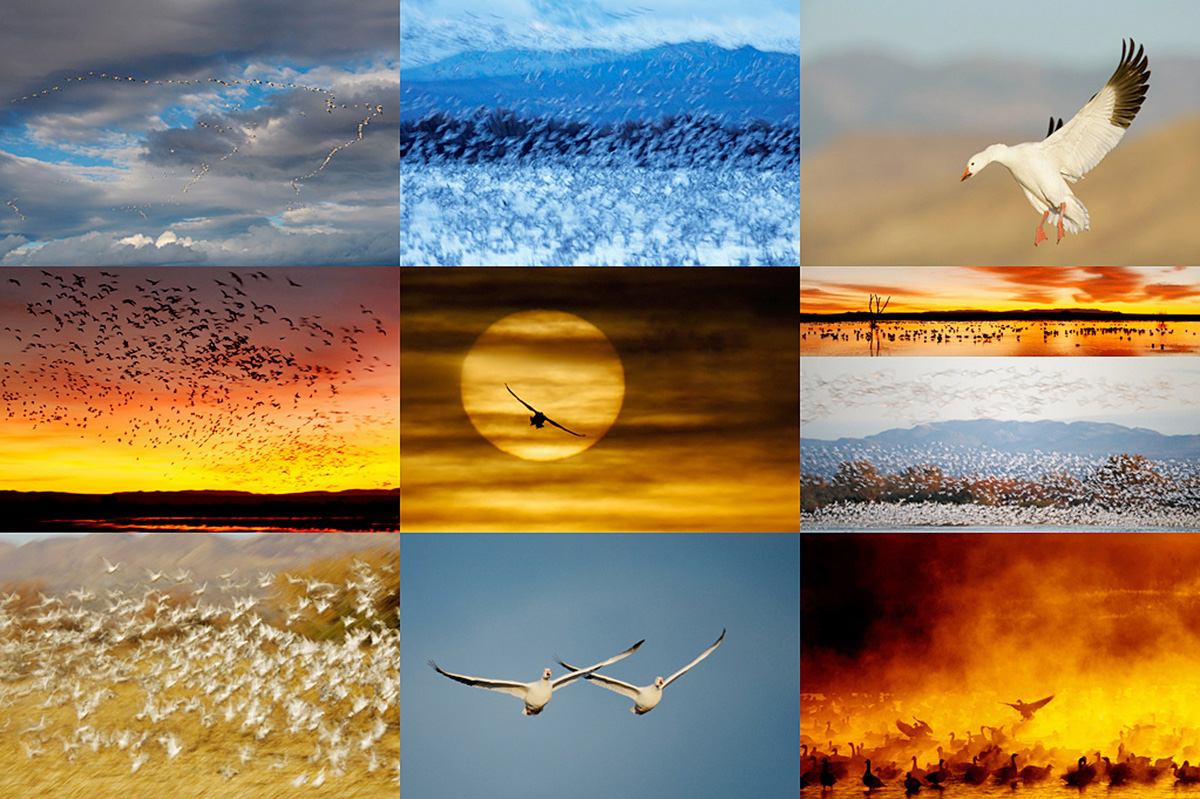 Bosque is a wondrous place.
Bosque del Apache 2015 BIRDS AS ART/A Creative Adventure Instructional Photo-Tour (IPT). 4-DAY IPT: (three full and two 1/2 DAYS) NOV 28-DEC 2, 2015. $1499. Two great leaders: Denise Ippolito and Arthur Morris. Meet and greet at 3pm on SAT NOV 28 followed by an afternoon photo session at the crane pools and the introductory slide program after dinner on your own.
Just 2 spots left.
Tens of thousands of Snow Geese, 10,000 Sandhill Cranes, ducks, amazing sunrises, sunsets, and blast-offs. Live, eat, and breathe photography with two of the world's premier photographic educators at one of their very favorite photography locations on the planet. Top-notch in-the-field and Photoshop instruction. This will make 21 consecutive Novembers at Bosque for artie. This will be denise's 7th workshop at the refuge. Nobody knows the place better than artie does. Join us to learn to think like a pro, to recognize situations and to anticipate them based on the weather, especially the sky conditions, the light, and the wind direction. Every time we make a move we will let you know why. When you head home being able to apply what you've learned on your home turf will prove to be invaluable.
This workshop includes 4 afternoon (11/28through 12/1), 4 morning (11/29 to 12/2) photography sessions, an inspirational introductory slide program after dinner on your own on Saturday, 11/28, all lunches, and after-lunch digital workflow, Photoshop, and image critiquing sessions.
There is never a strict itinerary on a Bosque IPT as each day is tailored to the local conditions at the time and to the weather. We are totally flexible in order to maximize both the photographic and learning opportunities. We are up early each day leaving the hotel by 5:30 am to be in position for sunrise. We usually photograph until about 10:30am. Then it is back to Socorro for lunch and then a classroom session with the group most days. We head back to the refuge at about 3:30pm each day and photograph until sunset. We will be photographing lots of Snow Geese and lots of Sandhill Cranes with the emphasis on expanding both your technical skills and your creativity.
A $599 non-refundable deposit is required to hold your slot for this IPT. Your balance, payable only by check, will be due on 7/25/2015. If you cancel and the trip fills, we will be glad to apply a credit applicable to a future IPT for the full amount less a $100 processing fee. If we do not receive your check for the balance on or before the due date we will try to fill your spot from the waiting list. Whether or not your spot is filled, you will lose your deposit. If not, you can secure your spot by paying your balance.
Please print, complete, and sign the form that is linked to here and shoot it to us along with your deposit check (made out to "Arthur Morris.") You can also leave your deposit with a credit card by calling the office at 863-692-0906. If you register by phone, please print, complete and sign the form as noted above and either mail it to us or e-mail the scan. If you have any questions, please feel free to contact me via e-mail after July 29.
Facebook
Be sure to like and follow BAA on Facebook by clicking on the logo link upper right. Tanks a stack!
Support the BAA Blog. Support the BAA Bulletins: Shop B&H here!
We want and need to keep providing you with the latest free information, photography and Photoshop lessons, and all manner of related information. Show your appreciation by making your purchases immediately after clicking on any of our B&H or Amazon Affiliate links in this blog post. Remember, B&H ain't just photography!
Amazon.com
Those who prefer to support BAA by shopping with Amazon may click on the logo-link immediately above.
Amazon Canada
Many kind folks from north of the border, eh, have e-mailed stating that they would love to help us out by using one of our affiliate links but that living in Canada and doing so presents numerous problems. Now, they can help us out by using our Amazon Canada affiliate link by starting their searches by clicking here. Many thanks to those who have written.
Typos
In all blog posts and Bulletins, feel free to e-mail or to leave a comment regarding any typos or errors. Just be right :).