What's Up?
Me. Early on Tuesday morning.
I arrived in Miami 30 minutes early on Monday morning at 4:45am. The 8 hour flight was not too bad. I lucked out by getting seat 30K on a big Boeing jetliner: emergency row with ten feet of bulkhead legroom and it even reclined! Many emergency row seats do not recline… Poor man's first class. I probably slept more than 4 hours, most of it in one fell swoop. I did get up often to walk around and get some more water. And I did leg exercises when I was awake at my seat. If you missed the DVT (deep vein thrombosis) blog post that might save your life, be sure to check it out here.
After clearing customs and dropping my two checked bags at re-check, I was off in search of a McDonald's for two breakfast burritos. And my gate. "There is a McDonald's on the D Concourse" said the friendly TSA lady whom I had asked so I took the train partway (and then still had a very long walk to Gate D27). As it turned out, there was no Mickey D's anywhere on the D concourse but I did see a huge sign on the way down the escalator from the train: Centurion Lounge: free with your Platinum AMEX card. Gate D12. So decided to head to it in search of a free breakfast.
Bingo! Spanish eggs with chicken. I added some slivered almonds, a tablespoon of craisons, and a dollop of sour cream. The only thing missing was a bit of salsa. But it was yummy and relatively healthy. What a pleasant surprise. See more below.
My flight to MCO was not until 10:30am so I hung out at the lounge and enjoyed the free internet. Jim met me as usual and after our customary stop at Publix we were home by 1pm. After lunch I napped and napped and napped. After my dinner salad I fell asleep on the couch in front of Monday night football. I officially got into bed at about 10:30 and slept yet another five hours. I no longer feel like a zombie. I fly to Bosque on Friday! We got two sign-ups the last two days but we still have room for one or two more. (As per the website we always reserve the right to go with one over the limit.) See more below.
Though I am still a bit congested I continue to feel fine 🙂
Induro $50 Instant Rebate
The Induro $50 instant rebate will last only till 2016. Click on the logo-link above to save $50 on our favorite tripods. On our recent grueling trip to the Southern Ocean Denise loved her new GIT 304 and I love my new GIT 304L. Both performed flawlessly in the mud, snow and ice.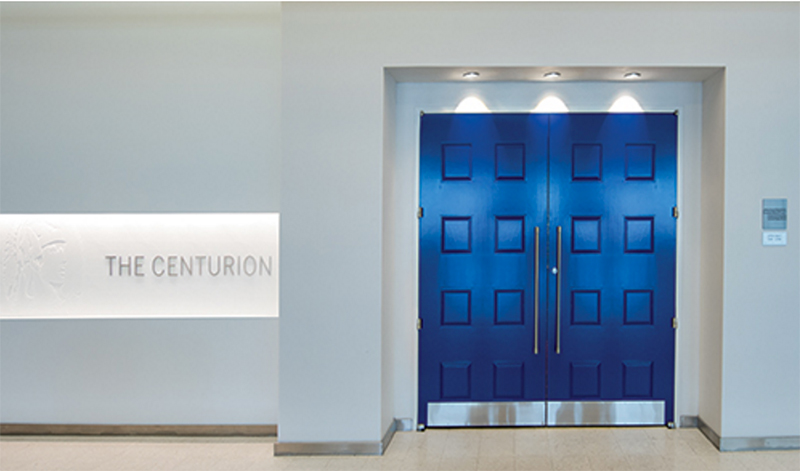 Finding an AMEX Centurion Lounge at MIA was a real treat. And free.
AMEX Centurion Lounges
From the LoungeBuddy website:
American Express offers some of the most diverse airport lounge benefits of any credit card issuer through its flagship Platinum Card®. A complimentary membership to Priority Pass™ Select opens the door at over 600 clubs worldwide, and you can also flash your Platinum Card to gain access to other lounges operated by Airspace and Delta Air Lines. But not everyone knows that American Express operates its own airport lounges and is expanding that network within the U.S.
The most recent attention has been given to the American Express Centurion Lounges, beginning with Las Vegas (Concourse D, served by United Airlines), Dallas/Fort Worth (Terminal D, served by American Airlines and international departures), New York-LaGuardia (Terminal B, Landside), San Francisco (Terminal 3 Concourse F, served by United Airlines), and Miami (North Terminal Concourse D, served by American Airlines). The Centurion Studio, an extension of the Centurion Lounge network in a smaller setting, is available in Seattle (Concourse B, served by Delta Air Lines, Southwest Airlines, and Virgin America). All lounges are located airside and can be accessed from other terminals via inter-terminal trains or walkways, with the exception of the LaGuardia location, which is before security.

Remember, passengers with a valid ticket may usually access other areas of the airport even if their flight uses a different terminal. Just be sure to leave time to exit and re-clear security before your departure!
The Centurion Lounges are truly a notch above most domestic U.S. lounges, which reflects their association with a premium card issuer like American Express. Guests can partake of a gourmet taco bar for breakfast and lunch at the 9,000-square-foot location in Dallas/Fort Worth as well as other rotating menu choices imagined by Chef Dean Fearing. Since the menus for each Centurion Lounge are designed by a different gourmet chef, guests will also be able to feast on the culinary delights of Scott Conant (in Las Vegas), Cedric Vongerichten (in New York-LaGuardia and San Francisco), and Michelle Bernstein (in Miami). Relax on one of the lounge chairs, catch up on work with the complimentary WiFi, or reserve the complimentary meeting room. A children's room with video games and other toys is also available.
The most amazing thing about the Centurion Lounges is that all of these benefits are included in the entry fee, which is waived for Platinum and Centurion Cardholders. (Other American Express Cardholders must pay $50 per person.) Yes, that means even treatments at the Exhale Spa in Dallas/Fort Worth and Miami, providing chair massages, skin treatments, and manicures – all performed by excellent professionals.
You can learn more here.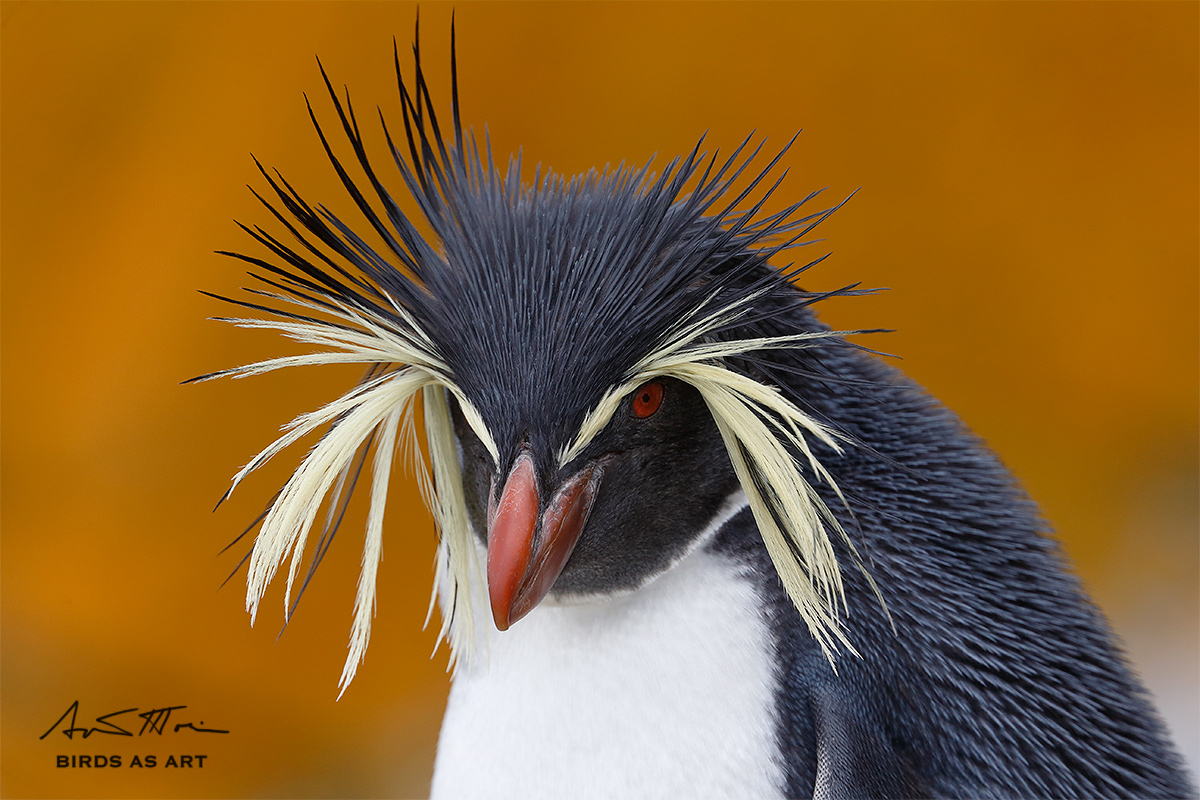 This image was created along the coast north of Stanley on East Falklands with the Induro tripod/Mongoose M3.6-mounted Canon EF 400mm f/4 DO IS II USM lens, the Canon Extender EF 1.4X III, and the rugged professional body, the Canon EOS-1D X. ISO 800. Evaluative metering +1/3 stop: 1/800 sec. at f/8 in Manual mode. Auto WB.
Center AF point/AI Servo Expand/Rear Focus AF as framed was active at the moment of exposure; the active AF point was just in front of the bird's left eye. Click here to see the latest version of the Rear Focus Tutorial. Click on the image to see a larger version.
Moseley's Rockhopper Penguin
Your browser does not support iFrame.
A new species: Moseley's Rockhopper Penguin
On our day trip out of Stanley on Saturday, October 31, we visited a really neat Rockhopper Penguin on the northern coast. The rookery was located on a rocky hillside with orange sea lichen (Caloplaca) in abundance. I spent the first hour using both my 25-105 and my 16-35mm f/4 L lens doing bird-scapes.
Our driver-guide for the day told us that there was a Northern Rockhopper Penguin in the rockhopper colony. We learned that this is a slightly larger version of the run of the mill rockhoppers with a much longer shaggy. Northern rockhopper nests on a speck of an island in the South Atlantic; Tristan da Cuhna that is actually closer to South Africa than it is to Brazil. After a while she spotted the bird and pointed it out to us. It was standing on a rock well up on the hillside. I had been using the 100-400 II and decided to go back to the truck for the 400 DO II and both teleconverters. The bird was still standing on the flat rock when I got back but as soon as I pointed the lens at it it decided to walk off its perch… I said to denise, who was using her 70-200 f/2.8L IS lens/2X III TT/7D II combo, "Let's be patient." So we were.
Our rock star penguin continued to play hard to get hiding behind this rock and that. We were thrilled when he walked back up to the flat rock above the colony. But, he immediately began kissing up on a female rockhopper below. Denise got one nice image out of that but with the 400 D0II/2X III/1D X combo I had way too much focal length and again came up empty. Then the bird walked right towards us and began to head downhill I was wishing that I had still had my 100-400 II… Denise was hand holding her outfit and was of course able to zoom in and out as needed. Though we were really scrambling in the fierce winds, fierce only if you consider gusts to 70mph to be fierce, denise made lots of excellent images. At risk of life and limb on the loose rocks, we managed to get downhill and ahead of the bird several times. I managed to switch the 2X III for the 1.4X III and was very happy to create today's featured image with a distant orange/yellow lichen background.
I learned from Joe Kaplan on the ship that the Northern Rockhopper was very recently accorded full species status and is now called Moseley's Rockhopper Penguin.
The Before and After Animated GIF
The before and after animated GIF above clearly shows the bill clean-up and the lightening of the eye and the shaded portion of the face, the latter which brings the image to life. The RAW file, which was converted in DDP 4, was well darker the converted TIFF. I move the very effective Shadow slider to +3 during the conversion.
Digital Basics
Nearly everything that I did to optimize today's image is covered in detail in my Digital Basics File–written in my easy-to-follow, easy-to-understand style. Are you tired of making your images look worse in Photoshop? Digital Basics File is an instructional PDF that is sent via e-mail. It includes my complete digital workflow, dozens of great Photoshop tips, details on using all of my image clean-up tools, the use of Contrast Masks, several different ways of expanding and filling in canvas, all of my time-saving Keyboard Shortcuts, Quick Masking, Layer Masking, and NIK Color Efex Pro basics, Contrast Masks, Digital Eye Doctor techniques, using Gaussian Blurs, Tim Grey Dodge and Burn, a variety of ways to make selections, how to create time-saving actions, the Surface Blur (background noise reduction) settings and Brush Opacity Magic both taught to me by Denise Ippolito, and tons more.
APTATS I & II
Learn the details of advanced Quick Masking techniques in APTATS I. Learn Advanced Layer Masking Techniques in APTATS I. Mention this blog post and apply a $5 discount to either with phone orders only. Buy both APTATS I and APTATS II and we will be glad to apply at $15 discount with phone orders only. Please call Jim or Jennifer weekdays at 863-221-2372 to take advantage of this offer. I am pretty sure that we have extended that offer to the BAA Online Store as well…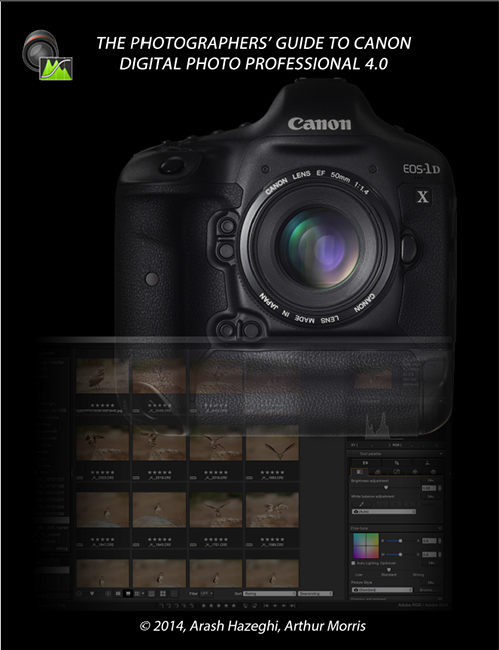 You can order your copy of "The Photographers' Guide to Canon Digital Photo Professional 4.0" (aka the DPP 4 Raw Conversion eGuide) by Arash Hazeghi and Arthur Morris by clicking here.
The DPP 4 eGuide (PDF)
Learn how and why I and many other discerning photographers choose and use only DPP 4 to convert their Canon RAW files in the DPP 4 RAW Conversion Guide by Arash Hazeghi and yours truly. The latest version supports all of the newer Canon camera bodies and several older models including the EOS-7D and the EOS-1D Mark IV. The DPP IV Guide is the ideal companion to the 7D Mark II User's Guide, a runaway best seller.
DPP 4 Kudos
From Richard Gollard via e-mail:
I have been doing tons of studying the books and PDFs that I have purchased from BIRDS AS ART. And I have to say that after reading the DPP 4 conversion guide that you did with Arash Hazeghi I tried DPP 4 and was blown away with the difference from the conversions that I made with Adobe Photoshop and Lightroom. Thanks for the consistently great information.
The DPP 4 eGuide (PDF) Updated for 1D Mark IV and the original 7D
The DPP 4 eGuide was recently updated to include the luminance and chrominance noise reduction values for both the 1D Mark IV and the original 7D. If you purchased your copy from BAA please e-mail Jim and request the DPP 4 1d IV/7D update. Please be sure to cut and paste page 1 into your e-mail as proof of purchase.
The Bosque Site Guide
If you can't make or afford one of the two Bosque IPTs, be sure to get yourself a copy of our Bosque Site Guide. All BAA Site Guides are designed so that with a bit of study you can show up at a great place and know exactly where to be at what time on what wind and in what lighting conditions. And on what wind. With a Site Guide on your laptop you will feel like a 22-year veteran on your first visit. Site Guides are the next best thing to being on an IPT. If you plan on visiting Bosque it would be foolish to make the trip without having this guide in hand. Why spend money on gear and travel and then spend days stumbling around in the wrong spot? If you have visited previously, and are still unsure of where you should be at this time of day with that wind, this guide will prove invaluable to you as well. Even folks visiting Bosque for the tenth time will learn a ton as I share my secrets and hold nothing back….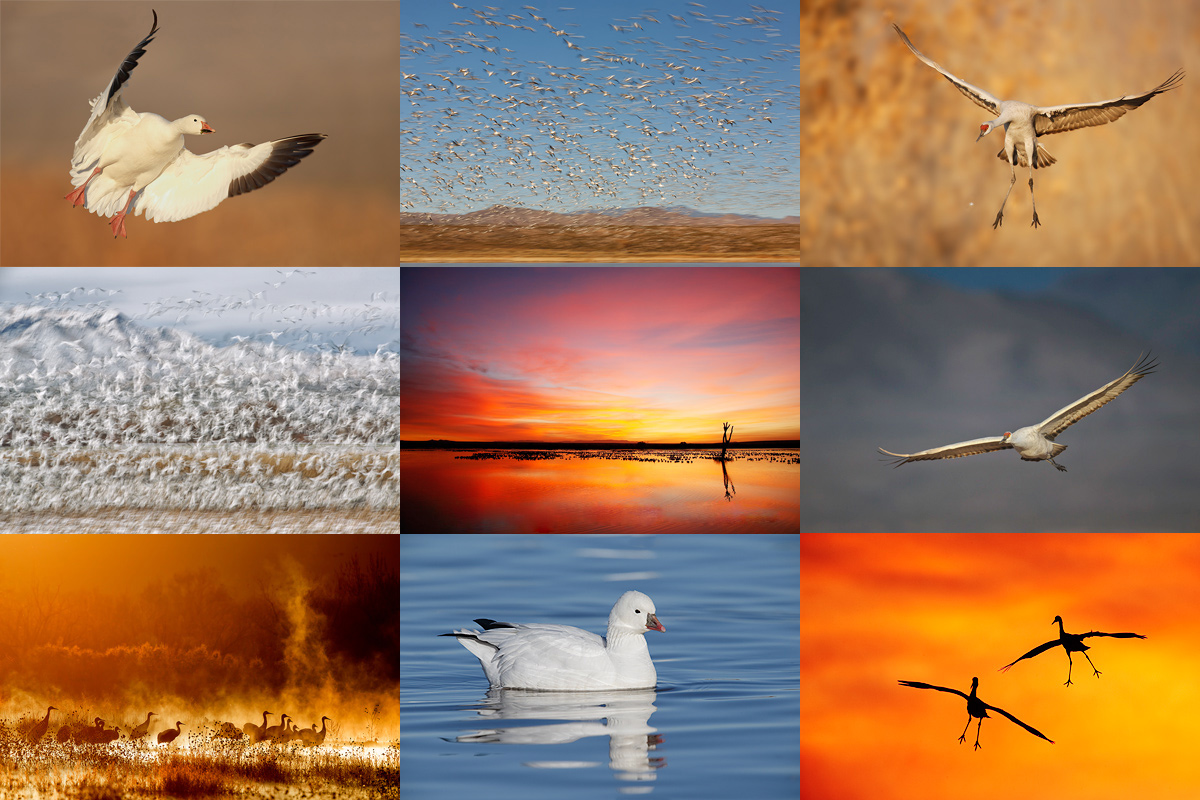 Bosque has been one of artie's three soul places since he created two BBC-honored images there on his first visit in 1994.
Bosque del Apache 2015 BIRDS AS ART/A Creative Adventure Instructional Photo-Tour (IPT). 3-FULL DAY IPT: NOV 22-24, 2015. $1149. Two great leaders: Denise Ippolito and Arthur Morris. Meet and greet and introductory slide program after dinner on your own at 7:00pm on SAT NOV 21.
Sold Out with a waiting list.
In 2015, we are offering a 3-DAY IPT before Thanksgiving and a 4-DAY IPT after the holiday. The first has been sold out for a while. There is some room on the second. See below for details.
We know that there are lots of less costly workshops being offered these days. Many of them are downright cheap. Please remember that you get exactly what you pay for. With us you will have two full time pros there for you every minute we are in the field. Together they have more than 28 seasons of experience at the refuge. If you want the finest in photographic instruction and want to be assured of being in the right spot at exactly the right time every day, do join us.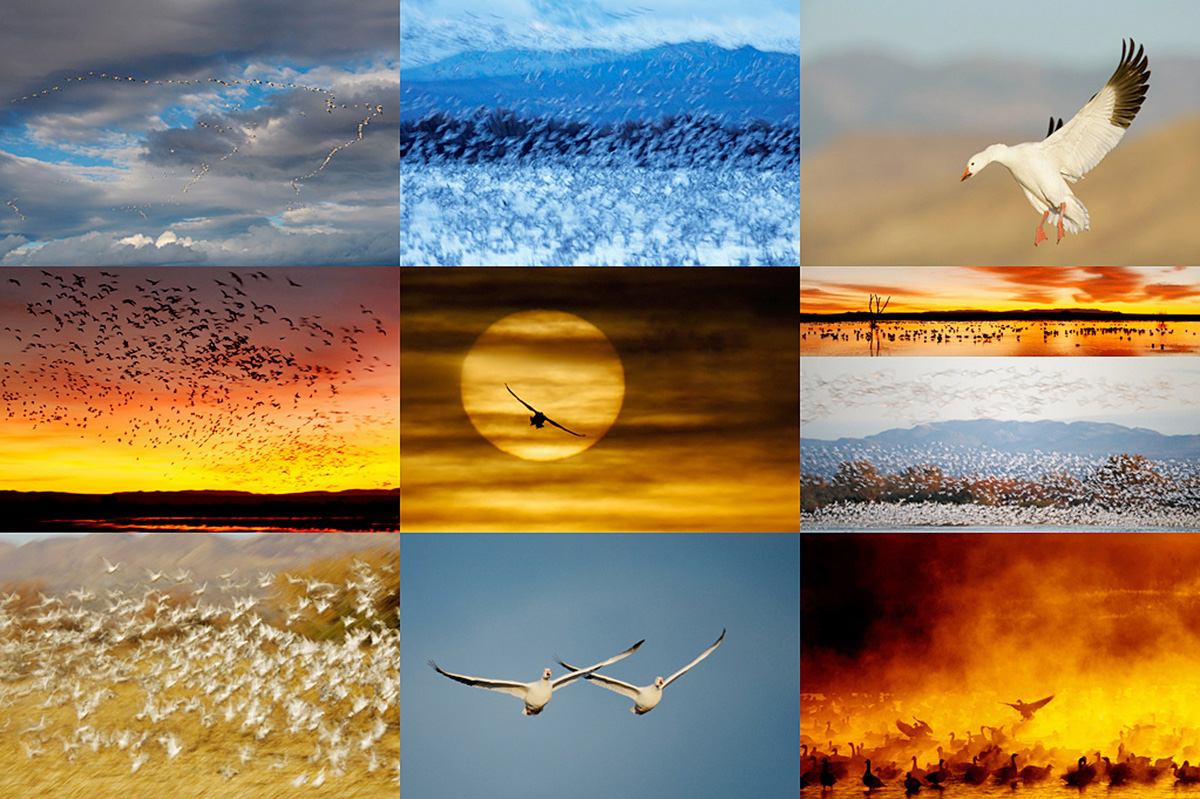 Bosque is a wondrous place.
Bosque del Apache 2015 BIRDS AS ART/A Creative Adventure Instructional Photo-Tour (IPT). 4-DAY IPT: (three full and two 1/2 DAYS) NOV 28-DEC 2, 2015. $1499. Two great leaders: Denise Ippolito and Arthur Morris. Meet and greet at 3pm on SAT NOV 28 followed by an afternoon photo session at the crane pools and the introductory slide program after dinner on your own.
Mention the blog and a $100 Late Registration Discount will be applied to your balance. Just 1 spot left.
Tens of thousands of Snow Geese, 10,000 Sandhill Cranes, ducks, amazing sunrises, sunsets, and blast-offs. Live, eat, and breathe photography with two of the world's premier photographic educators at one of their very favorite photography locations on the planet. Top-notch in-the-field and Photoshop instruction. This will make 21 consecutive Novembers at Bosque for artie. This will be denise's 7th workshop at the refuge. Nobody knows the place better than artie does. Join us to learn to think like a pro, to recognize situations and to anticipate them based on the weather, especially the sky conditions, the light, and the wind direction. Every time we make a move we will let you know why. When you head home being able to apply what you've learned on your home turf will prove to be invaluable.
This workshop includes 4 afternoon (11/28through 12/1), 4 morning (11/29 to 12/2) photography sessions, an inspirational introductory slide program after dinner on your own on Saturday, 11/28, all lunches, and after-lunch digital workflow, Photoshop, and image critiquing sessions.
There is never a strict itinerary on a Bosque IPT as each day is tailored to the local conditions at the time and to the weather. We are totally flexible in order to maximize both the photographic and learning opportunities. We are up early each day leaving the hotel by 5:30 am to be in position for sunrise. We usually photograph until about 10:30am. Then it is back to Socorro for lunch and then a classroom session with the group most days. We head back to the refuge at about 3:30pm each day and photograph until sunset. We will be photographing lots of Snow Geese and lots of Sandhill Cranes with the emphasis on expanding both your technical skills and your creativity.
A $599 non-refundable deposit is required to hold your slot for this IPT. Your balance, payable only by check, will be due on 7/25/2015. If you cancel and the trip fills, we will be glad to apply a credit applicable to a future IPT for the full amount less a $100 processing fee. If we do not receive your check for the balance on or before the due date we will try to fill your spot from the waiting list. Whether or not your spot is filled, you will lose your deposit. If not, you can secure your spot by paying your balance.
Please print, complete, and sign the form that is linked to here and shoot it to us along with your deposit check (made out to "Arthur Morris.") You can also leave your deposit with a credit card by calling the office at 863-692-0906. If you register by phone, please print, complete and sign the form as noted above and either mail it to us or e-mail the scan. If you have any questions, please feel free to contact me via e-mail after July 29.
Facebook
Be sure to like and follow BAA on Facebook by clicking on the logo link upper right. Tanks a stack!
Support the BAA Blog. Support the BAA Bulletins: Shop B&H here!
We want and need to keep providing you with the latest free information, photography and Photoshop lessons, and all manner of related information. Show your appreciation by making your purchases immediately after clicking on any of our B&H or Amazon Affiliate links in this blog post. Remember, B&H ain't just photography!
Amazon.com
Those who prefer to support BAA by shopping with Amazon may click on the logo-link immediately above.
Amazon Canada
Many kind folks from north of the border, eh, have e-mailed stating that they would love to help us out by using one of our affiliate links but that living in Canada and doing so presents numerous problems. Now, they can help us out by using our Amazon Canada affiliate link by starting their searches by clicking here. Many thanks to those who have written.
Typos
In all blog posts and Bulletins, feel free to e-mail or to leave a comment regarding any typos or errors. Just be right :).