What's Up
I spent most of Tuesday answering e-mails, working on our 2016 land-based Falklands IPT arrangements, gargling, resting, breathing Vicks Vapo Rub steam, and doing diluted iodine face dips.
Induro $50 Instant Rebate
The Induro $50 instant rebate will last only till 2016. Click on the logo-link above to save $50 on our favorite tripods. On our recent grueling trip to the Southern Ocean Denise loved her new GIT 304 and I love my new GIT 304L. Both performed flawlessly in the mud, snow and ice.
Selling Your Used Photo Gear Through BIRDS AS ART
Selling your used (or like-new) photo gear through the BAA Blog or via a BAA Online Bulletin is a great idea. We charge only a 5% commission. One of the more popular used gear for sale sites charges a minimum of 20%. Plus assorted fees! Yikes. The minimum item price here is $500 (or less for a $25 fee). If you are interested please e-mail with the words Items for Sale Info Request cut and pasted into the Subject line :). Stuff that is priced fairly–I offer free pricing advice, usually sells in no time flat. In the past few months, we have sold just about everything in sight. Do know that prices on some items like the EOS-1D Mark IV, the old Canon 500mm, the EOS-7D, and the original 400mm IS DO lens have been dropping steadily.
Canon EF 24-70mm f/2.8L II USM Lens
Another Lowest-ever BAA Price!
Price Reduced $100 on NOV 18, 2015.
Erik Hagstrom is offering a used Canon EF 24-70mm f/2.8L II USM lens in excellent condition for $1425. The sale includes the lens hood (EW-88C), the front and rear Canon lens caps, the original lens case LP1219, the instruction manual, both US & Canada warranty cards, the original box (less the UPC code that was used for a rebate), and insured shipping via FED-EX Ground. Your item will not ship until your check clears unless other arrangements are made.
Please contact Erik by e-mail or by phone at 206-999-1507 (Pacific time).
The new 24-70 II is a favorite of all serious landscape photographers. artie 
That's a stupid business strategy…
Here is an e-mail that I sent to long-time friends and clients, Pat and Stokes Fishburne:
AM: Hi Pat and Stokes, Hope that all is well. I am on the way home from the penguins!
re:
PF: As you may remember, I had to leave the beach on our last day of photography at Ft. DeSoto because I was in such pain that I could barely walk. After months of MRIs and x-rays, they told me that it's my back — which causes referred pain in my right thigh and right ankle.
AM: Sounds like a visit to Dr. Oliver might be in order. Why? Because it sounds like the doctors have no clue 🙂 But heck, we are all getting older by the second and that can be a big painful challenge. I said to denise on the ship last week, "I don't really feel bad because so many different things hurt that I am not concentrating on any one thing…."
PF: So, the dreaded day has come when I have to consider lighter equipment.
AM: Been there, done that.
PF: I currently have a 500mm lens and a 400 DO lens. You have raved so much about the 400 DO II that I'm thinking about selling my two large lenses (the old 500 and the 400 DO) and getting the new 400mm DO II. What do you think?
AM: The basic plan is good but for one big but. The 400 DO II is much sharper than the old ones with and without TCs. But, see the Big But below…. The 400 DO II is a great lens; with the TCs it gives me either 560mm or 800mm full frame in a fairly light package. Times 1.6 if I go with the 7D II. And selling prices for the both the old 400 DO and the old 500 continue to drop….
Big But: the 400 DO II is actually a bit heavier than the original 400 DO. At 4.28 pounds it is not light. And it is pretty bulky. So where I am going? Do you have the 100-400 II? It is amazing. It is much lighter and smaller than the 400 DO II. With the 7D II on the Mongoose with the 100-400 II and the 1.4X III TC you will have an effective focal length of 400 X 1.4 X 1.6 = 896mm. Assuming that you will be using my B&H links as you and Stokes have always done, your purchasing one or two 100-400 IIs rather than one or two 400 DO IIs will mean a lot less in commissions for me but it just might be the very best choice for you…. There are times when a seemingly stupid business strategy: earning far less in commissions, can actually be the very smartest business strategy: making sure that folks get exactly would be best for them. I have long prided myself in not shilling for a product that I do not believe in or have not used and love that would make me lots of money…. There are others in this industry that will sell you anything to make a few bucks. And though you and Stokes have been dear friends for probably close to two decades–could it be that long, I feel the same way about all BAA customers. That why I am sharing our conversation here on the blog.
PF: Of course, I'd also want to up-grade to the 1.4 III and 2.0 III.
AM: If you go with the 100-400 II you would only need the 1.4X III TC. More lost commissions 🙂
PF: I have the 7D Mark II and 5D Mark III camera bodies. I am happy with them and, at this time, I don't plan on upgrading them.
AM: Good plan. I love them both but am loving my 7D II more and more lately. See the Southern Ocean blog posts where I wound up using the 100-400 II/7D II much of the time, rarely going to the 400 DO II by the end of the 3 weeks and often leaving the 1D X in my cabin.
What would you gain with the 400 DO II? All AF points active at 560mm with the 1.4X III, 800mm of reach with the 2X III and the 5D III, and 1280 with the 2X III/7D II. And do not forget that the 400 DO II is a lot lighter than the old 500mm, 3.91 pounds lighter to be exact….
Your call. Below are all the links. Let me know which way you go and please of course do use my B&H links.
Later and love to you and to Stokes.
a
ps: for your convenience, the B&H affiliate links are below.
Canon EF 400mm f/4 DO IS II USM Lens
Canon EF 100-400mm f/4.5-5.6L IS II USM lens
Note: What is the price here for giving honest advice if Pat and Stokes wind up buying two 100-400 IIs and two 1.4X III TCs rather than two 400 DO IIs, two 1.4X III TCs, and two 2X III TCs? As best as I can figure: $359.04 in lost commissions. But the very best business strategy as far as I am concerned.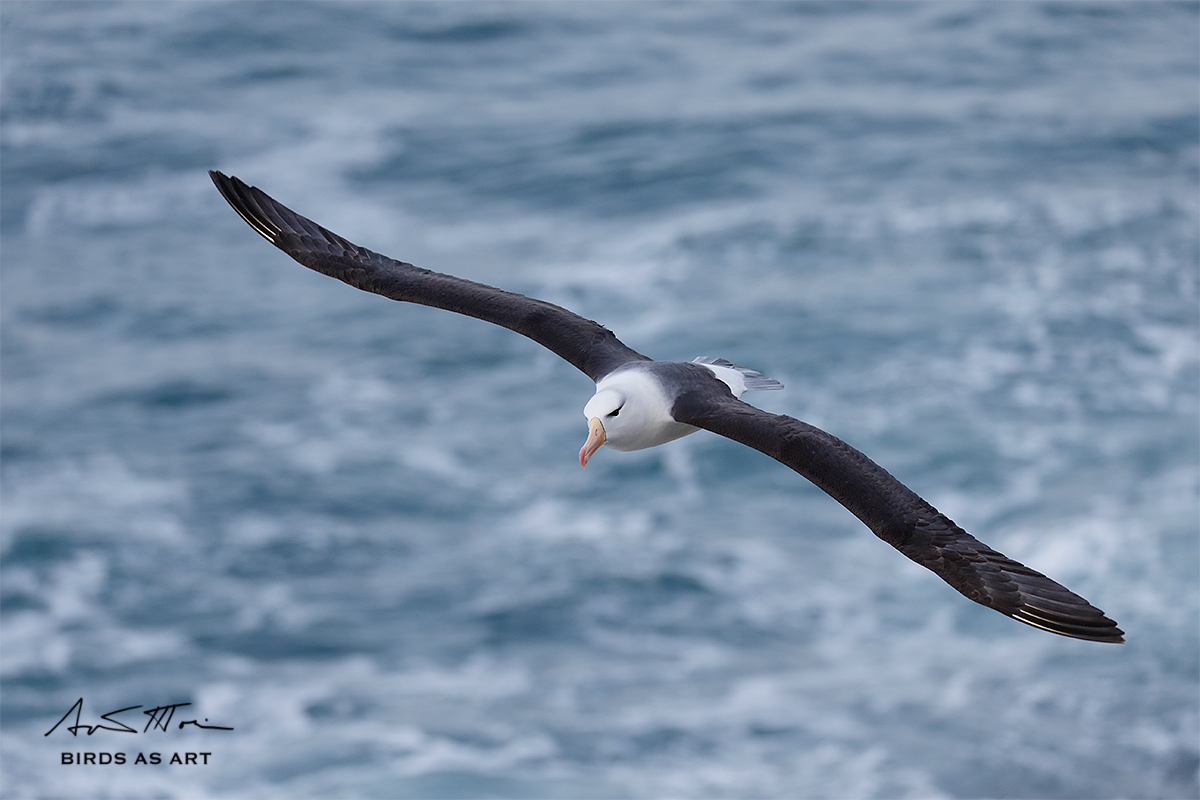 This image was created on Saunders Island on the first-ever land-based IPT with the hand held Canon EF 100-400mm f/4.5-5.6L IS II USM lens (at 255mm) and the rugged professional camera body, the Canon EOS-1D X. ISO 800. Evaluative metering +2 stops off the grey sky: 1/1600 sec. at f/5.6. AWB.
Center AF point/AI Servo Expand/Shutter Button AF as framed was active at the moment of exposure (as is always best when hand holding). The center AF point was squarely on the base of the bird's bill. When working in pure flight situations I have gone back to using shutter button AF for more than a year. I still use rear button AF for most static subjects. Click on the image to see a larger version.
Black-browed Albatross in flight/Top Shot
Your browser does not support iFrame.
More Love for the Canon 100-400 II
If I had been using the 400 DO/1D X combo when this bird flew by below eye level, I would have been dead in the water: I could not have fit those long thin wings into the horizontal frame. The more I used the 1-4 II on the two Southern Oceans trips, the more I fell in love with its reach, close focus, light weight, and versatility. As the South Georgia expedition went on, I rarely if ever brought the 400 DO on the landings, using it mostly for flight photography from the ship… Many times I would bring two camera bodies. I would use the 1D X with the 1-4 in low light and when the birds were at close range, and would use the 7D II in brighter conditions when I needed the additional reach. With either camera body adding a 1.4X TC when needed gave me additional reach with center AF point (Expand) AF active.
My Estimated Zoom Technique for Flight Photography
When using a zoom lens for flight photography, many folks acquire focus at the long end and slowly and continuously turn the zoom ring as the bird approaches and gets continually larger in the frame. I have tried that approach many times without much success. When I am using a zoom lens like the 100-400 II for flight, I use a technique that I developed and practice often. I named it "zoom out to estimated desired focal length." I acquire focus at the long end, perhaps make an image or two at 400mm, and then, estimating the bird's speed and course, zoom out quite a bit trying to anticipate where the best image will be. Then I let the bird fly to that spot where the framing will be ideal at my estimated focal length. As the bird flies right into my zone I depress the shutter button half way to reacquire focus and once the AF system begins to track, I press and hold the shutter button down to create one or two images. Today's featured image is 100% full frame, a result of my perfectly estimating the zoomed out focal length at 255mm and properly reacquiring focus at just the right moment. Perfecting this technique takes practice. If you try it, leave a comment or shoot me an e-mail and let me know how you do.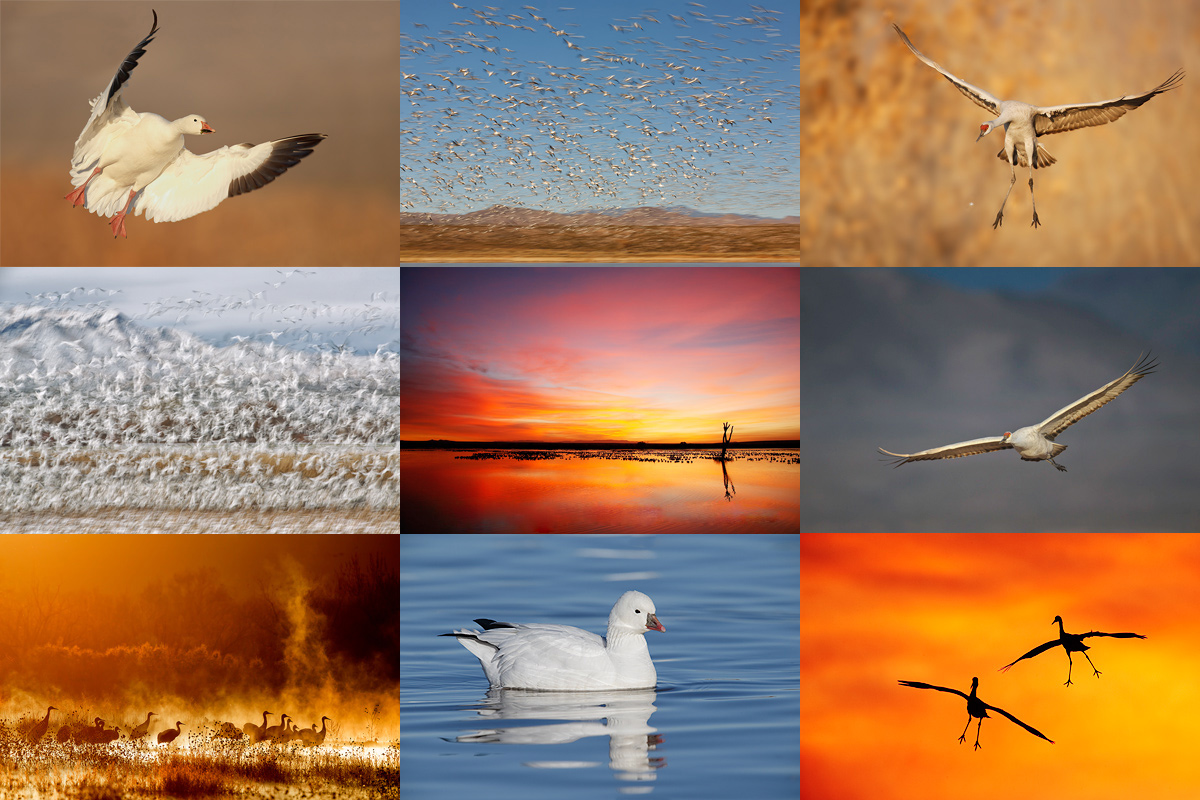 Bosque has been one of artie's three soul places since he created two BBC-honored images there on his first visit in 1994.
Bosque del Apache 2015 BIRDS AS ART/A Creative Adventure Instructional Photo-Tour (IPT). 3-FULL DAY IPT: NOV 22-24, 2015. $1149. Two great leaders: Denise Ippolito and Arthur Morris. Meet and greet and introductory slide program after dinner on your own at 7:00pm on SAT NOV 21.
Sold Out with a waiting list.
In 2015, we are offering a 3-DAY IPT before Thanksgiving and a 4-DAY IPT after the holiday. The first has been sold out for a while. There is some room on the second. See below for details.
We know that there are lots of less costly workshops being offered these days. Many of them are downright cheap. Please remember that you get exactly what you pay for. With us you will have two full time pros there for you every minute we are in the field. Together they have more than 28 seasons of experience at the refuge. If you want the finest in photographic instruction and want to be assured of being in the right spot at exactly the right time every day, do join us.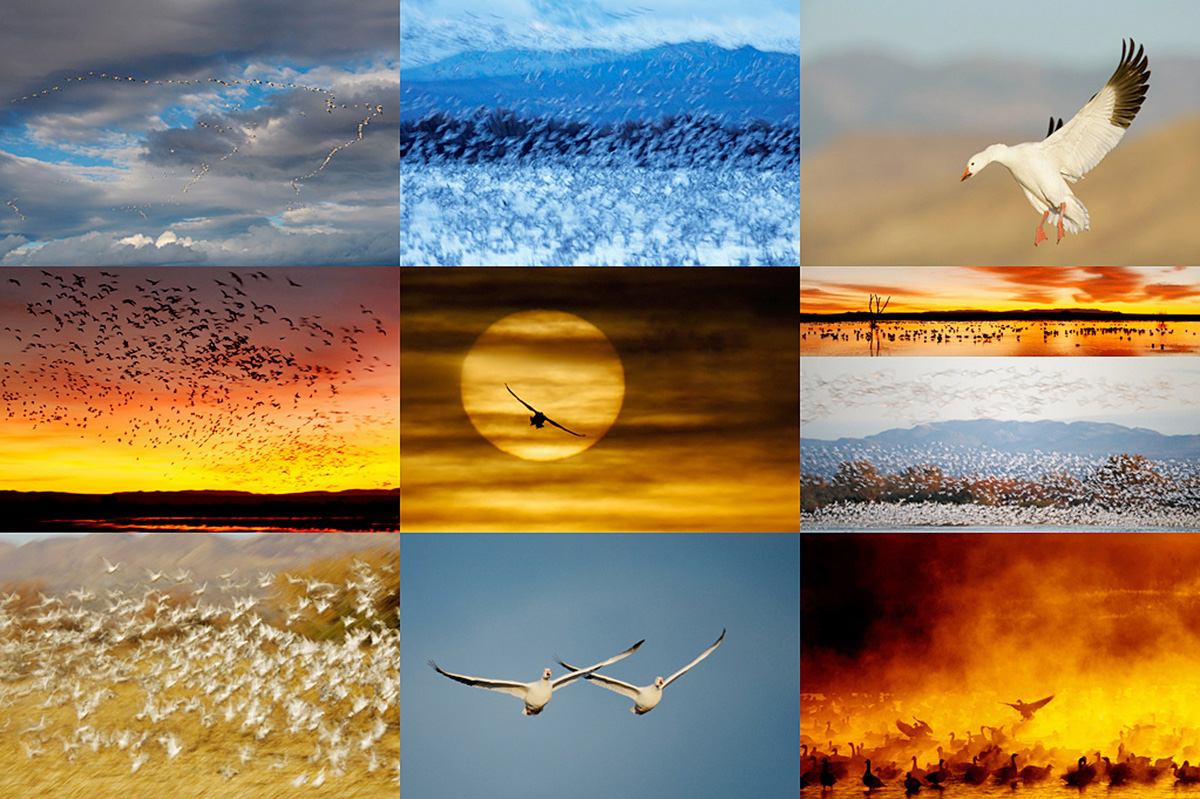 Bosque is a wondrous place.
Bosque del Apache 2015 BIRDS AS ART/A Creative Adventure Instructional Photo-Tour (IPT). 4-DAY IPT: (three full and two 1/2 DAYS) NOV 28-DEC 2, 2015. $1499. Two great leaders: Denise Ippolito and Arthur Morris. Meet and greet at 3pm on SAT NOV 28 followed by an afternoon photo session at the crane pools and the introductory slide program after dinner on your own.
Mention the blog and a $100 Late Registration Discount will be applied to your balance. Just 1 spot left.
Tens of thousands of Snow Geese, 10,000 Sandhill Cranes, ducks, amazing sunrises, sunsets, and blast-offs. Live, eat, and breathe photography with two of the world's premier photographic educators at one of their very favorite photography locations on the planet. Top-notch in-the-field and Photoshop instruction. This will make 21 consecutive Novembers at Bosque for artie. This will be denise's 7th workshop at the refuge. Nobody knows the place better than artie does. Join us to learn to think like a pro, to recognize situations and to anticipate them based on the weather, especially the sky conditions, the light, and the wind direction. Every time we make a move we will let you know why. When you head home being able to apply what you've learned on your home turf will prove to be invaluable.
This workshop includes 4 afternoon (11/28through 12/1), 4 morning (11/29 to 12/2) photography sessions, an inspirational introductory slide program after dinner on your own on Saturday, 11/28, all lunches, and after-lunch digital workflow, Photoshop, and image critiquing sessions.
There is never a strict itinerary on a Bosque IPT as each day is tailored to the local conditions at the time and to the weather. We are totally flexible in order to maximize both the photographic and learning opportunities. We are up early each day leaving the hotel by 5:30 am to be in position for sunrise. We usually photograph until about 10:30am. Then it is back to Socorro for lunch and then a classroom session with the group most days. We head back to the refuge at about 3:30pm each day and photograph until sunset. We will be photographing lots of Snow Geese and lots of Sandhill Cranes with the emphasis on expanding both your technical skills and your creativity.
A $599 non-refundable deposit is required to hold your slot for this IPT. Your balance, payable only by check, will be due on 7/25/2015. If you cancel and the trip fills, we will be glad to apply a credit applicable to a future IPT for the full amount less a $100 processing fee. If we do not receive your check for the balance on or before the due date we will try to fill your spot from the waiting list. Whether or not your spot is filled, you will lose your deposit. If not, you can secure your spot by paying your balance.
Please print, complete, and sign the form that is linked to here and shoot it to us along with your deposit check (made out to "Arthur Morris.") You can also leave your deposit with a credit card by calling the office at 863-692-0906. If you register by phone, please print, complete and sign the form as noted above and either mail it to us or e-mail the scan. If you have any questions, please feel free to contact me via e-mail after July 29.
Facebook
Be sure to like and follow BAA on Facebook by clicking on the logo link upper right. Tanks a stack!
Support the BAA Blog. Support the BAA Bulletins: Shop B&H here!
We want and need to keep providing you with the latest free information, photography and Photoshop lessons, and all manner of related information. Show your appreciation by making your purchases immediately after clicking on any of our B&H or Amazon Affiliate links in this blog post. Remember, B&H ain't just photography!
Amazon.com
Those who prefer to support BAA by shopping with Amazon may click on the logo-link immediately above.
Amazon Canada
Many kind folks from north of the border, eh, have e-mailed stating that they would love to help us out by using one of our affiliate links but that living in Canada and doing so presents numerous problems. Now, they can help us out by using our Amazon Canada affiliate link by starting their searches by clicking here. Many thanks to those who have written.
Typos
In all blog posts and Bulletins, feel free to e-mail or to leave a comment regarding any typos or errors. Just be right :).