Enjoy the Blog?
Do you enjoy reading the blog? Do you learn something on most visits? Are you all set as far as gear goes? If yes to all of those, please consider making a BAA Blog Thank You Donation by clicking here. And if you do need some new gear, please use my affiliate links, most especially, the B&H affiliate logo link just to the right of this text. Simply click and begin your search and shopping spree :). Note: web orders only. Also, there will be no indication that your purchases will be tracked to BAA. The tracking is invisible. That's why we ask folks to send us their B&H receipts for major purchases via e-mail. Please remember: no phone orders…. Many thanks for considering these requests. a
ps: think that I am being too cheeky? I put in about 15 to 30 hours per week on the blog; it is my part time job 🙂
What Was Up?
The text immediately below was written on the morning of Thursday, November 5, 2015 while I was on the Ortelius somewhere off South Georgia.
After a rough, nearly 3 day crossing from The Falklands to South Georgia–can you say Force 10 Gale?, we made our first landing at Undine Harbor, South Georgia on the afternoon of Wednesday, November 4. As I work on this blog post, the wind is still howling and the snow is still blowing. Our Thursday morning landing has been canceled due to the harsh conditions and we have pulled anchor and set sail back to Elsehul in hopes of landing early this afternoon and making the climb up to see some nesting Grey-headed Albatrosses.
Our first landing was very wet and very cold, with most folks soaked with icy seawater both on the ride into our landing and the ride back to the ship. Only those with the heaviest duty raingear did not have to hang everything in their cabins in an attempt to dry out them out overnight. Neither denise nor I were in that group (even though her outer shell cost more then $300.) I am happy to report that–with the help of a scopalamine patch, denise survived the crossing in fine fashion. As for me, I have not–knock on wood–gotten seasick since I worked on Ron Grandinetti's charter boat out of Montauk, Long Island for 17 days in the mid-1970s after getting laid off from teaching. My writing career had begun just before that writing stories for the weekly rag, "The Long Island Fisherman."
What's Up Now?
I am feeling a lot better today. Tomorrow is packing day. I fly to Albuquerque on Friday and meet denise at the airport just before dinner. After a morning of scouting we meet the 1st Bosque group late on Saturday.
Note: after the rough start and some harsh weather for the first few days (as noted above) things calmed down nicely and the Cheesemans' OCT 2015 South Georgia Expedition was a huge success for all who were fortunate enough to be aboard.
Bosque #2
With just two openings left, we are raising the later registration discount to $200. See yesterday's blog post for details. Then call Jim or Jen in the office at 863-692-0906 tomorrow to register. Time is short. And so is life 🙂
Induro $50 Instant Rebate
The Induro $50 instant rebate will last only until the end of this year. Click on the logo-link above to save $50 on our favorite tripods. On our recent grueling trip to the Southern Ocean Denise loved her new GIT 304 and I love my new GIT 304L. Both performed flawlessly in the mud, snow and ice.
Induro GIT 404L Super Sale!
For a limited time only the Induro GIT 404L is being offered for the ridiculously low price of $470 (including the $50 instant rebate). The Induro GIT 404L is a 4-leg section Grand Series tripod. It is slightly bigger and one pound heavier than the GIT 304L; it is the perfect tripod for those using big glass who would like a bit more stability.
Gura Gear Backpack Blowout
I do not use a backpack. But many of my and denise's clients who do have long raved about the Guru Gear backpacks. As have many professionals. These great photo backpacks are being phased out and will not be replaced in their present form. Take advantage of the huge price reductions on three popular models, the Bataflae 26L, the Bataflae 32L, and the Bataflae 18L, and enjoy a superbly high quality backpack that with its sturdy, high end zippers and durable fabric will serve you well for many years.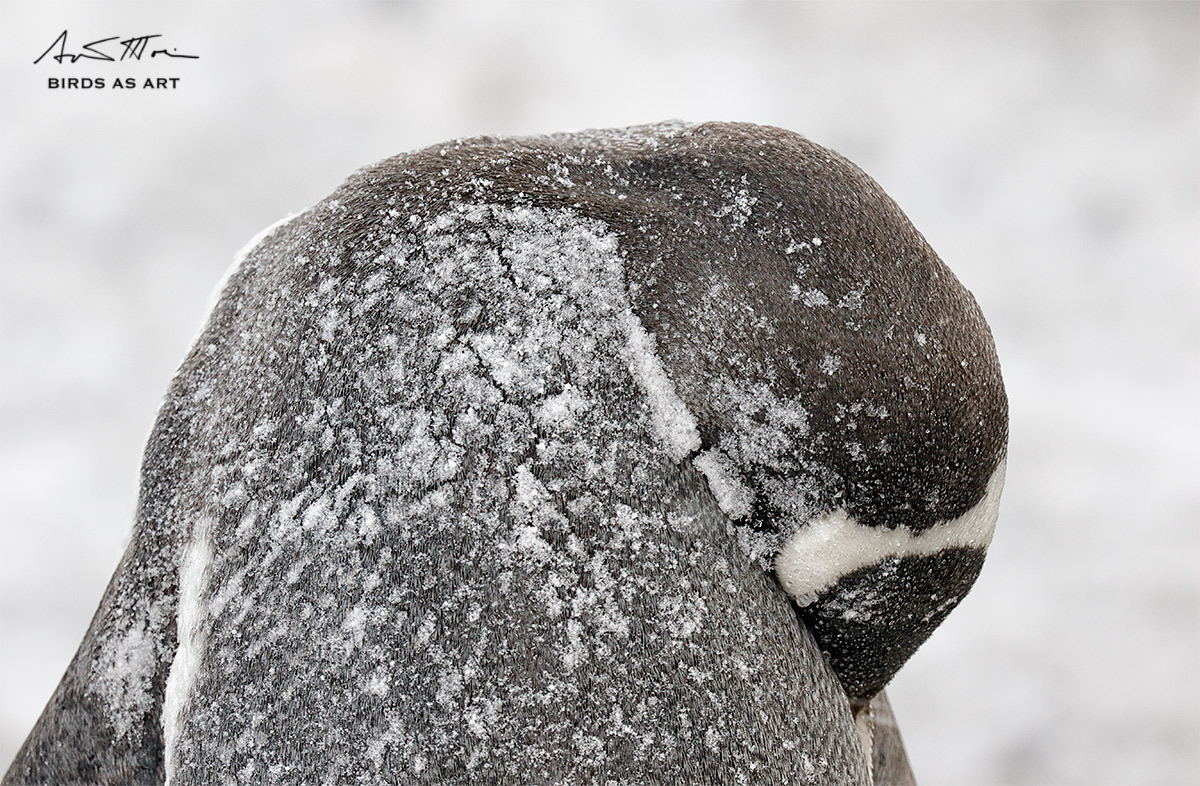 This image was created at Undine Harbor, South Georgia with the hand held Canon EF 100-400mm f/4.5-5.6L IS II USM lens (at 371mm) and the rather amazing Canon EOS 7D Mark II. ISO 800. Evaluative metering +1 stop as framed: 1/125 sec. at f/8 (was nearly a one stop underexposure).
One AF point below and one to the right of the center AF point/AI Servo Expand/Rear Focus AF as framed was active at the moment of exposure (as is always best when hand holding). Click here to see the latest version of the Rear Focus Tutorial. Click on the image to see a larger version.
Image #1: Gentoo Penguin sleeping on nest during snow squall
Your browser does not support iFrame.
Capturing the Essence: It's a Tough Life…
Sometimes a single image can tell a whole story. This simple, graphic image succinctly tells the story of our first South Georgia landing. Denise first spotted this subject and created a wonderful image of the whole bird by working a bit wide and placing the sleeping penguin in the upper left of a vertical frame (thus putting more emphasis on the mud nest than I did with my similar images). I helped her by suggesting that she get closer and a higher so as to place the penguin's head against a background of white snow rather than black mud. When she was done I moved in a bit closer and created today's featured image. Teamwork is a wonderful thing.
You can see denise's stunning wider version of today's featured subject in her South Georgia trip report blog post by clicking here. It is the fourth of 33 wonderful images. All are invited to leave a comment there or here and let me know your favorite denise image from the trip. See especially the two creatively filtered images at the bottom of the post.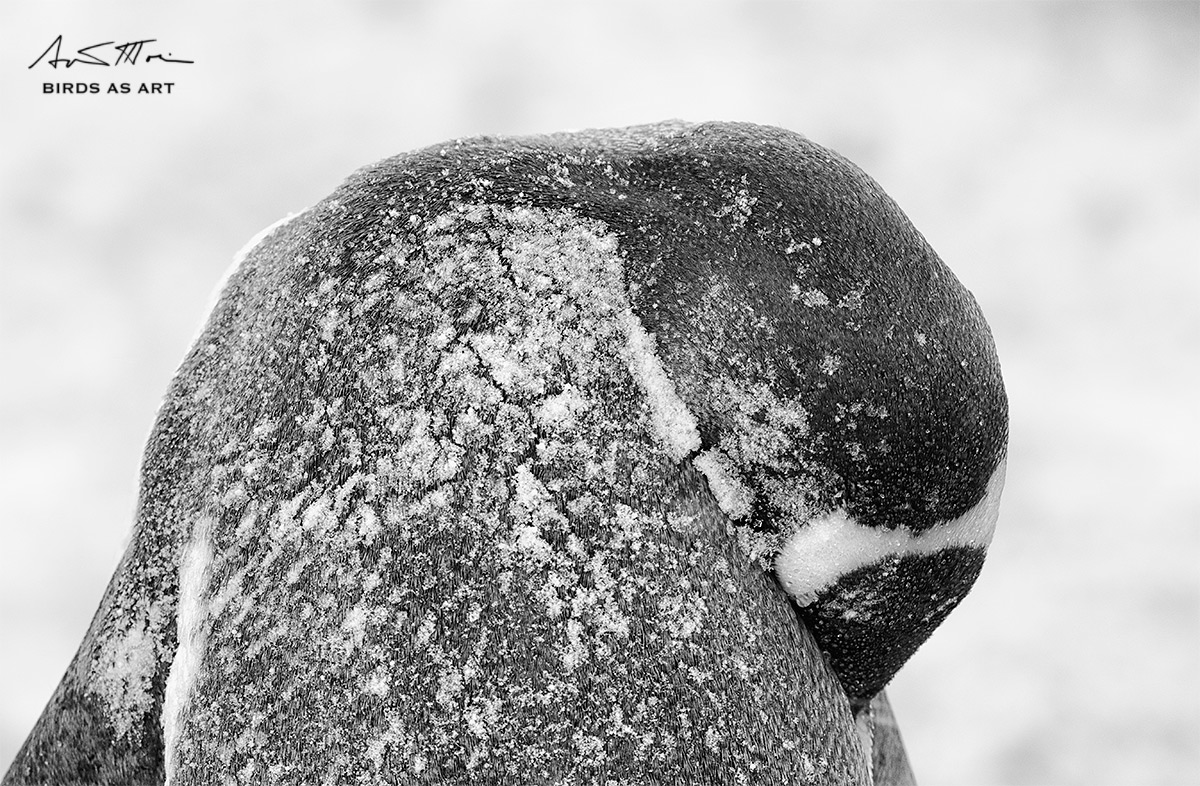 This NIK Silver Efex Pro version was created from the image that opened this blog post.
Image #2: NIK Silver Efex Pro Full Dynamic Smooth version of Gentoo Penguin sleeping on nest during snow squall
Your browser does not support iFrame.
NIK Silver Efex Pro Full Dynamic Smooth
While the original image that opens this blog post did not show much color, there are significant red tones in the black feathers. When I wish to create a black and white version I bring the image into Silver Efex Pro and try the pre-sets that look as if they might have potential. With this image, Full Dynamic Smooth was the clear choice for me.
Your Favorite?
Please take a moment to leave a comment and let us know if you prefer the color version or the B&W version. And do of course let us know why you made your choice.
Facebook
Be sure to like and follow BAA on Facebook by clicking on the logo link upper right. Tanks a stack!
Support the BAA Blog. Support the BAA Bulletins: Shop B&H here!
We want and need to keep providing you with the latest free information, photography and Photoshop lessons, and all manner of related information. Show your appreciation by making your purchases immediately after clicking on any of our B&H or Amazon Affiliate links in this blog post. Remember, B&H ain't just photography!
Amazon.com
Those who prefer to support BAA by shopping with Amazon may click on the logo-link immediately above.
Amazon Canada
Many kind folks from north of the border, eh, have e-mailed stating that they would love to help us out by using one of our affiliate links but that living in Canada and doing so presents numerous problems. Now, they can help us out by using our Amazon Canada affiliate link by starting their searches by clicking here. Many thanks to those who have written.
Typos
In all blog posts and Bulletins, feel free to e-mail or to leave a comment regarding any typos or errors. Just be right :).