What's Up?
The cold has gotten worse with a chafed runny nose, lots of loud sneezing, and some nasty congestion but I am still glad that I do not have a sore throat (knock on wood).
I prepared this blog post on the late afternoon of Saturday, NOV 21, 2015. We meet the first IPT group at 7pm tonight for an introductory program that includes a slide program. And then head out into the cold blackness early tomorrow morning.
Bosque IPT #2:Last Chance: $200 Late Registration Discount Offer!
Try Jim in the office on Monday to sign up for the last spot on the second Bosque IPT. We have room for either one photographer or for a couple. See the complete details here.
The BIRDS AS ART Blog and You
To show your appreciation for my efforts here, we do ask that you use our the B&H and Amazon affiliate links on the right side of the blog for all of your purchases. Doing so won't cost you a penny and is the best way to thank me for the 15-20 hours I put in to bring you fresh and free educational material most every day. Please check the availability of all photographic accessories in the BIRDS AS ART Online Store. We sell only what I use and depend on. We will not sell you junk. We know what you need to make creating great images easy and fun. And we are always glad to answer your gear questions via e-mail (unless I am traveling without internet!)
You can find the following items in the store: Mongoose M3.6 and Wimberley heads, plates, low feet, and accessories, flash brackets, , Delkin e-film Pro Compact Flash Cards, LensCoat products, and our unique line-up of educational materials including ABP I & II, Digital Basics, Site and Set-up e-Guides, Canon and Nikon Camera Users and AF e-Guides, and MP-4 Photoshop video tutorials among others.
And we still have a few Gitzo tripods in stock. I imagine that we will be phasing those out soon….
I would of course appreciate your using our B&H affiliate links for all of your major gear, video, and electronic purchases. Please remember: web orders only! For the photographic stuff mentioned in the paragraph above we, meaning BAA, would of course greatly appreciate your business. Here is a huge thank you to the many who have been using our links on a regular basis and visiting the BAA Online store as well.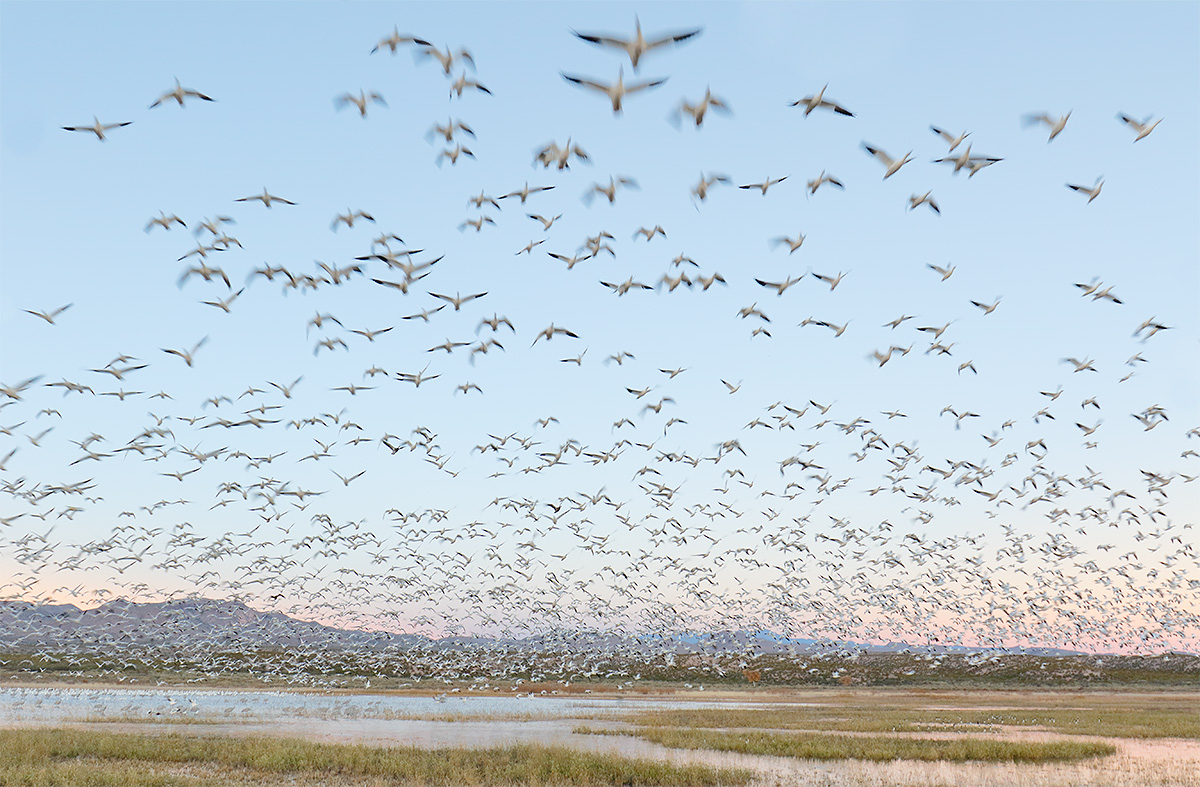 This image was created at at 6:44am on Saturday morning, November 21 at Bosque del Apache NWR with the hand held Canon EF 16-35mm f/4L IS USM lens (at 16mm) and the amazing Canon EOS 7D Mark II. ISO 400. Evaluative metering +1 1/3 stop: 1/60 sec. at f/5.6.
Center AF point/AI Servo Expand/Rear Focus AF as framed was active at the moment of exposure (as is always best when hand holding). Click here to see the latest version of the Rear Focus Tutorial. Click on the image to see a larger version.
Snow Goose Wide Angle Blast
Your browser does not support iFrame.
Everyone Missed the Obvious Shot. But Me 🙂
We did quite well at the Main Impoundment with lots of birds and the first colorful sunrise of the season. Then we made the standard move. There were a thousand geese in the pond. As I faced north I felt a bit of a breeze on my right cheek. I knew what that meant. I had started the day with the 100-400 II/7D II combo on an RS-strap. When I saw the big gathering of geese and felt the wind slightly from the east I grabbed my second 7D II and mounted the 16-35 f/f4. That rig went on a second RS-7 strap. When I got to the pond I walked north to the front of the goose flock. I have already set both camera bodies to Tv mode at +1 1/3 stops. The geese had been taking off in groups of 3 or 4. I had barely gotten into position when the birds blasted off right at me.
There were probably more than 100 photographers all with super-telephoto lenses. There was not a single short lens in sight except for the one in my hands. The experience left me shaking my head as there were four or five supposedly top photographic leaders guiding groups for the Festival of the Cranes. I guess that they should have read the Bosque Site Guide.
The message here is the same as always: see the light and read the wind. Then get yourself in the right place and go to work.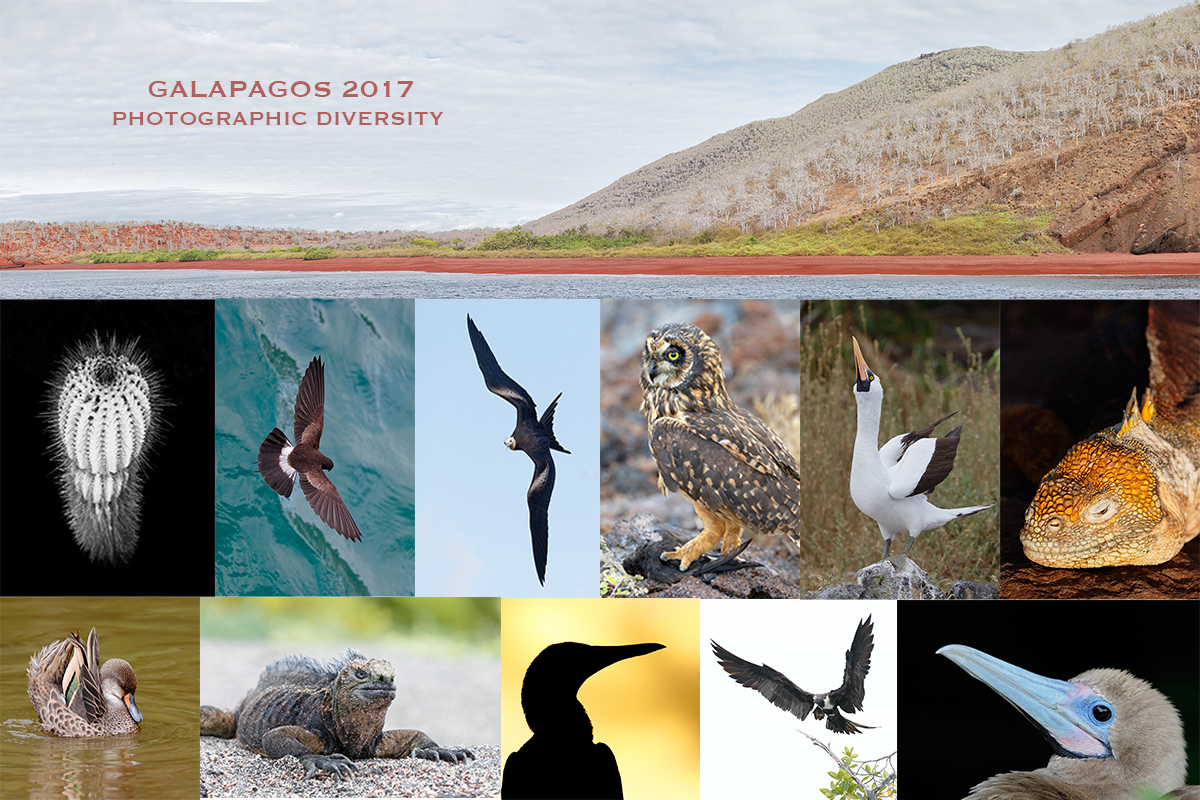 Tame birds and wildlife. Incredible diversity. You only live once….
GALAPAGOS Photo Cruise of a Lifetime IPT/The Complete Galapagos Photographic Experience. August 8-22, 2017 on the boat. 13 FULL and two half-days of photography: $12,499. Limit: 12 photographers plus the two leaders: Denise Ippolito and yours truly. Openings: 8.
Same great trip; no price increase!
Four slots filled already; this trip needs nine to run; in the unlikely event that it does not, all payments to BAA will be refunded in full.
My two-week Galapagos Photo-Cruises are without equal. The world's best guide, a killer itinerary, a great boat (the Samba), and two great leaders with ten Galapagos cruises under their belts. Pre-trip and pre-landing location-specific gear advice. In-the-field photo instruction and guidance. Jeez, I almost forgot: fine dining at sea!
The great spots that we will visit include Tower Island (including Prince Phillips Steps and Darwin Bay), Hood Island (including Punta Suarez, the world's only nesting site of Waved Albatross, and Gardner Bay)—each of the preceding are world class wildlife photography designations that rank right up there with Antarctica, Africa, and Midway. We will also visit Fernandina, Puerto Ayora for the tortoises, Puerto Egas—James Bay, and North Seymour for nesting Blue-footed Boobies in most years, South Plaza for Land Iguanas, Floreana for Greater Flamingoes, and Urbina Bay, all spectacular in their own right. We visit every great spot on a single trip. Plus tons more. And there will be lots of opportunities to snorkel on sunny mid-days for those like me who wish to partake.
It is extremely likely that we will visit the incredible Darwin Bay and the equally incredible Hood Island, world home of Waved Albatross twice on our voyage. The National Park Service takes its sweet time in approving such schedule changes.
We will be the first boat on each island in the morning and the last boat to leave each island every afternoon. If we are blessed with overcast skies, we will often spend 5-6 hours at the best sites. And as noted above, mid-day snorkeling is an option on most sunny days depending on location and conditions. On the 2015 trip most snorkeled with a mega-pod of dolphins. I eased off the zodiac to find hundreds of dolphins swimming just below me. Note: some of the walks are a bit difficult but can be made by anyone if half way decent shape. Great images are possible on all landings with either a hand held 70-200mm lens and a 1.4X teleconverter or an 80- or 100-400. I bring a longer lens ashore on most landings as they better fit my style. I generally bring only one of these as my big lens: the Canon 300mm f/2.8L IS, the new Canon 400mm DO lens, or the Canon 200-400mm f/4 L IS with Internal Extender.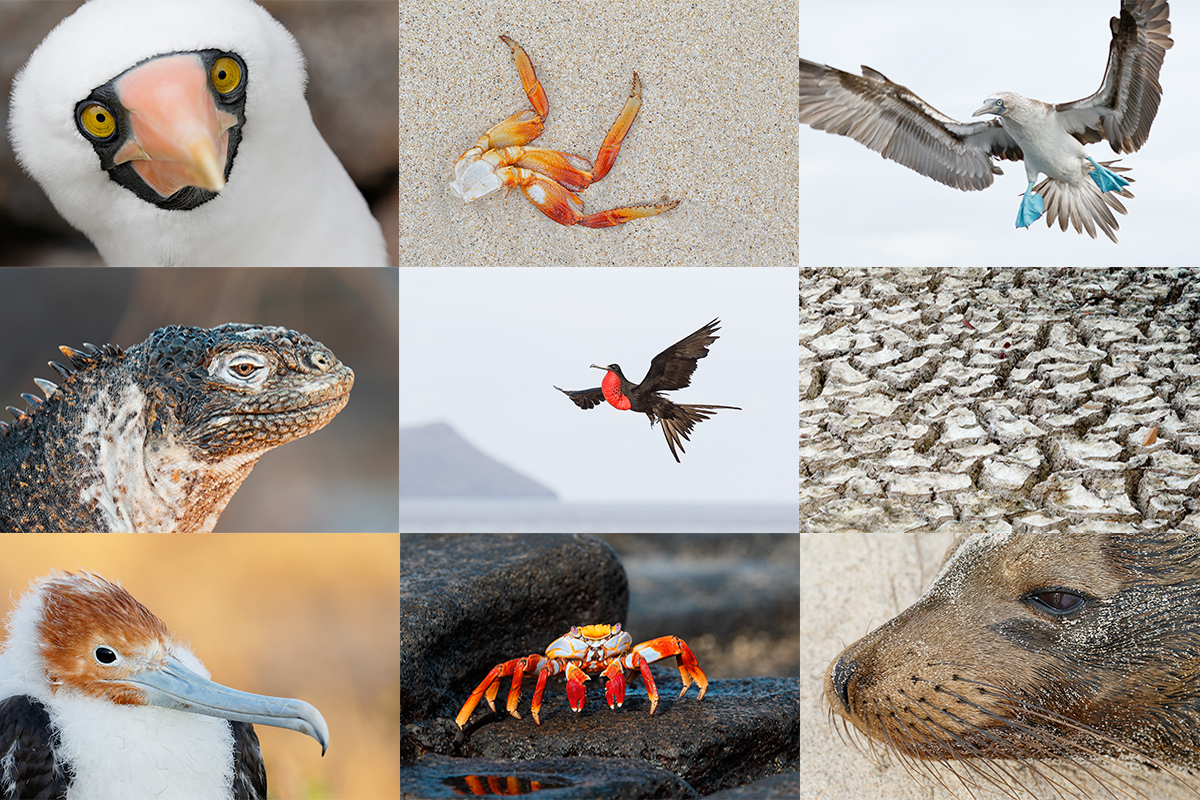 Do consider joining denise and me for this once in a lifetime trip to the Galapagos archipelago. There simply is no finer Galapagos photography trip. Learn why above.
An Amazing Value…
Do know that there are one week Galapagos trips for $8500! Thus, our trip represents a tremendous value; why go all that way and miss half of the great photographic locations?
The Logistics
August 6, 2017: We arrive a day early to ensure that we do not miss the boat.
August 7, 2017: There will be an introductory Galapagos Photography session and a hands on exposure session at our hotel.
August 8, 2017: We fly to the archipelago and board the Samba. Heck, on the 2015 trip some people made great images at the dock in Baltra while our luggage was being loaded!
August 22, 2017: We disembark late morning and fly back to Guayaquil midday; most will overnight there.
Most will fly home on the early morning of July 23 unless they are staying on or going elsewhere (or catching a red-eye flight on the evening of the 22nd).
$12,499 includes just about everything: all transfers, guide and park fees, all food on the boat, transfers and ground transportation, your flights to the archipelago, and three nights (double occupancy) in a top notch hotel in Guayaquil. If you are good to go, a non-refundable deposit of $5,000 per person is due immediately. The second payment of $4,000 is not due until 11/1/16. The final payment of $3449 per person will be due on 2/1/17. A $200 discount will be applied to each of the balances for couples or friends who register at the same time.
Purchasing travel insurance within 2 weeks of our cashing your deposit check is strongly recommended. On two fairly recent cruises a total of 5 folks were forced to cancel less than one week prior to the trip. My family and I use Travel Insurance Services and strongly recommend that you do the same.
Not included: your round trip airfare from your home to and from Guayaquil, beverages on the boat, phone calls, your meals in Guayaquil, personal items, and a $600/person cash tip for the crew and the guide—this works out to roughly $40/day to be shared by the 7 folks who will be waiting on us hand and foot every day for two weeks. The service is so wonderful that many folks choose to tip extra.
Please e-mail for the tentative itinerary or with questions. Please cut and paste "Galapagos 2017 Tentative Itinerary Please" into the Subject line.
Facebook
Be sure to like and follow BAA on Facebook by clicking on the logo link upper right. Tanks a stack!
Support the BAA Blog. Support the BAA Bulletins: Shop B&H here!
We want and need to keep providing you with the latest free information, photography and Photoshop lessons, and all manner of related information. Show your appreciation by making your purchases immediately after clicking on any of our B&H or Amazon Affiliate links in this blog post. Remember, B&H ain't just photography!
Amazon.com
Those who prefer to support BAA by shopping with Amazon may click on the logo-link immediately above.
Amazon Canada
Many kind folks from north of the border, eh, have e-mailed stating that they would love to help us out by using one of our affiliate links but that living in Canada and doing so presents numerous problems. Now, they can help us out by using our Amazon Canada affiliate link by starting their searches by clicking here. Many thanks to those who have written.
Typos
In all blog posts and Bulletins, feel free to e-mail or to leave a comment regarding any typos or errors. Just be right :).