What's Up?
I wrote most of this blog post on the ship and am finishing it up early on the morning of Sunday November 22, 2015. I have been working since 2:30am, after sleeping fitfully for five hours. It was a rough night as, with a mega-stuffed nose, I peeked at the clock every 20 minutes or so…. Happily, still no sore throat. But I have begun feeling pretty lousy 🙂
We have our first morning Bosque IPT session in exactly one hour. This blog post took several hours to assemble, that with lots of help from Pauline Carr. Many thanks Pauline.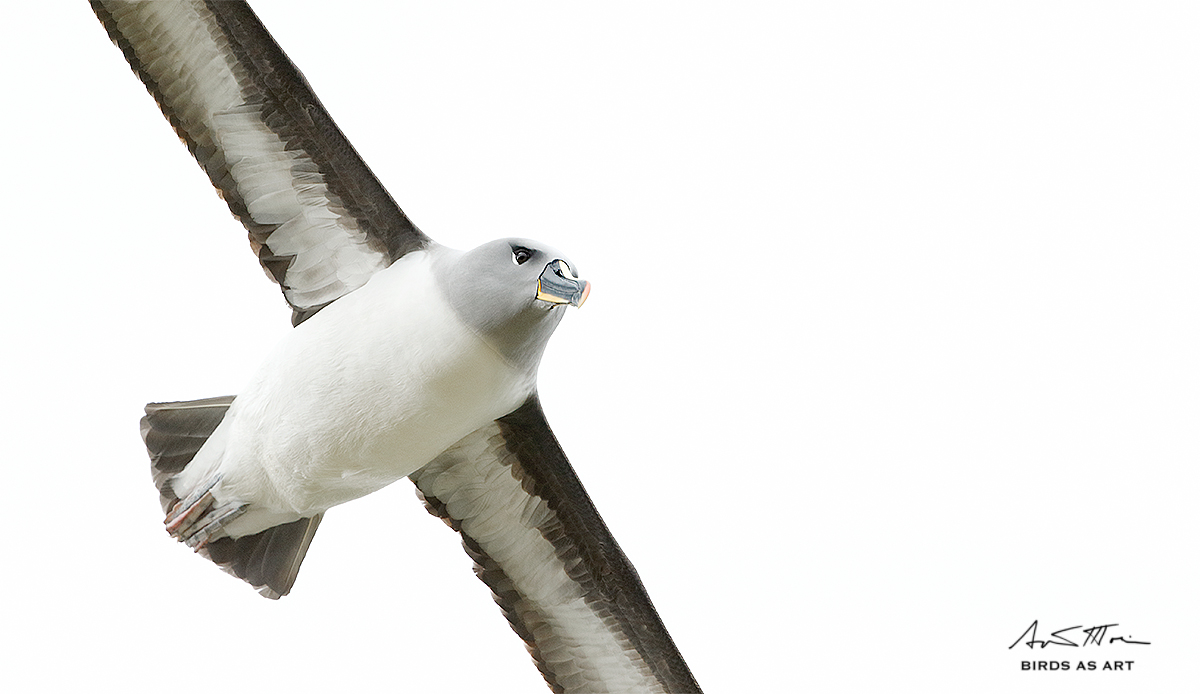 This image was created at Elsehul, South Georgia with the hand held Canon EF 400mm f/4 DO IS II USM lens and the rugged professional body, the Canon EOS-1D X. ISO 500. Evaluative metering +2/3 stop off the green water below: 1/2500 sec. at f/4 in Manual mode. AWB.
Center AF point (Manual selection)/AI Servo/Shutter Button Focus AF as originally framed was active at the moment of exposure. The selected AF point was on the tip of the bird's bill; the previous frame was not focused accurately. Click on the image to see a larger version.
Grey-headed Albatross tight flight image
Your browser does not support iFrame.
Getting Older and Seeing the Situation…
The expedition staff let us know that the hike to the grey-headed nest would be long and arduous. I knew right off the bat that the long, steep climb through tussock grass and mud was physically beyond me. And beyond several others in the BAA group. As we landed I saw lots of Grey-headed and Light Mantled Sooty Albatrosses flying over a bluff just above the beach. Expedition staff leader team Tim Carr had found a nest of the latter species just beyond the bluff. I asked for and received permission to make the moderate climb to the top of the bluff and hang out waiting for some albatrosses and giant petrels to fly by. The going was tough at first but those who joined me and persisted enjoyed some very good chances.
Tight Flight Miracle
When photographing birds in flight I encourage folks to try to keep shooting as the birds get closer. Maintaining accurate focus on the face as they approach point blank range is difficult. Properly framing the image so as to get the tail in the frame is a near-impossibility. If, however, you do not try, it is guaranteed that you will never succeed.
The story of a critically endangered albatross species…
Grey-headed Albatross is a critically endangered species; the epicenter of their population is centered around Elsehul and several other nearby islands in South Georgia. Most fatalities are the result of long line fishing for swordfish and tuna. Lines with tens of thousands of baited hooks, some as long as 40 nautical miles (and even triple that length!), are deployed. As the lines are tossed overboard many species of albatross grab the bait and those that are hooked succumb quickly.
To reduce mortality fishing within 200 miles of in South Georgia and a massive surrounding area, active fishing is permitted only at night, the long lines are weighted to sink the bait more quickly, distracting streamer lines are employed, the dumping of offal while the lines are being set is not permitted, and each ship has an observer aboard. Because boats that catch six birds of any species must stop fishing and leave the protected area the crews are very, very careful and bird deaths have been greatly reduced.
The stark numbers reveal that there are now about 16,000 pairs of Grey-headed Albatross down from 84,000 pairs in the early 1990s.
As noted previously, everything above in italics is courtesy of Pauline Carr via personal comment on the ship. (See more on Pauline and Tim Carr here.)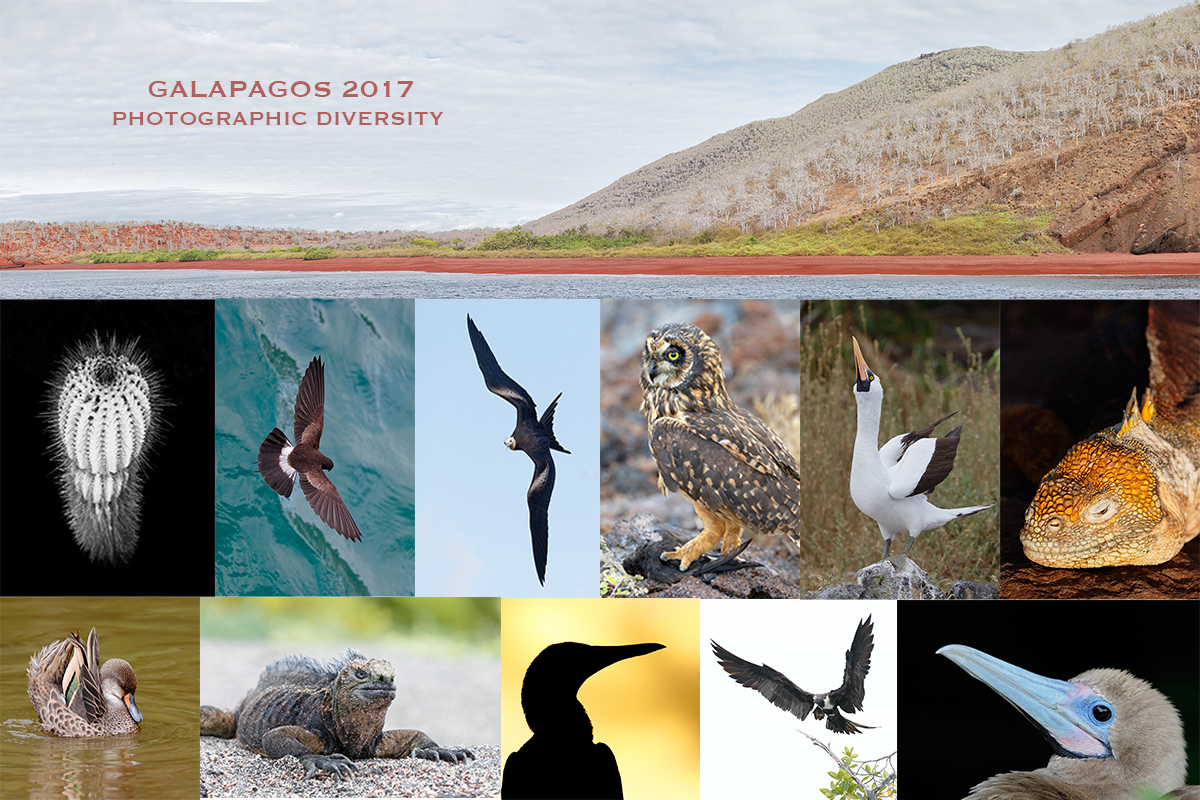 Tame birds and wildlife. Incredible diversity. You only live once….
GALAPAGOS Photo Cruise of a Lifetime IPT/The Complete Galapagos Photographic Experience. August 8-22, 2017 on the boat. 13 FULL and two half-days of photography: $12,499. Limit: 12 photographers plus the two leaders: Denise Ippolito and yours truly. Openings: 8.
Same great trip; no price increase!
Four slots filled already; this trip needs nine to run; in the unlikely event that it does not, all payments to BAA will be refunded in full.
My two-week Galapagos Photo-Cruises are without equal. The world's best guide, a killer itinerary, a great boat (the Samba), and two great leaders with ten Galapagos cruises under their belts. Pre-trip and pre-landing location-specific gear advice. In-the-field photo instruction and guidance. Jeez, I almost forgot: fine dining at sea!
The great spots that we will visit include Tower Island (including Prince Phillips Steps and Darwin Bay), Hood Island (including Punta Suarez, the world's only nesting site of Waved Albatross, and Gardner Bay)—each of the preceding are world class wildlife photography designations that rank right up there with Antarctica, Africa, and Midway. We will also visit Fernandina, Puerto Ayora for the tortoises, Puerto Egas—James Bay, and North Seymour for nesting Blue-footed Boobies in most years, South Plaza for Land Iguanas, Floreana for Greater Flamingoes, and Urbina Bay, all spectacular in their own right. We visit every great spot on a single trip. Plus tons more. And there will be lots of opportunities to snorkel on sunny mid-days for those like me who wish to partake.
It is extremely likely that we will visit the incredible Darwin Bay and the equally incredible Hood Island, world home of Waved Albatross twice on our voyage. The National Park Service takes its sweet time in approving such schedule changes.
We will be the first boat on each island in the morning and the last boat to leave each island every afternoon. If we are blessed with overcast skies, we will often spend 5-6 hours at the best sites. And as noted above, mid-day snorkeling is an option on most sunny days depending on location and conditions. On the 2015 trip most snorkeled with a mega-pod of dolphins. I eased off the zodiac to find hundreds of dolphins swimming just below me. Note: some of the walks are a bit difficult but can be made by anyone if half way decent shape. Great images are possible on all landings with either a hand held 70-200mm lens and a 1.4X teleconverter or an 80- or 100-400. I bring a longer lens ashore on most landings as they better fit my style. I generally bring only one of these as my big lens: the Canon 300mm f/2.8L IS, the new Canon 400mm DO lens, or the Canon 200-400mm f/4 L IS with Internal Extender.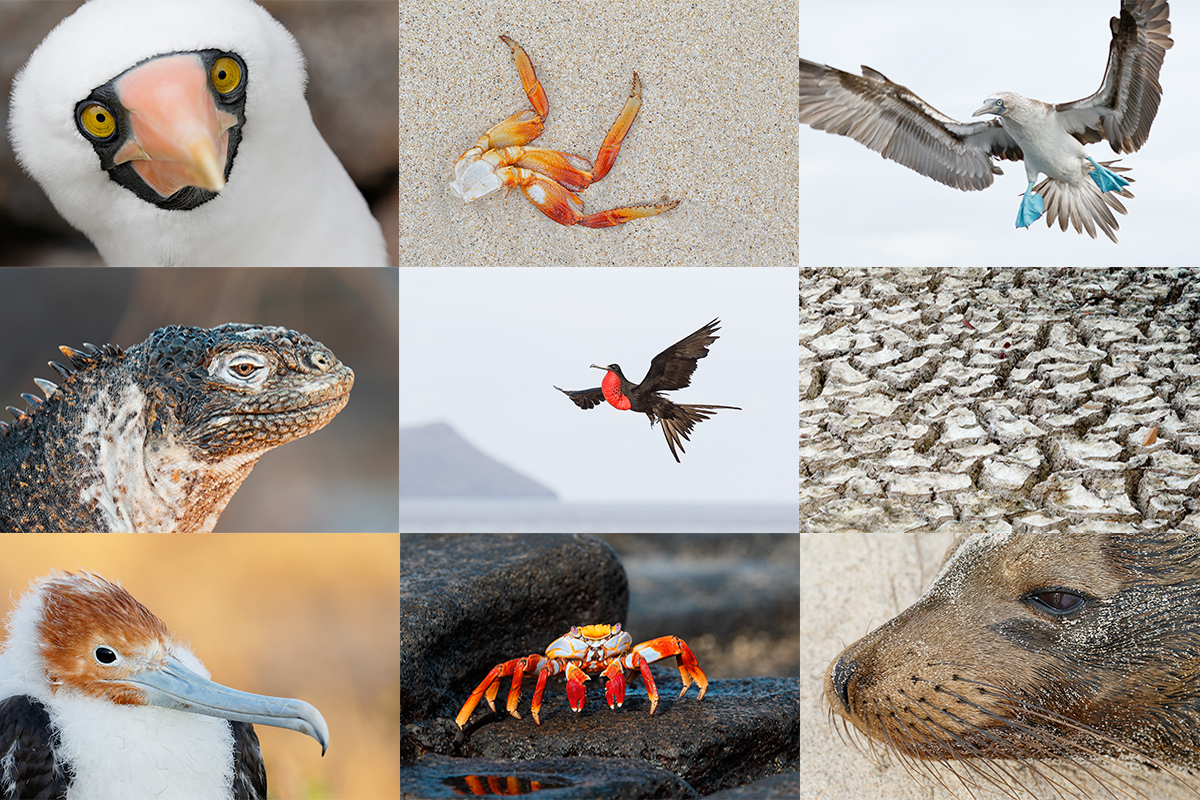 Do consider joining denise and me for this once in a lifetime trip to the Galapagos archipelago. There simply is no finer Galapagos photography trip. Learn why above.
An Amazing Value…
Do know that there are one week Galapagos trips for $8500! Thus, our trip represents a tremendous value; why go all that way and miss half of the great photographic locations?
The Logistics
August 6, 2017: We arrive a day early to ensure that we do not miss the boat.
August 7, 2017: There will be an introductory Galapagos Photography session and a hands on exposure session at our hotel.
August 8, 2017: We fly to the archipelago and board the Samba. Heck, on the 2015 trip some people made great images at the dock in Baltra while our luggage was being loaded!
August 22, 2017: We disembark late morning and fly back to Guayaquil midday; most will overnight there.
Most will fly home on the early morning of July 23 unless they are staying on or going elsewhere (or catching a red-eye flight on the evening of the 22nd).
$12,499 includes just about everything: all transfers, guide and park fees, all food on the boat, transfers and ground transportation, your flights to the archipelago, and three nights (double occupancy) in a top notch hotel in Guayaquil. If you are good to go, a non-refundable deposit of $5,000 per person is due immediately. The second payment of $4,000 is not due until 11/1/16. The final payment of $3449 per person will be due on 2/1/17. A $200 discount will be applied to each of the balances for couples or friends who register at the same time.
Purchasing travel insurance within 2 weeks of our cashing your deposit check is strongly recommended. On two fairly recent cruises a total of 5 folks were forced to cancel less than one week prior to the trip. My family and I use Travel Insurance Services and strongly recommend that you do the same.
Not included: your round trip airfare from your home to and from Guayaquil, beverages on the boat, phone calls, your meals in Guayaquil, personal items, and a $600/person cash tip for the crew and the guide—this works out to roughly $40/day to be shared by the 7 folks who will be waiting on us hand and foot every day for two weeks. The service is so wonderful that many folks choose to tip extra.
Please e-mail for the tentative itinerary or with questions. Please cut and paste "Galapagos 2017 Tentative Itinerary Please" into the Subject line.
Facebook
Be sure to like and follow BAA on Facebook by clicking on the logo link upper right. Tanks a stack!
Support the BAA Blog. Support the BAA Bulletins: Shop B&H here!
We want and need to keep providing you with the latest free information, photography and Photoshop lessons, and all manner of related information. Show your appreciation by making your purchases immediately after clicking on any of our B&H or Amazon Affiliate links in this blog post. Remember, B&H ain't just photography!
Amazon.com
Those who prefer to support BAA by shopping with Amazon may click on the logo-link immediately above.
Amazon Canada
Many kind folks from north of the border, eh, have e-mailed stating that they would love to help us out by using one of our affiliate links but that living in Canada and doing so presents numerous problems. Now, they can help us out by using our Amazon Canada affiliate link by starting their searches by clicking here. Many thanks to those who have written.
Typos
In all blog posts and Bulletins, feel free to e-mail or to leave a comment regarding any typos or errors. Just be right :).