What's Up?
Again co-leader Denise Ippolito and I had our group positioned perfectly for sunrise, and again, the birds put on a great show. There was another photo group two hundred yards to our right but our chances were far better than theirs for a hundred reasons. Everyone else was completely in the wrong place. After the blast-off/flyout (still no fly-ins) we moved quickly to our next location and did very well with the cranes. There are several other photography groups at the refuge right now and I love the approach of the other leaders; I call it the tripods-in-cement approach. They put the group in one spot and an hour later nobody has moved their tripod once. The BAA/A Creative Adventure group on the other hand has moved more than half a dozen times, each with a purpose that is explained to the group; nearly all of our moves paid off handsomely.
We did our critiquing session at lunch and most everyone had some great images to share. We are headed back for our Tuesday afternoon session as I type. Our final morning session with the group is on Tuesday. We check out and drive to Albuquerque that afternoon and fly back east early on Thursday morning.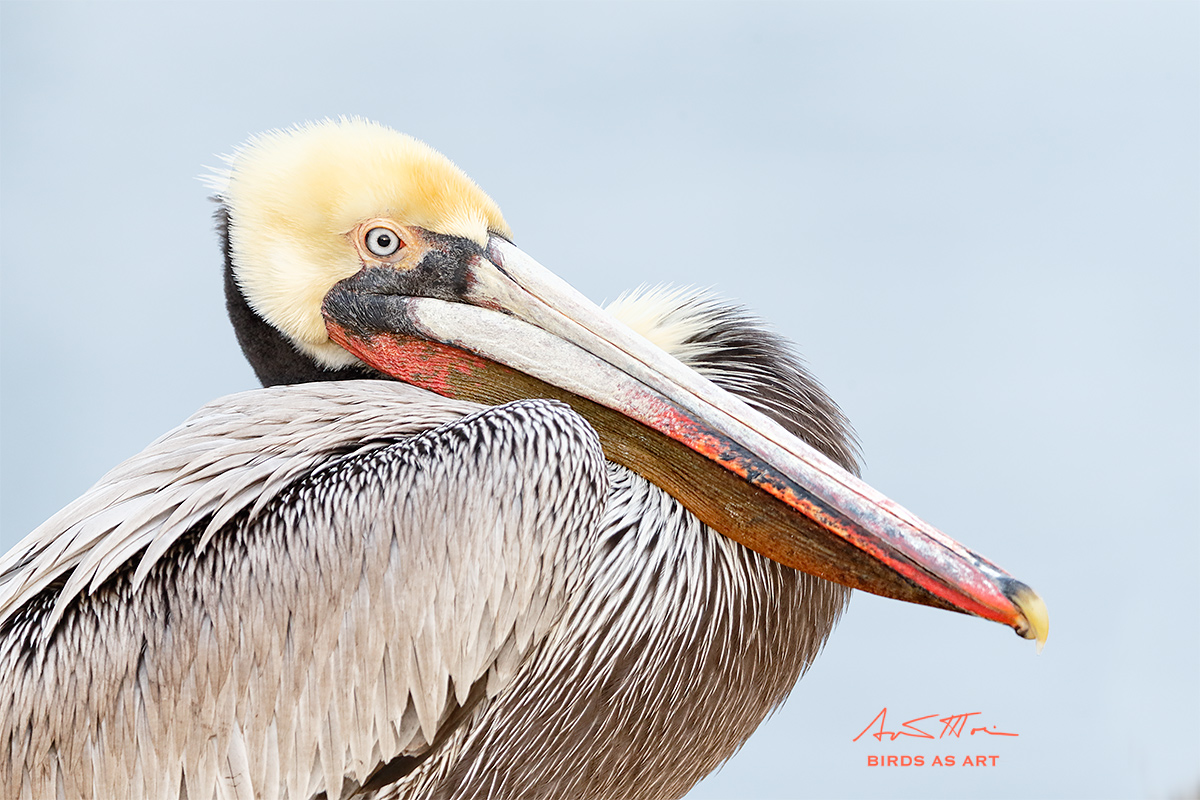 This image was created on the 2015 San Diego IPT with the Induro tripod/Mongoose M3.6-mounted Canon EF 200-400mm f/4L IS USM Lens with Internal 1.4x Extender (with the internal extender engaged at 490mm) and the rugged Canon EOS-1D X. ISO 1600. Evaluative metering +1 stop: 1/100 sec. at f/5.6. Color temperature: K7500.
Center AF point/AI Servo Surround/Rear Focus AF on the bird's eye and re-compose. Click here to see the latest version of the Rear Focus Tutorial. Click on the image to see a larger version.
Stately Brown Pelican
Your browser does not support iFrame.
Strange EXIF…
When I looked at this image I would never have thought ISO 1600 as the image is bright and clean and the colors so rich… And the shutter speed of 1/100 sec. was a bit puzzling as well. In any case, everything worked beautifully.
The Image Optimization
After converting this image in DPP I brought it into Photoshop and applied a 50% layer of my NIK Color Efex Pro 50-50 recipe to the entire bill and the head. This enriched the colors and detail and toned down the light grey on the bill. Then I again used the Quick Selection Tool, this time to select the distal end of the bill. Then I applied a Contrast Mask to that layer as I was a bit short of depth-of-field.
Digital Basics
Are you tired of making your images look worse in Photoshop? Everything that I did to optimize today's image and tons more is covered in detail in my Digital Basics File, an instructional PDF that is sent via e-mail. It includes my complete digital workflow, setting up BreezeBrowser and Downloader Pro, dozens of great Photoshop tips, the use of Contrast Masks, several different ways of expanding canvas, all of my time-saving Keyboard Shortcuts, the basics of Quick Masking, Layer Masking, and NIK Color Efex Pro, my killer image clean-up techniques, Digital Eye Doctor, creating time-saving actions, and lots more.
APTATS I & II
Learn the details of advanced Quick Masking techniques in APTATS I. Learn Advanced Layer Masking Techniques in APTATS I. Mention this blog post and apply a $5 discount to either with phone orders only. Buy both APTATS I and APTATS II and we will be glad to apply at $15 discount with phone orders only. Please call Jim or Jennifer weekdays at 863-221-2372 to take advantage of this offer. I am pretty sure that we have extended that offer to the BAA Online Store as well… No time to check right now. 🙂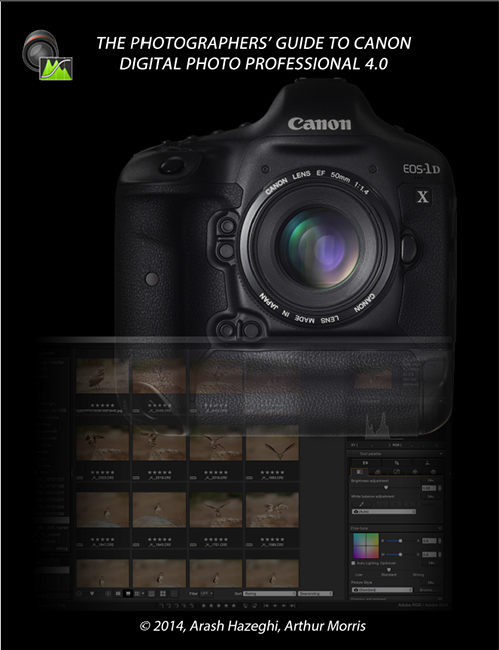 You can order your copy of "The Photographers' Guide to Canon Digital Photo Professional 4.0" (aka the DPP 4 Raw Conversion eGuide) by Arash Hazeghi and Arthur Morris by clicking here.
The DPP 4 eGuide (PDF)
Learn how and why I and many other discerning photographers choose and use only DPP 4 to convert their Canon RAW files in the DPP 4 RAW Conversion Guide by Arash Hazeghi and yours truly. The latest version supports all of the newer Canon camera bodies and several older models including the EOS-7D and the EOS-1D Mark IV. A free update that will cover most of the newly added cameras will be sent as soon as I get it from Arash.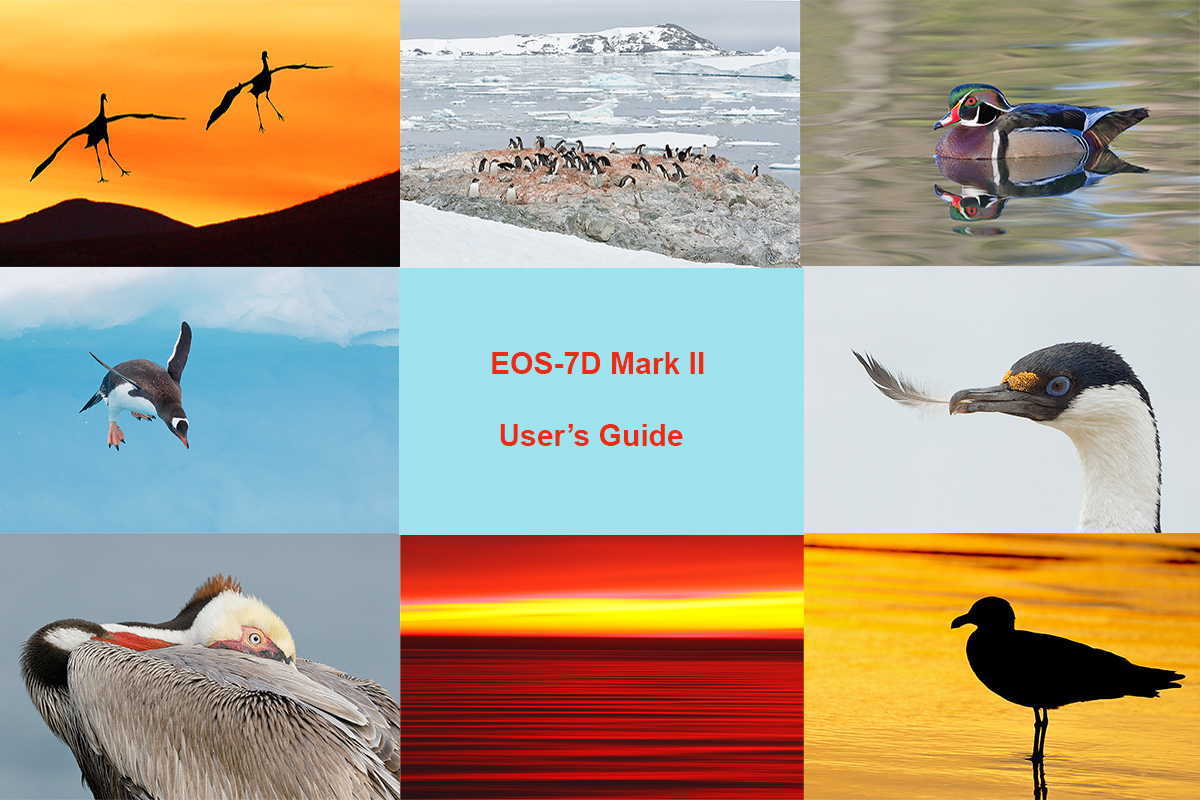 You can purchase your copy of the The 7D Mark II User's Guide in the BAA Online Store here for $59.
7D Mark II User's Guide
You can purchase your copy right now in the BAA Online Store here for $59. Or call Jim or Jennifer at 863-692-0906 and place a phone order. This is the highest priced user's guide ever, surpassing the 5D II User's Guide that is priced at $50. Why? I did twice as much work preparing the 7D II Guide. It required many days of writing, many dozens of hours of study and research, not to mention hundreds of hours in the field trying to figure out the best 7D II setting while doing what I love to do best, photographing birds and nature. The camera is quite complex. Many thanks to both Rudy Winston and Chuck Westfall of Canon USA for their help in getting me through the stickiest parts.
The guide contains 23,196 words in 516 paragraphs. There are 24 photos and screen captures interspersed in the main body of the text and a gallery of 23 additional 7D II images that show what the camera is capable of with a variety of lens and lens/TC combinations. We would love your feedback.
The Great Strength of the 7D Mark II User's Guide
The very great strength of the 7D Mark II User's Guide is the coverage of the autofocus system. I review in detail all of the items on the five pink AF Menus. Most important of these is the Custom Case setting (at AF 1) that I have developed over time and currently use for all of my bird photography. On the recently concluded Hooptie Deux Spoonbills and more IPT John Johnson of Naples, FL mentioned that he was having trouble producing sharp flight images. I set up my Custom Case on his camera, and within minutes he was amazed at the sharp results that he was getting…. While skill, strength, fine motor control, and superior hand eye coordination are all factors that will influence your success as a flight photographer, you can have all of the preceding in spades but if your camera is not set up properly much of your effort will be in vain….
What Else is in the Guide?
In the 7D Mark II User's Guide you will learn everything that I know about the important topics listed below, and better yet, I explain the options for each along with my reasons for choosing a specific setting in a specific situation.
Handling the WHITEs
The top LCD and all camera control buttons
7D Mark II drive modes
How to manually select an AF sensor
Choosing an AF Area Selection Mode; how and why (includes extensive detail)
Moving the AF point or Zone
The creation of in-camera Multiple Exposures and in-camera HDR images (includes extensive detail)
Live View Shooting and AF choices (all new in the 7D II)
Menu Item Access
Coverage of almost all Menu Items and Custom Functions including the following: Image Quality, Auto Lighting Optimizer, Lens aberration corrections settings, Highlight Tone Priority, AF Configuration Tool (as above, this includes details on the custom setting that I use), Acceleration/deceleration tracking, Tracking sensitivity, Lens drive when AF impossible, Orientation linked AF point (I love this feature), Highlight alert, Histogram display–do you know how to access both histograms at once?, Auto rotate, Image Jump, LCD Brightness, Info button display options, Custom Shooting Modes set-up, ISO Safety shift, using the Q button, setting up rear focus, and setting up your My Menu feature (among others).
The guide is–of course–written in my informal, easy-to-follow style.
Please note: Some Menu items are not covered in this guide for one of several reasons:
They deal only with the creation of movies (not covered)
They are irrelevant to nature photography.
After spending hours studying the 7D II Instruction Manual and consulting others I have no clue as to the purpose or the reason for the existence of a given feature.
Though I recommend that the irrelevant and confusing items be left at the default settings, I do, in most cases, I refer you to the relevant page in the 7D II Instruction Manual. If you follow up, it just might turn out that you are a lot smarter than me. In those cases I would love to hear from you via e-mail. So far none of the above have prevented me from creating many spectacular images with my 7D II.
Please note that this guide does not contain a table of contents or an index. To search the document for a given topic simply hit Control F to search. When the Find box pops up, simply type the term that you are looking for into the field and hit Next. This will allow you to find what you are looking for quickly and efficiently.
If you purchase the 7D II UG and it helps you to create better images, please feel free to send no more than two 1200 pixel wide or 900 pixel tall sharpened JPEGs to me via e-mail along with your comments. I will be glad to do a short critique if so requested.
Otherwise, feedback via e-mail or blog comment is always appreciated.
Click here and scroll down for a free 7D Mark II User's Guide AF Point Auto Switching Excerpt.
See the "Many Many Lessons including: why I chose the 300 II/1D X in low light conditions, the 7D II viewfinder level, a short 7D II User's Guide Viewfinder Display excerpt, adding green (marsh grass) to your images, and why to love hazy sun" blog post here and scroll down for a short excerpt on the 7D II Viewfinder Display.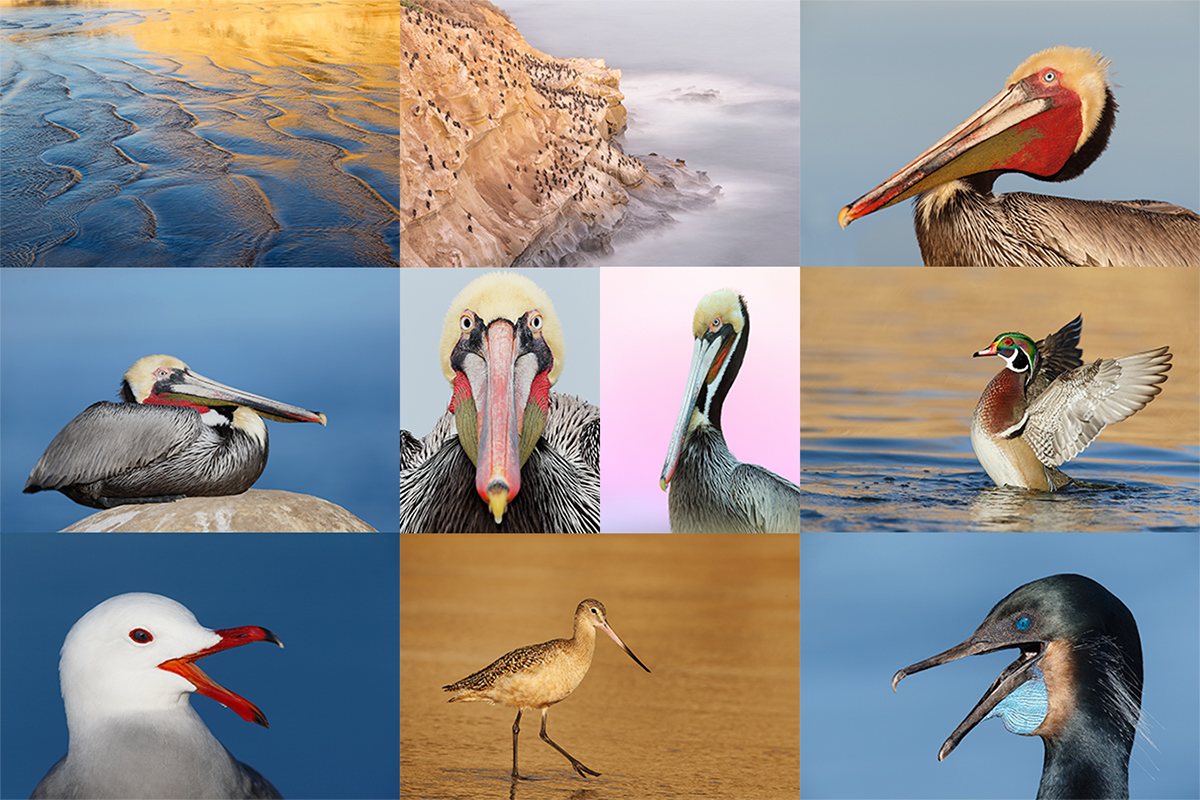 San Diego offers a wealth of very attractive natural history subjects. With annual visits spanning more than three decades I have lot of experience there….
2016 San Diego 4 1/2-DAY BIRDS AS ART Instructional Photo-Tour (IPT) JAN 8 thru the morning of JAN 12, 2016: $1899 (Limit: 10/Openings; 2)
Meet and Greet at 7:00pm on the day before the IPT begins
Two great leaders: Arthur Morris and Denise Ippolito
Join us in San Diego to photograph the spectacular breeding plumage Brown Pelicans with their fire-engine red and olive green bill pouches; Brandt's and Double-crested Cormorants in breeding plumage with their amazing crests; breeding plumage Wood and Ring-necked Duck; other species possible including Lesser Scaup, Redhead, and Surf Scoter; a variety of gulls including Western, California, and the gorgeous Heerman's, all in full breeding plumage; shorebirds including Marbled Godwit, Willet, Sanderling and Black-bellied Plover; many others possible including Least, Western, and Spotted Sandpiper, Whimbrel, Black and Ruddy Turnstone, Semipalmated Plover, and Surfbird; Harbor Seals (depending on the current regulations) and California Sea Lions likely; and Bird of Paradise flowers. And as you can see by studying the two IPT cards there are some nice landscape opportunities as well.
Did I mention that there are wealth of great birds and natural history subjects in San Diego in winter?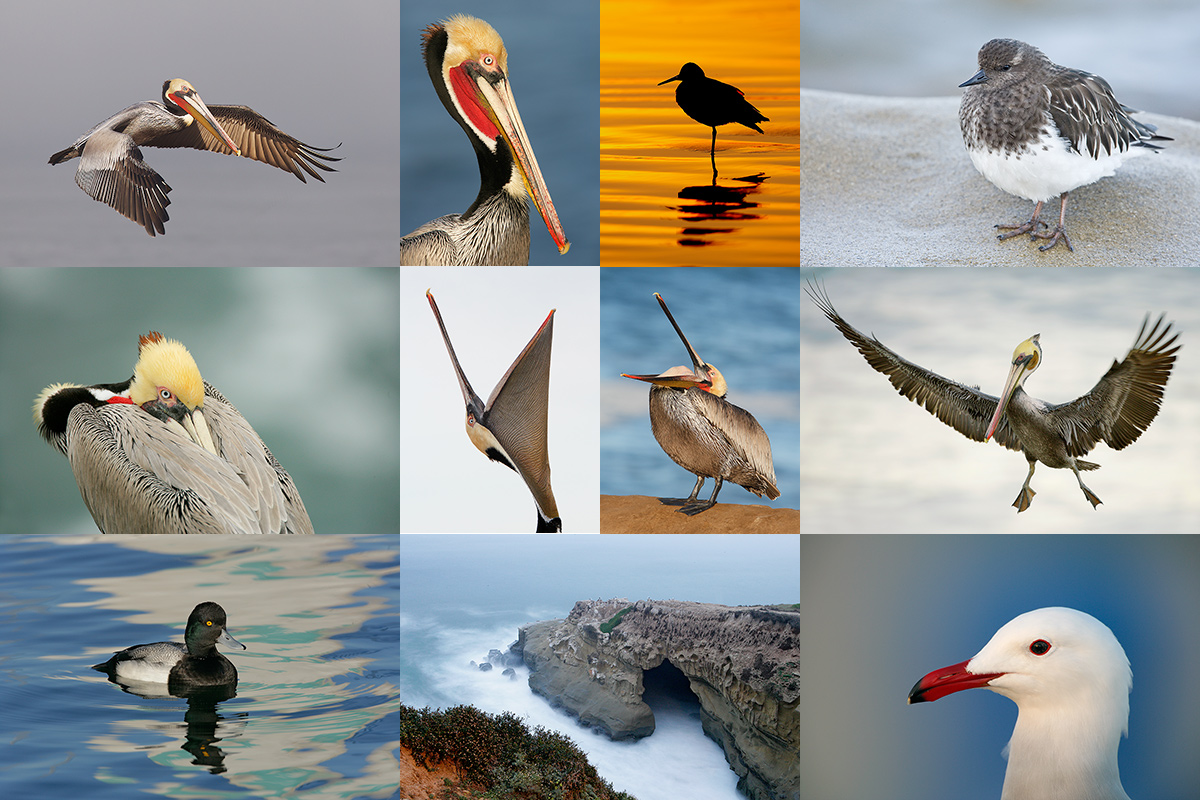 Though the pelicans will be the stars of the show on this IPT there will be many other handsome and captivating subjects in wonderful settings.
The San Diego Details
This IPT will include five 3 1/2 hour morning photo sessions, four 2 1/2 hour afternoon photo sessions, five lunches, after-lunch image review and Photoshop sessions, and a thank you dinner. To ensure early starts, breakfasts will be your responsibility.
A $499 non-refundable deposit is required to hold your slot for this IPT. You can send a check (made out to "Arthur Morris) to us at BIRDS AS ART, PO Box 7245, Indian Lake Estates, FL, 33855. Or call Jim or Jennifer at the office with a credit card at 863-692-0906. Your balance, payable only by check, will be due on 11/1//2015. If we do not receive your check for the balance on or before the due date we will try to fill your spot from the waiting list. Please print, complete, and sign the form that is linked to here and shoot it to us along with your deposit check. If you register by phone, please print, complete and sign the form as noted above and either mail it to us or e-mail the scan. If you have any questions, please feel free to contact me via e-mail.
Please Remember to use our Affiliate Links 🙂
To show your appreciation for my continuing efforts here, we ask, as always, that you use our the B&H and Amazon affiliate links on the right side of the blog for all of your purchases. B&H is recommended for you major photography gear purchases, Amazon for your household, entertainment, and general purpose stuff. Please check the availability of all photographic accessories in the BIRDS AS ART Online Store, especially the Mongoose M3.6 tripod heads, Gitzo tripods, Wimberley heads and plates, LensCoats and accessories, and the like. We sell only what I have used, have tested, and can depend on. We will not sell you junk. We know what you need to make creating great images easy and fun. And we are always glad to answer your gear questions via e-mail. I just learned that my account was suspended during my absence; it should be up and running by Monday at the latest.
I would of course appreciate your using our B&H affiliate links for all of your major gear, video, and electronic purchases. For the photographic stuff mentioned in the paragraph above we, meaning BAA, would of course greatly appreciate your business. Here is a huge thank you to the many who have been using our links on a regular basis and visiting the BAA Online store as well.
Facebook
Be sure to like and follow BAA on Facebook by clicking on the logo link upper right. Tanks a stack!
Support the BAA Blog. Support the BAA Bulletins: Shop B&H here!
We want and need to keep providing you with the latest free information, photography and Photoshop lessons, and all manner of related information. Show your appreciation by making your purchases immediately after clicking on any of our B&H or Amazon Affiliate links in this blog post. Remember, B&H ain't just photography!
…..
Amazon.com
Those who prefer to support BAA by shopping with Amazon may use this link:
Amazon Canada
Many kind folks from north of the border, eh, have e-mailed stating that they would love to help us out by using one of our affiliate links but that living in Canada and doing so presents numerous problems. Now, they can help us out by using our Amazon Canada affiliate link by starting their searches by clicking here. Many thanks to those who have written.
Typos
In all blog posts and Bulletins, feel free to e-mail or to leave a comment regarding any typos or errors. Just be right :).