What's Up?
Actually me, at 3am on Thursday. My 6:05am flight to Houston was a piece of cake. My flight to Orlando was delayed for an hour (maintenance) and then for another hour when Southwest realized that our new aircraft had too much fuel loaded. I was on the ground at MCO at about 3:30 and was met by my right hand man, Jim Litzenburg. With lots of rain, traffic, and shopping stops on the way home we did not make it to ILE until nearly 7pm.
The Bosque Site Guide
If you can't make or afford a Bosque IPT, or if the holidays preclude your joining one, be sure to get yourself a copy of my Bosque Site Guide. All BAA Site Guides are designed so that with a bit of study you can show up at a great place and know exactly where to be at what time on what wind and in what lighting conditions. And on what wind. With a Site Guide on your laptop you will feel like a 22-year veteran on your first visit. Site Guides are the next best thing to being on an IPT. If you plan on visiting Bosque it would be foolish to make the trip without having this guide in hand. Why spend money on gear and travel and then spend days stumbling around in the wrong spot? If you have visited previously, and are still unsure of where you should be at this time of day with that wind, this guide will prove invaluable to you as well. Even folks visiting Bosque for the tenth time will learn a ton as I share my secrets and hold nothing back….
In the next week or so, I will be working on a 2015 Bosque Current Conditions Guide; it will be send for free to all who have previously purchased the Bosque Site Guide and will also be available as a separate, stand-alone purchase.
Bosque Site Guide Kudos
By e-mail from Paul Shilling
After planning my first trip to Bosque earlier this year, I bought your excellent Bosque site guide. Read through it a couple of times. It is well worth the $50. It helped me get a good feel for the refuge before arriving. Many thanks. I was there last week for a morning and an afternoon. After disappointingly finding almost no birds before and just after sunrise at your suggested location, I enjoyed the cranes flying out at the spot you mention in the guide. Then I went straight to the farm fields in the north loop; they did not disappoint. Your guide led me to each of these spots. Without your guide would have had to guess at my next move. Best, Paul
Selling Your Used Gear Through BIRDS AS ART
Selling your used (or like-new) photo gear through the BAA Blog or via a BAA Online Bulletin is a great idea. We charge only a 5% commission. One of the more popular used gear for sale sites charges a minimum of 20%. Plus assorted fees! Yikes. The minimum item price here is $500 (or less for a $25 fee). If you are interested please e-mail with the words Items for Sale Info Request cut and pasted into the Subject line :). Stuff that is priced fairly–I offer free pricing advice, usually sells in no time flat. In the past few months, we have sold just about everything in sight. Do know that prices on some items like the EOS-1D Mark IV, the old Canon 500mm, the EOS-7D, and the original 400mm IS DO lens have been dropping steadily.
After a month long lull, there have been more than a few sales while I was at Bosque:
Alan and Sara Levine sold several items.
Two Canon 500mm f/4L IS lenses (two) were sold by Pat & Stokes Fishburne for $3799 each in late November, 2015.
A Canon EOS-1D Mark IV Camera Body was sold by Alice Garland for $1350 in mid-November, 2015.
And the sale of Brent Bridges's 600 II is pending.
New Listing
Canon 400mm f/5.6L Lens
David Bell is offering a used Canon 400mm f/5.6L lens in excellent condition for only $699, another lowest-ever BAA price. The sale includes both caps, the tough fabric case, the tripod collar, the original box, and insured ground shipping via UPS ground. Payment by money order, or by Paypal plus 3% = $719.97. Please contact David by e-mail or by phone at 416 671 8106. (Eastern time zone.)
I put my then beloved "toy lens" on the map more than 20 years ago by pioneering its use for photographing birds in flight. Wow, did I love that lens along with the Canon A2 camera body and Fuji Velvia pushed one stop to ISO 100! Though I sold mine a few years back it is still a great lens for flight for those who do not depend on IS and it makes a great starter lens as well. Put it on a tripod with the 1.4X III TC, a 7D II, and the Mongoose M3.6 and you will enjoy 896mm of effective reach. This lens is priced to sell quickly. artie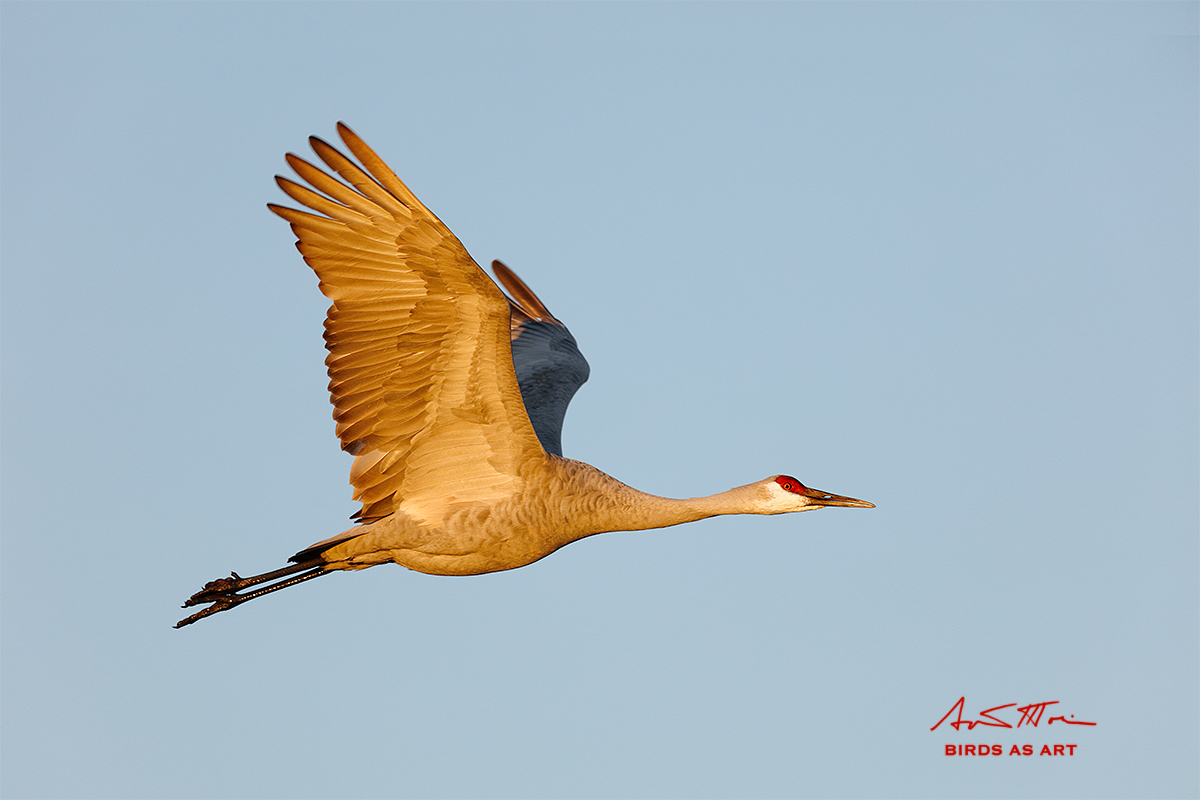 This image was created on the morning of Day 3 of the second 2015 Bosque IPT with the Induro tripod/Mongoose M3.6-mounted Canon EF 600mm f/4L IS II USM lens, the Canon Extender EF 1.4X III, and the Canon EOS 5DS R. ISO 500. Evaluative metering +1 stop: 1/800 sec. at f/5.6 in Tv mode. Color temperature: AWB.
Center AF point//AI Servo Surround (should have been Expand…)/Shutter Button AF was active at the moment of exposure; the active AF point was on the crane's back just in front of the rear wing, on the same plane as the bird's face. This optimized image is a very small crop: 135.8 mbs out of the original 144mb size of the converted TIF file. Click on the image to see a larger version.
Sandhill Crane in flight/wings up
Your browser does not support iFrame.
The EOS 5DS R is no good for photographing birds in flight! Or is it?
I have seen more than a few items from the internet experts stating that the EOS 5DS R is not a good choice for photographing birds because of its relatively slow frame rate of 5 frames per second and because of its allegedly inferior frame rate. As you might expect, I beg to differ. In fact, the slower frame rate–and I know that this might seem strange to many folks–actually allows me to more easily keep a flying subject framed properly than when working with the 1D X and its blazing 12 frames per second. Just so you know: whatever the frame rate getting a perfect wings up (as here) or wings down pose is somewhat a matter of luck. Of course, the more sharp frames that you make when the bird is "in the zone," the greater your chances of coming up with a pleasing flight pose.
What is "in the zone" for flight photography? In the zone means that the bird is flying towards you and towards the light and fills more than half the frame. When the bird's tail or feet are the closest thing to you quit pushing the shutter button; you are not impressing anyone 🙂
Is every flight image sharp on the eye? Of course not. My percentage of very sharp on the eye images is pretty much the same as with the 1D X or the 7D II. When an image is not sharp I do not look at my gear, I look in the mirror….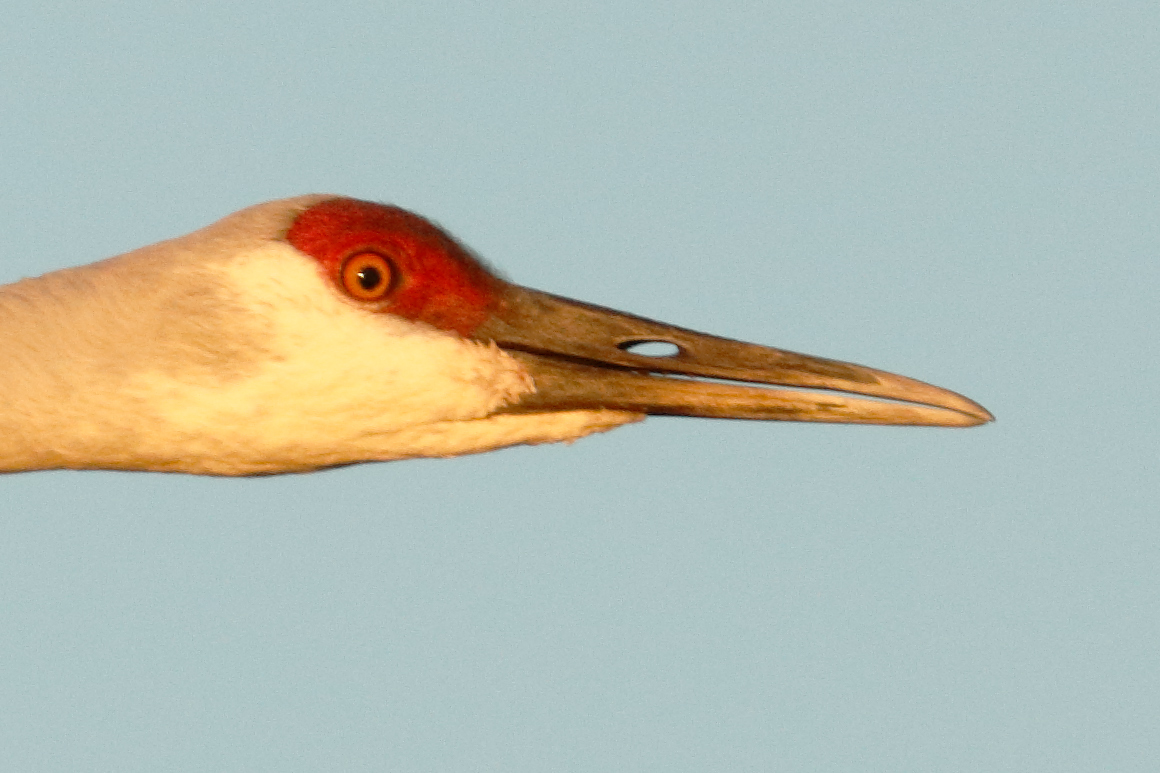 This is an unsharpened 100% crop of the cranes's head.
A 100% Crop
Again I am quite impressed by a 5DS R 100% crop. On the second Bosque IPT, Nikon shooter Warren Hatch was amazed by the feather detail about the face as compared to a similar image made with his 600mm lens. I am not sure what the grey fuzz on the forehead is but I cloned it out in the optimized image file. Any clues? Note that 1/800 sec. is a bit less then ideal for flight photography; many folks recommend at least 1/1600 sec.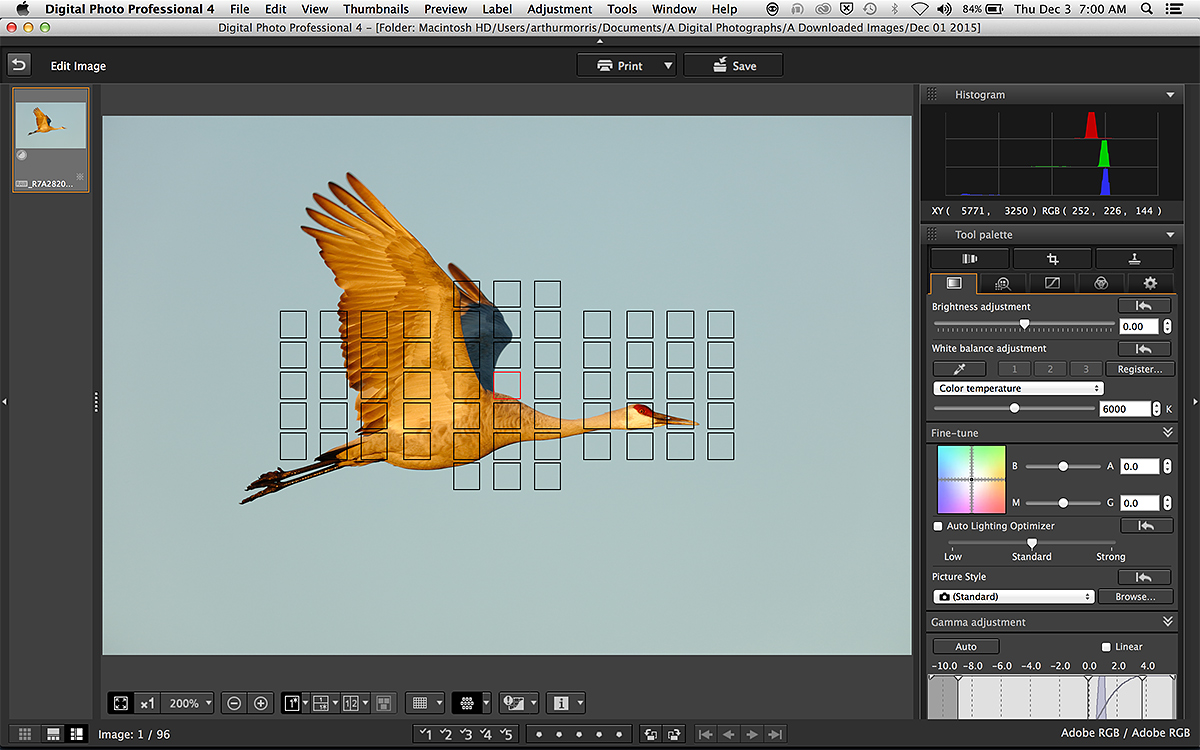 This is a DPP 4 screen capture for today's featured image.
The DPP 4 Screen Capture
One of the nice things about DPP 4 is that the current version supports 5DS R RAW files. Note the placement of the selected AF point that is illuminated in red. Note that I set the color temperature slider to K6000.
If you have any idea why the RGB numbers for the WHITEs on the neck show as R=252, G=226, B=144 please leave a comment.
The Image Optimization
After converting this image in DPP I brought it into Photoshop and did lots. First I applied a layer of NIK Color EFEX Pro White Neutralizer to the whole image; this turned the sickly cyan-blue sky to a perfect light blue. Then I applied a layer of my NIK 50/50 Detail Extractor/Tonal Contrast recipe to the bird only (after making the selection with the Quick Selection Tool) and reduced the opacity of the layer to 33%. Next I worked on the whites of the neck after selecting those in the same manner. I used Selective Color to take some BLACK out of the WHITEs and then reduced the RED saturation considerably. That left me with much cleaner looking WHITEs. Then I reduced the RED saturation for the whole image.
To eliminate the BLUE cast to the shadowed area of the far wing I selected that and then reduced the saturation of both the BLUEs and the CYANS.
Next came some Eye Doctor work. I painted a Quick Mask of the pupil and darkened it by pulling the curve down (Control M). Next I selected the whole face, bill, and neck with the Quick Selection Tool and applied a Contrast Mask (Unsharp Mask at 15/65/0). This sharpened up the face a bit and rendered the white neck a bit brighter.
Volia. Even outstanding RAW files can be improved in Photoshop.
Digital Basics
Are you tired of making your images look worse in Photoshop? Everything that I did to optimize today's image and tons more is covered in detail in my Digital Basics File, an instructional PDF that is sent via e-mail. It includes my complete digital workflow, setting up BreezeBrowser and Downloader Pro, dozens of great Photoshop tips, the use of Contrast Masks, several different ways of expanding canvas, all of my time-saving Keyboard Shortcuts, the basics of Quick Masking, Layer Masking, and NIK Color Efex Pro, my killer image clean-up techniques, Digital Eye Doctor, creating time-saving actions, and lots more.
APTATS I & II
Learn the details of advanced Quick Masking techniques in APTATS I. Learn Advanced Layer Masking Techniques in APTATS I. Mention this blog post and apply a $5 discount to either with phone orders only. Buy both APTATS I and APTATS II and we will be glad to apply at $15 discount with phone orders only. Please call Jim or Jennifer weekdays at 863-221-2372 to take advantage of this offer. I am pretty sure that we have extended that offer to the BAA Online Store as well… No time to check right now. 🙂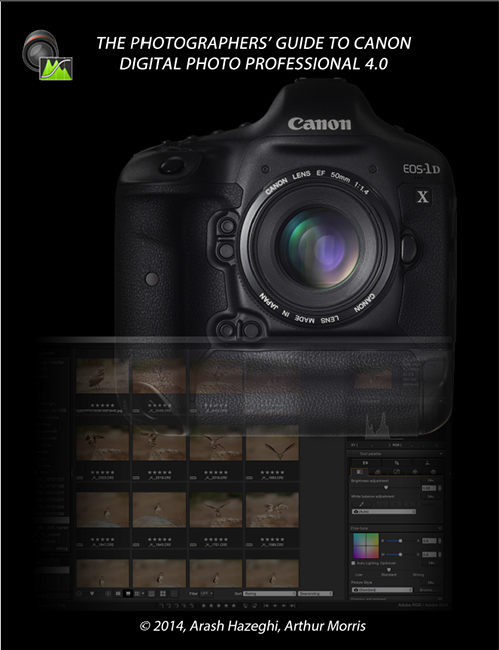 You can order your copy of "The Photographers' Guide to Canon Digital Photo Professional 4.0" (aka the DPP 4 Raw Conversion eGuide) by Arash Hazeghi and Arthur Morris by clicking here.
The DPP 4 eGuide (PDF)
Learn how and why I and many other discerning photographers choose and use only DPP 4 to convert their Canon RAW files in the DPP 4 RAW Conversion Guide by Arash Hazeghi and yours truly. The latest version supports all of the newer Canon camera bodies and several older models as well including the EOS-7D and the EOS-1D Mark IV. DPP is fast and produces extremely accurate colors.
Please Remember to use our Affiliate Links 🙂
To show your appreciation for my continuing efforts here, we ask, as always, that you use our the B&H and Amazon affiliate links on the right side of the blog for all of your purchases. B&H is recommended for you major photography gear purchases, Amazon for your household, entertainment, and general purpose stuff. Please check the availability of all photographic accessories in the BIRDS AS ART Online Store, especially the Mongoose M3.6 tripod heads, Gitzo tripods, Wimberley heads and plates, LensCoats and accessories, and the like. We sell only what I have used, have tested, and can depend on. We will not sell you junk. We know what you need to make creating great images easy and fun. And we are always glad to answer your gear questions via e-mail. I just learned that my account was suspended during my absence; it should be up and running by Monday at the latest.
I would of course appreciate your using our B&H affiliate links for all of your major gear, video, and electronic purchases. For the photographic stuff mentioned in the paragraph above we, meaning BAA, would of course greatly appreciate your business. Here is a huge thank you to the many who have been using our links on a regular basis and visiting the BAA Online store as well.
Facebook
Be sure to like and follow BAA on Facebook by clicking on the logo link upper right. Tanks a stack!
Support the BAA Blog. Support the BAA Bulletins: Shop B&H here!
We want and need to keep providing you with the latest free information, photography and Photoshop lessons, and all manner of related information. Show your appreciation by making your purchases immediately after clicking on any of our B&H or Amazon Affiliate links in this blog post. Remember, B&H ain't just photography!
…..
Amazon.com
Those who prefer to support BAA by shopping with Amazon may use this link:
Amazon Canada
Many kind folks from north of the border, eh, have e-mailed stating that they would love to help us out by using one of our affiliate links but that living in Canada and doing so presents numerous problems. Now, they can help us out by using our Amazon Canada affiliate link by starting their searches by clicking here. Many thanks to those who have written.
Typos
In all blog posts and Bulletins, feel free to e-mail or to leave a comment regarding any typos or errors. Just be right :).