What's Up?
All of the image captions for the San Diego exhibit have been finished, and the Western Digital 2TB My Passport Ultra Portable Hard Drive (Black) with the properly size TIFFs arrived at Fine Print Imaging in Fort Collins, CO on Friday afternoon; two big projects completed. All that while working hard with the folks who will be joining me on the OCT/NOV 2015 Cheesemans' South Georgia/Falklands Expedition; click here for the whole story. If you would like to join me on what will be an amazing trip to a wondrous place, please shoot me an e-mail with the words "Cheesemans' Last South Georgia Expedition" cut and pasted into the Subject Line.
I worked as hard every day this week from the early pre-dawn until I hit the sack as I can ever remember. It feels great to have accomplished so much. In the coming days I have to mop up a few things with regards to the exhibit and will continue to work on both the 2015 Bosque Current Conditions Update and the new Southern Ocean Photography Guide. I hope to have the former finished by Monday. I felt pretty good again on Friday. I hope to get back in the pool soon….
Selling Your Used Gear Through BIRDS AS ART
Selling your used (or like-new) photo gear through the BAA Blog or via a BAA Online Bulletin is a great idea. We charge only a 5% commission. One of the more popular used gear for sale sites charges a minimum of 20%. Plus assorted fees! Yikes. The minimum item price here is $500 (or less for a $25 fee). If you are interested please e-mail with the words Items for Sale Info Request cut and pasted into the Subject line :). Stuff that is priced fairly–I offer free pricing advice, usually sells in no time flat. In the past few months, we have sold just about everything in sight. Do know that prices on some items like the EOS-1D Mark IV, the old Canon 500mm, the EOS-7D, and the original 400mm IS DO lens have been dropping steadily. You can see all current listings by clicking here or by clicking on the Used Photo Gear tab on the yellow-orange tab on the right side of the menu bar above.
After somewhat of a summer lull, things have really been heating up on the Used Gear page recently.
The sale of Melissa Hahn's Canon 400mm f/2.8L IS II lens is pending….
Stephen Zarate sold his used Canon 100-400mm L IS zoom lens yesterday for $650 one day after it was listed.
Kenton Rowe sold his Canon 200-400mm f/4L IS lens with Internal 1.4X Extender in early December for $9799.
Brent Bridges sold his Canon 600 II for the full asking price, $9799,in early December 2015.
David Bell sold his Canon 400mm f/5.6L lens yesterday for the full asking price, $699, on the day it was listed!
Alan and Sara Levine sold their old 300 f/2.8L IS lens in early December for $3175.
Two Canon 500mm f/4L IS lenses (two) were sold by Pat & Stokes Fishburne for $3799 each in late November, 2015.
A Canon EOS-1D Mark IV Camera Body was sold by Alice Garland for $1350 in mid-November, 2015.
Mike Ederegger sold his AF-S Nikkor 200-400mm F/4 G ED VR II in excellent condition for $ 5199 right after it was listed.
Alan and Sara Levine sold their old five, the Canon 500mm f/4 L IS for $4200 in late August, 2015.
New Listing
Used Canon EF 300mm f/2.8L IS II USM Lens
Good friend and multiple IPT veteran Monte Brown is offering a used Canon EF 300mm f/2.8L IS II USM lens in near-mint condition for the new record low BAA price of $4499. The sale includes the lens trunk, a LensCoat, the tough fabric front cover, the rear lens cap, the original boxes, and insured ground shipping. Your item will not ship until your check clears unless other arrangements are made.
Please contact Monte by e-mail or by phone at 765-744-1421 (Eastern time).
The 300 II is a superbly sharp and versatile lens that kills with both TCs. In addition, it is a great flight lens. Monte's price is the lowest-ever for this item at BAA. Monte has always taken great care of his gear. artie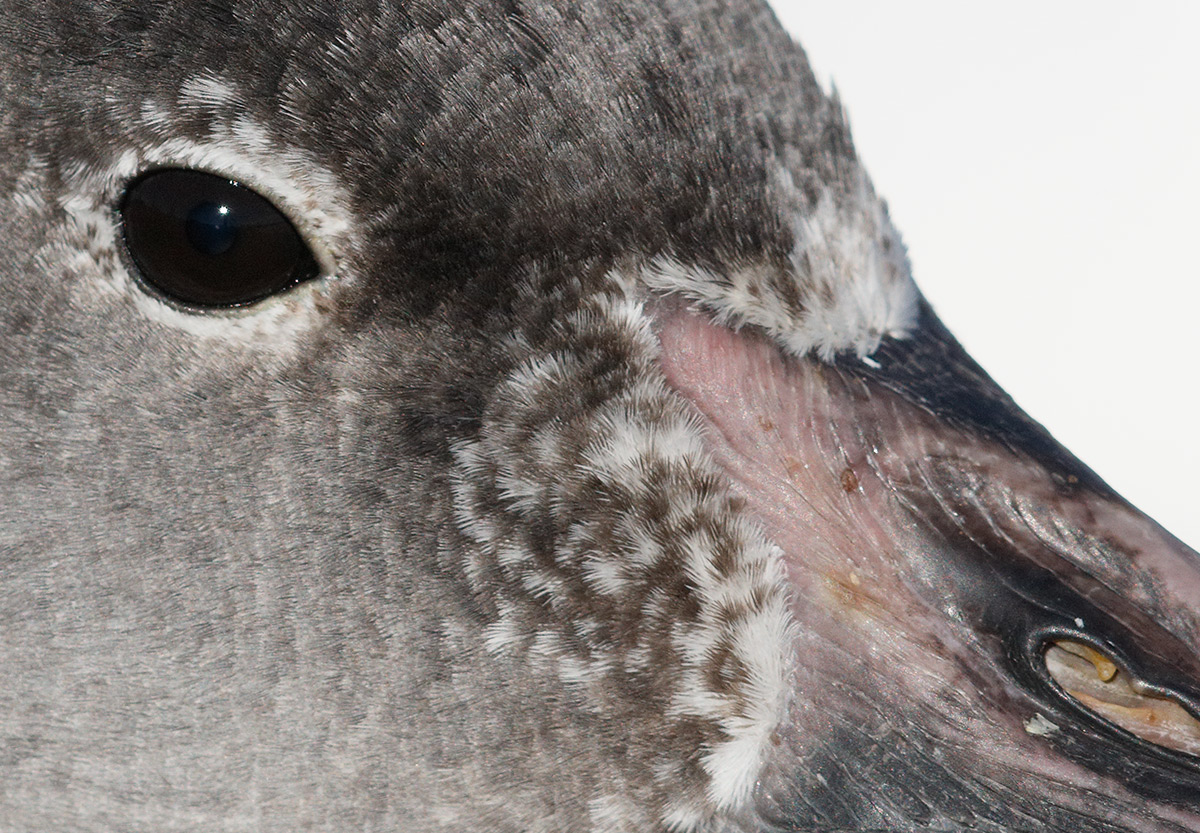 This 100% crop of today's featured image below was then cropped to 1200 pixels wide and is displayed here at 800 pixels wide. The view here is un-sharpened and un-processed in any way (other than the re-sizing). What does that all mean? I have no clue as I am not too good at pixel math.
The 100% Crop
My thoughts are that the tight crop above is pretty darned impressive as far as sharpness and fine feather detail, the latter being far better than with any previous Canon camera body, at least as far as I can tell…. What do you think?
As Warren Hatch mentioned on the Bosque IPT, seeing the images on my Apple 15.4″ MacBook Pro Notebook Computer with Retina Display & Force Touch Trackpad (Mid 2015) was a simply stunning experience….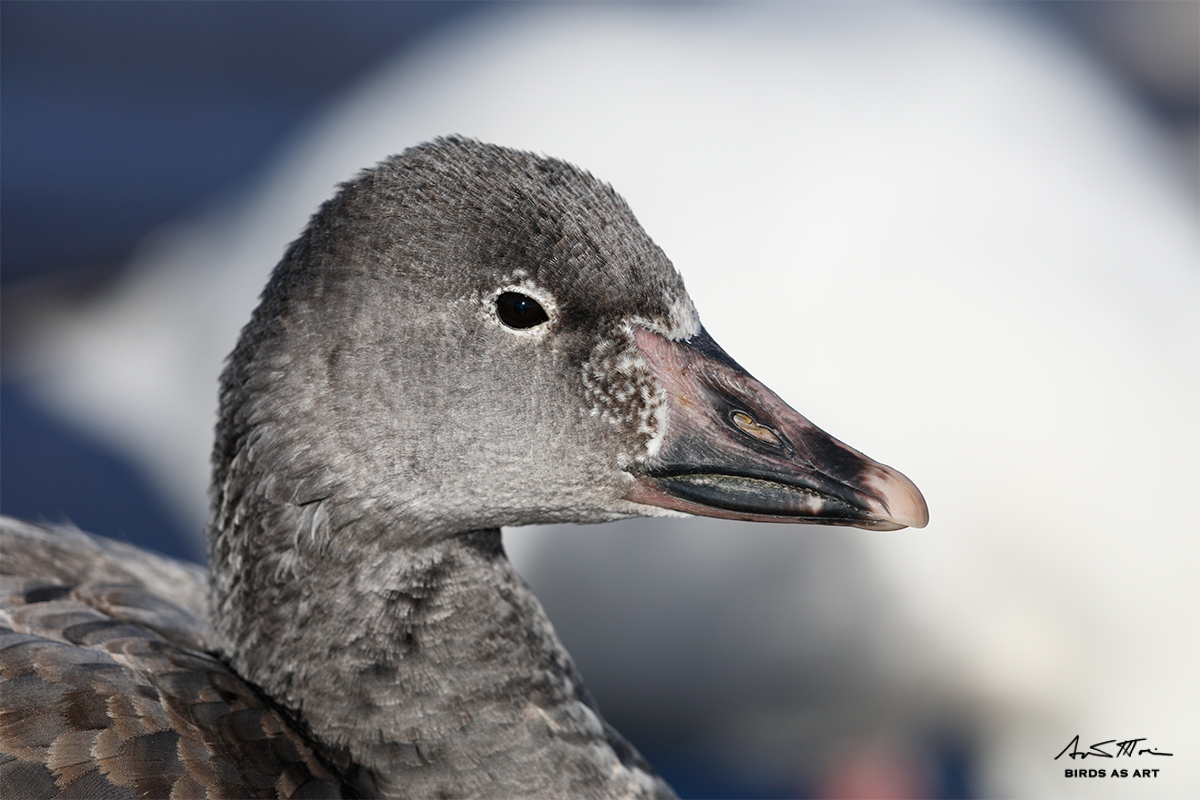 This image was created at Bosque on the first afternoon of the first 2015 Bosque IPT with the Induro tripod/Mongoose M3.6-mounted
Canon EF 600mm f/4L IS II USM lens, the Canon Extender EF 1.4X III,, and the incredible Canon EOS 5DS R. ISO 400: 1/1600 at f/8. AWB.
Center AF point/AI Servo Expand/Rear Focus AF as framed was active at the moment of exposure. The chosen AF point was just forward and below the goose's eye. Click here to see the latest version of the Rear Focus Tutorial. Click on the image to see a larger version.
Tight head portrait of juvenile blue morph Snow Goose
Your browser does not support iFrame.
Creating the Image
The geese were in the best possible afternoon location. We had the whole group on them. I invited all to join me in getting really close but only Dan Turk did so. The rest stayed back and tried for flight images. There were lots of Ross's Geese close to the shoreline (or on it!) See the vertical head and neck portrait of this uncommon species in the "Canon EOS-5DS R for Birds: An Overview. I've never seen image files like these…" blog post here.
Details on this location will be revealed in the 2015 Bosque Current Conditions Update; it will be send free to all who have previously purchased the Bosque Site Guide and will also be available as an inexpensive, separate, stand-alone purchase. It will be available on Monday or Tuesday.
More EOS-5DS R Thoughts
Though I do not search out the internet experts (i.e., internet idiots), I have–in several e-mails–heard some scuttlebutt that indicates that it is difficult to create consistently sharp images with this mega-pixel monster camera body. My impression, going back to the EOS-7D Mark II bodies, is that the more pixels the more care that you have to take as far as keeping the lens still and steady. Pretty much everyone told me that I was wrong and at one point I admitted that I was. But the technically proficient Alan Lillich and several others explained that I was right: on a pixel level, the effects of lens shake or mirror slap are effectively magnified. I never said anything publicly on that. Till now.
I have heard that Canon recommends using the EOS-5DS and the EOS-5DS R only with the latest greatest lenses as only they are able to deal well with the super-high resolution files. I could find no evidence of that either on the internet including the Canon USA site. I will be writing Chuck Westfall, Canon's top tech rep and share what I learn with you here. If you know of such a list, please do leave a comment with the link.
What I did find on the Canon website was, however, quite interesting:
Advanced Mirror control mechanism and shutter release time lag
The camera shake that occurs from the impact of an SLR's mirror can leave blurred details in the recorded image. This effect is magnified when working with a super high-resolution sensor like the one found in the EOS 5DS R. To counter the effects of conventional, spring-driven SLR mirrors, the EOS 5DS R features a newly developed Mirror Vibration Control system. The camera's mirror is not controlled by springs but instead is driven by a small motor and cams. This system suppresses the impact typical of the camera's mirror, significantly reducing impact and its effects on the image. A new Time Release Lag setting, easily accessed on the EOS 5DS R's menu system, offers an added protection against camera-shake blur by setting the shutter release time intentionally longer so the camera does not begin the next exposure until after the impact of the camera's mirror has diffused.
Bold italics mine 🙂
5DS R Help Needed…
#1: I searched the menu carefully six times looking for the Time Release Lag item. Any clues?
#2: I went back to the 5DS R box in search of the camera body instructional booklet so that I could find the Time Release Shutter Lag menu item. All that was in the box was the basic instruction manual. Any clues?
#3: I went online to try and download the full 5DS R Instruction Manual from a Canon website and struck out on that too. Any clues? (I did find alleged 5DS R camera body Manual downloads at sites that I did not trust; all required that you download a "needed program" first and I was reluctant to do that.)
#4: As above, if you have a link to a list of Canon-recommended lenses compatible with the 5DS R please share the link with us by leaving a comment.
Please Remember to use our Affiliate Links 🙂
To show your appreciation for my continuing efforts here, we ask, as always, that you use our the B&H and Amazon affiliate links on the right side of the blog for all of your purchases. B&H is recommended for you major photography gear purchases, Amazon for your household, entertainment, and general purpose stuff. Please check the availability of all photographic accessories in the BIRDS AS ART Online Store, especially the Mongoose M3.6 tripod heads, Gitzo tripods, Wimberley heads and plates, LensCoats and accessories, and the like. We sell only what I have used, have tested, and can depend on. We will not sell you junk. We know what you need to make creating great images easy and fun. And we are always glad to answer your gear questions via e-mail. I just learned that my account was suspended during my absence; it should be up and running by Monday at the latest.
I would of course appreciate your using our B&H affiliate links for all of your major gear, video, and electronic purchases. For the photographic stuff mentioned in the paragraph above we, meaning BAA, would of course greatly appreciate your business. Here is a huge thank you to the many who have been using our links on a regular basis and visiting the BAA Online store as well.
Facebook
Be sure to like and follow BAA on Facebook by clicking on the logo link upper right. Tanks a stack!
Typos
In all blog posts and Bulletins, feel free to e-mail or to leave a comment regarding any typos or errors. Just be right 🙂