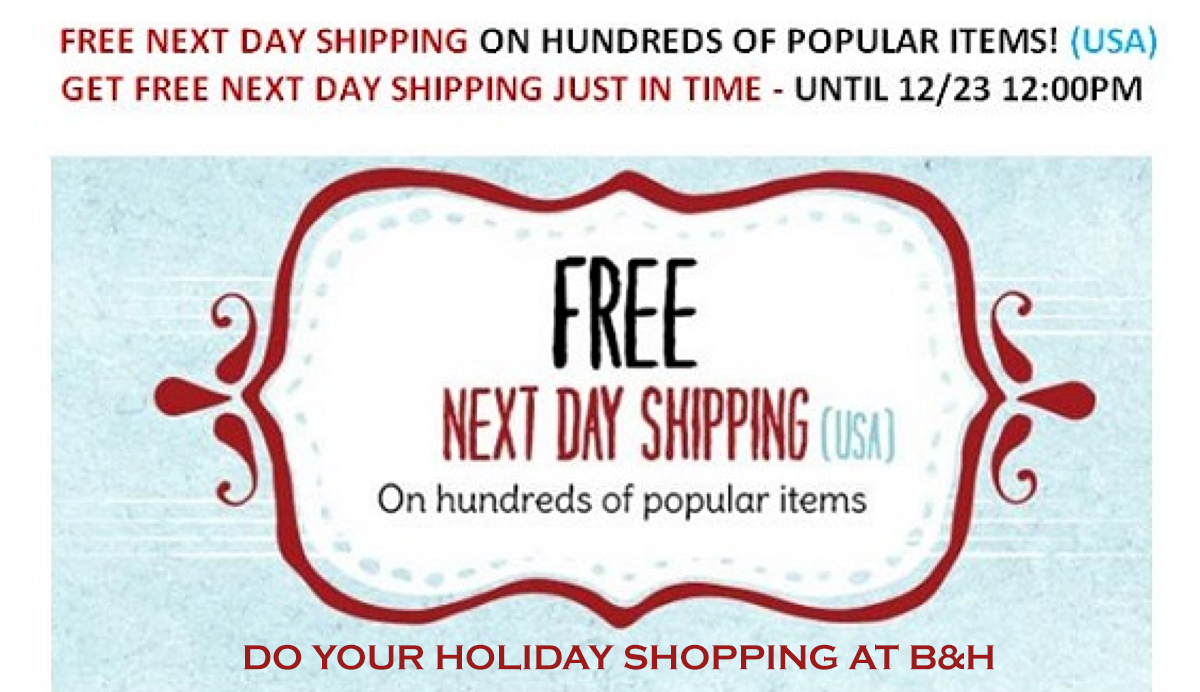 You can check these great holiday offers plus free next day shipping by clicking here.
B&H Free Next Day Holiday Shipping (on Selected Items)
Click here and then either click on a category or a brand of by clicking on the red See All Qualified Items box.
I did and quickly found a 7D Mark II for the insanely low price of $1399. That price already includes the $400 instant rebate. The icing on the cake includes the 2% reward and the free next day shipping. Just what the holidays ordered. From now till December 23rd.
5DS R
If you are thinking about this amazing camera scroll down to learn of the killer deal that I enjoyed recently. It included a 10% B&H Gift Card!
A Monday (and a Tuesday) to Remember…
9:40am:
I see a white envelope on the kitchen counter that says, "To be opened only by Arthur Morris." So I opened it.
This office has been advised that you conducted a private commercial operation on Bosque del Apache NWR during the period November 28-December 2 without having obtained a Commercial Use Permit from the US F&W Service. It is alleged that you never applied for nor were granted a permit for you Instructional Photo-Tour. This offense carries a maximum fine of $10,000 USD or 1 year imprisonment or both.
Attached is a US District Court notice of violation for conducting a private commercial operation on a National Wildlife Refuge without a permit. If you wish to contest this issue, do nothing. In 90 days you will receive a summons to appear in Federal Court at the Peter V. Domenici US Court House located at 333 Lomas Blvd in Albuquerque, NM.
A very official looking US District Court Violation was indeed attached.
First reaction: heart rate increased a bit. Then I thought to ask, "Is it true?"
"Jen, please see if Bosque cancelled one check or two for the recently-concluded Bosque IPTs." "Two Daddy," she said after a short search. Next I checked my e-mail and found the one with both permits attached.
I called the refuge at 11am (9am Mountain time) and left a message for the Federal Wildlife Officer who had sent the letter. Later that afternoon I received an e-mail that said in effect, "Sorry. We were wrong. Never mind."
10:00am:
I decided to upgrade the two long legs of my Namibia flights (JFK to JNB and back) to business class. "That should be a simple matter I thought." I called South African Airlines (SAA) to do the upgrade. "Since you purchased the ticket from Expedia only they can make that change." So I called Expedia. It took close to an hour to finally have the agent tell me that they could not do the upgrade and that I should call SAA. So I did. Again they told me that Expedia must be the ones to make that change. So back and forth I went, receiving a different fairy tale each time.
Each call to SAA lasted 10-15 minutes. Each call to Expedia last 40 minutes to an hour. I'd guess that on five of the calls to Expedia I got either a dial tone or a welcome recording after 40-50 minutes> After the first time that that happened I would ask the Expedia agent to take a callback number and call me when I got cut off. Nobody ever called me back.
On Monday night after more than an hour on the phone, most of that of course on hold, the Expedia agent said, "I've got it. I can do it. The cost of the upgrade is a bit more than $11,000. I had figured that it would be about $6,000 and SAA had quoted me $5814 several times. I was confident that the smaller amount was correct.
8:30am on Tuesday:
I called SAA first and was told to call Expedia and tell them that all they needed to do was to put the record in OSI. So I did, and after about 35 minutes I was told that that was not possible but that they would try to get help from "their team of associates." So I called SAA–this time on a second line–while holding for the Expedia manager. Again SAA told me, "We cannot do that. Only Expedia can do it." I said, "That may very well be true but Expedia is not capable of doing the upgrade. I was on the phone with them for more than 7hours yesterday. I called you guys 7 times and them 8 times. They are on the other line right now and I am on hold. Please, I need your help. I am in a Catch 22 situation. They can't do it and SAA won't do it. I want to give you or them close to $6,000 for a seat that is available and nobody an help me."
"I've been sick for seven weeks. I have been on the phone for about nine hours. I am near tears. Please help." Just then I got a busy signal on the Expedia line and let the SAA agent know what had just happened. She said, "Hold on a minute." I held for about ten minutes. When the agent came back she said "Credit card please." I said, "When can I kiss you?" "She said "Now."
I got the e-mail confirming my upgrade within the hour. I am proud of the fact that I never once raised my voice or cursed anyone out (though I will admit to thinking about the latter). As I say often, I am one determined S.O.B.
Back to Monday after lunch at about 1pm:
My personal line rings and I pick up only to hear a recorded message. "This call is to let you know that the Internal Revenue Service has instituted a lawsuit against you in Federal Court because of criminal non-payment of taxes on your 2009 through 2013 Federal Tax Returns. Please call 1-210-807-8097 immediately." I called and was cut off. I called back and nobody picked up. I called an hour later and had a really garbled conversation with an "IRS agent" who said that six letters had been sent to me by Certified Mail and that I had ignored all of them."
First reaction: heart rate increased a bit. Then I thought to ask, "Is it true?"
Things seemed really strange. I e-mailed and called my accountant, Robert H. "Chip" Jackson, a retired IRS agent. He called me back at about 6pm and after I explained the whole thing to him he laughed and said, "It is a scam. The IRS never does anything by phone."
All in all it has been a Monday (and Tuesday) to remember.
The Work
To learn to question your own story, visit www.TheWork.com. Byron Katie will teach you to do The Work her way and find peace. Remember, happiness is a choice. And so is aggravation.
Care to Share?
If you have had a memorable experience recently, please feel free to share it with us by leaving a comment.
On Tuesday I purchased my affiliate loaner Canon EOS 5DS R camera body from B&H. On Wednesday I got an e-mail with a $325 B&H gift card as a result of my purchase. Wow! I am not sure how long this offer lasts. If you call to find out please remember that you must hang up and place a web order (no matter what the salesman tells you). Many thanks for that. If what you have been learning here inspires you to purchase a 5DS R (or a 5DS) please remember to use the logo-link above; it will not cost you a penny and helps me out tremendously. Many thanks, artie
ps: as of this minute, 10:57am eastern time on 12/17/15, the "Receive 10% Reward line was still showing up right under the price. Hurry! And please remember, web orders only.
Facebook
Be sure to like and follow BAA on Facebook by clicking on the logo link upper right. Tanks a stack!
Typos
In all blog posts and Bulletins, feel free to e-mail or to leave a comment regarding any typos or errors. Just be right 🙂