What's Up?
e-book News
The companion e-book for the exhibit at The Nat in San Diego is in the final stages of editing and I worked like a rented mule all day yesterday. Thanks to older daughter Jennifer, my right-hand man Jim Litzenburg, Alan Lillich, and especially to "Bug" Bob Allen for their amazing help with this project. I need to have the finished CD along with the cover art ready for the courier by Saturday morning.
Special Pre-Publication Offer/Today Only!
birds as art: The Avian Photography of Arthur Morris/The Top 100 will sell for $20. Those who would like to purchase the CD today and receive an advance review copy via e-mail, can call Jim this morning to place a phone order, today only, Thursday, December 31, 2015, after 9am and before 3pm, eastern time. Those who have a chance to review their copy can shoot me an e-mail noting any errors later today or on Friday (if they like).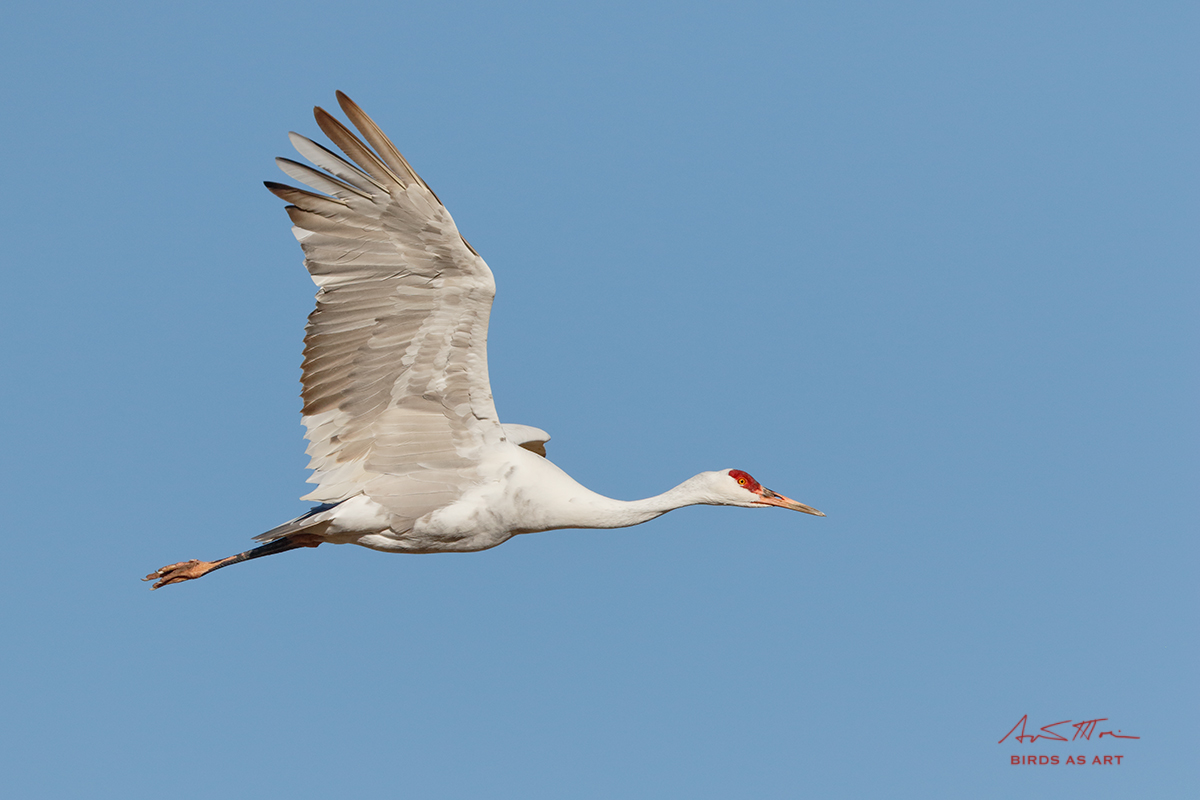 This image was created on the first 2015 Bosque IPT with the hand held Canon EF 400mm f/4 DO IS II USM lens, the Canon Extender EF 1.4X III, and the amazing Canon EOS 7D Mark II. ISO 400: 1/2000 sec. at f/7.1. AWB.
Center AF point (Manual selection)/AI Servo/Shutter Button AF as framed was active at the moment of exposure (as is always best when hand holding). The selected AF point was on the body just behind the base of the neck and below the raised near wing, nicely on the same plane as the bird's eye. Click on the image to see a larger version.
Leucistic Sandhill Crane in flight#5:
Your browser does not support iFrame.
Leucism
Leucism (looːkɪzəm or looːsɪzəm) is a condition in which there is partial loss of pigmentation in an animal resulting in white, pale, or patchy coloration of the skin, hair, feathers, or scales, but not the eyes. Unlike albinism, it is caused by a reduction in multiple types of pigment, not just melanin. Learn more here.
This leucistic Sandhill Crane was photographed at Bosque at both the crane pools and the farm fields on the first IPT in mid-November of this year. It was still present in mid- to late-December (Patrick Sparkman, personal comment). It was a really cool bird; I just love the pink pads on the bottoms of the usually all-black feet.
400 DO II/1.4X III/7D II Hand Holdability
Having shipped the 600mm II and the 200-400mm with the Internal Extender, I stuck my 400mm DO II in my Think Tank rolling bag almost as an afterthought. Boy, was I glad that I did.
I used the 400 DO II often for flight with the 1.4X III TC and the 7D II as here, and with the 1D X and the 2X III TC as here. Though some folks disagree, hand holding either the 300mm II or the 400mm DO II for flight with a teleconverter is a lot easier than shooting flight off a tripod with either the 500mm II or the 600mm II. As I was walking along the crane pool that morning with the big lens and the tripod in the car I felt a huge sense of freedom. And getting and keeping the birds in the frame is so, so, so much easier when hand holding than when using a tripod.
The Best of Bosque 2015
The Facts
Next season, I am offering a 4 1/2-DAY Bosque IPT in mid-January. And yes, there are lots of less costly workshops being offered these days. Many of them are downright cheap. There are strict requirements for becoming a workshop leader these days: you must own a camera…. Please remember that you get exactly what you pay for. With me you will have an instructor with more days of teaching and more in-the-field photography experience at Bosque than anyone living or dead: 21 seasons worth. And two BBC Wildlife Photographer of the Year-honored images from Bosque. If you want the finest in photographic instruction and want to be assured of being in the right spot at exactly the right time every day, do join me.
Bosque del Apache 2017 BIRDS AS ART/Instructional Photo-Tour. January 13 (afternoon session) through January 17, 2017. 4 1/2 DAYS: $1899. Limit 12/Openings 10.
One half day followed by four full days. Includes four lunches, a comprehensive introductory program on the evening of January 13, and unequaled in-classroom and in-the-field instruction. Breakfasts are on-the-run/grab what you can or motel lobby or get-up-early-and-get to McDonalds (right next door). Four early morning sessions. Five afternoon sessions. The last afternoon will be spent at the Albuquerque Zoo photographing Wood Ducks. This will allow folks to stay in ABQ that evening and grab an early morning flight home (if that works for them).
Photograph tens of thousands of Snow Geese, 10,000 Sandhill Cranes, ducks, amazing sunrises, sunsets, and blast-offs. Live, eat, and breathe photography with the world's premier photographic educator at one of his very favorite photography locations on the planet. Top-notch in-the-field and Photoshop instruction. This will make 21 consecutive seasons at Bosque for me. Nobody knows the place better than I do. Nobody understands the wind and the light better than I do. Join me to learn to think like a pro, to see like a pro, to recognize situations, and to anticipate them based on the weather, especially the sky conditions, the light, and the wind direction. Every time I make a move I will let you know why. When you head home being able to apply what you've learned on your home turf will prove to be invaluable.
This workshop includes 4 pre-dawn morning and 5 afternoon photography sessions, an inspirational, introductory slide program after dinner on your own on Friday, 1/13/17, four lunches, and after-lunch digital workflow, Photoshop, and image critiquing sessions.
There is never a set itinerary on a Bosque IPT; each day is tailored to the local conditions and to the weather. I need to be totally flexible in order to maximize both the photographic and learning opportunities. We will be up early each day leaving the hotel by 5:30 am to be in position for sunrise. We usually photograph until about 10:30am. Then it's back to Socorro for lunch and followed at some point by a classroom session with the group. There is almost always room for a short nap in there somewhere. We head back to the refuge each afternoon and photograph until sunset. We will be photographing lots of Snow Geese and lots of Sandhill Cranes with the emphasis on expanding both your technical skills and your creativity. As always, we will make time to do some non-avian creative stuff.
How Do I Sign Up?
A $599 non-refundable deposit is required to hold your slot for this IPT. Your balance, payable only by check, will be due on 9/13/2016. If you cancel and the trip fills, I will be glad to apply a credit applicable to a future IPT for the full amount less a $100 processing fee. If we do not receive your check for the balance on or before the due date we will try to fill your spot from the waiting list. Whether or not your spot is filled, you will lose your deposit. If not, you can secure your spot by paying your balance.
Please print, complete, and sign the form that is linked to here and shoot it to us along with your deposit check (made out to "Arthur Morris.") You can also leave your deposit with a credit card by calling the office at 863-692-0906. If you register by phone, please print, complete and sign the form as noted above and either mail it to us or e-mail the scan. If you have any questions, please feel free to contact me via e-mail.
Small Group Pre-IPT In-the-Field Instruction (I-T-F): January 11 & 12, 2017: $375/morning session. Limit six.
Though I am not sure exactly when, I will be flying to New Mexico early to scout. What can I say? I love the place. Right now I am offering two I-T-F morning photography sessions as above. The sessions will run from 6:00-10:00am and will include an informal image review session at lunch. Lunch is on me. Right now registration is open only to folks registering for the IPT. This will allow participants to maximize their travel dollars and get a head start on learning. Sign up for one or for both.
Facebook
Be sure to like and follow BAA on Facebook by clicking on the logo link upper right. Tanks a stack!
Typos
In all blog posts and Bulletins, feel free to e-mail or to leave a comment regarding any typos or errors. Just be right 🙂