What's Up?
We had a last minute cancellation today on the San Diego IPT. If you would like to join us and enjoy a $200 Very Late Registration discount please shoot me an email or call Jim or Jen at the office on Wednesday at 863-692-0906 to make arrangements and to have the confirmation letter sent to you.
I did receive this good news via e-mail today:
BTW, the Brown Pelicans are in GORGEOUS color and are here in droves. Your SD shoot should be awesome.
In the same vein, there are still two openings on the Lake Kerkini/Dalmatian Pelican IPT. There will be no more than 3 folks per world class instructor!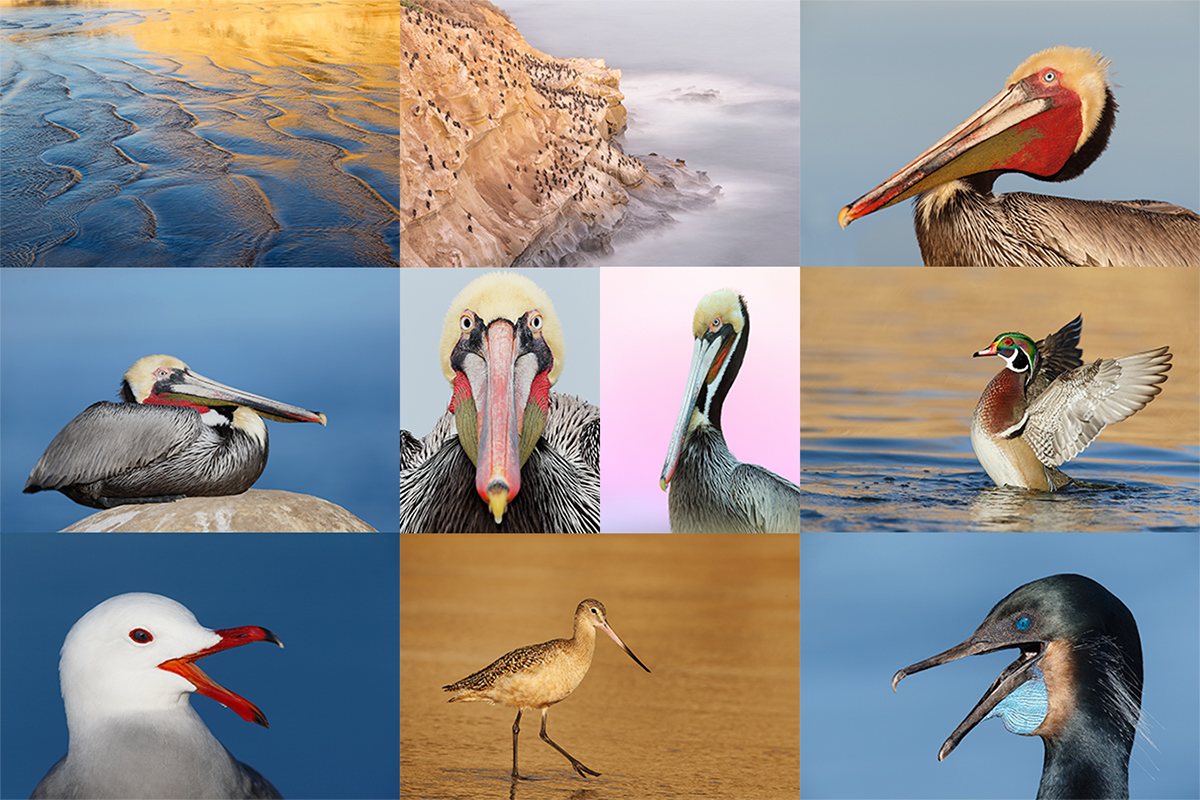 San Diego offers a wealth of very attractive natural history subjects. With annual visits spanning more than three decades I have lot of experience there….
2016 San Diego 4 1/2-DAY BIRDS AS ART Instructional Photo-Tour (IPT) JAN 8 thru the morning of JAN 12, 2016: $1899 (Limit: 10/1 opening due to a cancellation.)
Meet and Greet at 7:30pm on the day before the IPT begins/Two great leaders: Arthur Morris and Denise Ippolito
$200 Late Registration Discount.
Join us in San Diego to photograph the spectacular breeding plumage Brown Pelicans with their fire-engine red and olive green bill pouches; Brandt's and Double-crested Cormorants in breeding plumage with their amazing crests; breeding plumage Wood and Ring-necked Duck; other species possible including Lesser Scaup, Redhead, and Surf Scoter; a variety of gulls including Western, California, and the gorgeous Heerman's, all in full breeding plumage; shorebirds including Marbled Godwit, Willet, Sanderling and Black-bellied Plover; many others possible including Least, Western, and Spotted Sandpiper, Whimbrel, Black and Ruddy Turnstone, Semipalmated Plover, and Surfbird; Harbor Seals (depending on the current regulations) and California Sea Lions likely; and Bird of Paradise flowers. And as you can see by studying the two IPT cards there are some nice landscape opportunities as well.
Did I mention that there are wealth of great birds and natural history subjects in San Diego in winter?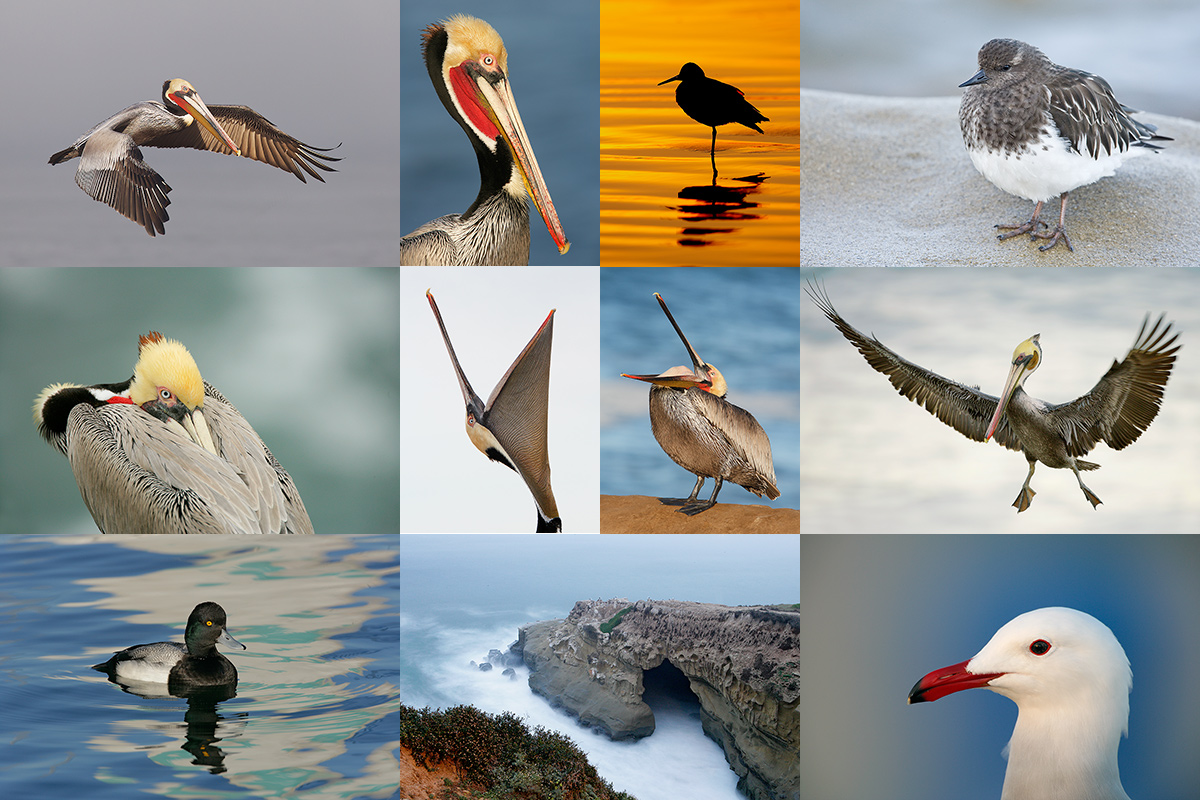 Though the pelicans will be the stars of the show on this IPT there will be many other handsome and captivating subjects in wonderful settings.
The San Diego Details
This IPT will include five 3 1/2 hour morning photo sessions, four 2 1/2 hour afternoon photo sessions, five lunches, after-lunch image review and Photoshop sessions, and a thank you dinner. To ensure early starts, breakfasts will be your responsibility.
A $499 non-refundable deposit is required to hold your slot for this IPT. You can send a check (made out to "Arthur Morris) to us at BIRDS AS ART, PO Box 7245, Indian Lake Estates, FL, 33855. Or call Jim or Jennifer at the office with a credit card at 863-692-0906. Your balance, payable only by check, will be due on 11/1//2015. If we do not receive your check for the balance on or before the due date we will try to fill your spot from the waiting list. Please print, complete, and sign the form that is linked to here and shoot it to us along with your deposit check. If you register by phone, please print, complete and sign the form as noted above and either mail it to us or e-mail the scan. If you have any questions, please feel free to contact me via e-mail.
Like Pelicans?
Keep on reading.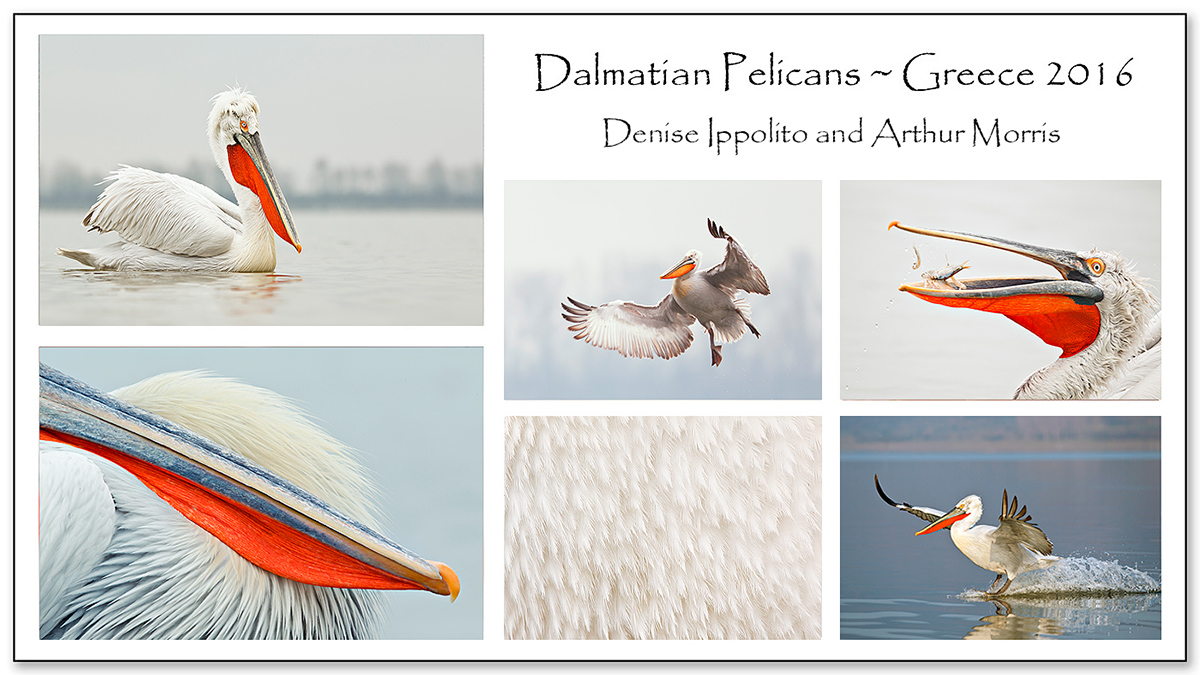 Images copyright 2011: Arthur Morris/BIRDS AS ART. Card design by Denise Ippolito.
Dalmatian Pelicans ~ Northern Greece
: A Creative Adventure/BIRDS AS ART Workshop/Two great leaders: Denise Ippolito & Arthur Morris
. January 24th – 29th, 2016 ~ 5 Nights/ 4 Full days of photography: $2950. Limit: 6/Openings: 2.
This trip is a go.
Photograph beautiful Dalmatian Pelicans in Greece. Our trip will be from January 24-29th, 2016. Our hotel accommodations are located fifteen minutes from Lake Kerkini. This is a huge plus as we will be able to take advantage of great light at a moment's notice. This location is well known as the best location on the planet to photograph these beautiful, common, and extremely photogenic birds. And we will enjoy tons of flight photography. Though your 70-200 will be your very best friend, you will be able to use almost every lens in your gear bag. Wide angle shots, close portrait work, flight shots, creative blurs- you name it. Our expert guide knows the area like the back of his hand; he guides some of the most world renowned photographers.
There will be in-the-field instructional photography sessions each morning and afternoon from the shore and we will enjoy extended small boat sessions. Image review and post processing sessions will be informal; we will cover a ton of information during both our in-the-field and indoor session. With two great leaders that only thing that will limit your learning is a lack of stamina.
More than 100 pairs of Dalmatian Pelicans nest on specially constructed platforms on the lake. They remain at the lake during the winter. During our time in Greece the Pelicans will be in their brightest and most impressive breeding plumage. The birds hang around the local fisherman and in addition, we purchase live bait to bring the pelicans close. They are silly tame as they have been begging fish from the locals for many decades.
The groups of Dalmatian Pelicans are often accompanied by single Great White Pelicans, Pygmy Cormorants and Great Cormorants.
The price of this IPT IS $2950.00 per person USD, based on double occupancy; The single supplement is $360. The workshop fee includes hotel accommodations, WiFi, breakfast, lunch and dinner daily, round trip transfers from Thessaloniki Airport, all ground transportation during trip, boat fees and lots of fish.
Not included: Round trip airfare to Thessaloniki Airport, alcoholic beverages, personal items including but not limited to laundry, phone, or fax services.
This workshop is currently limited to 6 participants. A non-refundable deposit of $1000.00 is required to hold your spot for this workshop. Balances are are due on August 1st, 2015 and are also non-refundable. Payments in full are of course welcome at any time. All payments including the deposit must be made by check made out to "Arthur Morris." Please be sure to check your calendar carefully. If we do not receive your check for the balance on or before the due date we will try to fill your spot from the waiting list. If your spot is filled, you will lose your deposit. If not, you can secure your spot by paying your balance.
Please note that even though we have secured a top notch guide this is somewhat of a scouting trip (as denise has never been). The price of next year's trip will be considerably higher. There are only 2 slots open. This is an especially attractive deal for folks from Europe….
Please contact us via e-mail to check on availability or write with questions: artie or Denise Ippolito. All deposits and balances must be paid by personal check or money order made out to "Arthur Morris" and mailed to BIRDS AS ART, PO Box 7245, Indian Lake Estates, FL 33855. Overseas folks can, however, pay their deposits and balances by wire transfer; the registrant is responsible for the fees on both ends.
Travel Insurance Services offers a variety of plans and options. Included with the Elite Option or available as an upgrade to the Basic & Plus Options. You can also purchase Cancel for Any Reason Coverage that expands the list of reasons for your canceling to include things such as sudden work or family obligation and even a simple change of mind. You can learn more here: Travel Insurance Services. Do note that many plans require that you purchase your travel insurance within 14 days of our cashing your deposit check. Whenever purchasing travel insurance be sure to read the fine print carefully even when dealing with reputable firms like TSI.
We do hope that you can join us.
Facebook
Be sure to like and follow BAA on Facebook by clicking on the logo link upper right. Tanks a stack!
Typos
In all blog posts and Bulletins, feel free to e-mail or to leave a comment regarding any typos or errors. Just be right 🙂