What's Up?
It is early Tuesday evening: I am at the Courtyard Marriott Orlando Airport for my early morning flights to San Diego tomorrow. Tuesday was packing day and Jim dropped me off at about 4:30pm. I have not mentioned it lately but I have been feeling pretty darned good lately but for what seems like a developing case of laryngitis 🙂 Not a sore throat, but if I talk for more than a sentence or two I start to lose my voice. Perfect for the IPT and my exhibit-opening program at the Nat on January 16th.
Strange that I still have something going on in terms of congestion. I have been to the doctor. Heck, it is only been ten weeks now.
400 DO Price War!
The prices on use 400 DO lenses have been dropping steadily. Tom Blackman would like to sell his now.
Used Canon EF 400mm f/4 IS DO Lens
Yet Another Lowest-ever BAA Price!
Price Reduced an insane $825 on January 5, 2015.
IPT veteran Tom Blackman offering a used Used Canon EF 400mm f/4 IS DO lens in excellent condition for $2250. There is some paint wear near the lens hood. The sale includes the lens trunk, the front cover, the rear lens cap, a worn LensCoat, and insured shipping via Fed ex Ground. Your item will not ship until your check clears unless other arrangements are made. This lens was just cleaned and checked by Canon's Irvine, CA Repair Center; documentation can be provided upon request.
Please contact Tom by e-mail or by phone at 619.807.5615 (Pacific time).
I used this lens for several years with great success, especially for birds in flight and while working from various type of water craft. In addition, it would make a great prime super-telephoto lens for folks with a 7D II. Gannets in Love was created with the 400 DO. You can see that one and 13 other killer images that I made with my old 400 DO here. The title of that blog post is "The Canon 400mm f/4 IS DO Lens: Fourteen Images that Prove that the Internet Experts are Idiots." Tom's lens is priced to sell. artie
And to think that I could'a been a jockey…
I found this B&W print on my dresser the other day and had older daughter Jennifer scan it. I imagine that I was about seven years old, maybe eight. My very vague memory is that this was somewhere out on the Sunrise Highway where it breaks off from the Belt Parkway. I am not sure of the camera or the exposure data.
I sent the image to my sister Arna to show to my Mom to see if she remembered the pony occasion. Her reaction? "That's not Arthur." You gotta love it. She is 93 and her mind is sharp.
This Just In
Click here for a link to slew of new Nikon stuff.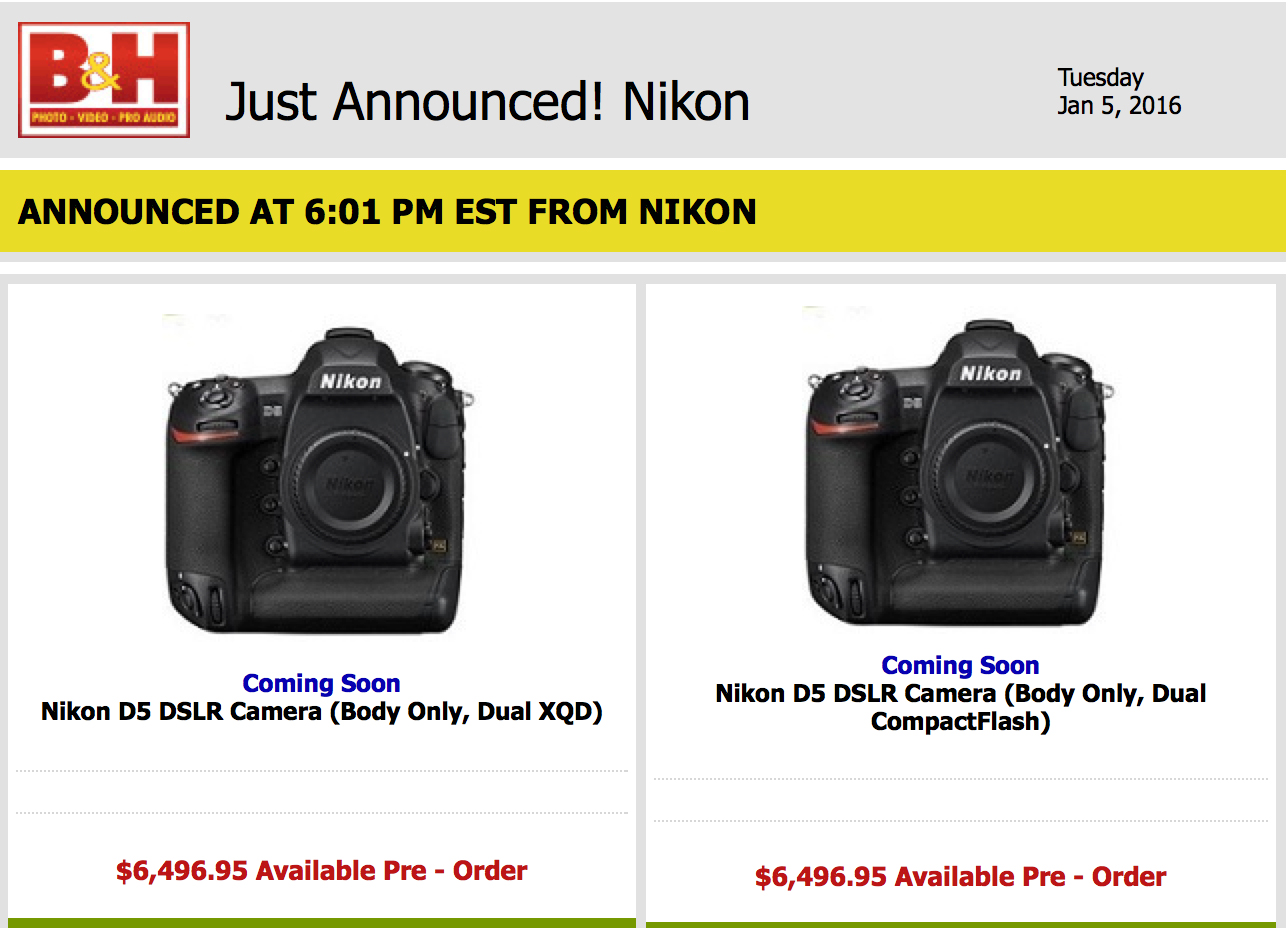 Nikon announces two new flagship bodies; you can pre-order now. If you do, please use one of the two product specific links below to support my efforts here on the BAA Blog. If you know the difference between the two bodies, please educate us 🙂
Canon EOS-1D X II
As for me, I can't wait for the 1D X II to be announced…
New Nikon Bodies
Yesterday evening Nikon introduced two flagship camera bodies, the Nikon D5 DSLR Camera (Dual CompactFlash) and the Nikon D5 DSLR Camera (Dual XQD). You can read some of the seemingly amazing hype for the Dual Compact Flash version below, or follow the links to compare the two bodies.
Right now I am at a loss as to what differentiates the two bodies. If you know, please feel free to leave a comment.
If you are a Nikon-shooter who enjoys getting the latest, greatest camera body, I would appreciate your using one of my affiliate links above to order. Remember: the sooner you order the sooner you will have your dream camera body in your hands.
Overview of the Nikon D5 DSLR Camera (Dual CompactFlash) Body
Qualifying itself as the flagship model in Nikon's DSLR lineup, the D5 is positioned as a truly fast, highly precise machine for professional photographers. Revolving around a full-frame, FX-format 20.8MP CMOS sensor and EXPEED 5 image processor, this workhorse touts an impressive 12 fps continuous shooting rate with full-time AF and AE, an expandable sensitivity range that goes up to ISO 3280000, and 4K UHD video recording at 30 fps. Matching the imaging versatility, the D5 is also characterized by its redeveloped Multi-CAM 20K 153-point AF system, which incorporates 99 cross-type sensors for refined precision when tracking moving subjects or working in difficult lighting conditions. This model features dual CompactFlash memory card slots, to provide versatility in file handling during shooting, and a range of selectable raw file sizes can also be used depending on output needs. Designed to keep up with the fastest subjects and handle the most difficult working conditions, the D5 is an advanced DSLR well-suited to the most extreme multimedia workflows.
Echoing the robust set of imaging capabilities, the D5 is of course equally refined in its handling and physical design attributes. A rear 3.2″ 2.36m-dot touchscreen LCD monitor afford clean, clear playback and live view shooting, along with an intuitive means for navigating the menu system. The camera chassis is constructed from magnesium alloy and is both dust- and weather-sealed to enable working in the harshest of environments. And lending an air of familiarity to the design, a slew of configurable Function buttons are available across the body, and an integrated vertical grip supports working in both horizontal and vertical shooting orientations.
20.8MP FX-Format CMOS Sensor and EXPEED 5 Image Processor
The FX-format 20.8MP CMOS sensor teams with the EXPEED 5 image processor to offer an esteemed mixture of high sensitivity, nuanced image quality, and fast overall performance. At native values, a sensitivity range from ISO 100-102400 permits working in a broad array of lighting conditions, an can be further expanded to ISO 50-3280000 (Lo 1 to Hi 5) to handle the most challenging of situations. The mixture of resolution and sensor size also contributes to clean image quality and smooth color transitions with reduced noise throughout the sensitivity range.
In addition to benefitting image quality, the EXPEED 5 processor also affords a wealth of speed throughout the camera system, including a top continuous shooting rate or 14 fps with the mirror up, or 12 fps with full-time autofocus and auto-exposure control. When shooting at 12 fps, up to 200 frames can be recorded in a single burst, even when shooting 14-bit lossless compressed NEF files. Benefitting this speed, redeveloped sequencer and mirror driving mechanisms also ensure consistent, accurate exposure results as well as a more stable viewfinder image.
153-Point Multi-CAM 20K Autofocus System
Matching the speed and imaging capabilities is the apt Multi-CAM 20K AF system, which features 153 total phase-detection points, including 99 cross-type sensors for improved subject recognition, and 55 of the points are selectable for greater compositional freedom. Benefitting the use of super telephoto lenses and teleconverters, 15 of the points, including 9 selectable points, are compatible with an effective aperture of f/8 and all 153 points support working with effective apertures of f/5.6 or brighter.
Complementing the abundance of focusing points is a dedicated AF engine, which offers quick response times to benefit tracking fast and randomly moving subjects, even at the top 12 fps shooting rate. The AF engine also contributes to enhanced focusing sensitivity, with all points capable of focusing -3 EV and the center point capable of reading at -4 EV for working in very dark, low-contrast situations.
Furthering the versatility of the focusing system, seven different AF-area modes can be selected to support varying types of subject matter:
Single-Point AF: The camera uses a single point to find focus.
Dynamic-Area AF: Available with 25, 72, or 153-point selections, this mode uses a primary single focus point to lock onto focus, and then makes use of the surrounding points for maintaining focus while tracking erratically-moving subjects.
Group-Area AF: This mode treats smaller groups of AF points as a single point for a wider field of recognition, and is well-suited to tracking faces or other detailed subjects.
3D-Tracking: Using a subject's color information, this mode utilizes all 153 points to maintain focus on a moving subject while half-pressing the shutter button.
Auto-Area AF: This mode makes use of all 153 points to quickly identify the main subject, and then prioritizes recognized faces as portrait subjects in any AF servo mode.
In addition to the range of AF-area modes, an AF lock-on function can also be used to improve subject tracking performance, and can be adjusted by two parameters–quick or delayed blocked shot AF response and erratic or steady subject movement. By configuring these settings, the AF performance can be optimized to handle a wide variety of subject movement types.
Lastly, a unique auto AF fine-tune function can be employed to ensure the best possible focus for each mounted lens. Rather than relying on photographing distance charts, this function lets you achieve precise focus manually in live view, and then have the AF system calibrate itself to the fine-tuned focus position in order to alleviate front- and back-focusing issues.
Scene Recognition System and Exposure Metering
The intelligent Scene Recognition System with 3D Color Matrix Metering III utilizes a 180,000-pixel RGB sensor to evaluate and analyze all aspects within a scene, including brightness, contrast, subject distance, and the scene colors, to quickly determine an accurate exposure and white balance setting to best render the scene at hand. The information gathered is also checked against onboard reference images to ensure consistency from image to image in regard to exposure, white balance, i-TTL flash settings, and subject-tracking AF performance.
Other Camera Features
Three different sizes of raw files can be used depending on your output needs; raw size medium and small are 12-bit lossless compressed NEF files while the large file size is a 14-bit lossless uncompressed or compressed NEF file.
Spot White Balance control for live view shooting makes setting the white balance as easy as pointing to the area in the frame that should be white. Additionally, 1-6 preset white balance settings can be stored for easier switching between different light sources.
When reviewing continuous shooting sequences, you can configure to have the playback begin with the first or last image from the burst.
The D5 is compatible with the radio-controlled Advanced Wireless Lighting system, which permits working with the optional WR-R10 Controller and WR-A10 Receiver, along with the SB-5000, for intuitive, controllable wireless flash shooting.
The built-in wired LAN function of 1000 Base-T (Gigabit) standard enables high-speed, seamless transferring of still imagery and movie files for expediting an entire post-production workflow.
For wireless file transferring, the D5 is compatible with the optional WT-6A Wireless Transmitter.
Picture Control modes allow you to set predefined looks to imagery in-camera and include Landscape, Monochrome, Neutral, Portrait, Standard, Vivid, Flat, and user-customizable settings.
Overview of the Nikon D5 DSLR Camera (Dual XQD) Body
To read the Overview for the Dual XQD version and possibly compare it to the Dual CompactFlash version, click here and scroll down to Overview.
Facebook
Be sure to like and follow BAA on Facebook by clicking on the logo link upper right. Tanks a stack!
Typos
In all blog posts and Bulletins, feel free to e-mail or to leave a comment regarding any typos or errors. Just be right 🙂