What's Up
I photographed with friends at the cliffs on Thursday morning and made a conscious effort to do as few pelicans as possible. I had a ton of fun and created only a very few pelican images. I concentrated on gulls–primarily adult westerns, Brandt's Cormorants, and Brown Boobies.
In the afternoon I did an in-the-field duck-shop (with apologies to E.J. Peiker) at Santee Lakes for a Delkin-sponsored group of seven photographers at Santee Lakes. When I invited them to the trunk of the car to watch me set up and explain a few things, I am pretty sure that they all thought me daft. After nearly 3 hours of learning about exposure in the shade and exposure in the sun, about flight photography, and about creating pleasing blurs, they were all hugs and kisses and doing selfies with me. 🙂 Needless to say we had fun and they all learned a ton.
Diane Miller's old 300mm f/2.8L IS sold yesterday; you can see all the Used Photo Gear offerings here.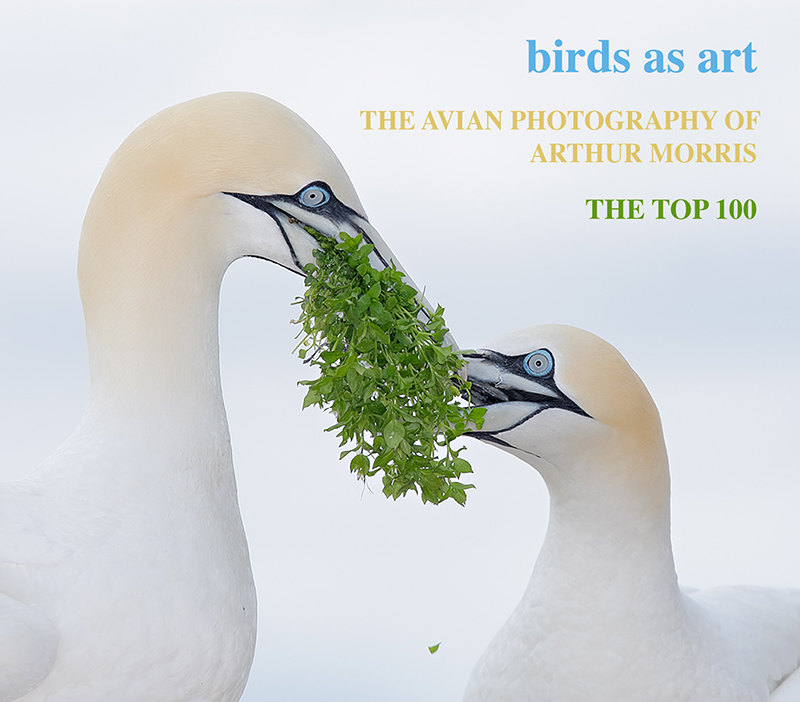 The Exhibit Companion CD Book Cover.
BIRDS AS ART: The Avian Photography of Arthur Morris
At TheNat, San Diego, California
Show Time is Near!

If you live within two hours driving time of San Diego and you enjoy nature photography you should be in your car early Saturday morning heading to TheNAT for my 9am program. The opening of my solo exhibit, birds as art, The Avian Photography of Arthur Morris, will follow the program at about 10:30am. The exhibit will feature 67 of my very favorite images. There are four film images. The remaining 63 images were all captured and recorded on Dekin e-Film compact flash cards.
Copies of the exhibit companion CD include the 67 images that will hang at TheNAT until April 16, 2016 plus 33 additional images. The CD will be available at the program for $20 and should be up on our website no later than this coming Tuesday.To avoid the hassles of using international mail we will also be offering the e-book via download for our overseas friends. We recently sent two copies of the original The Art of Bird Photography to Chile: took only seven weeks to get there…
My Saturday morning NATtalk Choosing and Using Lenses for Bird and Nature Photography will include about 300 images. The main theme will be that lenses are simply tools and that the longest lens is not always the best for a given job. We will visit many of my favorite spots on the planet and learn about the images that I have created with focal lengths ranging from 8mm through 1200mm.
Learn more about the gallery show here. Learn about the opening NATtalk, Choosing and Using Lenses for Bird and Nature Photography, here.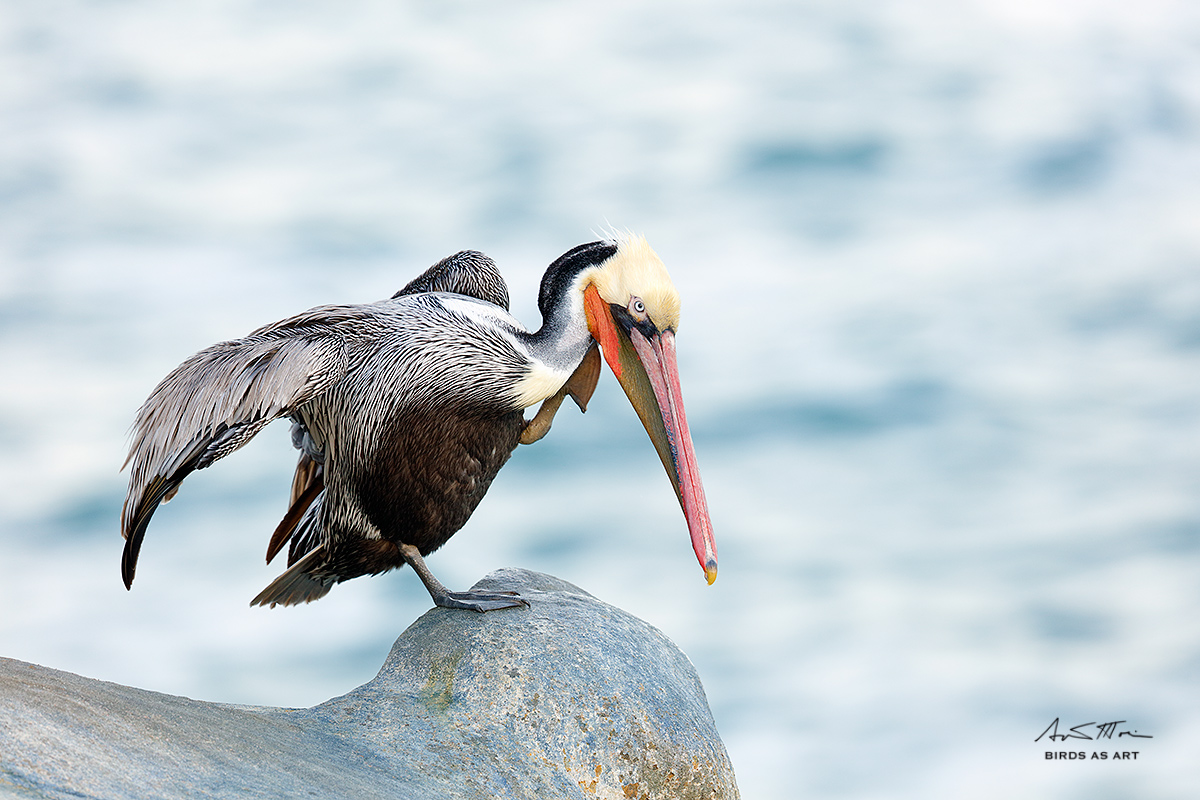 Here is another one that was created at La Jolla, CA on Day 2 of the 2016 San Diego IPT, this one with the Induro GIT 304L/Mongoose M3.6-mounted Canon EF 500mm f/4L IS II USM lens and the Canon EOS 5DS R. ISO 500. Evaluative metering +1 2/3 stops: 1/250 sec. at f/5.6. Cloudy WB.
Center AF point (Manual selection)/AI Servo Expand/Rear Focus AF as originally framed was active at the moment of exposure. This is a very small crop from the right and the bottom. The active AF point was on the spot where the gray of the neck meets the white. Click here to see the latest version of the Rear Focus Tutorial. Click on the image to see the incredible fine feather detail in a larger version.
Brown Pelican scratching
Your browser does not support iFrame.
In the recent 5DS R & Canon 500mm f/4L IS II Lens = Breathtaking Image Files… blog post here, I wrote, If you see any evidence of Photoshop hanky panky please let us know what you think I did and offer your proof.
Warren Robb amazed me by leaving this comment: A very nice image, Artie. In order to make your point, I believe nothing was done in Photoshop, not even your usual detail extraction on the head or Eye Doctor work.
He nailed everything. I noted with this image and others that even a 20% opacity layer of my NIK COlor Efex Pro 50/50 recipe actually made them photos look worse rather than improving them. The image as posted was straight out of camera but for a tiny crop to improve the image design.
Well done Rob.
Tuesday's blog post generated lots of interesting comments and led to my airing of some dirty laundry in yesterday's blog post. You can see a huge crop of the 5DS R image above and another in that post here.
With regards to that dirty laundry, I received this e-mail from a friend who shall remain unnamed:
That person certainly hasn't a clue what he's talking about and probably posted the comment from where he lives – in his parent's basement. Is he a photographer? Probably not. Did he take the time & trouble to get out onto the La Jolla cliffs and photograph, then share images and tips with the world? Certainly not.
As you know, image quality of a jpeg image is always less than the master RAW or TIFF image. One cannot properly compare the sharpness of a 388K jpeg version posted to the web against the original super-hi-res image. By doing so, he's proven that (a) he doesn't understand file types and resolution and (b) he's one of those "internet critics" that we all know and loathe.
Note his typical "internet critic" phrase: "My guess is that…". This translates to "I don't know anything but am so important that I must provide my opinion"
I love your subtle humor in changing his initials to BM! I hope other people caught that.
"Brown Pelican scratching" is awesome. Period. One can see enough detail in the jpeg to know that the original file has a ton more detail. For me, the evidence is in the clearly overlapping feathers – we can even see detail in the feathers beneath them!
I also dig the element of humor in it: a pelican scratching itself like a cat, while standing one-footed on the edge of a rocky precipice above a stormy sea. My favorite wildlife images are those that tell a story about its life, like this one does.
Just breathe and remember this:
"Great spirits have always encountered violent opposition from mediocre minds." – Albert Einstein
See you soon.
My comments: Nice catch on the "BM." It could stand for a few things… I do not really understand all the resolution and pixel math stuff but I am pretty sure that I know a good image when I see it. As for the story-telling aspect of the image, thanks for opening up my eyes to that. See you soon. And thanks!
While some felt that it is impossible to judge image quality and fine detail from relatively small JPEGs, Tony Botelho echoed my thoughts exactly when he wrote, I have a good monitor, and I have to say that this photo has a razor cutting sharpness to it like no other! I feel I could just touch the pelican. I love the feel of this image, and how relaxed the pelican is. I don't know if he is scratching, or just taking a break and waving to the photographers.
Thanks Tony. He was scratching.
The San Diego Site Guide
Whether you are visiting San Diego for photography for the first time or live in the area and have done the pelicans many dozens of times, you will learn a ton by studying the San Diego Site Guide. Why spend days stumbling around when you can know exactly where and when to be depending on the wind direction and sky conditions? In addition to the pelican primer, there is great info on the best beaches for the gorgeous gulls, on Marbled Godwit, on the lower cliffs, Lesser Scaup, and Wood and Ring-necked Ducks as well.
Learn more or purchase your copy here.
Please Remember to use our Affiliate Links 🙂
To show your appreciation for my continuing efforts here, we ask, as always, that you get in the habit of using my B&H affiliate links on the right side of the blog for all of your photo and electronics purchases. Please check the availability of all photographic accessories in the BIRDS AS ART Online Store, especially the Mongoose M3.6 tripod heads, Gitzo tripods, Wimberley heads and plates, LensCoats and accessories, and the like. We sell only what I have used, have tested, and can depend on. We will not sell you junk. We know what you need to make creating great images easy and fun. And we are always glad to answer your gear questions via e-mail. I just learned that my account was suspended during my absence; it should be up and running by Monday at the latest.
I would of course appreciate your using our B&H affiliate links for all of your major gear, video, and electronic purchases. For the photographic stuff mentioned in the paragraph above we, meaning BAA, would of course greatly appreciate your business. Here is a huge thank you to the many who have been using our links on a regular basis and visiting the BAA Online store as well.
Facebook
Be sure to like and follow BAA on Facebook by clicking on the logo link upper right. Tanks a stack!
Typos
In all blog posts and Bulletins, feel free to e-mail or to leave a comment regarding any typos or errors. Just be right 🙂