What's Up?
On a still misty morning our Japanese master naturalist and photo guide knew just where the group should be to create some great images. We had a ton of fun making images of the river in the golden marsh and lots of little detail images of frost covered leaves and bamboo leaves. After some late morning image sharing we enjoyed another great Akan Crane Center fish feeding session with the Black-eared Kites and the White-tailed Sea Eagles.
I began this blog post an hour ago. As I type now, it is 4:30am on Saturday February 20 here in Japan. That is 2:30 in the afternoon on Friday February 20 on the east coast. Today we are headed for more swans. At long last, snow is in the forecast for Saturday night…
The Streak
Today's blog post marks 109 days in a row with a new educational blog post. As always–and folks have been doing a great job recently–please remember to use our B&H links for your major gear purchases. Your doing so is always greatly appreciated.
Selling Your Used Gear Through BIRDS AS ART
Selling your used (or like-new) photo gear through the BAA Blog or via a BAA Online Bulletin is a great idea. We charge only a 5% commission. One of the more popular used gear for sale sites charged a minimum of 20% plus assorted fees! Yikes. Until they folded E-Bay fees are in the range of 13%. Business is booming here.
The minimum item price here is $500 (or less for a $25 fee). If you are interested please e-mail with the words Items for Sale Info Request cut and pasted into the Subject line :). Stuff that is priced fairly–I offer free pricing advice, usually sells in no time flat. In the past few months, we have sold just about everything in sight. Do know that prices on some items like the EOS-1D Mark IV, the old Canon 500mm, the EOS-7D, and the original 400mm IS DO lens have been dropping steadily. Even the prices on the new 600 II and the 200-400 with Internal Extender have been plummeting. You can see all current listings by clicking here or by clicking on the Used Photo Gear tab on the right side of the yellow-orange menu bar above.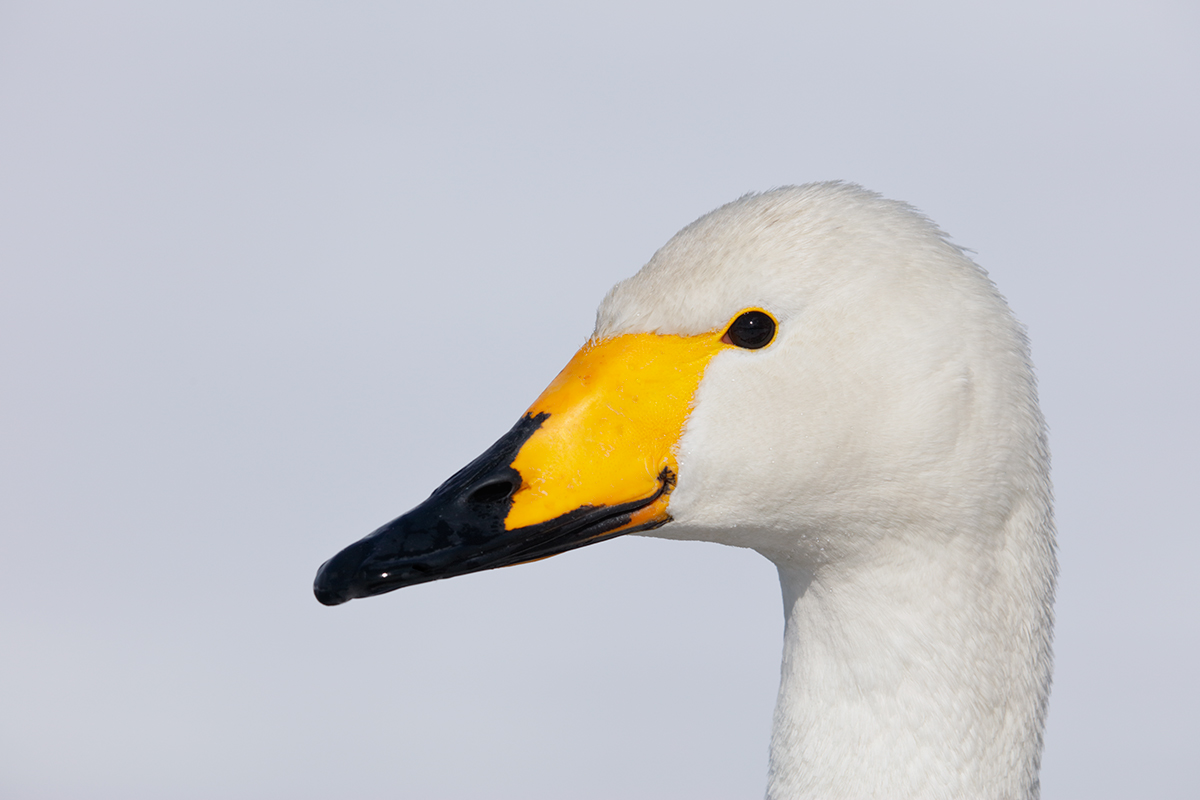 This image was created at Lake Kussharo on the Japan in Winter IPT with the Induro GIT 304L/Mongoose M3.6-mounted Canon EF 600mm f/4L IS II USM lens, the Canon Extender EF 2X III, and the Canon EOS 5DS R. ISO 400: 1/1250 sec. at f/11 in Av mode. AWB.
Center AF point (by necessity)/AI Servo Expand/Shutter Button AF as framed was active at the moment of exposure. Check out the tight crop below to see the incredible fine feather 5DS R detail.
Image #1: Whooper Swan tight head portrait
Your browser does not support iFrame.
16-1200: It's All in the Eyes of the Beholder
The lead image in today's blog post was created at a focal length of 1200mm in typical BIRDS AS ART style: tight, clean, graphic, right on sun angle, with a pretty much perfect head angle and a pure background. Compare this image with the one that closes this blog post.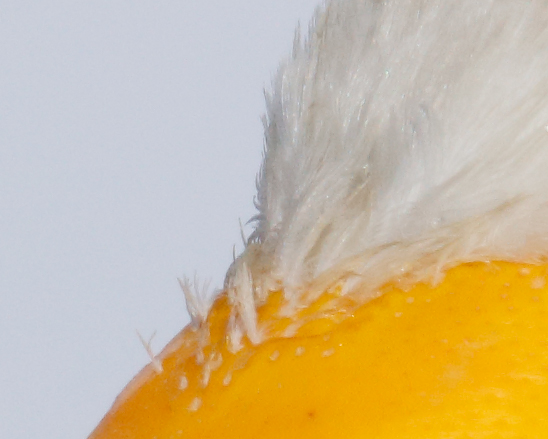 Image #2: This is a massive crop of a tiny portion of the top of the base of the bill
More Amazing 5DS R Fine Detail…
The image above is an unsharpened crop of a tiny portion of the top of the bill. It shows the miniscule feathers that are growing out of the base of the bill. Before you comment that "the tiny feathers don't look that sharp" please try a crop of this magnitude with one of your images. Many thanks.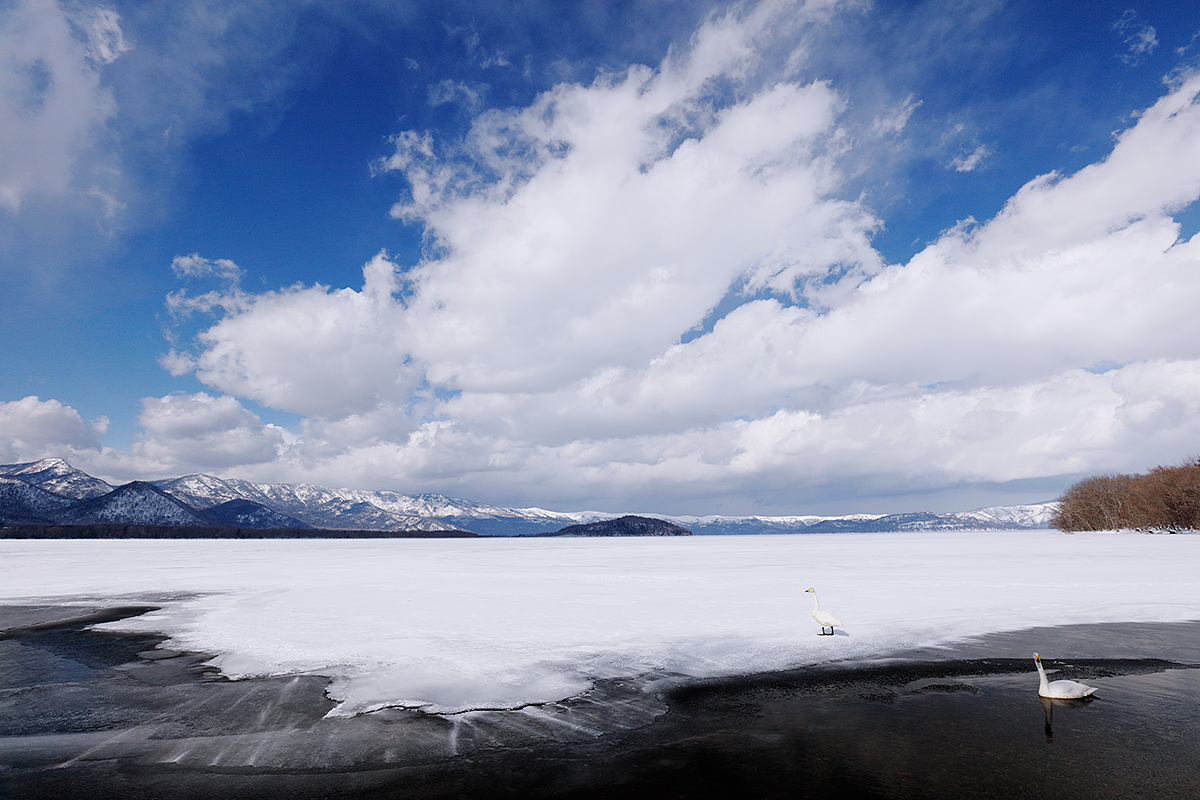 This image was created at Lake Kussharo on the Japan in Winter IPT with the hand held Canon EF 16-35mm f/4L IS USM lens at 16mm and the mega mega-pixel Canon EOS 5DS R. ISO 800. Evaluative metering +2/3 stop: 1400 sec. at f/11.
Center AF point/AI Servo Expand/Rear Focus AF on the swan on our right, re-compose, check the in-the-viewfinder, rotate as needed, and push the button. Click here to see the latest version of the Rear Focus Tutorial. Click on the image to see a larger version.
With the Singh-Ray 77mm warming circular polarizer set to dark. To learn to set your polarizer to dark on a bright day click here.
Image #3: Whooper Swans on frozen lake with big clouds
Your browser does not support iFrame.
The Big Question
Which is the strongest image, Image # 1, the tight head portrait, or Image #2, the wide angle bird-scape? Be sure to let us know why you made your choice?

Singh-Ray Filters
Singh-Ray filters have been used by the world's top photographers for many decades. Singh-Ray is and has been the name in quality filters. I often use the 77mm warming polarizer set to dark at Bosque to get to a slower shutter speed in too-bright conditions. No other filter manufacturer comes close to matching the quality of Singh-Ray's optical glass that is comparable to that used by NASA. And they continue to pioneer the most innovative products on the market like their ColorCombo polarizer, Vari-ND variable and Mor-Slo 15-stop neutral density filters. When you use their filters, you'll create better, more dramatic images and, unlike other filters, with absolutely no sacrifice in image quality. All Singh-Ray filters are handcrafted in the USA.
Best News: 10% Discount/Code at checkout: artie10
To shop for a Singh-Ray warming polarizer (for example), click on the logo link above, click on Polarizers/color enhancing on the menu bar, choose LB Warming Polarizer, choose the size and model, add to cart, and then checkout. At checkout, type artie10 into the "Have a coupon? Click the "here to enter your code" box and a healthy 10% discount will be applied to your total. In addition to enjoying the world's best filter at 10% off you will be supporting my efforts here on the blog.
Please Remember to use our Affiliate Links 🙂
To show your appreciation for my continuing efforts here, we ask, as always, that you get in the habit of using my B&H affiliate links on the right side of the blog for all of your photo and electronics purchases. Please check the availability of all photographic accessories in the BIRDS AS ART Online Store, especially the Mongoose M3.6 tripod heads, Gitzo tripods, Wimberley heads and plates, LensCoats and accessories, and the like. We sell only what I have used, have tested, and can depend on. We will not sell you junk. We know what you need to make creating great images easy and fun. And we are always glad to answer your gear questions via e-mail.
I would of course appreciate your using our B&H affiliate links for all of your major gear, video, and electronic purchases. For the photographic stuff mentioned in the paragraph above we, meaning BAA, would of course greatly appreciate your business. Here is a huge thank you to the many who have been using our links on a regular basis and visiting the BAA Online store as well.
Facebook
Be sure to like and follow BAA on Facebook by clicking on the logo link upper right. Tanks a stack!
Typos
In all blog posts and Bulletins, feel free to e-mail or to leave a comment regarding any typos or errors. Just be right 🙂