What's Up
The group flew from Hokkaido to Tokyo's Haneda Airport arriving a bit late at 12:25. That left Donna Bourdon, Bev Still, and me with a neat 12 hour layover. With Denise Ipolito we enjoyed yet another great meal; I need to face the tale of the scale soon and it will not be pleasant. After Denise headed for her flights to Toronto and Newark we hung out in the restaurant for several hours. I was plugged in and working on this blog post. As dinner time approached we left and walked and sat. I was feeling really tired and slept like a log on a flat wooden bench for two hours. I would be sleeping still if Donna had not awakened me. It is now 8:42pm in Japan on Wednesday, February 24. We are currently first on line to check in for our fight to LAX.
We are all checked in and will spend the next two hours in the Tiat Lounge before boarding for the 11+ hour flight to LA. I am scheduled to arrive in Orlando around 5am on Thursday the 25th.
The Streak
Today's blog post marks 115 days in a row with a new educational blog post. This post took me about 90 minutes to assemble including the time spent on the image optimization. As always–and folks have been doing a great job recently–please remember to use our B&H links for your major gear purchases. Your doing so is always greatly appreciated.
Used Photo Gear Stuff
Several old Canon 500mm f/4L IS lenses have sold in the past few days. I just listed another one for sale by Dean Newman for a BAA record low $3775. See also Thomas Kotka's Canon 200-400mm f/4L IS Lens with Internal 1.4 Extender for the insanely record-low BAA price of $8,450. There are many other great buys on the board; you can see all current listings by clicking here or by clicking on the Used Photo Gear tab on the right side of the yellow-orange menu bar above.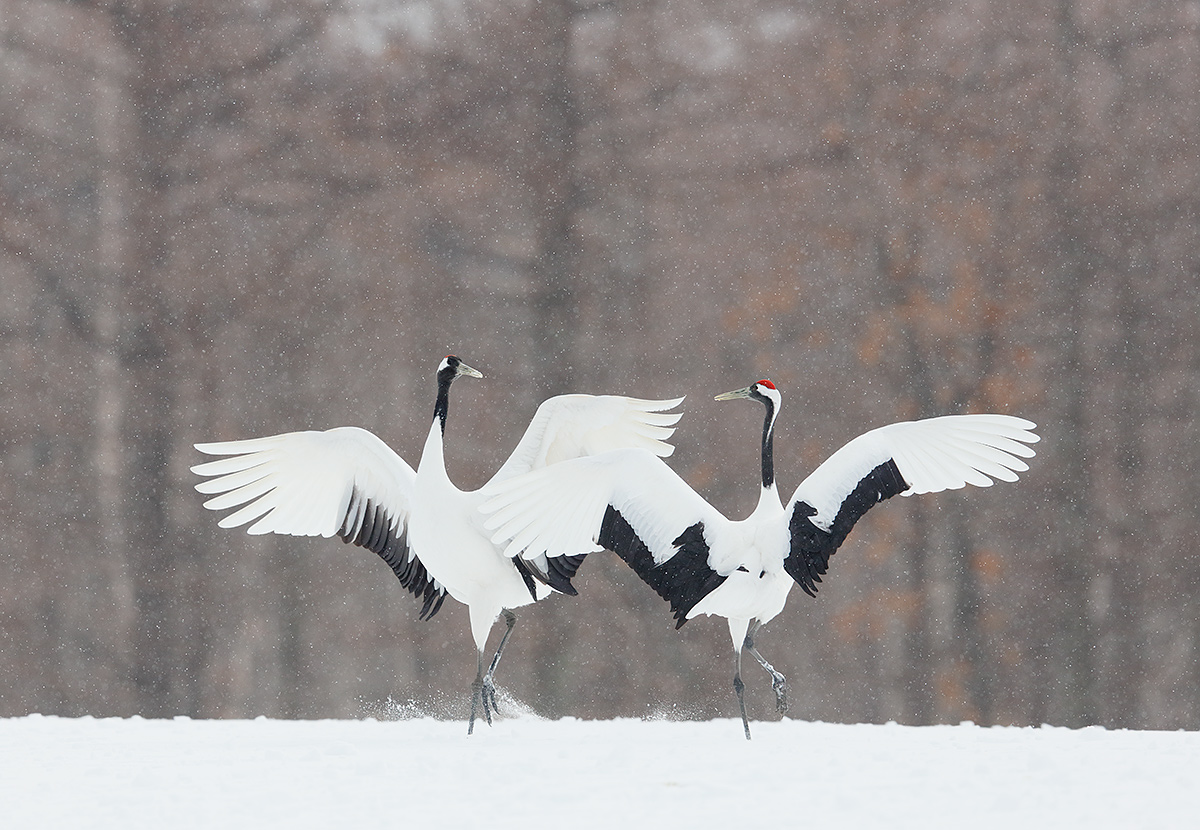 This image was created right near our lodge on the last afternoon of the 2016 Japan in Winter IPT with the Induro GIT 304L/Mongoose M3.6-mounted Canon EF 600mm f/4L IS II USM lens, and the mega mega-pixel Canon EOS 5DS R. ISO 800. Evaluative metering +2 stops off the snow: 1/2500 sec. at f/5.6 in Manual mode. AWB.
61-point/Automatic Selection AI Servo Shutter button AF as originally framed was active at the moment of exposure. It selected three AF points that caught the black secondaries of the rear bird. Click on the image to see a larger version.
Red-crowned Crane courtship dance in light snow
Your browser does not support iFrame.
A Fitting Finale
Tuesday February 23 began with a wonderful session with the cranes in a river by the secret bridge. After some early morning clouds on the eastern horizon it turned into another blue sky day; we were planning lunch at a nearby sushi/tempura place. But by 11am it turned cloudy so we headed to the nearby sanctuary. We enjoyed our last photography session with Red-crowned Cranes dancing in the snow. Most headed back to the lodge at about 4:30pm but Sam Hogue, Kevin Dowie (from Down Under), and one of the co-leaders, Paul Mckenzie, and I stuck it out till the end when the last cranes left the field. I did make a few nice blurs including a cool zoom blur or two and a few Japanese painting-like vertical pan blurs.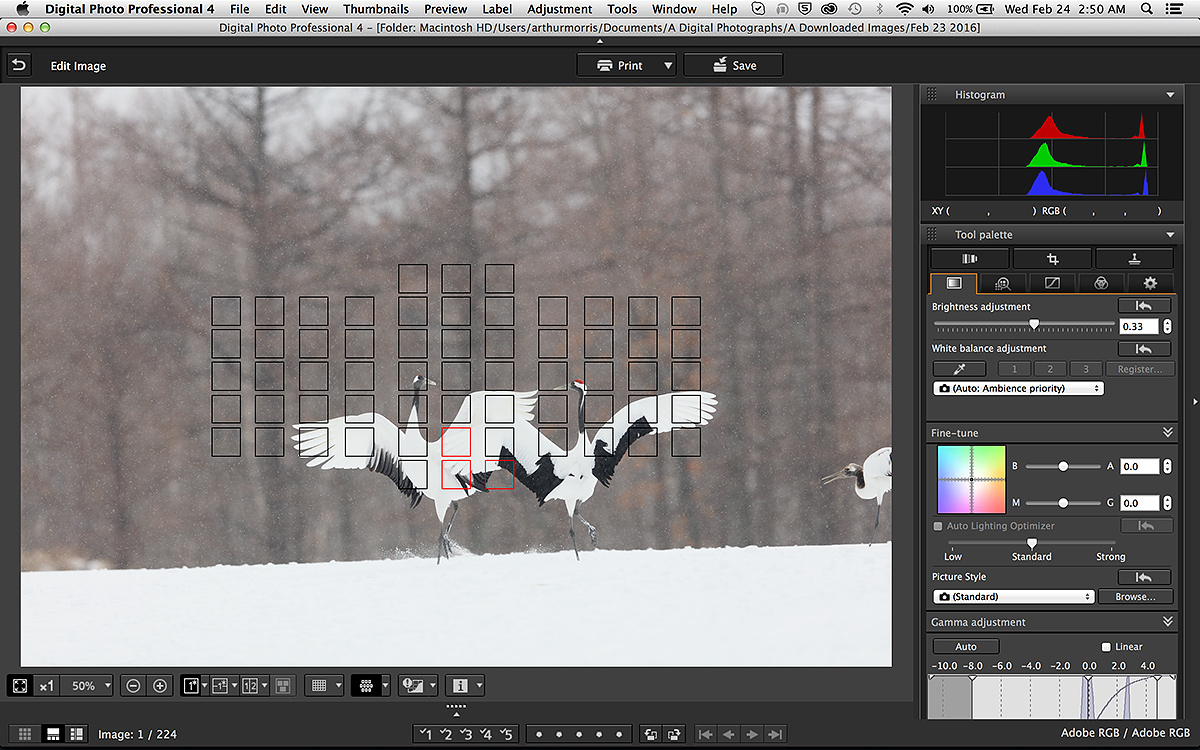 DPP 4 Screen Capture for today's featured image
61-Point Automatic Selection AF 5DS R Revelation
DPP 4 Screen Capture for today's featured image
Note above that 61-Point Automatic Selection AF did a fine job of creating a sharp image through the snowflakes. I have never been thrilled by the performance of 61- or 65-point automatic selection AF with previous Canon camera models. As noted in our Camera User's Guides, there are situations where Automatic Selection AF can perform well. With the dancing or squabbling cranes we often have one bird on each side of the frame. In the past, I tried Automatic Selection AF in these situations only to be disappointed. I tried again yesterday and noted that the performance of 61-point Automatic Selection AF was vastly improved with the 5DS R as compared to all previous Canon camera bodies. I was quite impressed watching the AF points jump around almost always to good places. And once I acquired focus in the center it held pretty darn well even when I moved the bird to one side of the frame or the other. I wound up using it for most every image and even tried it for flight with pretty good results. All that in a relatively low light/low contrast situation.
5DS R Strategy Pays Off
I am enjoying the whole new 5DS R world. Work wide. Clip fewer wings and enjoy more depth-of-field with the increased camera-to-subject distances. Crop the relatively small in the frame images and wind up with large, high quality image files. Even after the substantial crop the optimized TIFF for today's featured image came in at 71.9M: 6028 pixels wide by 4171 pixels tall at 300 pixels/inch.
And when you can get closer image quality is off the charts.
If…
If what you have been reading here about the 5DS R inspires you to purchase a 5DS R, please remember to use a BIRDS AS ART B&H affiliate link like this one: Canon EOS 5DS R DSLR. It is the best way to thank me for my efforts here on the blog.
Please Remember This
Please remember that purchasing the latest great camera body or the best lens money can buy will not make you a better photographer. To improve as a nature photographer you need to study hard, practice a lot, and look at as many good images as possible. As detailed above there are lots of advantages to having a mega mega-pixel camera body but you need to have honed your sharpness skills to the nth degree to take advantage of the huge files and you need to know how and why to crop to create pleasingly designed images…
Please Remember to use our Affiliate Links 🙂
To show your appreciation for my continuing efforts here, we ask, as always, that you get in the habit of using my B&H affiliate links on the right side of the blog for all of your photo and electronics purchases. Please check the availability of all photographic accessories in the BIRDS AS ART Online Store, especially the Mongoose M3.6 tripod heads, Gitzo tripods, Wimberley heads and plates, LensCoats and accessories, and the like. We sell only what I have used, have tested, and can depend on. We will not sell you junk. We know what you need to make creating great images easy and fun. And we are always glad to answer your gear questions via e-mail.
I would of course appreciate your using our B&H affiliate links for all of your major gear, video, and electronic purchases. For the photographic stuff mentioned in the paragraph above we, meaning BAA, would of course greatly appreciate your business. Here is a huge thank you to the many who have been using our links on a regular basis and visiting the BAA Online store as well.
Facebook
Be sure to like and follow BAA on Facebook by clicking on the logo link upper right. Tanks a stack!
Typos
In all blog posts and Bulletins, feel free to e-mail or to leave a comment regarding any typos or errors. Just be right 🙂