What's Up?
My jet lag is abating slowly. I enjoyed a nice swim in a cold pool on Saturday followed by a 54 degree ice bath. I started and finished this blog post very early on Sunday morning.
The Streak
Today's blog post marks 117 days in a row with a new educational blog post. This post took me about 90 minutes to assemble including the time spent on the image optimization. As always–and folks have been doing a great job recently–please remember to use our B&H links for your major gear purchases. Your doing so is always greatly appreciated.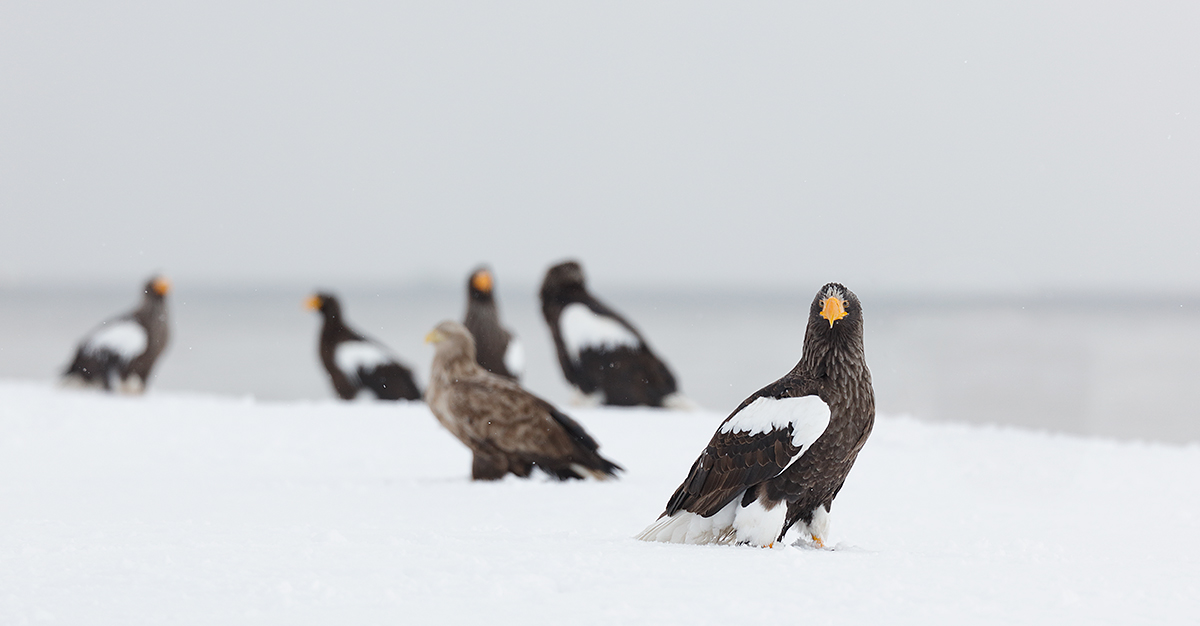 This image was created from the eagle boat at Rausu on the Japan in Winter IPT with the hand held Canon EF 100-400mm f/4.5-5.6L IS II USM lens at 400mm and the mega mega-pixel Canon EOS 5DS R. ISO 500. Evaluative metering +2 1/3 stops off the gray sky: 1/1600 sec. at f/5.6 in Manual mode. AWB.
Center AF point/AI Servo Expand/Rear Focus AF on the front right eagle and recompose. Click here to see the latest version of the Rear Focus Tutorial. Click on the image to see a larger version.
The Great (Sea-eagle) Wall of Japan
Your browser does not support iFrame.
The Great (Sea-Eagle) Wall of Japan
Imagine yourself on an eagle feeding boat in broken clouds with the wind pretty much from the same direction as the light. Then imagine the boat tying up to a breakwater with many dozens of Steller's Sea-eagles and White-tailed Eagles perched at the far end of the wall on a foot of fresh snow atop the wall. Now imagine the mate tossing frozen fish onto the snow and having dozens of eagles flying right at you at eye level one or two at a time.
The first 20 minutes were as exciting as anything that I have experienced in my 32+ years of doing bird and nature photography. The image above was made just as we were getting into position to tie up to the bulkhead wall.
Consider joining me in Japan next year to share in the excitement: 3 of the 8 spots are already filled.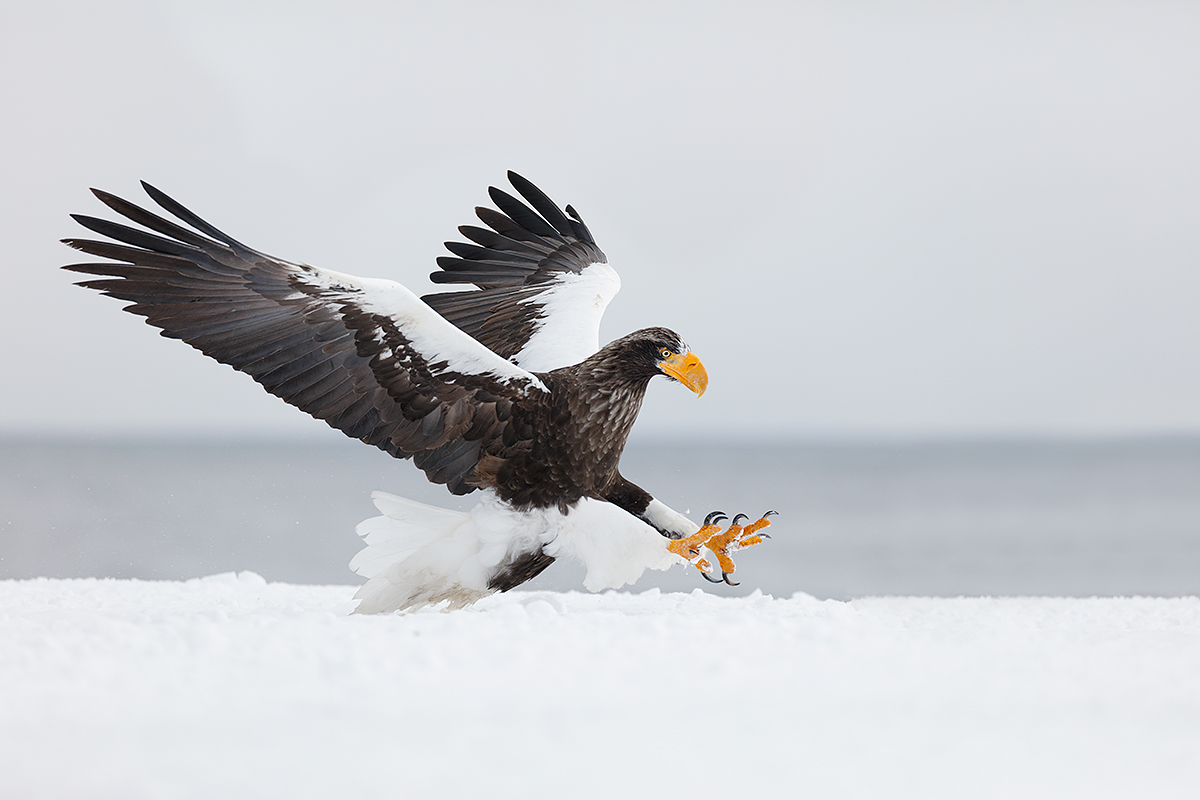 This photo, today's featured image, was also created on the eagle boat at Rausu on the Japan in Winter IPT with the hand held Canon EF 100-400mm f/4.5-5.6L IS II USM lens at 321mm and the mega mega-pixel Canon EOS 5DS R. ISO 500. Evaluative metering +2 stops off the gray sky: 1/3200 sec. at f/5.6 in Manual mode. AWB.
Center AF point/AI Servo Expand/Shutter Button AF with the selected AF point squarely on the eagle's neck was active at the moment of exposure. Click on the image to see a larger version.
Steller's Sea-eagle striking/optimized image with bird removal
Your browser does not support iFrame.
100-400II/5DS R Versatility and Flight
I used the 400 DO II/5DS R combo for most of the morning. When we pulled up to the breakwater I quickly switched the 400 DO II for the 100-400 II knowing that the birds would be much closer on average. I created today's opening bird-scape as the tour boat slowly approached the wall. Thereafter I was able to zoom out as needed. My focal lengths at the wall ranged from 248mm to 400mm. (Note: DPP 4 allows you to sort by focal length.) Compare today's two images with the image of the frost-covered leaf in the BIG SECRET to becoming a better nature photographer revealed… blog post here and you will get a better idea of the amazing versatility of the 100-400 II.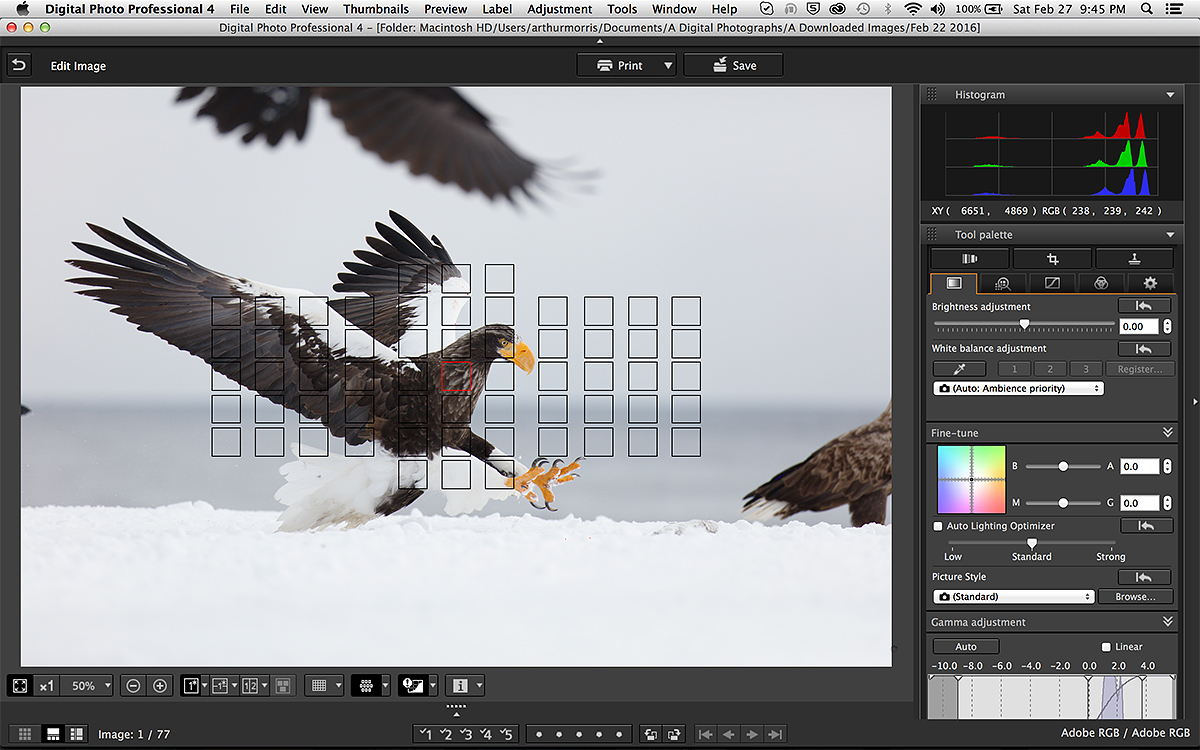 DPP 4 Screen Capture
The DPP 4 Screen Capture and the Image Optimization
Note the perfect histogram with the RGB values for the tail averaging about 240 and the dark tones well off the left-hand axis of the histogram. After converting the image in DPP 4 I brought the image into Photoshop where I used a series of Quick Masks to cover the parts of the three birds that intruded into the frame. The Quick Mask layers were refined with both the Transform Tool and with Regular Layer Masks. Under the current rules this image could not be entered into any of the major photographic competitions, but it makes me very happy. I selected the bird using the Quick Selection Tool and then applied my NIK Color EFEX Pro 25/25 recipe to that layer only. Then I added a Regular Layer Mask and painted away the effect where it had grayed up some of the whites. Next I selected the face and the bill and the talons, again with the Quick Selection Tool, put it on its own layer, and applied a Contrast Mask to that layer only: Unsharp Mask at 20/80/0. I have increased my starting-point Contrast Mask settings from the old 15/65/0 to make up for the huge pixel count of the 5DS R images.
Digital Basics
Everything that I did to optimize today's featured image is covered in detail in my Digital Basics File–written in my easy-to-follow, easy-to-understand style. Are you tired of making your images look worse in Photoshop? Digital Basics File is an instructional PDF that is sent via e-mail. It includes my complete digital workflow, dozens of great Photoshop tips, details on using all of my image clean-up tools, the use of Contrast Masks, several different ways of expanding and filling in canvas, all of my time-saving Keyboard Shortcuts, Quick Masking, Layer Masking, and NIK Color Efex Pro basics, Digital Eye Doctor techniques, using Gaussian Blurs, Dodge and Burn, a variety of ways to make selections, how to create time-saving actions, the Surface Blur settings that I use to smooth background noise, Divide and Conquer, protective cloning on a layer, and tons more.
APTATS I & II
Learn the details of advanced Quick Masking techniques in APTATS I. Learn Advanced Layer Masking Techniques in APTATS I. Mention this blog post and apply a $5 discount to either with phone orders only. Buy both APTATS I and APTATS II and we will be glad to apply at $15 discount with phone orders. Please call Jim or Jennifer weekdays at 863-221-2372 to take advantage of this special offer. You can find the same deal in the BAA Online Store here.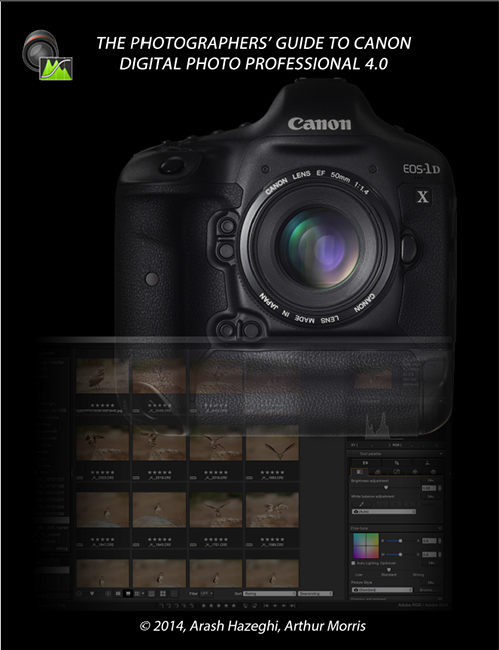 You can order your copy of "The Photographers' Guide to Canon Digital Photo Professional 4.0" (aka the DPP 4 Raw Conversion eGuide) by Arash Hazeghi and Arthur Morris by clicking here.
The DPP 4 eGuide (PDF)
The RAW file for today's image was of course converted in DPP 4. Learn how and why I and many other discerning photographers choose and use only DPP 4 to convert their Canon RAW files in the DPP 4 RAW Conversion Guide by Arash Hazeghi and yours truly. The latest version supports all of the newer Canon camera bodies and several older models including the EOS-7D and the EOS-1D Mark IV. The DPP IV Guide is the ideal companion to the 7D Mark II User's Guide, a runaway best seller.
The DPP 4 eGuide (PDF) Updated for 1D Mark IV and the original 7D
The DPP 4 eGuide was recently updated to include the luminance and chrominance noise reduction values for both the 1D Mark IV and the original 7D. If you purchased your copy from BAA please e-mail Jim and request the DPP 4 1d IV/7D update. Please be sure to cut and paste page 1 into your e-mail as proof of purchase.
DPP 4 Kudos
From Richard Gollard via e-mail:
I have been doing tons of studying the books and PDFs that I have purchased from BIRDS AS ART. And I have to say that after reading the DPP 4 conversion guide that you did with Arash Hazeghi I tried DPP 4 and was blown away with the difference from the conversions that I made with Adobe Photoshop and Lightroom. Thanks for the consistently great information.
Please Remember to use our Affiliate Links 🙂
To show your appreciation for my continuing efforts here, we ask, as always, that you get in the habit of using my B&H affiliate links on the right side of the blog for all of your photo and electronics purchases. Please check the availability of all photographic accessories in the BIRDS AS ART Online Store, especially the Mongoose M3.6 tripod heads, Gitzo tripods, Wimberley heads and plates, LensCoats and accessories, and the like. We sell only what I have used, have tested, and can depend on. We will not sell you junk. We know what you need to make creating great images easy and fun. And we are always glad to answer your gear questions via e-mail.
I would of course appreciate your using our B&H affiliate links for all of your major gear, video, and electronic purchases. For the photographic stuff mentioned in the paragraph above we, meaning BAA, would of course greatly appreciate your business. Here is a huge thank you to the many who have been using our links on a regular basis and visiting the BAA Online store as well.
Facebook
Be sure to like and follow BAA on Facebook by clicking on the logo link upper right. Tanks a stack!
Typos
In all blog posts and Bulletins, feel free to e-mail or to leave a comment regarding any typos or errors. Just be right 🙂