What's Up?
I woke early on Thursday and headed up to Gatorland for a short shooting session. I started and finished this blog post that same evening. Jim is driving me to the airport at 7:15am on Friday and then heading directly home. As Jen is also taking the day off, please note that there will be nobody in the office until this coming Monday.
The Streak
Today's blog post marks 128 days in a row with a new educational blog post. As always–and folks have been doing a great job recently–please remember to use our B&H links for your major gear purchases. For best results use one of our many product-specific links; after clicking on one of those you can continue shopping with all subsequent purchases invisibly tracked to BAA. Your doing so is always greatly appreciated. Please remember: web orders only.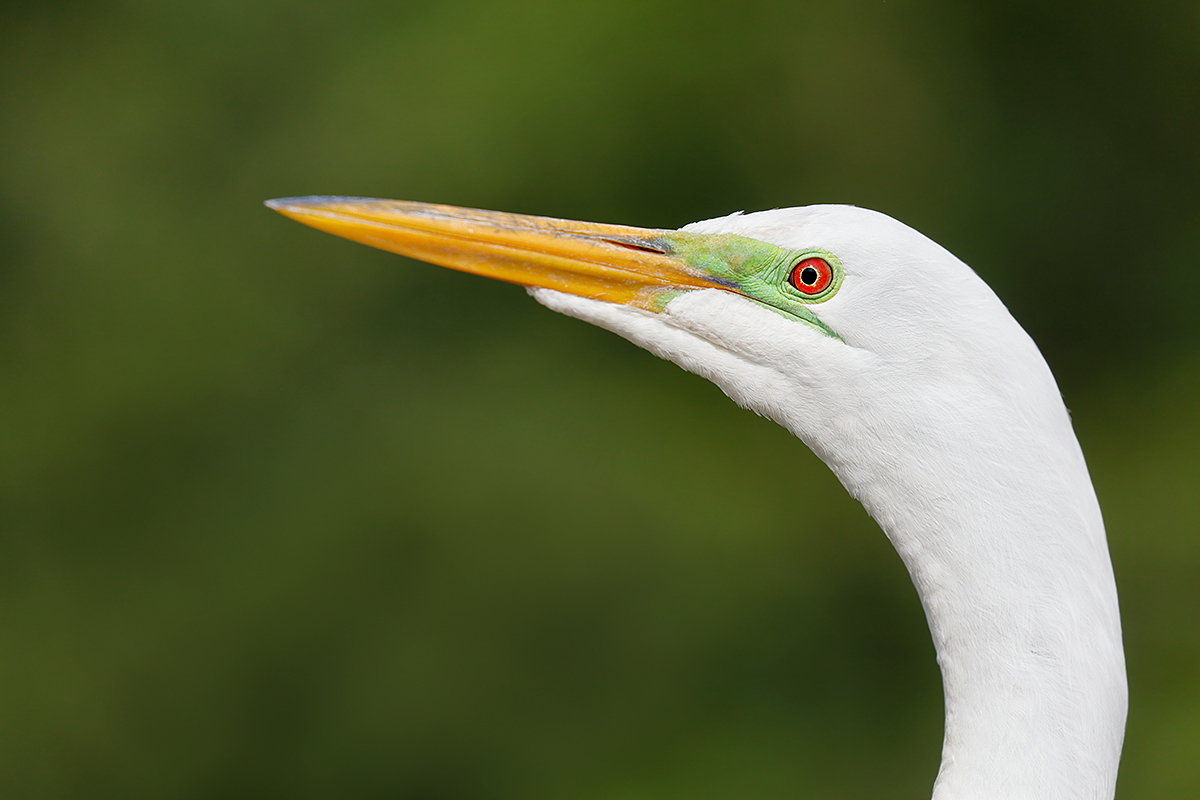 This image was created last Thursday at Gatorland with the hand held Canon EF 100-400mm f/4.5-5.6L IS II USM lens (at 400mm) and the mega mega-pixel Canon EOS 5DS R. ISO 400. Evaluative metering -2/3 stop: 1/2500 sec. at f/7.1 in Manual mode. AWB
Two AF points to the right and two up from the center AF point/AI Servo Expand/Shutter Button AF as framed was active at the moment of exposure (as is always best when hand holding). The selected AF point was on the bottom of the lores just forward of the bird's eye. Click on the image to see a larger version.
Breeding plumage Great Egret with ruby red eye
Your browser does not support iFrame.
Sometimes You Need to Speak Up…
This rather handsome bird was sitting on a boardwalk railing. I had gotten right on sun angle and was in good position. A guy with a camera was walking briskly toward me. "Whoa! Slow down a bit please. The birds are pretty tame but you need to take some care when you approach them especially when someone else is already working a subject." He took it well and I coached him into position to get a few good images of the same bird.
This morning I had a similar situation but I never saw the guy coming until it was too late. I had been the first one into the joint and was enjoying the solitude. Another Great Egret on another railing. At the last second I saw that a photographer was going to walk between me and the bird while my lens was pointed at the bird. It was a pretty nice bird too. As the boardwalk is only about five feet wide at most, the bird of course left the scene.
As the bird flew I said more than loud enough for him to hear, "Please tell me you did not just do that." He did not respond.
About 15 minutes later he walked back toward me. I said, "I know that this is not my private shooting location but for future reference, you might have said 'Excuse me.' I would have moved slightly closer to the bird very slowly and let you walk by behind me. It is likely that the bird would have stayed. For what it's worth, that is the proper etiquette in situations like that." "I'm sorry," he said. "I did not think that the bird would fly."
Sometimes you really do need to speak up. Note: I have changed quite a bit over the past decade or so. You can only imagine what I might have said to him in 2004…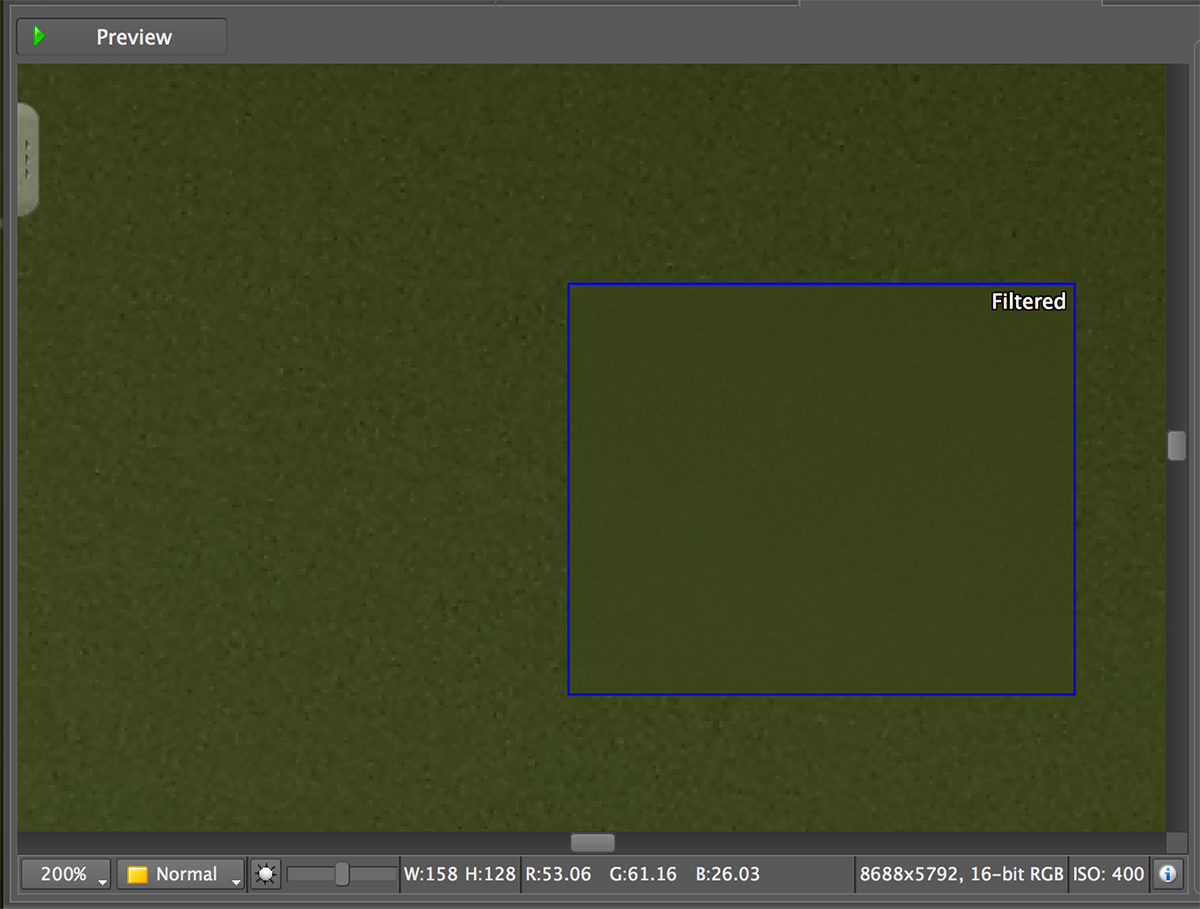 Neat Image screen capture
Click on the image to be more amazed by the larger version.
Neat Image screen capture
In the NeatImage screen capture above you can see how amazingly this plug-in controls the noise in the dark background. Remember that the background will be rendered dark (and noisy) because I correctly exposed for the bright white bird. (See the section on Exposure Theory in the original The Art of Bird Photography.) After converting the RAW file for today's featured image in DPP 4 with Arash Hazeghi's Luminance and Chrominance values from our DPP 4 RAW Conversion Guide, I brought the image into Photoshop and played around some more with NeatImage.
I am learning this plug-in as I work on Arash's latest e-book effort, The Post Processing Guide. The main thrust of the book deals with Arash's high level noise reduction techniques using NeatImage. Arash recommends and uses only the NeatImage plug-in for advanced noise reduction to maintain maximum fine detail in his images. Both artie and Arash recommend only the Proversion as the Homeversion does not work on 16-bit images. In this e-book we will teach you how to run heavy noise reduction on the background and light noise reduction on the subject… Folks who are good with Layer Masking may wish to get a copy of NeatImage and get a head start with this great program.
While Arash is a brilliant scientist and a brilliant photographer, writing clear and easy to understand how-to is not his forte; that is why we team up on these e-books. I will be working hard at re-crafting his section on noise reduction on my long flight tomorrow. We are hoping to be finished with the guide within about two weeks.
Please Remember to use our Affiliate Links 🙂
To show your appreciation for my continuing efforts here, we ask, as always, that you get in the habit of using my B&H affiliate links on the right side of the blog for all of your photo and electronics purchases. Please check the availability of all photographic accessories in the BIRDS AS ART Online Store, especially the Mongoose M3.6 tripod heads, Gitzo tripods, Wimberley heads and plates, LensCoats and accessories, and the like. We sell only what I have used, have tested, and can depend on. We will not sell you junk. We know what you need to make creating great images easy and fun. And we are always glad to answer your gear questions via e-mail. I just learned that my account was suspended during my absence; it should be up and running by Monday at the latest.
I would of course appreciate your using our B&H affiliate links for all of your major gear, video, and electronic purchases. For the photographic stuff mentioned in the paragraph above we, meaning BAA, would of course greatly appreciate your business. Here is a huge thank you to the many who have been using our links on a regular basis and visiting the BAA Online store as well.
Facebook
Be sure to like and follow BAA on Facebook by clicking on the logo link upper right. Tanks a stack!
Typos
In all blog posts and Bulletins, feel free to e-mail or to leave a comment regarding any typos or errors. Just be right 🙂