What's Up?
With Patrick Sparkman off to work, Bryan Holliday and I enjoyed a truly great morning at La Jolla. There are still tons of great pelicans, many in fine breeding color with their fire engine red bill pouches. I worked for the most part with the 100-400 II and on camera fill flash, at times adding the 1.4X III TC to the mix. In addition to the pelicans we both worked a lot on the beautiful breeding plumage Western Gulls. I had hoped to photograph both Brandt's and Double-crested Cormorants in full breeding plumage but so far both have disappointed…
I see Dr. Kellogg Parsons on Tuesday morning at 11:30am.
The Streak
Today's blog post marks 130 days in a row with a new educational blog post. As always–and folks have been doing a great job recently–please remember to use our B&H links for your major gear purchases. For best results use one of our many product-specific links; after clicking on one of those you can continue shopping with all subsequent purchases invisibly tracked to BAA. Your doing so is always greatly appreciated. Please remember: web orders only. Please remember that if you are shopping for items that we carry in the BAA Online Store (as noted in red at the close of this post below) that we would appreciate your business 🙂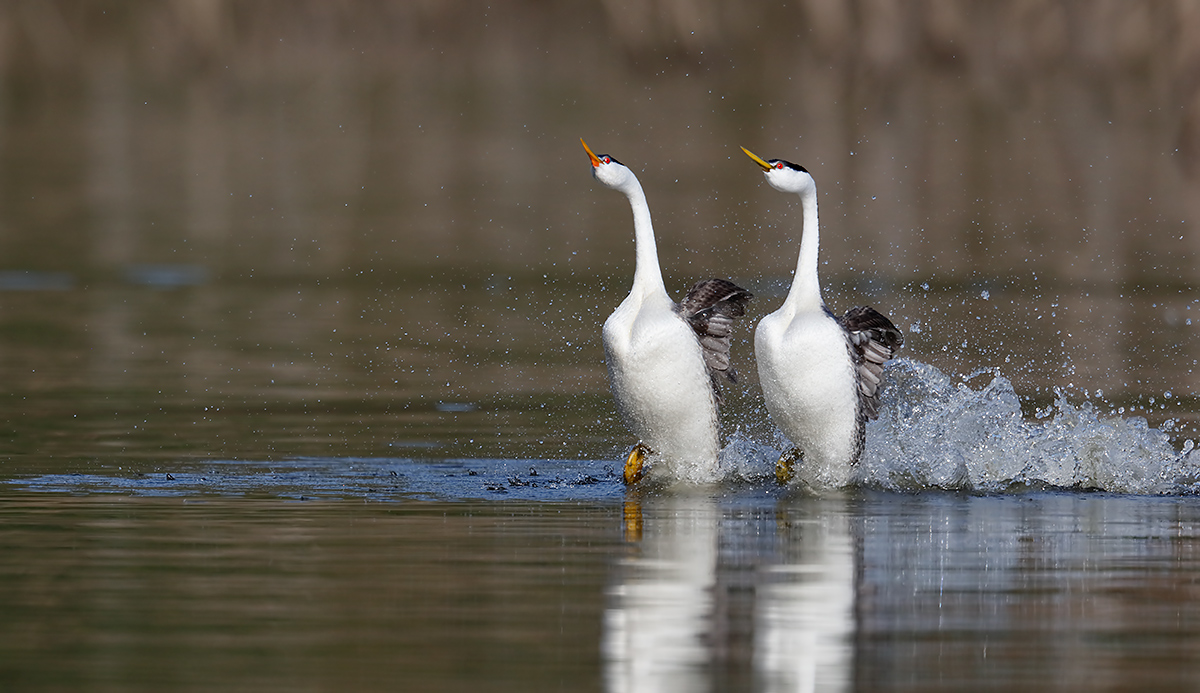 This image was created in San Diego, CA with the Induro GIT 304L/Mongoose M3.6-mounted Canon EF 500mm f/4L IS II USM lens, the Canon Extender EF 1.4X III, and the simply amazing, astounding, mega mega-pixel Canon EOS 5DS R. ISO 500. Evaluative metering -2/3 stop: 1/2500 sec. at f/6.3 in Av mode. AWB.
61-Point (Automatic selection)/AI Servo/Shutter Button AF as originally framed was active at the moment of exposure (as is always best when photographing moving subjects). Though the optimized image above was a healthy crop from the original the result was a high quality 148+ MB 16-bit file. Click on the image to see a larger version. The AF system selected two AF points, one above the other, between the two birds;the eye of the bird on our right is razor sharp.
Clarke's X Western Grebe courtship rush
Your browser does not support iFrame.
It was not a slaughter, but oh, what a rush!
On Sunday morning we decided to head back to the grebe lake. The action was even slower than the previous day but we had lots of birds, both Clarke's and Westerns, swimming by us at fairly close range. As Patrick had said that he was having trouble burning the WHITEs on a small portion of the grebe's breasts when they did a courtship rush, I suggested working in Av mode with some negative EC (exposure compensation) dialed in. With full sun and blue water I suggested -2/3 for a rushing pair at fairly close range, -1 stop for a more distant pair (with more dark green water influencing the meter toward over-exposure. Once it got cloudy, we reduced the negative EC to -1/3 and -2/3 respectively. I explained, the bigger the birds in the frame the more white, the more white the less minus EC you needed. The smaller the birds in the frame the more dark green water and the more minus EC you needed. Barely a pixel was burned all day.
PS on the above: real photographers do not always work only in Manual mode… Don't believe me? See the At Long Last, As Promised: the Greatest, Most Educational Blog Post Ever? Manual… Av… Tv… Program… Which is The Best Shooting Mode? blog post here.
As the day warmed up so did the action. But most of the rushes were on the far side of the lake. And then bingo, we enjoyed one really good rush–it lasted about 8 seconds–and we all made the most of it. My favorite–of course–is today's featured image. We had met up with BPN-friend David Salem and his pal Cliff. There were lots of other photographers at the location. After the morning shoot was over the five of us met up at Patrick's house, tidied up a bit, and headed for The Nat. There we took a long slow walk around my exhibi enjoying the images and the company. Then it was shish-kabob lunch at a Persian market between the museum and Patrick's house.
There will be more on our museum visit in a future blog post.
Please Remember to use our Affiliate Links 🙂
To show your appreciation for my continuing efforts here, we ask, as always, that you get in the habit of using my B&H affiliate links on the right side of the blog for all of your photo and electronics purchases. Please check the availability of all photographic accessories in the BIRDS AS ART Online Store, especially the Mongoose M3.6 tripod heads, Gitzo tripods, Wimberley heads and plates, LensCoats and accessories, and the like. We sell only what I have used, have tested, and can depend on. We will not sell you junk. We know what you need to make creating great images easy and fun. And we are always glad to answer your gear questions via e-mail. I just learned that my account was suspended during my absence; it should be up and running by Monday at the latest.
I would of course appreciate your using our B&H affiliate links for all of your major gear, video, and electronic purchases. For the photographic stuff mentioned in the paragraph above we, meaning BAA, would of course greatly appreciate your business. Here is a huge thank you to the many who have been using our links on a regular basis and visiting the BAA Online store as well.
Facebook
Be sure to like and follow BAA on Facebook by clicking on the logo link upper right. Tanks a stack!
Typos
In all blog posts and Bulletins, feel free to e-mail or to leave a comment regarding any typos or errors. Just be right 🙂