What's Up?
Not me! See today's blog post below 🙂
IPT Updates
Learn to improve your bird and nature photography with the best instructor on the planet; join a BIRDS AS ART Instructional Photo-Tour. Learn more and see the schedule here.
The BAA Online Store
The current BAA Online Store has been down for much of the weekend. We hope to have the problem fixed this morning. In the meantime, folks can place their orders via telephone this morning by calling Jim at 863-692-0906. The best news is that we will soon be unveiling a brand new mostly problem-less store soon.
The Streak
Today's blog post marks 136 days in a row with a new (educational?) blog post. As always–and folks have been doing a great job recently–please remember to use our B&H links for your major gear purchases. For best results use one of our many product-specific links; after clicking on one of those you can continue shopping with all subsequent purchases invisibly tracked to BAA. Your doing so is always greatly appreciated. Please remember: web orders only. Please remember that if you are shopping for items that we carry in the BAA Online Store (as noted in red at the close of this post below) that we would appreciate your business 🙂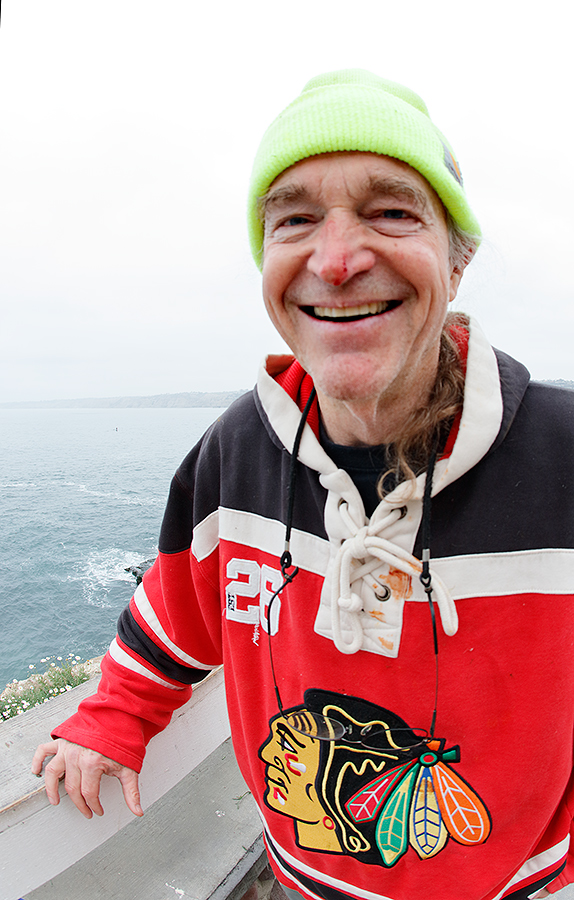 artie with bloodied nose/courtesy of and copyright 2016 Patrick Sparkman
Patrick was so shaken by my fall and possible demise, that he forgot to focus the image above… But it still tells the story.
Cheating Death/Face Plant!
Patrick Sparkman, Chris Mayne–a distant cousin of ESPN's Kenny, and I were having a great time photographing displaying Brandt's Cormorant when I came up with a brilliant idea. Climb over the fence with the fish eye lens and create an image of the daisies with some cormorants along the rim of the cliff. So over the fence I went. I'm not sure how, but down I went, face first and hard into the cliffside daisies. I was pretty sure that I was not gonna go over the cliff to my death. Patrick, who was right there, was not so sure. It was about 50 feet down to the rocks and beach below. My face, which hit first as I pitched forward toward the Pacific, took the brunt of the fall. At first I thought that I might have broken my nose. And I was worried that I might have screwed up my Thursday surgery date. My right knee hit hard and wound up with a few scrapes. My right elbow hit too as I protected the lens and the 5DS R. Worst of all, my left knee, which had been bothering me that morning, was twisted pretty good.
To keep from going over the edge, I reached out with both arms so that I was spread-eagled, face down in the dirt. At that moment Patrick realized that I was not going to die. But I learned well later that he thought that I had been knocked out cold.
I sat up, rested for a minute, and realized that my nose was a bit bloody. When I stood up, I did not relish climbing back over the fence. Then I realized that there was no need to climb the fence. There was an unlocked gate just 30 feet away. "What an idiot" I said. "I could have used the gate in the first place!"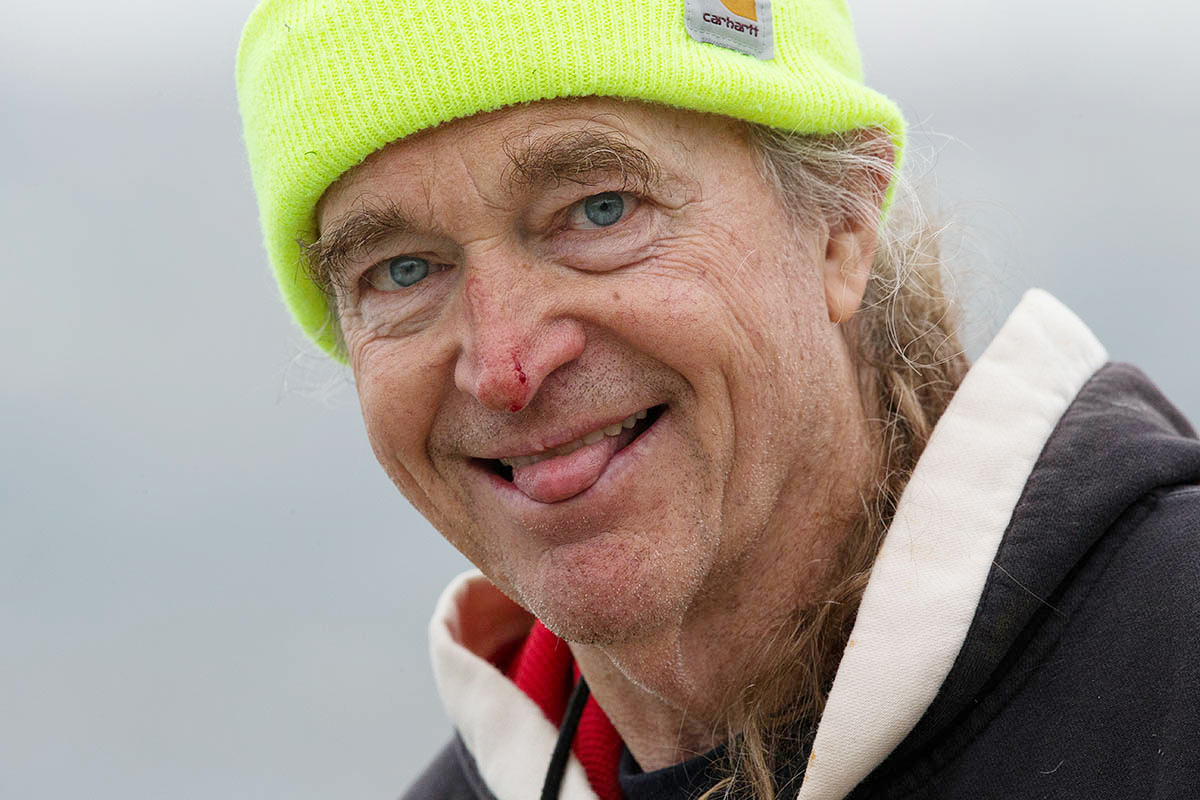 Photo courtesy of and copyright 2016: Chris Mayne.
Close up of the damaged nose.
What's with the tongue?
Folks often ask, "What's with the tongue sticking out?"
Early on in my career when folks photographed me photographing with a long lens, I would notice in their photos that invariably, my tongue was sticking out. I realized that I did that often when I was concentrating hard, sort of like Michael Jordan did when on his way to the rim for a big dunk. So now, whenever folks point a camera at me, out comes the tongue. Go figure.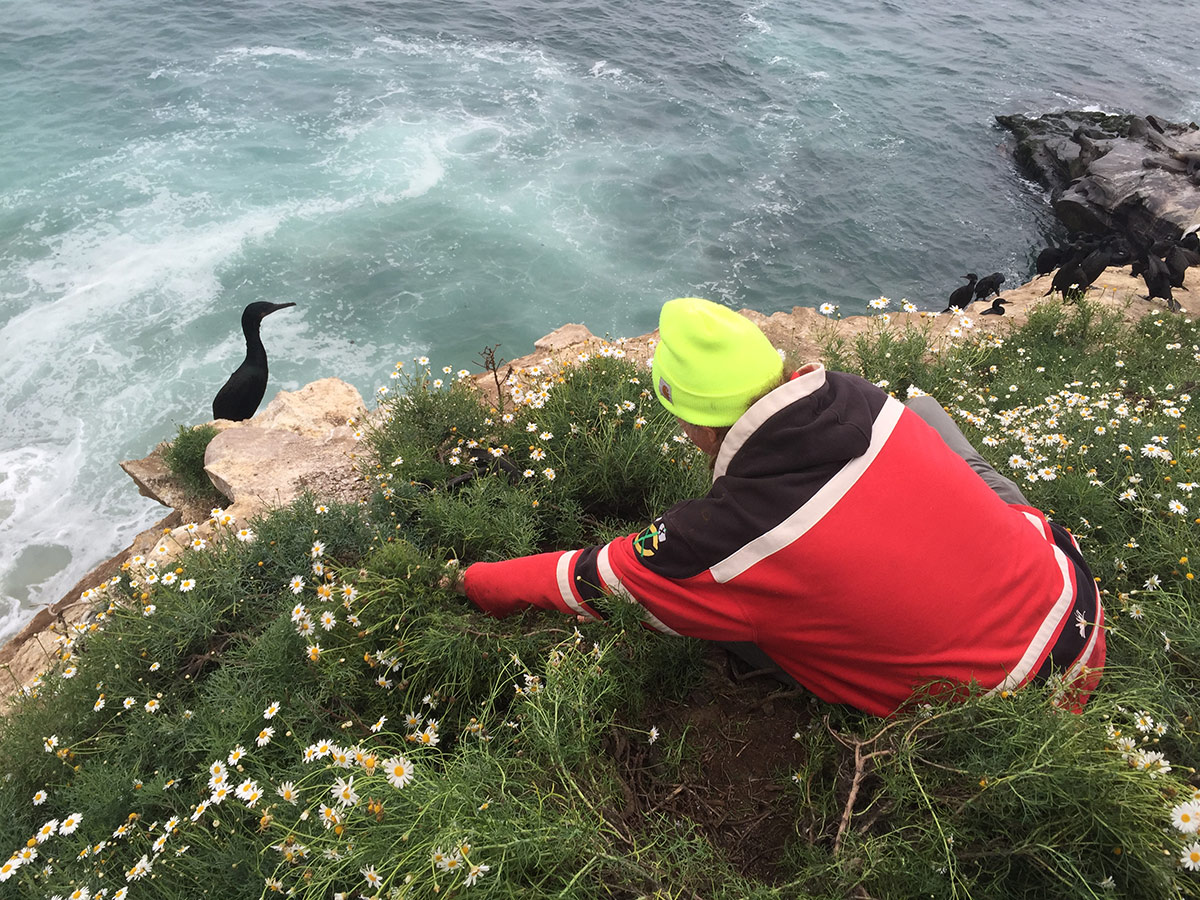 i-Phone 6 image courtesy of and copyright 2016: Patrick Sparkman
artie searching for missing lens from his reading glasses. This image gives you a bit of an idea as to why Patrick was a bit worried when I fell and headed for the ocean.
Reading Glasses and Determination…
Early on in the trip, I lost the left lens from my prescription reading glasses while photographing at the low cliffs in La Jolla. No problema, I always travel with a back-up pair. After Patrick took the fish eye image that opened this post, I had a sick feeling as I looked down… Yup, the left lens was missing from my back-up pair of prescription readers. So through the gate I went to look for the lost lens. The vegetation was quite dense but try as I might, I could not find itns. So I did what I always do, I did not quit.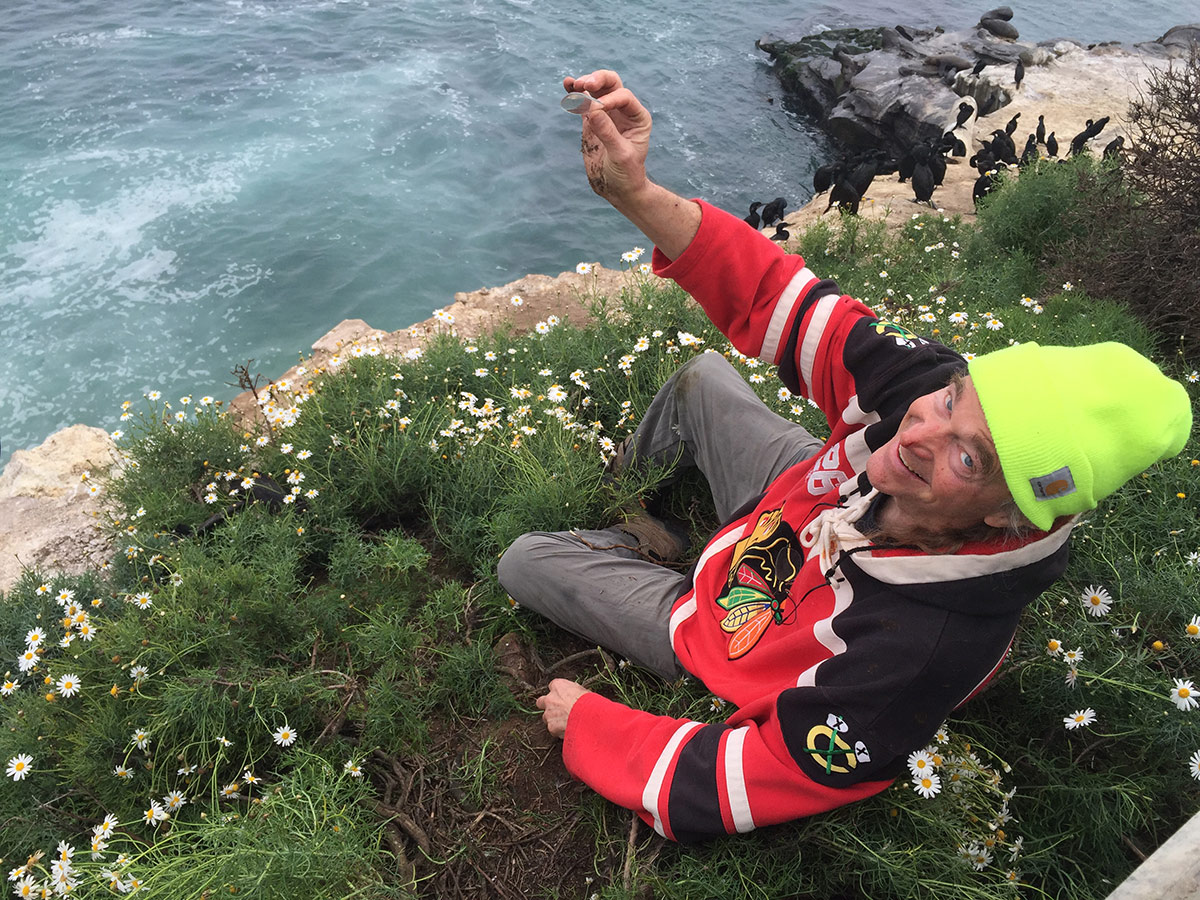 i-Phone 6 image courtesy of and copyright 2016: Patrick Sparkman
artie finds the missing lens!
artie finds the missing lens!
While I was happy that I did not go over the cliff to my death, and happy that I has not been seriously injured, I was really happy to find the missing lens.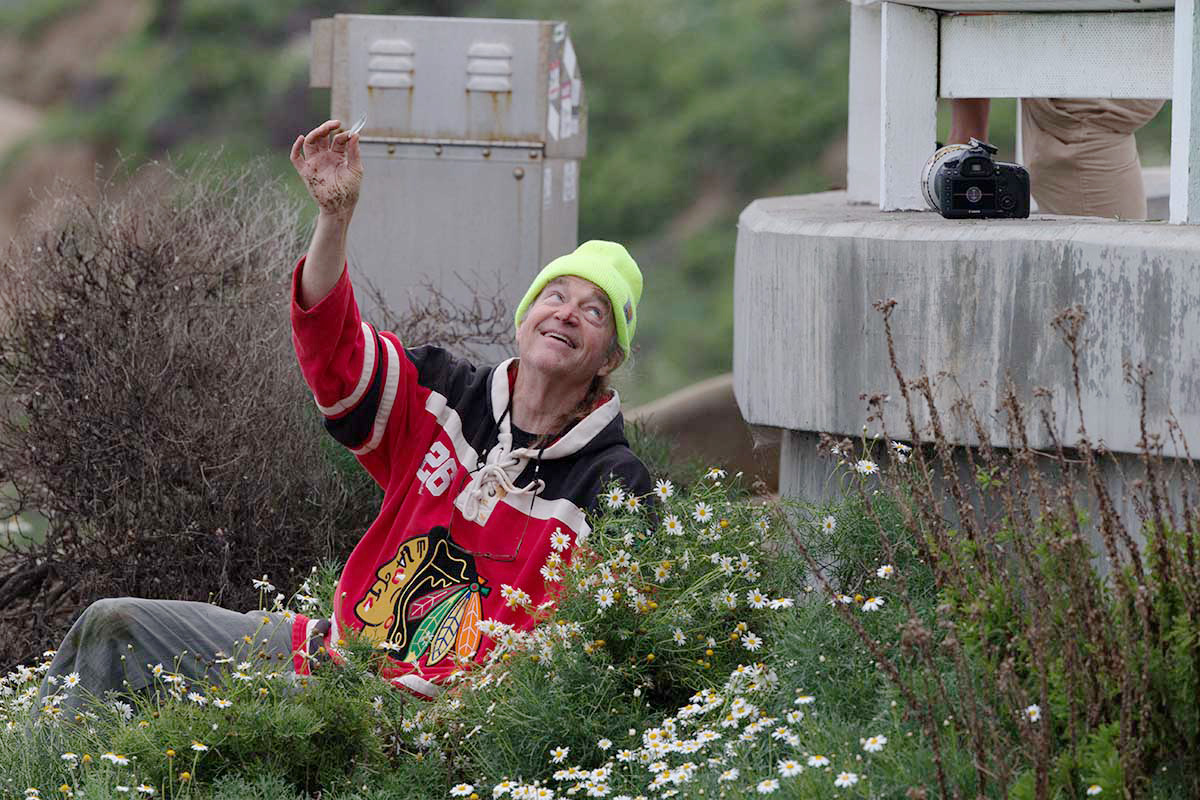 Photo courtesy of and copyright 2016: Chris Mayne.
This image gives you a really good idea that I was not exaggerating the potential danger…
The potential danger…
I am not sure, but I think that I fell with one foot on the concrete base of the fence. You can see a pretty decent slope towards the ocean. At times, engaging the brain before acting can avoid lots of tsuris (informal Yiddish for trouble or distress).
The Aftermath as of Sunday Afternoon
Nose: healing nicely.
Right Elbow: just fine thank you.
Left knee: the bad one: hurting pretty good.
Right knee: hurting a bit, mostly bruised.
Ego: seriously bruised. 🙂
Please Remember to use our Affiliate Links 🙂
To show your appreciation for my continuing efforts here, we ask, as always, that you get in the habit of using my B&H affiliate links on the right side of the blog for all of your photo and electronics purchases. Please check the availability of all photographic accessories in the BIRDS AS ART Online Store, especially the Mongoose M3.6 tripod heads, Gitzo tripods, Wimberley heads and plates, LensCoats and accessories, and the like. We sell only what I have used, have tested, and can depend on. We will not sell you junk. We know what you need to make creating great images easy and fun. And we are always glad to answer your gear questions via e-mail. I just learned that my account was suspended during my absence; it should be up and running by Monday at the latest.
I would of course appreciate your using our B&H affiliate links for all of your major gear, video, and electronic purchases. For the photographic stuff mentioned in the paragraph above we, meaning BAA, would of course greatly appreciate your business. Here is a huge thank you to the many who have been using our links on a regular basis and visiting the BAA Online store as well.
Facebook
Be sure to like and follow BAA on Facebook by clicking on the logo link upper right. Tanks a stack!
Typos
In all blog posts and Bulletins, feel free to e-mail or to leave a comment regarding any typos or errors. Just be right 🙂