What's Up?
Conditions were really lousy in La Jolla on Tuesday morning but I persisted and made a slew of really wonderful images. I will present three of those in tomorrow's blog post: What to do when nothing's happening? Get into the creative zone! Part one of many.
The BAA Online Store
The current BAA Online Store was back online on Tuesday morning after being down for several days. If it should fail again folks always can place their orders via telephone by calling Jim or Jennifer at 863-692-0906. The best news is that we will soon be unveiling a brand new store that should be pretty much problem-free.
The Streak
Today's blog post marks 138 days in a row with a new educational blog post. As always–and folks have been doing a great job recently–please remember to use our B&H links for your major gear purchases. For best results use one of our many product-specific links; after clicking on one of those you can continue shopping with all subsequent purchases invisibly tracked to BAA. Your doing so is always greatly appreciated. Please remember: web orders only. Please remember that if you are shopping for items that we carry in the BAA Online Store (as noted in red at the close of this post below) that we would appreciate your business 🙂
IPT Updates
Learn to improve your bird and nature photography with the best instructor on the planet; join a BIRDS AS ART Instructional Photo-Tour. Learn more and see the schedule here.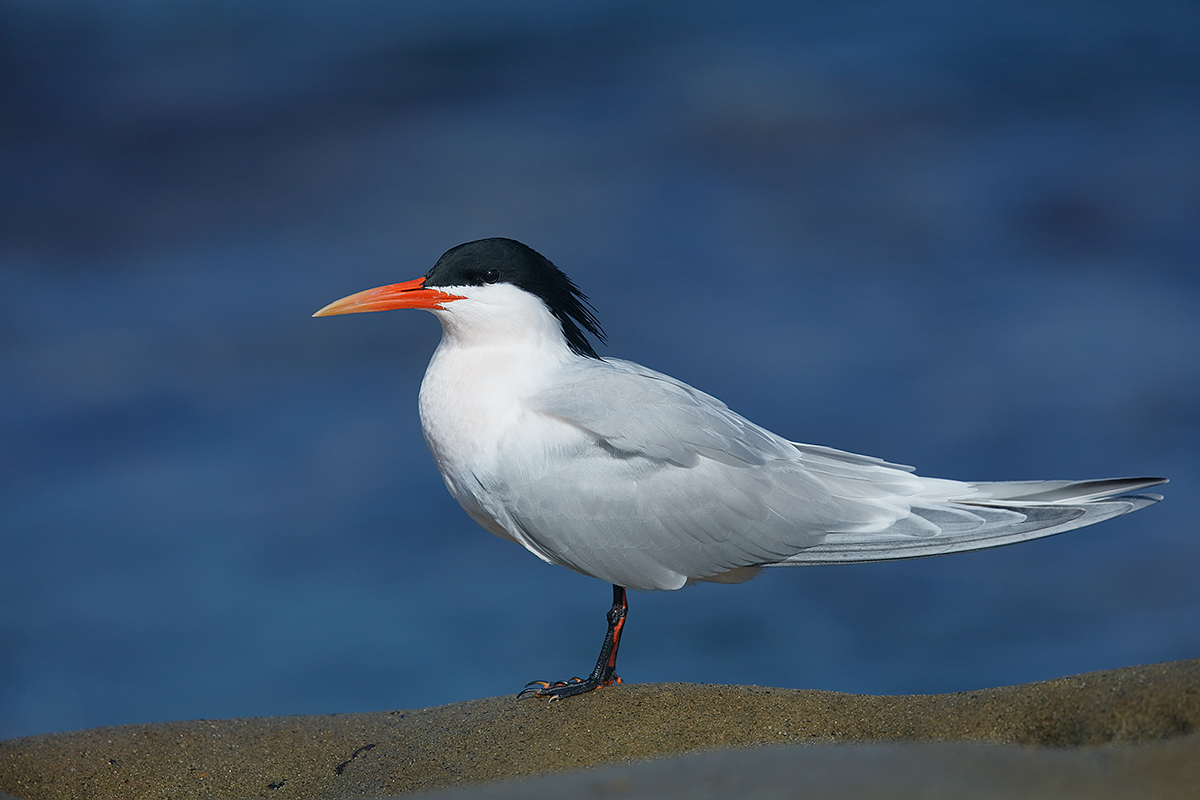 This image was created at La Jolla, CA with the Induro GIT 304L/Mongoose M3.6-mounted Canon EF 500mm f/4L IS II USM lens, the Canon Extender EF 1.4X III, and the Canon EOS 5DS R. ISO 400. Evaluative metering -2/3 stop: 1/3200 sec. at f/7.1. AWB.
Upper Left Zone/AI Servo/Shutter Button AF as framed was active at the moment of exposure. The AF system selected a single point that fell on the base of the bird's bill just forward of (and below) the eye. Click on the image to see a larger version.
Elegant Tern in breeding plumage
Your browser does not support iFrame.
Elegance Personified
I photographed Elegant Tern about a zillion years ago in San Diego on film with the birds sitting on ugly black mud at the mouth of the San Diego River. When I was hanging with Bryan Holliday last week we were hoping to find a few on the low cliffs in La Jolla. The day after he headed back to Arizona, bingo: three flew in and landed right in front of me at the Green Patch! I love the blue Pacific background. I love that I perfectly paralleled the subject and I love the slight head turn toward me. And I love the perch rock.
What Don't I Like?
There are two things about the image that I am less than thrilled about. If you think that you know what they are, please leave a comment.
A Note On Exposure
Here I went with the equivalent of my standard ISO 400 bright white in full sun exposure: 1/2500 sec. at f/8 (1/3200 at f7.1 = 1/2500 at f/8). Note that that approach worked perfectly here with Highlight Tone Priority (HTP) enabled. But as we have cautioned here often, only those who convert their RAW files in DPP should have HTP enabled. If set HTP and do not convert in DPP 4 you will have a false sense of security with your WHITEs.
Only DPP 4 recognizes the HTP settings. That means that folks converting their RAW files in ACR or Lightroom should start with 1/3200 sec. at f/8 as their standard ISO 400 bright white in full sun exposure. As in all digital exposure situations it is your responsibility to check for blinkies and to make sure that you have at least some data in the fifth histogram box… And then fine-tune the exposure if need be.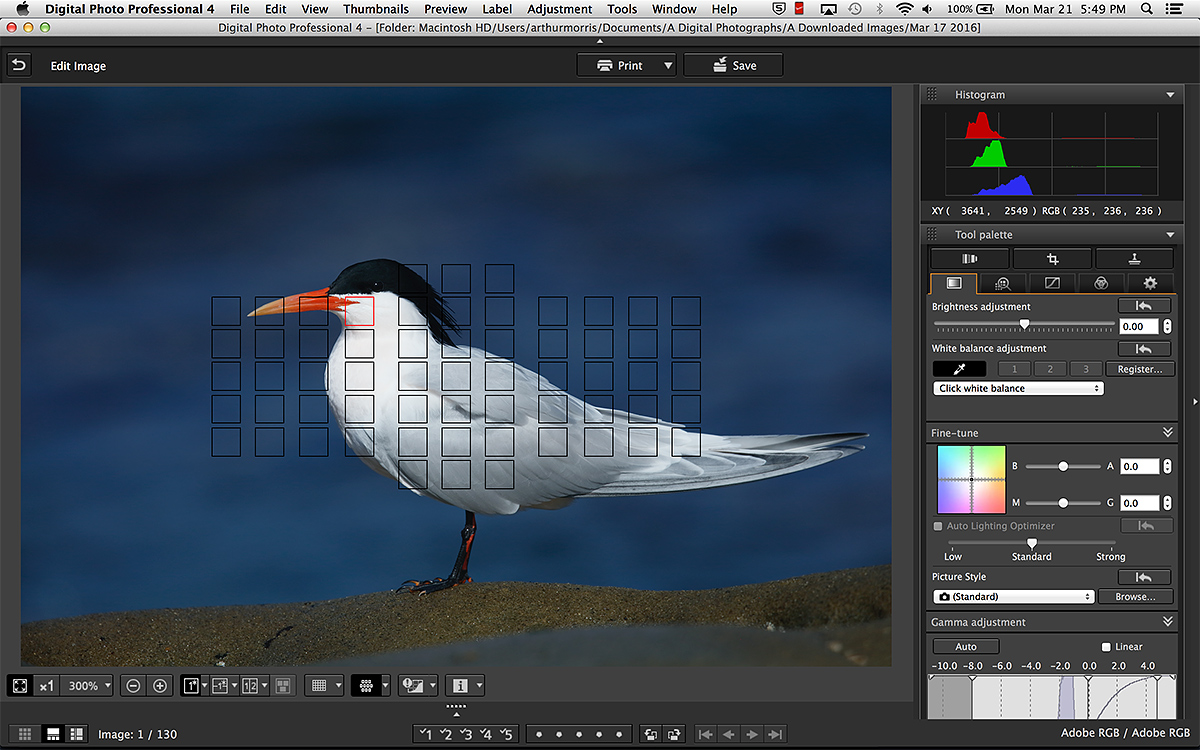 The DPP 4 Screen Capture
The DPP 4 Screen Capture
Note that I used click White Balance on the brightest part of the neck; this yielded a nearly pure WHITE with RGB values of 235, 235, 236. As I have written here many times before I want to bring my converted RAW files into Photoshop with the RGB values no higher than the mid-230s. In this image I would not have wanted the WHITEs any brighter. As it was, I moved the Highlight slider in DPP to -2 to bring up more detail. Note that I cleaned up four tiny limpets on the rocks. I moved the Shadow slider to +3 to lighten the blue water. Noise reduction with NeatImage.
Image and Exposure Question
In the original image as seen in the DPP 4 screen capture immediately above, why was the ocean rendered as an unnaturally dark, almost blackish blue? If you do not understand exposure theory and wish to learn it you are advised to study the section on exposure theory in the original The Art of Bird Photography.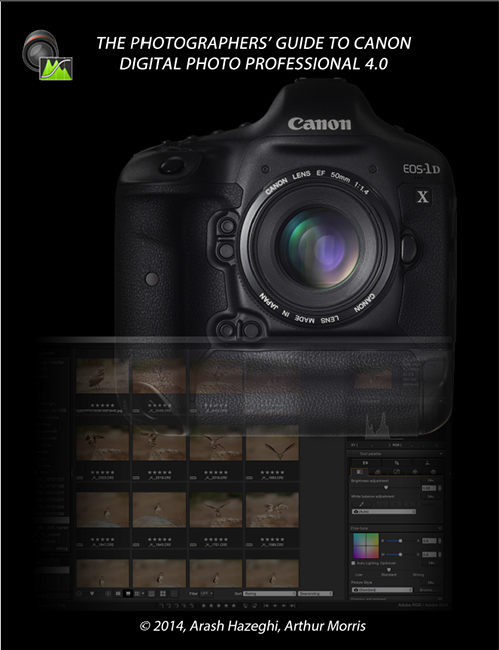 You can order your copy of "The Photographers' Guide to Canon Digital Photo Professional 4.0" (aka the DPP 4 Raw Conversion eGuide) by Arash Hazeghi and Arthur Morris by clicking here.
The DPP 4 eGuide (PDF)
Learn how and why I and many other discerning photographers choose and use only DPP 4 to convert their Canon RAW files in the DPP 4 RAW Conversion Guide by Arash Hazeghi and yours truly. The latest version supports all of the newer Canon camera bodies and several older models including the EOS-7D and the EOS-1D Mark IV.
Please Remember to use our Affiliate Links 🙂
To show your appreciation for my continuing efforts here, we ask, as always, that you get in the habit of using my B&H affiliate links on the right side of the blog for all of your photo and electronics purchases. Please check the availability of all photographic accessories in the BIRDS AS ART Online Store, especially the Mongoose M3.6 tripod heads, Gitzo tripods, Wimberley heads and plates, LensCoats and accessories, and the like. We sell only what I have used, have tested, and can depend on. We will not sell you junk. We know what you need to make creating great images easy and fun. And we are always glad to answer your gear questions via e-mail. I just learned that my account was suspended during my absence; it should be up and running by Monday at the latest.
I would of course appreciate your using our B&H affiliate links for all of your major gear, video, and electronic purchases. For the photographic stuff mentioned in the paragraph above we, meaning BAA, would of course greatly appreciate your business. Here is a huge thank you to the many who have been using our links on a regular basis and visiting the BAA Online store as well.
Facebook
Be sure to like and follow BAA on Facebook by clicking on the logo link upper right. Tanks a stack!
Typos
In all blog posts and Bulletins, feel free to e-mail or to leave a comment regarding any typos or errors. Just be right 🙂