What's Up?
Robin Sparkman drove me to Thornton Hospital early on Thursday morning. Check-in went smoothly, the staff here is great, and my green light laser surgery went well. I was feeling very good right after I woke up (but understandably a bit drowsy at first) with none of the horribly ill effects of anesthesia that I experienced when I had major spinal surgery for a ruptured disk in 1990. Kudos to Dr. Chen for that. The always smiling Dr. Parson reported that all went well. I have zero pain and just a bit of the expected discomfort that will magically be abated tomorrow morning. I expect to check out on Friday morning. Robin will be picking me up and we will head back to the Sparkman's home.
Patrick and Robin have been amazingly wonderful to me. They were in the recovery room right after I awoke "just because" even though I had not had a chance to text anyone. They brought my insulin and my food along with my beloved laptop. Once I was in my room both Robin and Pat were beyond helpful. Robin is like a second mother to everyone, even those are are not recuperating from surgery. 🙂 Patrick kindly helped me with several laps of walk-the-hallways. They stayed for several hours until I booted them out at about 7pm. I will be forever appreciative of the kindnesses they have proffered; thank you guys!
Elegant Tern Blog Post Answer
In the blog post here, I asked folks to try and figure out the two things that bugged me about the image, an image that I loved very much. As mentioned yesterday, several folks hit on one of the things that bothered me: the bird should have been placed just a bit more forward in the frame as the tail is a bit too tight to the right frame edge.
Here is the second thing that bugged me, the one that nobody came up with. The tern's lesser (wing) coverts were slightly disheveled, blown out of place by the wind. This caused what for me is a distracting shadow. My great preference would have been that all of the bird's feathers had been neatly and smoothly in place.
Do understand that it is possible to love an image yet wish that it were still better.
The Streak
Today's blog post marks 140 days in a row with a new educational blog post. Assuming that I will be making the trip to Namibia on April 11, this streak will come to an end soon. As always–and folks have been doing a really great job recently–please remember to use our B&H links for your major gear purchases. For best results use one of our many product-specific links; after clicking on one of those you can continue shopping with all subsequent purchases invisibly tracked to BAA. Your doing so is always greatly appreciated. Please remember: web orders only. Please remember that if you are shopping for items that we carry in the BAA Online Store (as noted in red at the close of this post below) that we would appreciate your business 🙂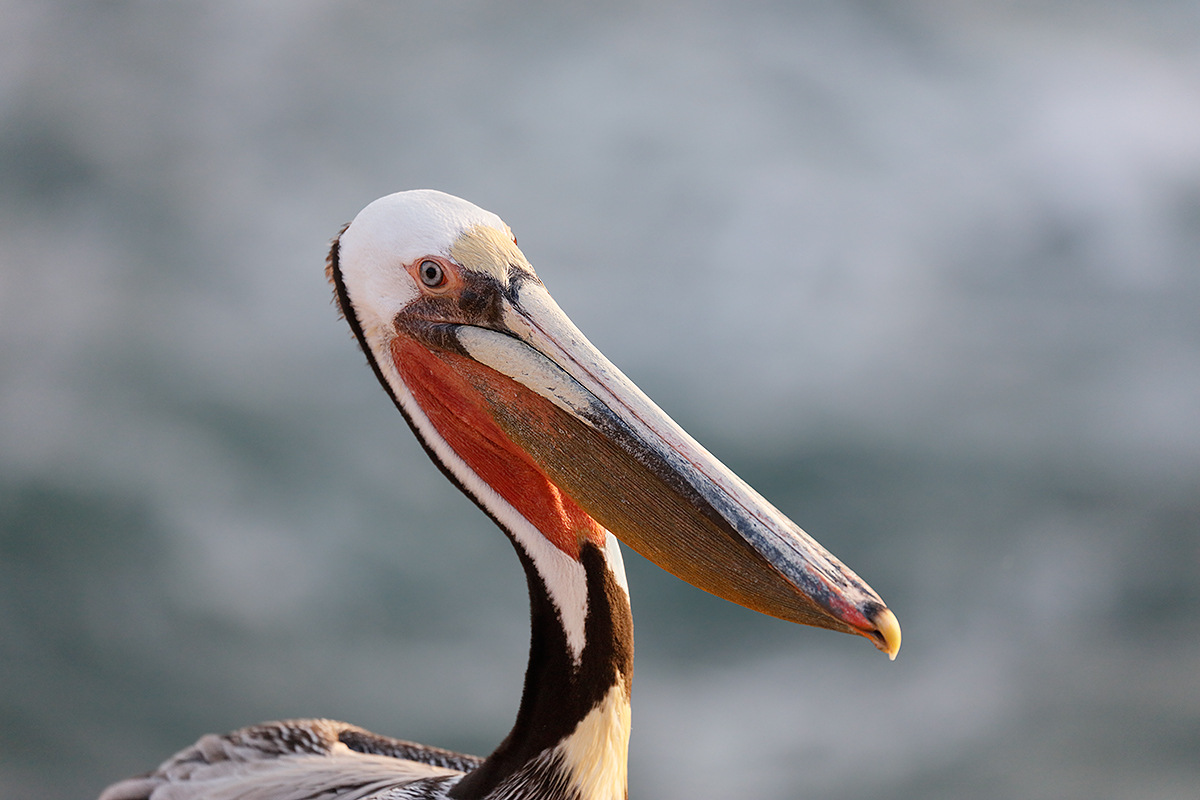 This image was created at La Jolla at 7:37am on the morning of March 22, the same morning that I created the three very different images in yesterday's blog post here. I used the hand held Canon EF 100-400mm f/4.5-5.6L IS II USM lens (at 400mm) and the amazing mega mega-pixel Canon EOS 5DS R. ISO 1600. Evaluative metering at about zero: 1/1250 sec. at f/5.6. Daylight WB.
Center AF point (Manual selection)/AI Servo Shutter button AF as originally framed was active at the moment of exposure (as is always best when hand holding).
Image #1: Backlit Brown Pelican with bill pouch distended
Your browser does not support iFrame.
What do you do when nothing's happening?
Important Point #1
Take a walk. Get out of your box; for me, that meant shooting against the light. In quickly changing light, take risks with the exposure when something unexpected happens. For the image above, the bird distended its bill pouch only for a second; I raised the lens and fired hoping that the exposure would be good. It was not bad. Had I taken the time to check the exposure, I would have missed the action (however subtle).
Saving Both Images
With strongly backlit pelican images you will almost always toast the white or yellow on the top of the bird's head as I did in the RAW files for both of today's images. Unless you are using lots of flash, you will have to live with more than a few over-exposed pixels and attempt to fix them in post. For the top image I simply used a 10% opacity Clone Stamp Tool to tame the brightest whites. The over-exposure in Image #2 was more problematic so I painted a crescent-shaped Quick Mask of the properly exposed yellow feathers, put it on its own layer, moved it into place, reduced the opacity a bit, re-shaped it via Tranform > Warp, and then refined the mask by adding a Regular Layer Mask.
Everything above is detailed in Digital Basics and in APTATS I & II. You can check out all of our educational offerings by clicking here.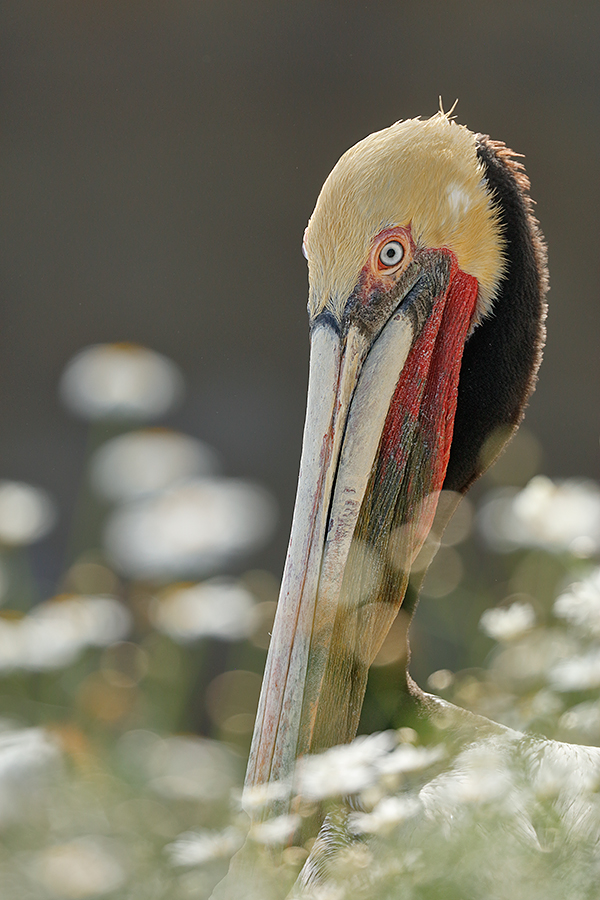 This image was created at La Jolla at 9:19am (!) on the morning of March 22, the same morning that I created the three very different images in yesterday's blog post here. I used the hand held Canon EF 100-400mm f/4.5-5.6L IS II USM lens with the Canon Extender EF 1.4X III (at 504mm) and the amazing mega mega-pixel Canon EOS 5DS R. ISO 1600. Evaluative metering at about -2/3 stop: 1/1000 sec. at f/9. Daylight WB.
Center AF point (by necessity)/AI Servo Expand/Shutter button AF as originally framed was active at the moment of exposure (as is always best when hand holding).
Image #2: Backlit Brown Pelican in daisies
Your browser does not support iFrame.
Get into your creative zone!
A backlit bird in daisies at a quarter after nine on a sunny day? You gotta be kidding me. But when conditions are poor as they were that morning with wind against sun, you've got to try to create something different.
Important Point #2
With wind against sun conditions, traditional front-lit bird photography opportunities (including and especially flight photography) will be few and far between. Backlit opportunities, however, will abound.
100-400 II Versatility
The new 1-4 continues to amaze me; I have used it probably 70% of the time on my San Diego trip. And I do not hesitate to add the 1.4X III TC when I need the additional reach. This makes the lens even more versatile.
Here We Go Again
Everyone has been great with the image comparisons and the questions; all is greatly appreciated. So here we go again: which do you feel is the stronger image? Please let us know why you made your choice.
IPT Updates
Learn to improve your bird and nature photography with the best instructor on the planet; join a BIRDS AS ART Instructional Photo-Tour. Learn more and see the schedule here.
immediately below) has lots of room.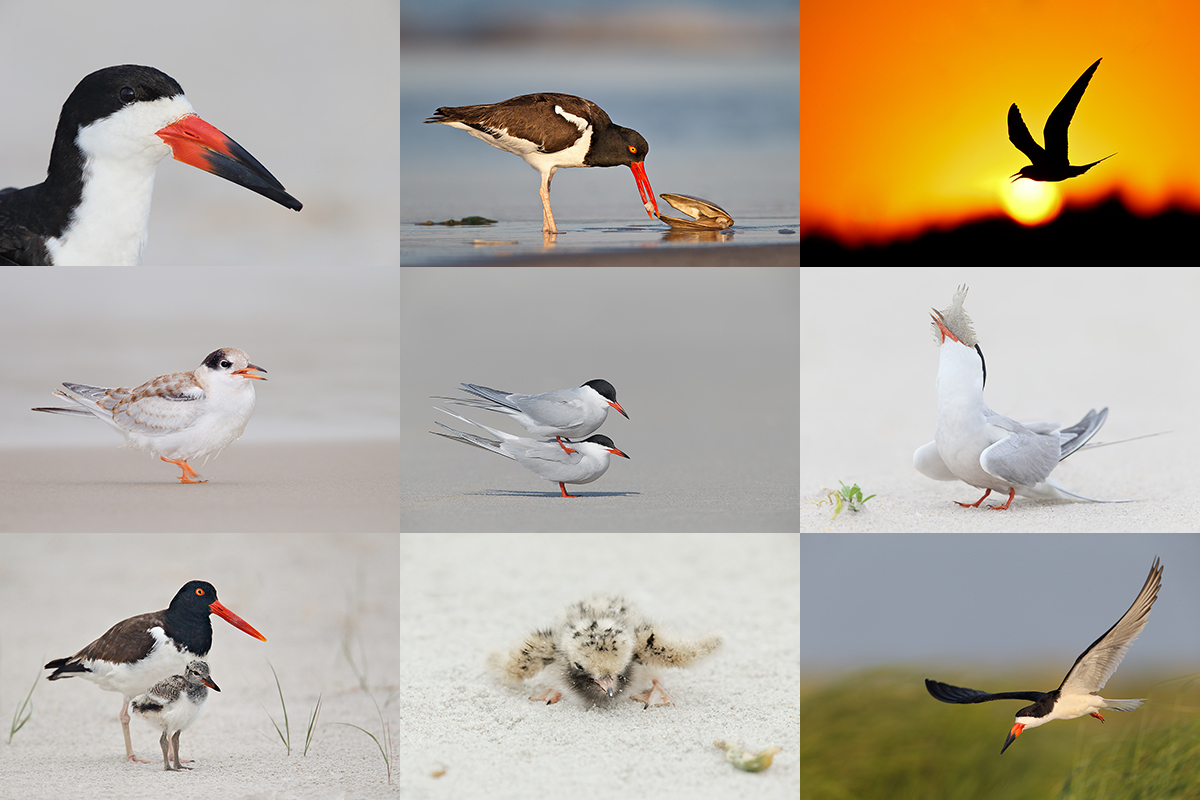 From upper left clockwise to center: Black Skimmer head portrait, American Oystercatcher dining on surf clam flesh, Common Tern at sunset, Common Tern adult swallowing flatfish, Black Skimmer in flight, newborn Common Tern chick, American Oystercatcher with chick, fresh juvenile Common Tern (with fill flash), and Common Terns copulating.
Nickerson Beach Terns/Skimmers/Oystercatchers Instructional Photo-Tour (IPT): July 18-22, 2016. 4 1/2 DAYS: $1899
Meet and greet at 3pm on the afternoon of Monday, July 18. Limit 10/Openings: 8.
The primary subject species of this IPT will be the nesting Common Terns. The trip is timed so that we will get to photograph tiny chicks as well as fledglings. There will be lots of flight photography including adults flying with baitfish. Creating great images of the chicks being fed is a huge challenge. In addition to the terns we will get to photograph lots of Black Skimmers courting, setting up their nesting territories, and in flight (both singles and large pre-dawn flocks blasting off). Midair battles are guaranteed on sunny afternoons. And with luck, we might even see a few tiny chicks toward the end of the trip. We will also get to photograph the life cycle of American Oystercatcher. This will likely include nests with eggs and tiny chicks, young being fed, and possibly a few fledglings.
Nesting Piping Plover is also possibly. There will be lots of gulls to photograph; most years I am able to find a few Lesser Black-backed Gulls of varying ages in addition to the Herring, Ring-billed, and Great Black-backed Gulls. You will learn to identify and age the various gull species. There will likely be some Willets feeding along the surf and with luck we might get to photograph a handsome juvenile or two. In addition to the locally breeding shorebirds, we will likely get to see some southbound migrant arctic-and sub-arctic breeding shorebird species such as Sanderling, Semipalmated Plover, and maybe even Red Knot.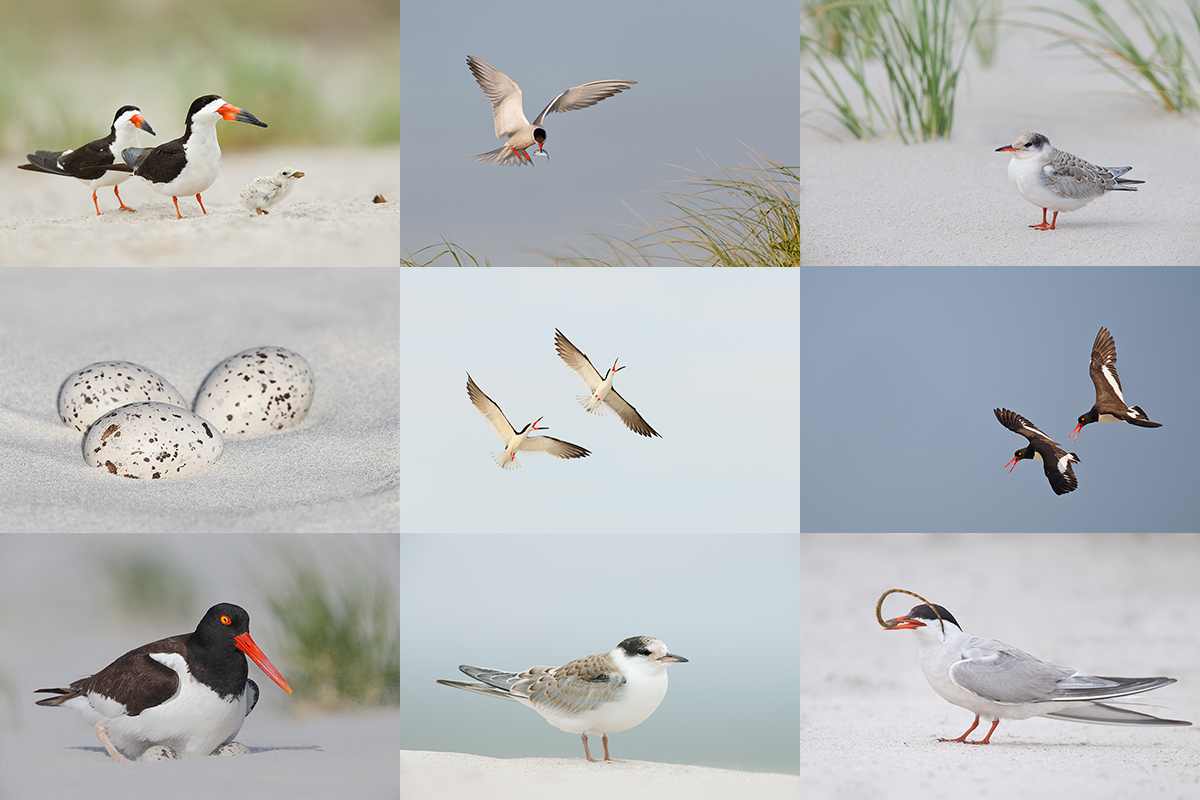 From upper left clockwise to center: Black Skimmers with tiny chick, Common Tern landing with baitfish for young, fledged Common Tern chick in dunes, American Oystercatchers/display flight, adult Common Tern with pipefish for chick, Common Tern fledgling in soft light, American Oystercatcher on nest with eggs, American Oystercatcher 3-egg clutch, battling Black Skimmers.
The IPT Logistics
The tour will begin with a meet and greet on the afternoon of Monday, July 18, 2016. That will be followed by our first shooting session at the beach. From Tuesday through and including all of Friday we will have two photography sessions daily. Our morning sessions will start very early so that we are on the beach well before sunrise. We usually photograph for about four hours. Then we will enjoy a group brunch. We will always have a midday break that will include a nap for me. That followed by our daily afternoon classroom sessions that will include image review, workflow and Photoshop, and a review/critique of five of your trip images. Folks are always invited to bring their laptops to brunch for image sharing. I always have mine with me but heck, I am a big show-off. Afternoon in-the-field sessions generally run from 5pm through sunset.
Breakfasts are grab what you can. Four brunches are included. Dinners (if at all) will be on your own as we will often get back to the hotel at about 9pm. There is a fridge in every room and a supermarket within walking distance of the hotel so nobody should starve. You will learn a ton during the nine shooting sessions, the four in-classroom sessions, and even at lunch. Early morning and late afternoon parking is free. If we want to head back to the beach early we will need to arrange tight carpools and share the $30/vehicle parking fee. Non-photographer spouses, friends, or companions are welcome for $100/day, $450 for the whole IPT.
Save a space by calling Jim or Jen at the office at 863-692-0906 and arranging to leave your deposit of $599–credit cards are accepted for deposits only. Your balance will be due on April 18, 2016. I hope that you can join me for what will be an exciting and educational IPT.
Please Remember to use our Affiliate Links 🙂
To show your appreciation for my continuing efforts here, we ask, as always, that you get in the habit of using my B&H affiliate links on the right side of the blog for all of your photo and electronics purchases. Please check the availability of all photographic accessories in the BIRDS AS ART Online Store, especially the Mongoose M3.6 tripod heads, Gitzo tripods, Wimberley heads and plates, LensCoats and accessories, and the like. We sell only what I have used, have tested, and can depend on. We will not sell you junk. We know what you need to make creating great images easy and fun. And we are always glad to answer your gear questions via e-mail. I just learned that my account was suspended during my absence; it should be up and running by Monday at the latest.
I would of course appreciate your using our B&H affiliate links for all of your major gear, video, and electronic purchases. For the photographic stuff mentioned in the paragraph above we, meaning BAA, would of course greatly appreciate your business. Here is a huge thank you to the many who have been using our links on a regular basis and visiting the BAA Online store as well.
Facebook
Be sure to like and follow BAA on Facebook by clicking on the logo link upper right. Tanks a stack!
Typos
In all blog posts and Bulletins, feel free to e-mail or to leave a comment regarding any typos or errors. Just be right 🙂