What's Up
I have neglected to mention that both of my knees are doing great and that the scratch on my nose has healed up perfectly. I headed out early to La Jolla on Monday morning in heavy overcast with an occasional light drizzle. I concentrated mostly on some nice Double-crested Cormorants. The absence of light was a big challenge.
On Monday afternoon I began work on my 2015 income taxes.
Yikes, I almost forgot: I am feeling a bit stronger each day after the surgery and seeing several signs of improvement. Time will tell.
The Streak
Today's blog post marks 143 days in a row with a new educational blog post. Assuming that I will be making the trip to Namibia on April 11, this streak will come to an end soon. As always–and folks have been doing a really great job recently–please remember to use our B&H links for your major gear purchases. For best results use one of our many product-specific links; after clicking on one of those you can continue shopping with all subsequent purchases invisibly tracked to BAA. Your doing so is always greatly appreciated. Please remember: web orders only. Please remember that if you are shopping for items that we carry in the BAA Online Store (as noted in red at the close of this post below) we would appreciate your business.
This image was created at La Jolla, CA with the hand held Canon EF 100-400mm f/4.5-5.6L IS II USM lens (at 164mm) and the amazing mega mega-pixel Canon EOS 5DS R. ISO 1250. Evaluative metering probably about zero: 1/320 sec. at f/8. Daylight WB.
Two AF points to the left and two rows above the center AF point/AI Servo/Surround/Rear Focus AF as framed was active at the moment of exposure (as is always best when hand holding). Click here to see the latest version of the Rear Focus Tutorial. Click on the image to see a larger version.
Western Gulls/pre-copulatory stand in early morning light
Your browser does not support iFrame.
Back in Action…
Do appreciate the double entendre… This was one of the very first images that I made after getting back in action on Sunday morning past after a 3-day vacation from bird photography.
The Look of Love
Once I saw these two Western Gulls involved with each other I moved as quickly as possible to get into position. I created only two frames before he stepped off of her. I was thrilled to see that one of the images caught her looking up lovingly at her guy. For gulls and terns the pre-copulatory stand is actually a bit of balance practice for the male; it often does not wind up with a copulation.
Whitewash
Do you hate the image because of all the whitewash? Would you have removed some or most or all of it? Why do you think that I left all the whitewash as is?
Interactivity on the Blog
Before you click out without leaving a comment please consider that the more folks who participate, the greater the learning experience for all, including me.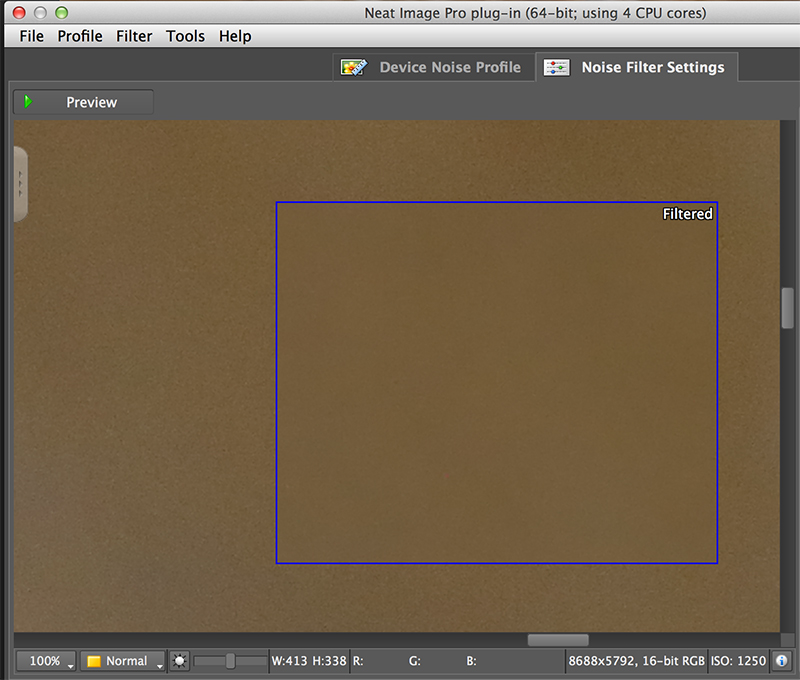 NeatImage Noise Reduction
5DS R ISO 1250 and NeatImage Noise Reduction
The area in the blue square has been filtered by NeatImage Noise Reduction. The area outside of the blue box is unfiltered, exactly as it appears on the converted TIFF. While I will assume that everyone will be impressed by the virtually complete elimination of background noise by NeatImage, I need to point out the fine high ISO 5DS R control of the background noise at ISO 1250. Especially since the mid-toned sandstone is actually one stop under-exposed. Why one stop under-exposed? WHITES need one stop less light to be properly exposed than mid-tones in a given lighting condition; thus the mid-tones are one stop under what they should be, and therefore, more noisy. I am rather amazed that all of the internet experts including some very good photographers and good friends are all proclaiming that high ISO noise with the 5DS R is a problem. But heck, that's why they are internet experts: they rarely if ever use the gear that they complain about.
The New Guide and NeatImage
The work on on Arash's new Post Processing Guide continues to progress slowly as we attempt to iron out the kinks via e-mail and phone. The guide will teach you–as you can see in today's featured image, to apply a small but effective amount of NR to the bird (while maintaining fine feather detail) and to apply greater amounts of NR to noisy backgrounds to smooth them out. The key to the success of these methods is a combination of Arash's cleverly developed and innovative techniques and the great NeatImage plug-in. Arash recommends and uses only the NeatImage plug-in for advanced noise reduction. Both artie and Arash recommend only the Proversion as the Homeversion does not work on 16-bit images. Folks who are good with Layer Masking may wish to get a copy of NeatImage and get a head start on using this great program. If not, the new guide will make it simple for you. Learn more on the effectiveness of NeatImage in the blog post here.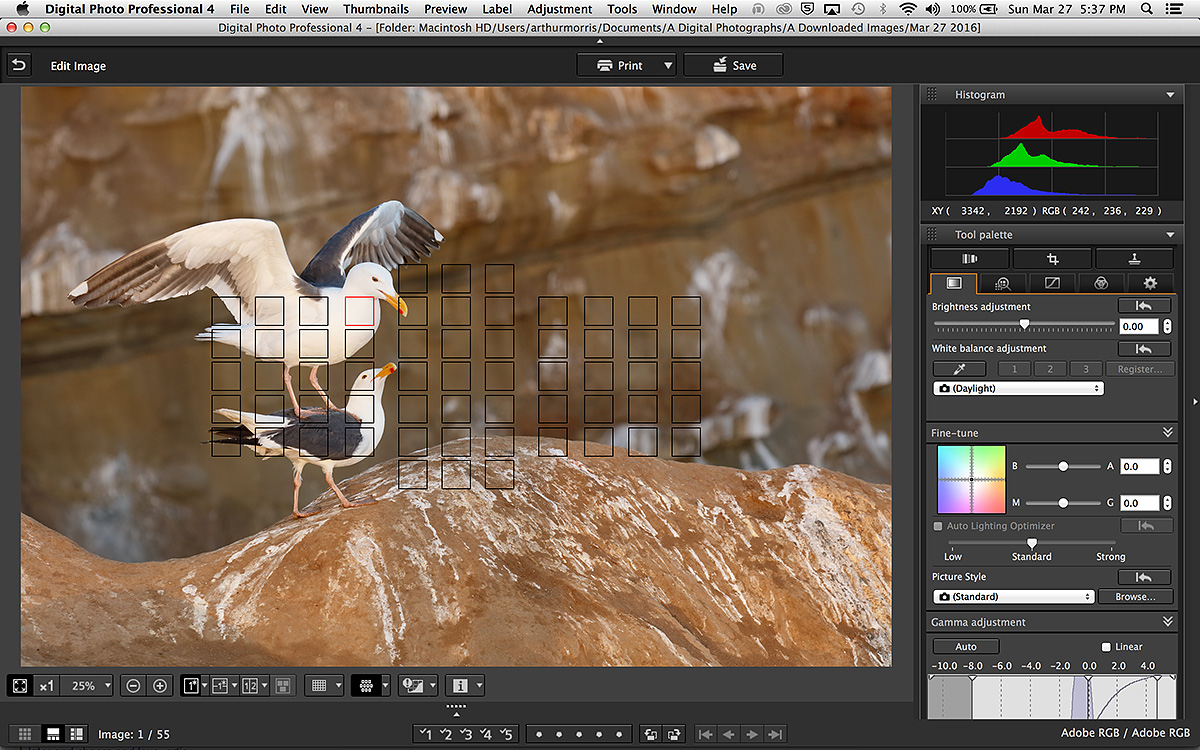 DPP 4 Screen Capture >
DPP 4 Screen Capture Lessons
Most importantly, note the RGB values with the (unseen in this screen capture) cursor on the brightest WHITEs on the male's head: R=242, G=236, B=229. These values indicate a definite RED cast. I chose, however, not to color correct either by using Click WB or by adjusting the Color temperature. Why? I like the rich early morning light. In my opinion, it is not always the right move to color balance every image by coming up wWHITEs like this: R=235, G=235, B=235. Had I done so with this image it would have lost a lot of its glamor for me.
The illuminated in red AF point indicates that that point was both the selected AF point and that it was active at the moment of exposure. The more you practice moving the AF points and the closer you get the selected AF point to the bird's eye, face, bill, or neck, the more accurately focused your images will be.
Note also that as I preach here on an almost daily basis that the there is data well into the fifth, rightmost, highlight box of the histogram. The red channel extending past the other two also indicates the RED cast.
Please Remember to use our Affiliate Links 🙂
To show your appreciation for my continuing efforts here, we ask, as always, that you get in the habit of using my B&H affiliate links on the right side of the blog for all of your photo and electronics purchases. Please check the availability of all photographic accessories in the BIRDS AS ART Online Store, especially the Mongoose M3.6 tripod heads, Gitzo tripods, Wimberley heads and plates, LensCoats and accessories, and the like. We sell only what I have used, have tested, and can depend on. We will not sell you junk. We know what you need to make creating great images easy and fun. And we are always glad to answer your gear questions via e-mail. I just learned that my account was suspended during my absence; it should be up and running by Monday at the latest.
I would of course appreciate your using our B&H affiliate links for all of your major gear, video, and electronic purchases. For the photographic stuff mentioned in the paragraph above we, meaning BAA, would of course greatly appreciate your business. Here is a huge thank you to the many who have been using our links on a regular basis and visiting the BAA Online store as well.
Facebook
Be sure to like and follow BAA on Facebook by clicking on the logo link upper right. Tanks a stack!
Typos
In all blog posts and Bulletins, feel free to e-mail or to leave a comment regarding any typos or errors. Just be right 🙂