What's Up?
Thanks to the kindness of Leon Shapiro, Patrick & Robin Sparkman, new blog regular Kerry Morris (a girl Kerry btw) and I spent several mid-morning hours creating spectacular sea- and wave-scapes from the sunroom of his 9th floor apartment right on the La Jolla coast, just north of Children's Cove. Techniques and images coming soon. In the meantime thanks a huge stack to Leon who met me on Wednesday, hired me for a private morning on Thursday, and soon thereafter gave me the keys to his mega-luxurious dwelling.
The Streak
Today's blog post marks 149 days in a row with a new educational blog post. Assuming that I will be making the trip to Namibia on April 11, this streak will come to an end soon. As always–and folks have been doing a really great job recently–please remember to use our B&H links for your major gear purchases. For best results use one of our many product-specific links; after clicking on one of those you can continue shopping with all subsequent purchases invisibly tracked to BAA. Your doing so is always greatly appreciated. Please remember: web orders only. Please remember that if you are shopping for items that we carry in the BAA Online Store (as noted in red at the close of this post below) we would appreciate your business.
If This Does Not Put a Smile On Your Face, I Give Up
Waved Albatross Courtship Dance Video
Click the Play arrow to view a truly amazing video.
To create this video at Punta Suarez, Hood Island, (Espanola), the Galapaogs, I used the Induro GIT 304L/Mongoose M3.6-mounted Canon EF 100-400mm f/4.5-5.6L IS II USM lens (at an average focal length of about 105mm) and the amazing Canon EOS 7D Mark II. ISO 200. Evaluative metering -2/3 stop at 1/50 sec. in Tv Mode
To view the video full screen click on the expanding arrows symbol between the HD and the vimeo on the Play bar.
Thanks Patrick!
Huge thanks also to Patrick Sparkman for the great editing job in Final Cut Pro X. Once again Patrick amazed me with his technical knowledge and expertise. Thanks bro'.
Join Me on the AUG 2017 Galapagos Photo-Cruise
Guaranteed Waved Albatross!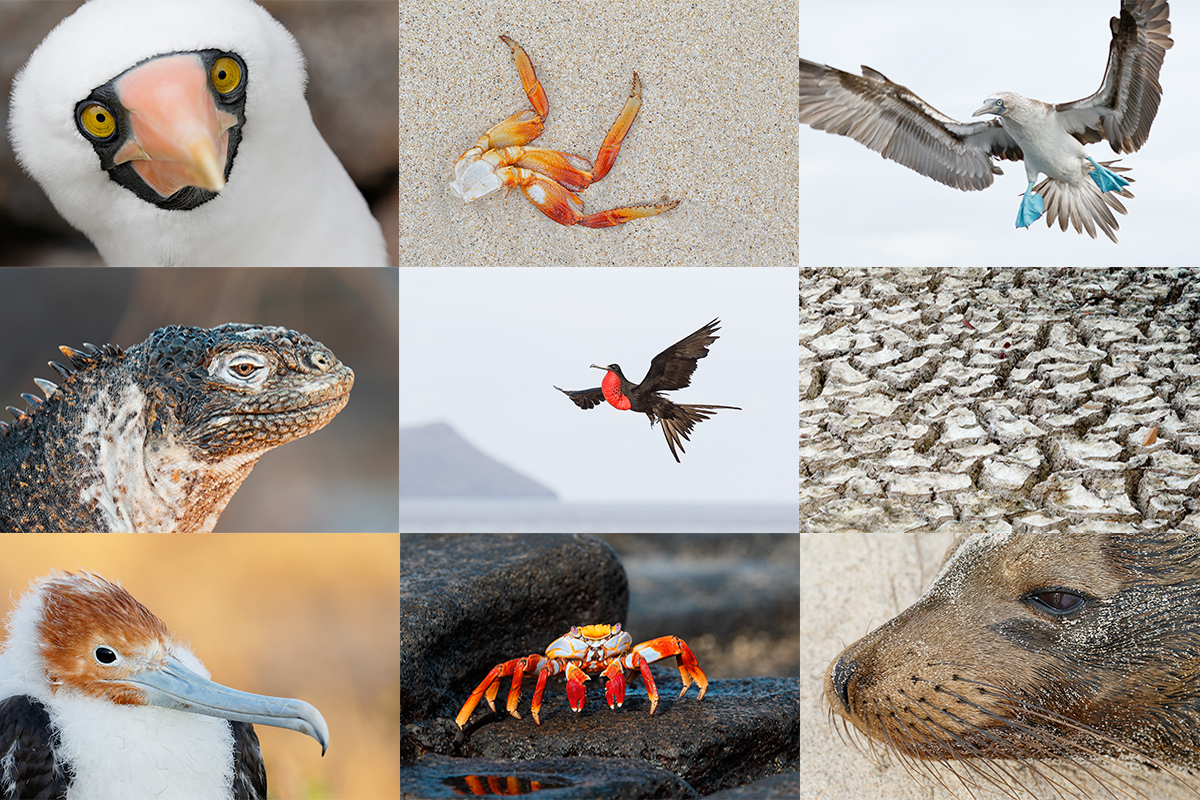 Do consider joining me for this once in a lifetime trip to the Galapagos archipelago. There simply is no finer Galapagos photography trip. Learn why above.
An Amazing Value…
Do know that there are one week Galapagos trips for $8500! Thus, my trip represents a tremendous value; why go all that way and miss half of the great photographic locations?
The Logistics
August 6, 2017: We arrive in Guayaquil, Ecuador a day early to ensure that we do not miss the boat in case of a travel delay.
August 7, 2017: There will be an introductory Galapagos Photography session and a hands on exposure session at our hotel.
August 8, 2017: We fly to the archipelago and board the Samba. Heck, on the 2015 trip some people made great images at the dock in Baltra while our luggage was being loaded!
August 22, 2017: We disembark late morning and fly back to Guayaquil midday; most will overnight there (included).
Most will fly home on the early morning of August 23 unless they are staying on or going elsewhere (or catching a red-eye flight on the evening of the 22nd).
$12,499 includes just about everything: all transfers, guide and park fees, all food on the boat, transfers and ground transportation, your flights to the archipelago, and three nights (double occupancy) in a top notch hotel in Guayaquil. If you are good to go, a non-refundable deposit of $5,000 per person is due immediately. The second payment of $4,000 is not due until 11/1/16. The final payment of $3449 per person will be due on 2/1/17. A $200 discount will be applied to each of the balances for couples or friends who register at the same time.
Purchasing travel insurance within 2 weeks of our cashing your deposit check is strongly recommended. On two fairly recent cruises a total of 5 folks were forced to cancel less than one week prior to the trip. My family and I use Travel Insurance Services and strongly recommend that you do the same.
Not included: your round trip airfare from your home to and from Guayaquil, beverages on the boat, phone calls, your meals in Guayaquil, personal items, and a $600/person cash tip for the crew and the guide—this works out to roughly $40/day to be shared by the 7 folks who will be waiting on us hand and foot every day for two weeks. The service is so wonderful that many folks choose to tip extra.
Please e-mail for the tentative itinerary or with questions. Please cut and paste "Galapagos 2017 Tentative Itinerary Please" into the Subject line.
Please Remember to use our Affiliate Links 🙂
To show your appreciation for my continuing efforts here, we ask, as always, that you get in the habit of using my B&H affiliate links on the right side of the blog for all of your photo and electronics purchases. Please check the availability of all photographic accessories in the BIRDS AS ART Online Store, especially the Mongoose M3.6 tripod heads, Gitzo tripods, Wimberley heads and plates, LensCoats and accessories, and the like. We sell only what I have used, have tested, and can depend on. We will not sell you junk. We know what you need to make creating great images easy and fun. And we are always glad to answer your gear questions via e-mail. I just learned that my account was suspended during my absence; it should be up and running by Monday at the latest.
I would of course appreciate your using our B&H affiliate links for all of your major gear, video, and electronic purchases. For the photographic stuff mentioned in the paragraph above we, meaning BAA, would of course greatly appreciate your business. Here is a huge thank you to the many who have been using our links on a regular basis and visiting the BAA Online store as well.
Facebook
Be sure to like and follow BAA on Facebook by clicking on the logo link upper right. Tanks a stack!
Typos
In all blog posts and Bulletins, feel free to e-mail or to leave a comment regarding any typos or errors. Just be right 🙂