What's Up?
I began work on this blog post at the San Diego Airport before my flight to Orlando. And continued during the flight after a good take-off nap. The flight is a wi-fi flight but I am having trouble getting online right now. Whomever received the graft money for the creation of the new Rental Car Center at SAN should be jailed. The old system worked great. The new system is horrific. Too many screw-ups in the system this morning to even think about listing them.
Got into Orlando a bit early and waited on the hot runway for 30 minutes for a gate. Jim picked me up right on time, my luggage came out quickly, and we should be home by 7pm or so. Enjoy today's post.
The Streak
Today's blog post marks 151 days in a row with a new educational blog post. Assuming that I will be making the trip to Namibia on April 11, this streak will come to an end soon. As always–and folks have been doing a really great job recently–please remember to use our B&H links for your major gear purchases. For best results use one of our many product-specific links; after clicking on one of those you can continue shopping with all subsequent purchases invisibly tracked to BAA. Your doing so is always greatly appreciated. Please remember: web orders only. Please remember that if you are shopping for items that we carry in the BAA Online Store (as noted in red at the close of this post below) we would appreciate your business.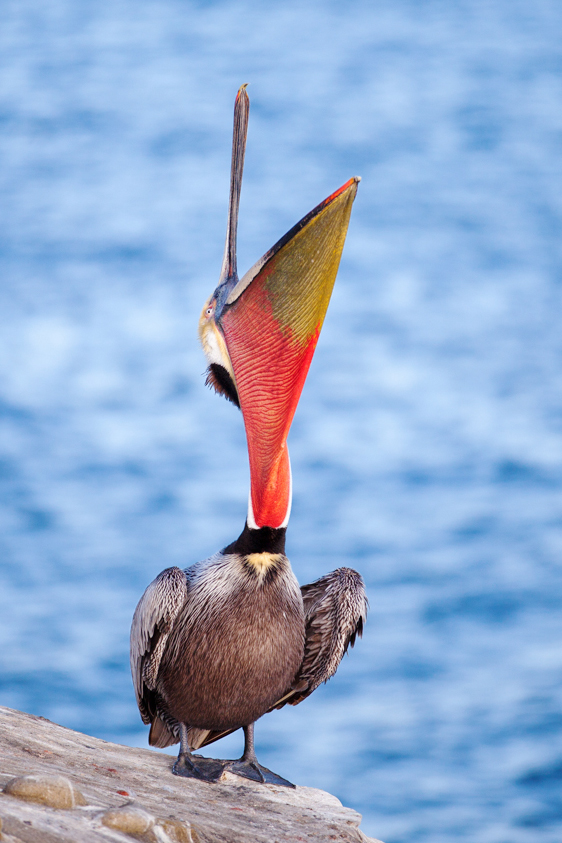 This image was created by Leon Shapiro at La Jolla,CA with the hand held Canon EF 70-200mm f/2.8L IS II USM lens (at 200mm) and the EOS 5D Mark II (now replaced by the Canon EOS 5D Mark III.) ISO 200. Spot metering (!) at zero in Av mode" 1/2000 sec at f/2.8.
Brown Pelican head throw. Image courtesy of and copyright 2016: Leon Shapiro.
By his own admission, Leon knows that this one was a stroke of luck. I quickly had him getting close to the birds, using Evaluative metering, working in Manual mode, creating perfect exposures ever time, and making sharp images with the 2X III TC. Photoshop tweaks by yours truly.
Your browser does not support iFrame.
The Backstory
I mentioned in a recent blog post that I ran into a really nice guy, Leon Shapiro, on the cliffs on Thursday and took him out for a morning of instruction on Friday. Below, in Leon's words, is how it all unfolded. Though his image above is a healthy crop, the pose and the pelican are spectacular.
A Chance Meeting Proves Invaluable
Last week I wandered down onto to the cliffs just north of La Jolla Cove with my big lens, the 70-200mm f/2.8 and the old EOS 5D Mark II. At 7:00am in the morning there was only one other photographer standing–actually sitting, on the cliffs. I made my way down slowly trying not to frighten off any of the birds. It was clear that this person knew what he was doing. I was a little intimidated but struck up a polite conversation. Within five minutes Artie was giving me a few tips and talking about how much he loved making images at La Jolla. I asked if he gave private lessons and he said "Absolutely, what are you doing tomorrow morning?"
I met Artie at the same spot the following morning at 6:30am. He was there waiting for me and had already scouted out the action and knew exactly what shots he wanted me to get. I had already shared with Artie that I did not really have a good understanding of some of the basics and was hoping to learn a few fundamentals during the morning. I wasn't prepared for the deluge of knowledge, experience and information that was about to come flooding my way.
We had a terrific morning together. I learned more in those five hours than in the previous five years I had been photographing. I left our lesson with an incredible number of tips and pointers that Artie shared with me. As I reflect back on that morning three specific things stood out for me:
1: Technical capability: Artie was able to quickly figure out what I knew and did know about my equipment. I'm sure he could have spent days educating me on all the working in Manual mode and had me making perfectly exposed and sharp photographs inside an hour. Sure I had read about some of these things but having someone at your side showing you what you did and did not do after each image is invaluable. Just understanding how to read and interpret a histogram correctly was worth its weight in gold. It took Artie a minute to figure out that I had actually disabled "blinkies" due to frustration (although he got a good laugh out of it).
2: Light: This is where Artie's passion for what he does comes shining through. Knowing that you want the sun behind you and your shadow pointing directly at the bird makes sense. Spending a few hours with Artie watching the planning and effort he puts into maneuvering himself into the right position to take a photo way amazingly instructive. And best of all, I was right beside him the whole time. Crawling over the rocks to get exactly into position while Artie was anticipating exactly what the bird was going to do and then having Artie show you the subtle but powerful differences between the various shots was invaluable. I learned how you can take great shots in the shade, how important it was to understand how the light effects the entire photograph, and how to position yourself so you make the best possible use of the available light.
3:Learning style: It did not surprise me when I learned that Artie was a teacher in the NYC public school system. He was very quick to zone in on my learning style and adapt his teaching style accordingly. You can have the most experienced and accomplished photographer in the world teaching you but if they don't understand and recognize how you learn, they will not be very effective. Artie took the time to understand what I wanted to learn and then figured out the best way to communicate and teach that to me.
Thanks Artie for re-igniting the passion I have for photography and giving me the tools to embrace that passion.
Leon
My Comments
Thanks a stack Leon for sending me the wonderful e-mail above. I must add that you were a bright, interested, and eager-to-learn student and that it was a pleasure working with you. At times, some folks on my Instructional Photo-tours profess that they already know everything. I loved your clean slate style of learning. I must make one correction: it was only minutes before I had you making sharp, properly exposed images. And that was on the first morning that we met!
I would also like to add two items to Leon's list:
#4: Leon learned that in some situations if you get low and move slowly it is possible to get very close to more than a few free and wild birds. Prior to our getting together Leon was content to sit way back, create small in the frame images, and crop the heck out of them.
#5: On a related note, Leon had told me the first morning that we met that he did not bring his 1.4X teleconverter on his photo walks because he could not make any sharp images with it. So I set him up with a Series III 2X the next morning, showed him how to hold the lens steady using his own personal knee-pod, and had him make sharp head-portraits of the cormorants that we had gotten close to. When it came to learning both the sharpness techniques and the stalking techniques, Leon was a quick study.
I have preached here before and often that it is always a good plan to be open to serendipitous encounters. Leon needed no prompting on that matter.
Best of all, Leon turned out to be a super-nice guy. Heck, that was obvious from the moment that we met. He wound up inviting me (along with some friends!) up to his mega-luxurious apartment high above La Jolla on the weekend while he was attending a fundraiser on the east coast. That after he gotten to know me for a grand total of five hours… We created some amazing sea- and rock-scapes from the open windows of his spectacular 9th floor place using the Singh-Ray 77mm warming circular polarizer (set to dark) and either the 5- or 10-stop Singh-Ray Mor-Slo Neutral Density filter. New blog regular Kerry Morris, who joined us for a morning of photography, saved the day by sharing her Sing-Ray 77mm warming circular polarizer with both Patrick and me. And she in turn borrowed one of my two ND filters. Patrick's wife Robin relaxed, enjoyed the luxury, and spotted birds on the rocks for us. We all had some great fun, thanks to Leon.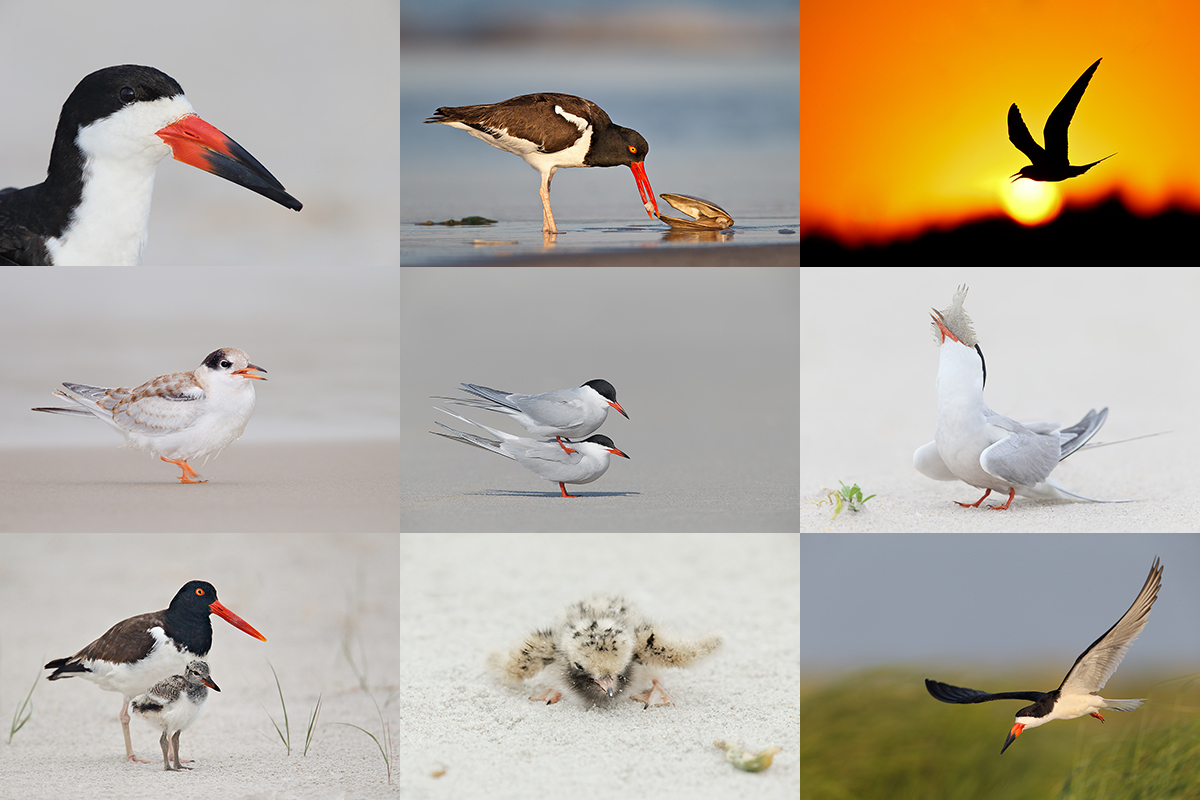 From upper left clockwise to center: Black Skimmer head portrait, American Oystercatcher dining on surf clam flesh, Common Tern at sunset, Common Tern adult swallowing flatfish, Black Skimmer in flight, newborn Common Tern chick, American Oystercatcher with chick, fresh juvenile Common Tern (with fill flash), and Common Terns copulating.
Nickerson Beach Terns/Skimmers/Oystercatchers Instructional Photo-Tour (IPT): July 18-22, 2016. 4 1/2 DAYS: $1899
Meet and greet at 3pm on the afternoon of Monday, July 18. Limit 10.
The primary subject species of this IPT will be the nesting Common Terns. The trip is timed so that we will get to photograph tiny chicks as well as fledglings. There will be lots of flight photography including adults flying with baitfish. Creating great images of the chicks being fed is a huge challenge. In addition to the terns we will get to photograph lots of Black Skimmers courting, setting up their nesting territories, and in flight (both singles and large pre-dawn flocks blasting off). Midair battles are guaranteed on sunny afternoons. And with luck, we might even see a few tiny chicks toward the end of the trip. We will also get to photograph the life cycle of American Oystercatcher. This will likely include nests with eggs and tiny chicks, young being fed, and possibly a few fledglings.
Nesting Piping Plover is also possibly. There will be lots of gulls to photograph; most years I am able to find a few Lesser Black-backed Gulls of varying ages in addition to the Herring, Ring-billed, and Great Black-backed Gulls. You will learn to identify and age the various gull species. There will likely be some Willets feeding along the surf and with luck we might get to photograph a handsome juvenile or two. In addition to the locally breeding shorebirds, we will likely get to see some southbound migrant arctic-and sub-arctic breeding shorebird species such as Sanderling, Semipalmated Plover, and maybe even Red Knot.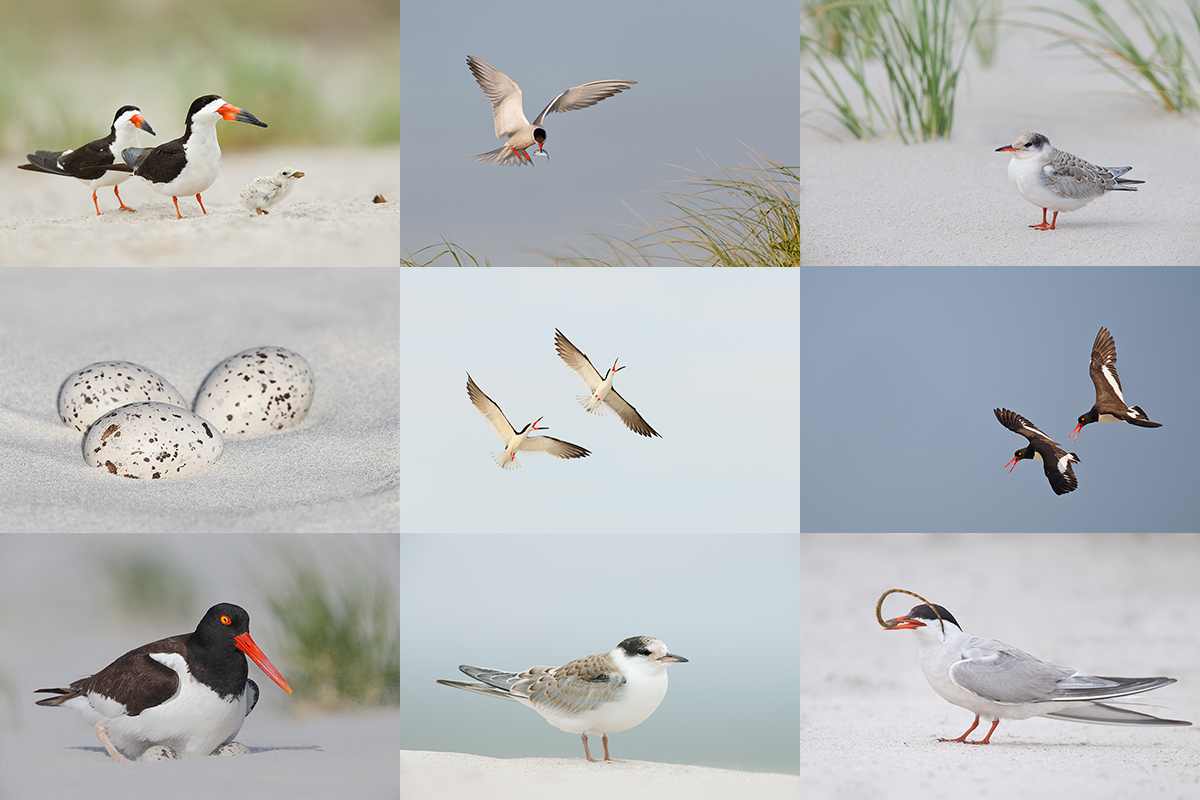 From upper left clockwise to center: Black Skimmers with tiny chick, Common Tern landing with baitfish for young, fledged Common Tern chick in dunes, American Oystercatchers/display flight, adult Common Tern with pipefish for chick, Common Tern fledgling in soft light, American Oystercatcher on nest with eggs, American Oystercatcher 3-egg clutch, battling Black Skimmers.
The IPT Logistics
The tour will begin with a meet and greet on the afternoon of Monday, July 18, 2016. That will be followed by our first shooting session at the beach. From Tuesday through and including all of Friday we will have two photography sessions daily. Our morning sessions will start very early so that we are on the beach well before sunrise. We usually photograph for about four hours. Then we will enjoy a group brunch. We will always have a midday break that will include a nap for me. That followed by our daily afternoon classroom sessions that will include image review, workflow and Photoshop, and a review/critique of five of your trip images. Folks are always invited to bring their laptops to brunch for image sharing. I always have mine with me but heck, I am a big show-off. Afternoon in-the-field sessions generally run from 5pm through sunset.
Breakfasts are grab what you can. Four brunches are included. Dinners (if at all) will be on your own as we will often get back to the hotel at about 9pm. There is a fridge in every room and a supermarket within walking distance of the hotel so nobody should starve. You will learn a ton during the nine shooting sessions, the four in-classroom sessions, and even at lunch. Early morning and late afternoon parking is free. If we want to head back to the beach early we will need to arrange tight carpools and share the $30/vehicle parking fee. Non-photographer spouses, friends, or companions are welcome for $100/day, $450 for the whole IPT.
Save a space by calling Jim or Jen at the office at 863-692-0906 and arranging to leave your deposit of $599–credit cards are accepted for deposits only. Your balance will be due on April 18, 2016. I hope that you can join me for what will be an exciting and educational IPT.
Please Remember to use our Affiliate Links 🙂
To show your appreciation for my continuing efforts here, we ask, as always, that you get in the habit of using my B&H affiliate links on the right side of the blog for all of your photo and electronics purchases. Please check the availability of all photographic accessories in the BIRDS AS ART Online Store, especially the Mongoose M3.6 tripod heads, Gitzo tripods, Wimberley heads and plates, LensCoats and accessories, and the like. We sell only what I have used, have tested, and can depend on. We will not sell you junk. We know what you need to make creating great images easy and fun. And we are always glad to answer your gear questions via e-mail. I just learned that my account was suspended during my absence; it should be up and running by Monday at the latest.
I would of course appreciate your using our B&H affiliate links for all of your major gear, video, and electronic purchases. For the photographic stuff mentioned in the paragraph above we, meaning BAA, would of course greatly appreciate your business. Here is a huge thank you to the many who have been using our links on a regular basis and visiting the BAA Online store as well.
Facebook
Be sure to like and follow BAA on Facebook by clicking on the logo link upper right. Tanks a stack!
Typos
In all blog posts and Bulletins, feel free to e-mail or to leave a comment regarding any typos or errors. Just be right 🙂