What's Up?
I began working on this possibly very short blog post in the air on my flight from Orlando's MCO to JFK. If all goes well we (Denise Ippolito and I) will land at Upington, South Africa at about 12:30pm on Wednesday local time, which is 6:30am in NY and Florida. Then we have about a six hour van ride. It should all work out to a 26 hour + travel day 🙂 As mentioned previously, we are doing a short pre-trip to photograph at a desert urbex location. We may get to do some birds as well.
I may or may not have sporadic internet coverage at various points during the trip. Do know that Jim Litzenberg will be in the office weekdays, Monday through midday on Fridays, and that older daughter Jennifer Morris will usually be there during banker's hours. Both can help you with everything BAA-related included BAA Online Store and ordering matters (especially Jim) and IPT registrations and info.
Till whenever–later and love and great picture-making, artie
This Just In
Arrival Update
A mere 36 hours after leaving the Orlando Courtyard Marriott at 3:15am on Monday, We arrived at the hotel in Luderwitz, Namibia. The worst of is was the final leg, and 8-hour van ride. The great news it that my surgery-related discomfort is down about 75% 🙂 We will have decent internet for the next two days so as of now, the streak is intact. Who knows?
Very Important Personal Note
When I am away on long trips, blog readership numbers plummet. By the time I board my flight to Johannesburg, I will have prepared a brand new educational blog post for every other day till I get back. I may even get to keep the streak going for longer than anticipated. I may recycle some older blog posts, ones with super-important lessons. I ask, therefore, that you visit every day as you usually would. Though I might not be there online to comment on your comments or answer your questions, I will be here in spirit. And as always when I get back, I will make my way through all the relevant comments and questions and respond as I always do.
I ask in return that you guys keep up the great work of using the BAA B&H affiliate links. March was a record month for me and your efforts to thank me for the work that I put into the blog are greatly appreciated. And they sure keep me motivated.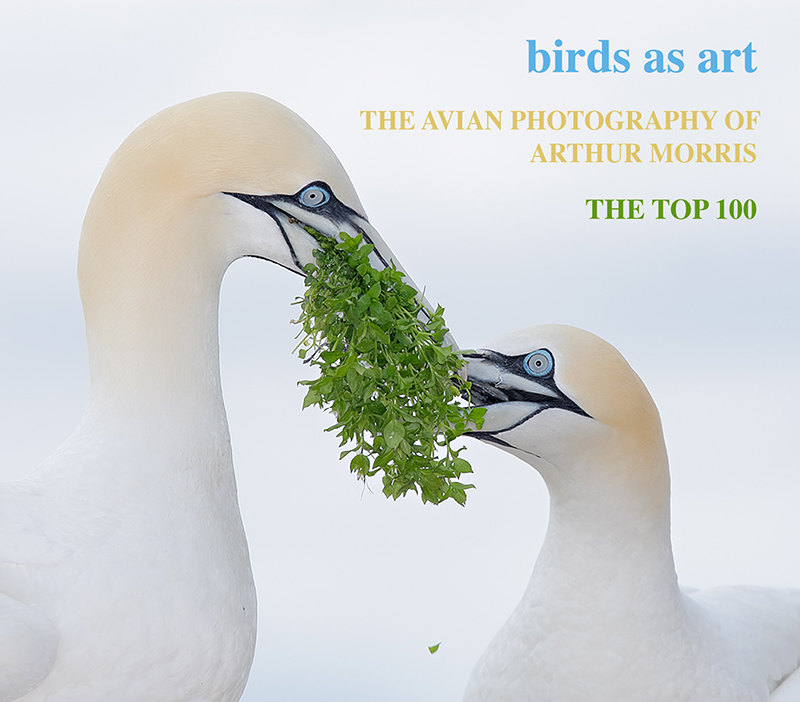 birds as art: The Avian Photography of Arthur Morris/The Top 100
The companion e-book to the solo exhibit at TheNat, San Diego, California
The new e-book on CD is available here.
birds as art: The Avian Photography of Arthur Morris/The Top 100
My latest e-book, created on a wing and a prayer in less than two weeks–see Harebrained Scheme here–includes the 67 spectacular images that will hang in the Ordover Gallery at the San Diego Natural History Museum in a career-retrospective solo exhibition. In addition, there are an additional 33 images in the spectacular e-book that barely missed making the show.
This exhibition companion e-book makes it possible for everyone to "visit" TheNAT gallery and, in addition, to enjoy seeing my top one hundred bird photographs under one roof. Each image includes a title, the species name, the location, relevant EXIF data, and an anecdotal caption.
birds as art: The Avian Photography of Arthur Morris/The Top 100: $23 for the professionally produced CD (includes shipping to US addresses only)
Please click here to purchase the physical CD. As above, your purchase price includes shipping to all US addresses. If you would like your CD signed on the inside cover with a black Sharpie, you will need to place your order by phone and request a signed copy: 863-692-0906. For our Canadian friends we are offering the CD for $28 with shipping to Canada via phone orders only: 863-692-0906.
Those who purchase the CD are advised to copy the file to their computers and then archive the CD.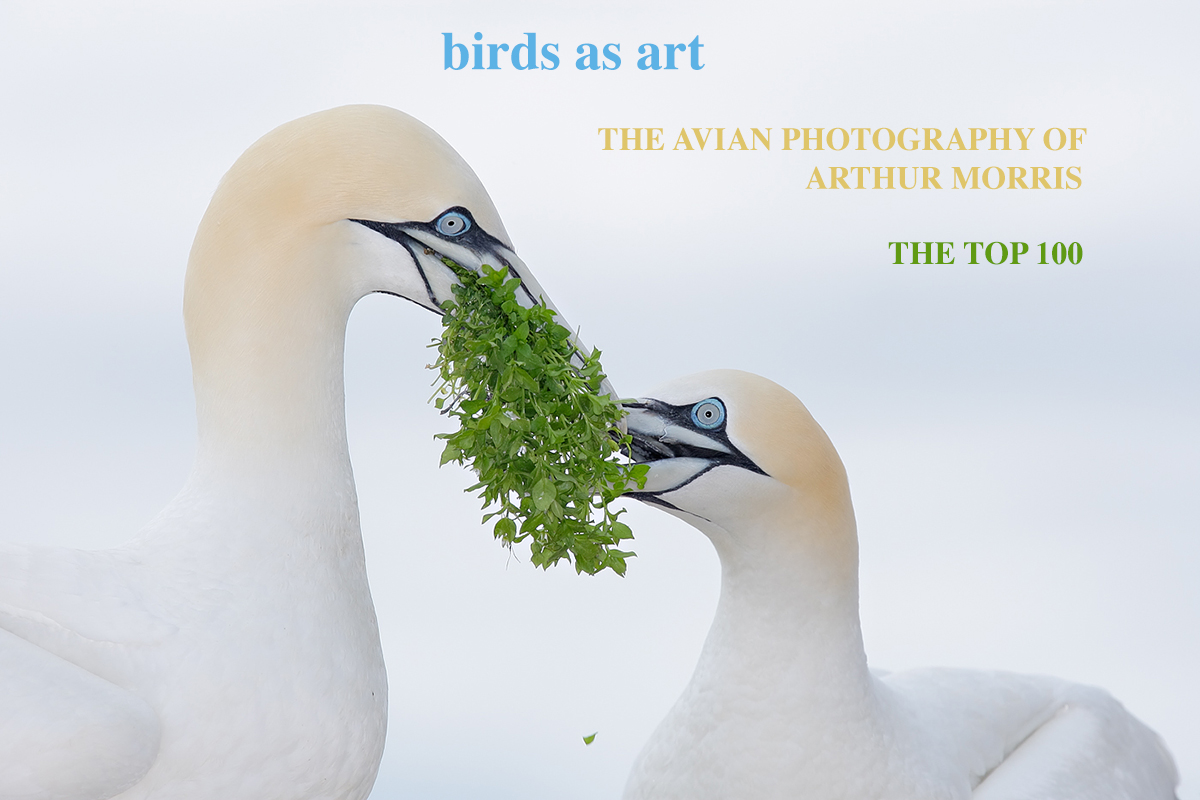 The new e-book via is also available via convenient download for $20 by clicking here.
birds as art: The Avian Photography of Arthur Morris/The Top 100: $20 via convenient download.
Overseas folks, and anyone else as well, can purchase the e-book via convenient download for $20 by clicking here.
Notate Bene
Please share this e-book only with your spouse or significant other. If a friend asks you to share a copy with them, please direct them either to this blog post or to the appropriate link in the BAA Online Store as above. All of the images and text are protected by international copyright law and may not be copied or printed without written permission from the photographer/author. Many thanks for honoring these requests.
You will–of course–need Adobe Acrobat Reader to view the PDF.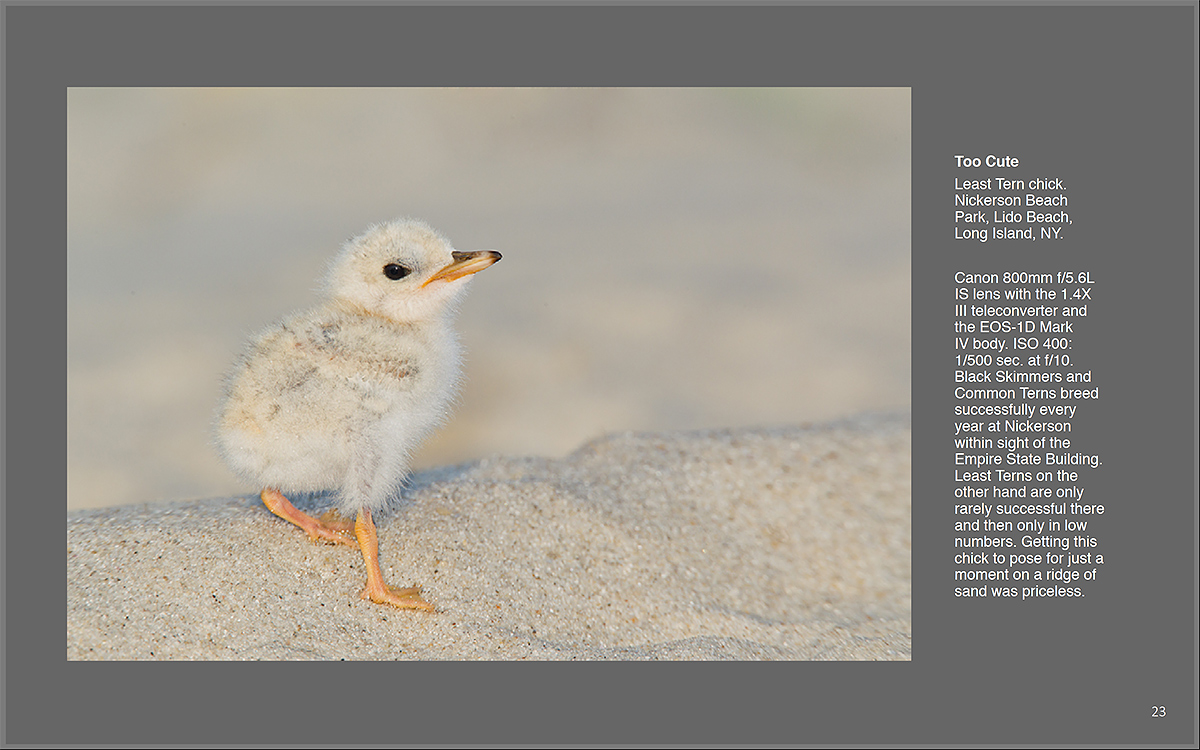 Sample page from birds as art: The Avian Photography of Arthur Morris/The Top 100.
Adobe Acrobat Reader Tip
To maximize your viewing pleasure, click Command + L on a Mac, or Control + L on a PC to view the e-book full screen. And then press Esc to exit full screen.
Please Remember to use our Affiliate Links 🙂
To show your appreciation for my continuing efforts here, we ask, as always, that you get in the habit of using my B&H affiliate links on the right side of the blog for all of your photo and electronics purchases. Please check the availability of all photographic accessories in the BIRDS AS ART Online Store, especially the Mongoose M3.6 tripod heads, Gitzo tripods, Wimberley heads and plates, LensCoats and accessories, and the like. We sell only what I have used, have tested, and can depend on. We will not sell you junk. We know what you need to make creating great images easy and fun. And we are always glad to answer your gear questions via e-mail. I just learned that my account was suspended during my absence; it should be up and running by Monday at the latest.
I would of course appreciate your using our B&H affiliate links for all of your major gear, video, and electronic purchases. For the photographic stuff mentioned in the paragraph above we, meaning BAA, would of course greatly appreciate your business. Here is a huge thank you to the many who have been using our links on a regular basis and visiting the BAA Online store as well.
Facebook
Be sure to like and follow BAA on Facebook by clicking on the logo link upper right. Tanks a stack!
Typos
In all blog posts and Bulletins, feel free to e-mail or to leave a comment regarding any typos or errors. Just be right 🙂