What's Up?
I hope that I am doing well somewhere in Namibia. If all goes well and I stay out of trouble, I will be back in the office late on the afternoon of Friday, April 29.
Don't Look Now!
Today's blog post marks 165 days in a row with a new educational blog post… As always-–and folks have been doing a really great job recently–-please remember to use our B&H links for your major gear purchases. For best results use one of our many product-specific links; after clicking on one of those you can continue shopping with all subsequent purchases invisibly tracked to BAA. Your doing so is always greatly appreciated. Please remember: web orders only. Please remember that if you are shopping for items that we carry in the BAA Online Store (as noted in red at the close of this post below) we would appreciate your business.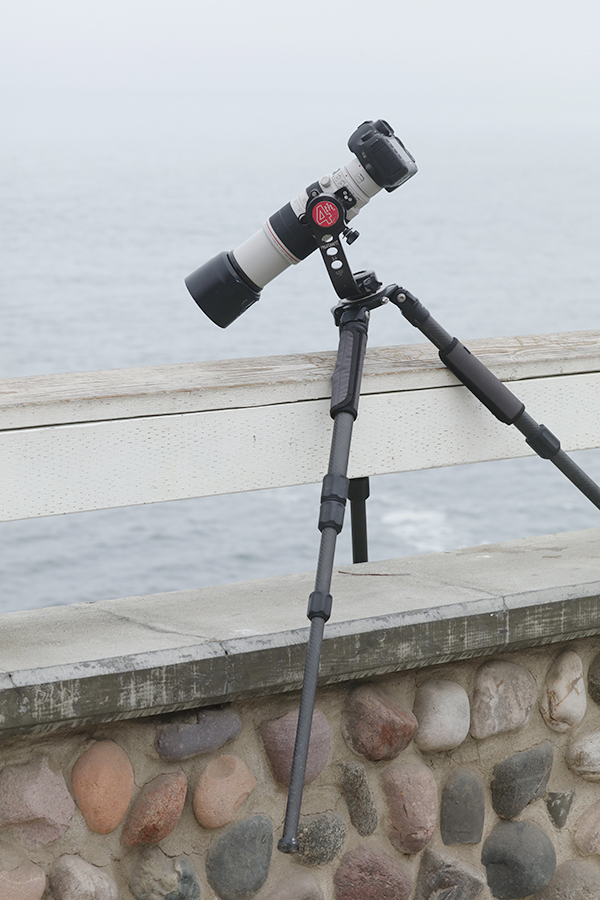 In the field problem-solving…
Notice that no tripod leg is touching the ground… The 100-400 II, the "La Jolla" lens with the 1.4X III TC and the 5DS R running video.
Adapting on the Fly…
Much of nature photography is about learning to create innovative solutions to new problems in the field, to learn to adapt to different situations on the fly. Recently I came up with a strange-looking solution to a problem that I encountered while photographing the nesting Brandt's Cormorants in La Jolla. I wanted to get as close to the birds and as high as possible to get over a variety of foreground plants, bushes, and twigs. The solution was to put the tripod over wooden railing, snug it up until it was stable, and get to work. I used this new technique more than a dozen times and it worked perfectly with no sharpness problems at all.
Such occurrences are fairly common. Once on Sanibel I got down on the ground to shoot the faces of the egrets sitting on the pier railing. From this new somewhat weird perspective, you could see the strange placement of the bird's eyes that enabled their binocular vision. When the folks saw the resulting images they all said, "You're a genius." My response? "If I am so smart, why did it take me 15 years to figure it out?"
Great Mongoose News
For the first time in ages we will have a few Mongoose M3.6 heads in stock. Those who have pre-ordered while we were out of stock should be receiving theirs soon. The demand is so great that the manufacturer cannot keep up with the BIRDS AS ART demand. There are many imitators of this great side-mounting tripod head but are inferior with serious flaws. I have tried them all and nothing comes close. I use my M3.6 with all of my intermediate telephoto lenses and with all of my super-telephotos, even with the 600 II and the 2X III TC. Those who have a problem holding a big lens up for the ten seconds needed to mount it may wish to add the Low Mount Arm. (I am not a big fan of the Low Mount Arm as it upsets the balance for most camera/lens combinations; for some folks with really heavy lenses the Wimberley VII head might be best.) Those who use flash with their telephoto lenses will want to add the Integrated Flash Arm. Lastly, please contact Jim via e-mail to learn which is the proper low foot or plate for your specific telephoto lens. Do understand that you cannot mount a camera body with a short lens on a Mongoose. That's why I travel with the Induro BHM1 ballhead when I will be doing tripod-mounted scenics. It takes less than a minute to spin off the Mongoose and mount the small but sturdy and efficient ballhead. See below for ballhead info.
Induro Tripod (and Ballhead) News
My Induro GIT 304L performed perfectly in the cold and snow of Japan and in both fresh and salt water in San Diego. They cost about 1/3 to 1/4 less than the comparable Gitzos and outperform them hands down. What's the best news? There is a $50 instantly applied rebate in effect right now here. I am not sure how long the rebates will be in effect, so if you are looking for a new tripod, act now.
For the 6′ 2″ and taller gang, or those simply over 5′ 11″ who like to have the tripod properly right up at face level without having to bend over, the price of the Induro GIT 404XL has been reduced from $600 to $550. For those under 5'7″ or so we recommend the GIT 304. Feel free to shoot me an e-mail with any Induro-related questions.
And if you are looking for an efficient, lightweight ballhead, click either here or on the Induro logo-link on the right side of each blog post and scroll down. The prices of the two models that we recommend are down to insanely low levels. The Induro BHM2 has been reduced from $205 to $99.99. And the slightly smaller BHM1–the one that I travel with–has been reduced from $175 to $89.99. As I said, insane. You can, if you like, purchase a Really Wrong Stuff ballhead for about five times as much. Those are the ones with too many big knobs so close together that you cannot operate them.
Please Remember to use our Affiliate Links 🙂
To show your appreciation for my continuing efforts here, we ask, as always, that you get in the habit of using my B&H affiliate links on the right side of the blog for all of your photo and electronics purchases. Please check the availability of all photographic accessories in the BIRDS AS ART Online Store, especially the Mongoose M3.6 tripod heads, Gitzo tripods, Wimberley heads and plates, LensCoats and accessories, and the like. We sell only what I have used, have tested, and can depend on. We will not sell you junk. We know what you need to make creating great images easy and fun. And we are always glad to answer your gear questions via e-mail. I just learned that my account was suspended during my absence; it should be up and running by Monday at the latest.
I would of course appreciate your using our B&H affiliate links for all of your major gear, video, and electronic purchases. For the photographic stuff mentioned in the paragraph above we, meaning BAA, would of course greatly appreciate your business. Here is a huge thank you to the many who have been using our links on a regular basis and visiting the BAA Online store as well.
Facebook
Be sure to like and follow BAA on Facebook by clicking on the logo link upper right. Tanks a stack!
Typos
In all blog posts and Bulletins, feel free to e-mail or to leave a comment regarding any typos or errors. Just be right 🙂