What's Up?
After another long travel experience–details below, I arrived at my office home in Indian Lake Estates, FL at 2:30pm on the afternoon of Friday, April 19, 2016.
The Streak
Today's blog post marks 176 days in a row with a new educational blog post… As always-–and folks have been doing a really great job recently–-please remember to use our B&H links for your major gear purchases. For best results use one of our many product-specific links; after clicking on one of those you can continue shopping with all subsequent purchases invisibly tracked to BAA. Your doing so is always greatly appreciated. Please remember: web orders only. Please remember that if you are shopping for items that we carry in the BAA Online Store (as noted in red at the close of this post below) we would appreciate your business.

This 2-frame stitched pano was created at the camp waterhole at Etosha National Park on the last evening of the 2016 Namibia IPT with the Induro GIT 304L/Mongoose M3.6-mounted
Canon EF 600mm f/4L IS II USM lens and the mega mega-pixel Canon EOS 5DS R. ISO 400. Evaluative metering +2/3 stop: 1/400 sec. at f/5.6. Color temperature: 8000K.
Center AF point (Manual selection)/AI Servo/Rear Focus AF and recompose. Click here to see the latest version of the Rear Focus Tutorial. Click on the image to see a larger version.
Clouds as sunset stitched pano
Your browser does not support iFrame.
The Namibia Trip Report
The most surprising thing about the Namibia trip for me was the absolutely astounding variety of beautiful and interesting subject matter and situations that we enjoyed. Off the top of my head:
The desert urbex photography at Kolmanskop.
The red dunes of Sossusvlei inside Namib Naukluft National Park. With Oryx (Gemsbok). And helicopter rides. And star trail photography. The 900-year old Camelthorn Acacia tree skeletons of Dead Vlei.
The traditional, sunset and Milky Way & light painting night photography at the The Quiver Tree forest.
Both Lesser and Greater Flamingos at Walvis Bay. Along with Kelp and Hartlaub's Gulls. White-fronted Plover and a variety of shorebirds.
The desert reptiles, scorpions, and white dunes at Swakopmund. Also Tractrac Chat and Dune Lark.
The incredible Great White Pelican boat trip.
Great sunset colors almost every night.
The animals, birds, and waterholes at the Halali and Okaukuejo camps inside Etosha National Park including the following easily photographed species: African Bush Elephant, the endangered Southwestern Black Rhinoceros, African Lion, Leopard, Black-backed Jackal, Honey Badger, Springbok, Black-faced Impala, Red Hartebeest, Blue Wildebeest, Greater Kudu, Oryx (Gemsbok), Plains (Burchell's) Zebra, and Angolan Giraffe. At the Okaukuejo camp waterhole we learned to do pitch-black nighttime waterhole flash photography of giraffe and rhino.
Bird species–some easy to photograph–include Ostrich, Sociable Weaver, Kori Bustard, Black-shouldered Kite, Lanner Falcon, Pale Chanting Goshawk, Tawny Eagle, Grey Heron, Namaqua Sandgrouse, Blacksmith Plover, Crowned Lapwing, Pied Crow, Red-billed and Cape Teal, Northern Black Korhaan, and a variety of vultures (coming into kills) among others. We even got to see two rare Burchell's Coursers.
The Grand Finale (Not!)
After enjoying a perfect two week run of rewarding morning, afternoon, evening, and even most-of-the-night photo sessions, our last game drive of the IPT was pretty much a flop. We did find five sleeping lions but both of the dependable waterholes including our very favorite were pretty much barren. Two of the vehicles opted to stick it out with the lions and a few zebra. I took most of the group with me to try for some sunset silhouettes a the Okaukuejo camp waterhole. We struck out there too but for a few sunset clouds as seen in today's featured image.
The Trip Home
We left the lodge at Okaukuejo after an early breakfast and arrived at Windhoek Hosea airport in plenty of time to check in for the 3pm flight to Johannesburg. We said our goodbyes to our hosts/organizers, Wim and Ben. Wim said, "We're off. We've got to move the vehicles. Then minutes later I realized that my insulin was in the fridge in his land rover. I left my stuff and bolted out of the terminal tweaking my left knee in the process–it had been pain free for the entire trip, the best it had felt in years. IAC, I caught Wim and grabbed the plastic bag with the insulins and two large frozen gelpaks.
Several of us upgraded to first class for just a few bucks. I was uncharacteristically late to the gate. As I approached the jetway the gate agent informed me that I would have to give up one of my three carry-ons: my Xtrahand Vest, my Think Tank Rolling bag, or my Think Tank Urban Disguise Rolling bag. I took the insulin bag from the vest and handed the vest to her saying "please gate check this." "No she said, you need to give up one of the two larger bags. The flight is full and there is no room in the overheads." After an extended verbal discussion she spoke to the head steward who agreed with her and came down the jetway. After another extended discussion it was agreed that they would check the overheads for space.
Then I was waved up the jet way with my three items. The steward took my rolling bag and placed it in the crew locker. Once I got onto the plane I was stunned to see that most of the overhead bins on the A310 Airbus were pretty much empty…
With the hour time change from Namibia to South Africa, several of us on the flight to JFK did not have a whole lot of time to wait. With the headwinds and having to hold over JFK for 30 minutes, we arrived one hour late. The total time in the air was just under 17 hours. The ride up front was not too bad but I am positive that I made a record number of pit stops. Please do not ask me for an estimate. I did sleep off and on for about ten of those hours so I was feeling pretty refreshed when I got to JFK.
I was a bit concerned about making my connecting flight to Orlando but my checked bags were waiting for me on the carousel once I got through customs. There was a small delay at customs as all of the computers, including the Global Entry computers, were down. When push came to shove I made it to the gate for my Jet Blue flight to MCO with ten minutes to spare. I arrived in Orlando a bit early at 12:25pm. My right hand man Jim Litzenberg was right on time to greet me and we had all of my bags packed and were rolling towards ILE at 1:00pm sharp. I arrived home at 2:30. It feels good to be home.
My Health
I made the Namibia trip against the advice of my trusted friend, Dr. Cliff Oliver. He was glad to learn yesterday afternoon that I made the trip without any post-surgical complications. The healing from the green light laser surgery is, however, taking longer than expected. Though there are no guarantees, I am still hoping for a great outcome. I felt strong for the entire trip and took part in all the late-night photography sessions (though I did not stay up as late as some). Best of all, I avoided the nasty cold/flu bug that got about half the folks on the trip to varying degrees.
I took a short nap at about 4pm and fell asleep on the couch at eight. I woke at 2:00 am (7am Namibia time) and finished this blog post just before 4:00am. I will try to get back to sleep now.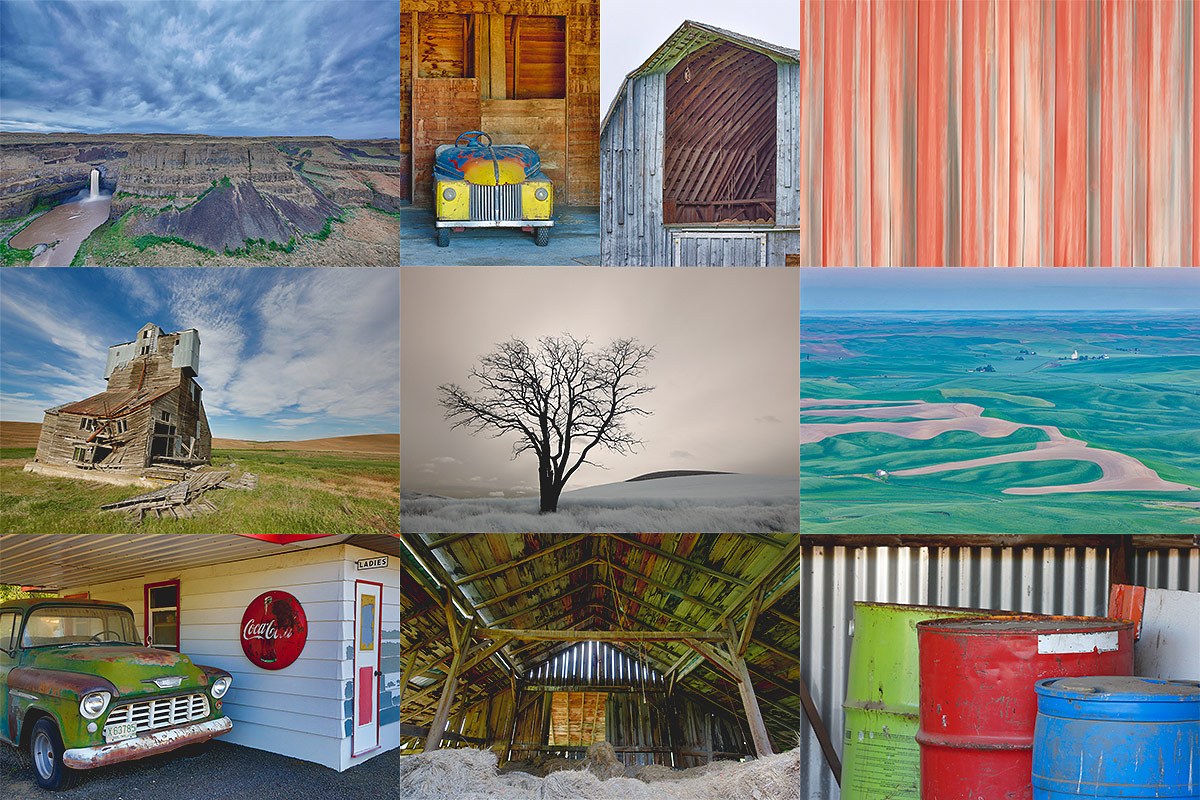 Subject and focal lengths clockwise from upper left around to center.
Palouse Falls: 11mm; homemade kiddie race car: 105mm; barn siding pan blur: 798mm; Rolling fields diorama: 110mm; Crayola drums: 343 mm; Hay barn interior: 19mm; vintage gas station: 40mm; Dilapidated farm building: 13mm; Denise's tree Infrared: 20mm.
Images and card design by Arthur Morris/BIRDS AS ART.
The Palouse ~ A Creative Adventure/BIRDS AS ART Instructional Photo-Tour (IPT)/Eastern Washington State. June 3-7, 2016/5 Full Days: $1699/Limit 12/Openings: 5
The Palouse ~ A Creative Adventure/BIRDS AS ART Instructional Photo-Tour (IPT)/Eastern Washington State. June 10-14, 2016/5 Full Days: $1699/Limit 12/Openings: 1
Double Header!
Maximize both your travel dollars and your learning experience by signing up for both IPTs.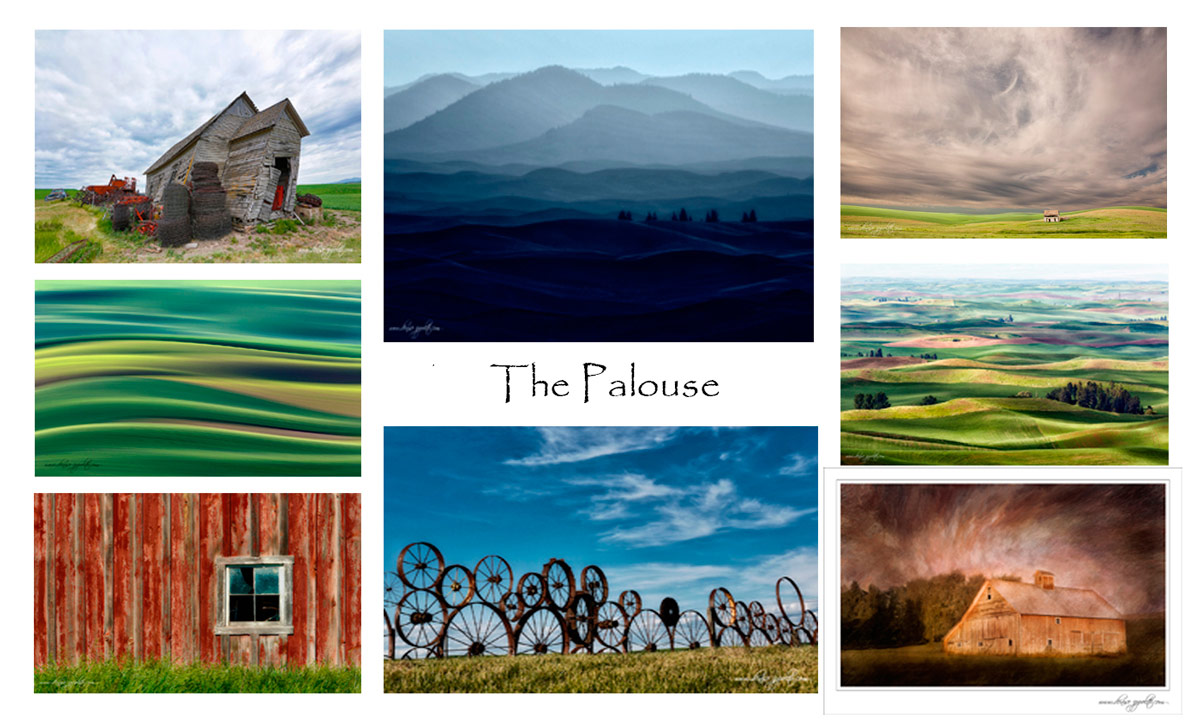 Images and card design by Denise Ippolito/A Creative Adventure.
The Palouse IPTs
Rolling farmlands provide a magical patchwork of textures and colors, especially when viewed from the top of Steptoe Butte where we will likely enjoy spectacular sunrises and possibly a nice sunset. We will photograph grand landscapes and mini-scenics of the rolling hills and farm fields. We will take you to some really neat old abandoned barns and farmhouses in idyllic settings. There is no better way to improve your compositional and image design skills and to develop your creativity than to join us for this trip. Two great leaders: Denise Ippolito and Arthur Morris. Photoshop and image sharing sessions when we have the time and energy…. We get up early and stay out late and the days are long.
After 6 days of back-breaking scouting work in early June 2014 we found all of the iconic locations and, in addition, lots of spectacular new old barns and breath-taking landforms and views. On three additional scouting days in 2015 we discovered several more truly amazing locations. We will teach you what makes one situation prime and another seemingly similar one a waste of your time.
What's included: In-the-field instruction, guidance, lessons, and inspiration, our newfound but very extensive knowledge of the area, all lunches, motel lobby grab and go breakfasts, and Photoshop and image sharing sessions when possible. There will be a meet and greet at 7:30pm on the evening before each workshop begins.
You will learn and hone both basic and advanced compositional and image design skills. You will learn to get the right exposure every time. You will learn to develop your creative eye. You will learn the basics of HDR (high dynamic range) photography. You will learn a variety of in-camera creative techniques. Most importantly you will learn to see the situation and to create a variety of top-notch images. Do see both of our blogs for lots more on that in the coming weeks. You will learn how the quality and direction of light combine to determine the success of your images. And–please don't gasp–we will be working quite a bit with sidelight when creating landscapes. Lastly, we will be doing some infrared photography.
To Sign Up
A non-refundable $699 deposit is due now. The balance will be due on February 15, 2016. If we do not receive your check for the balance on or before the due date we will try to fill your spot from the waiting list. Whether or not your spot is filled, you will lose your deposit. If not, you can secure your spot by paying your balance.
Please let me know via e-mail that you will be joining us. Then you can either call Jim or Jennifer at 863-692-0906 during business hours or send us a check to leave a deposit; the latter is preferred. If by check, please make out to "Arthur Morris" and mail it to: Arthur Morris/BIRDS AS ART, PO Box 7245, Indian Lake Estates, FL, 33855. If you have any questions, please feel free to contact us via e-mail: artie or denise.
Travel Insurance Services offers a variety of plans and options. Included with the Elite Option or available as an upgrade to the Basic & Plus Options. You can also purchase Cancel for Any Reason Coverage that expands the list of reasons for your canceling to include things such as sudden work or family obligation and even a simple change of mind. You can learn more here: Travel Insurance Services. Do note that many plans require that you purchase your travel insurance within 14 days of our cashing your deposit check. Whenever purchasing travel insurance be sure to read the fine print carefully even when dealing with reputable firms like TSI.
Please Remember to use our Affiliate Links 🙂
To show your appreciation for my continuing efforts here, we ask, as always, that you get in the habit of using my B&H affiliate links on the right side of the blog for all of your photo and electronics purchases. Please check the availability of all photographic accessories in the BIRDS AS ART Online Store, especially the Mongoose M3.6 tripod heads, Induro tripods and ballheads, Wimberley heads and plates, LensCoats and accessories, and the like. We sell only what I have used, have tested, and can depend on. We will not sell you junk. We know what you need to make creating great images easy and fun. And we are always glad to answer your gear questions via e-mail.
I would of course appreciate your using our B&H affiliate links for all of your major gear, video, and electronic purchases. For the photographic stuff mentioned in the paragraph above we, meaning BAA, would of course greatly appreciate your business. Here is a huge thank you to the many who have been using our links on a regular basis and visiting the BAA Online store as well.
I would of course appreciate your using our B&H affiliate links for all of your major gear, video, and electronic purchases. For the photographic stuff mentioned in the paragraph above we, meaning BAA, would of course greatly appreciate your business. Here is a huge thank you to the many who have been using our links on a regular basis and visiting the BAA Online store as well.
Facebook
Be sure to like and follow BAA on Facebook by clicking on the logo link upper right. Tanks a stack!
Typos
In all blog posts and Bulletins, feel free to e-mail or to leave a comment regarding any typos or errors. Just be right 🙂