What's Up?
I worked on the images for this blog post on Tuesday evening and am working on the blog post itself early on Wednesday morning on the way back to ILE. Lou Newman's exhibit opening was great fun. And he had lots of great new images. Several folks photographed my Pribilofs' pants and promised to send a few images. Time will tell. Our morning boat trip to some of the rookery islands in Sarasota Bay was cancelled due to lightning and related nasty weather.
Tuesday was my best day since the surgery and last night I had my best night's sleep in ages. Things are starting to look very good…
The Streak
Today's blog post marks 181 days in a row with a new educational blog post. As always-–and folks have been doing a really great job recently–-please remember to use our B&H links for your major gear purchases. For best results use one of our many product-specific links; after clicking on one of those you can continue shopping with all subsequent purchases invisibly tracked to BAA. Your doing so is always greatly appreciated. Please remember: web orders only. Please remember that if you are shopping for items that we carry in the BAA Online Store (as noted in red at the close of this post below) we would appreciate your business.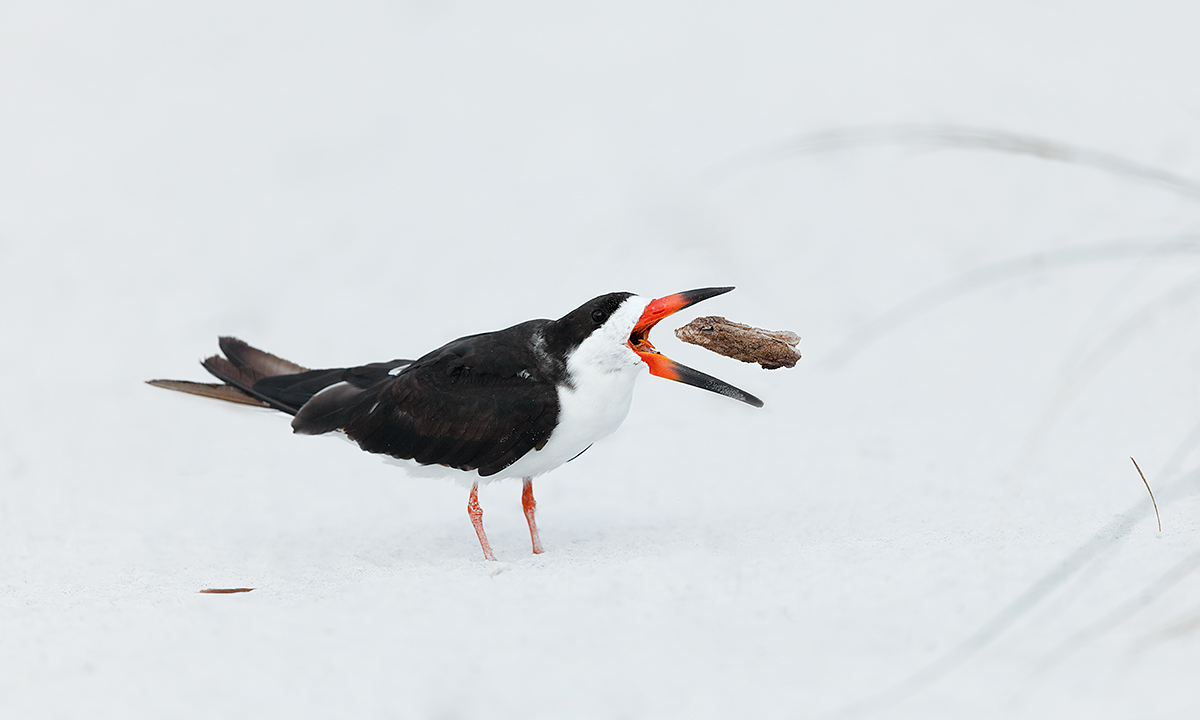 This image was created on a beach west of Sarasota, FL with the Induro GIT 304L/Mongoose M3.6-mounted
Canon EF 600mm f/4L IS II USM lens and the mega mega-pixel Canon EOS 5DS R. ISO 640. Evaluative metering +1 1/3 stops: 1/1000 sec. at f/4. (Should haven been +2 stops.) Color temperature: Daylight.
I selected a single AF point one row down and one to the left of the center AF point (Manual selection)/AI Servo/Rear Focus AF as originally framed. (The optimized image above is about 75% of the original frame.) That point was active at the moment of exposure. It fell on a spot just below the bottom of the rear cap. Click here to see the latest version of the Rear Focus Tutorial. Click on the image to see a larger version.
Black Skimmer playing with fat stick
Your browser does not support iFrame.
At times I micro-adjust every lens/camera/teleconverter that I own and at times I get lazy. When I purchased my second 5DS R, I did not consistently use one or the other on the same lens; I am often working with the 600 II on a tripod and the 100-400 II on my shoulder. Toward the end of the Namibia trip I noticed that the body I was using with the 600 II rental lens was severely back-focused with the 2X III TC: I micro-adjusted it. It needed -18 to be sharp. After that, all of the images I made with that combo were tack sharp. I will be sharing many of those with you here in the coming weeks.
The whole experience led me to realize that I need to quit being lazy and spend the time micro-adjusting (MA-ing) everything that I own. I am keeping the vertical battery grip on the 5DS R that I use with the 600II and using my other 5DS R for the rest of the lenses. Things will get more complicated when I get my Canon EOS-1D X Mark II with 64GB Card and Reader; I ordered it from B&H on the first day it was announced.
So far I have fine-tuned only the 600 II with the one 5DS R. Today I will MA the 600 II with the TCs. I hope. And I will continue to work on the new LensAlign/Focus Tune tutorial. See the results with the micro-adjusted 600II/5DS R combo below. Learn more about LensAlign/Focus Tune here.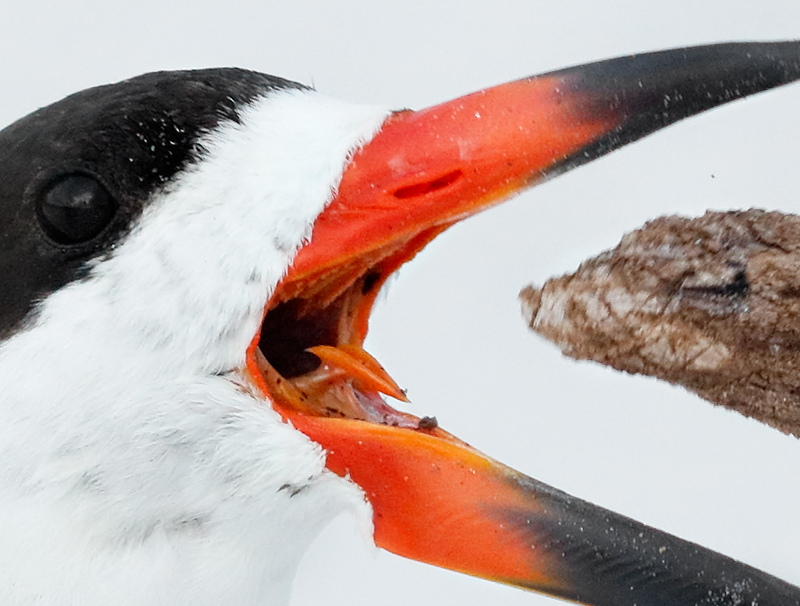 This is an unsharpened tight face crop of today's featured image
Your browser does not support iFrame.
Can Your Camera Do This?
I was thrilled to see that the -3 adjustment for my 600 II/5DS R combo was spot on. I should have mentioned above that MA-ing is more important for folks using high resolution camera bodies than it is for folks using lower resolution bodies; the 5DS R sees your focusing errors in greater detail.
Above, you can get an idea of the incredible fine detail that is possible in a sharply focused MA-ed 5DS R image. Can your camera do that? (Do, however, note the slight motion blur on the stick.)
Image Clean-up/Animated GIF
In the animated GIF above you can compare the before and after versions of today's featured image. I hated the dark brown blob in the upper right of the original; once I eliminated that, I could not stop myself.
After converting the image in DPP 4, I brought the TIFF into Photoshop CC and used my usual cadre of clean-up tools: the Patch Tool, the Spot Healing Brush, the Clone Stamp, and Content Aware Fill. I used a fairly large Quick Mask refined by a Layer Mask to cover the offending large brown blob. Not also that I eliminated the BLUE color cast with a Hue/Saturation adjustment (SAT: -90) of the BLUE channel only.
Too Much Clean-up For You?
Is the image clean-up here too much for you? It was just the right amount for me. Either way, be sure to keep the blog interactive by letting us know your reasons.
Digital Basics
Everything that I did to optimize today's featured image is covered in detail in my Digital Basics File–written in my easy-to-follow, easy-to-understand style. Are you tired of making your images look worse in Photoshop? Digital Basics File is an instructional PDF that is sent via e-mail. It includes my complete digital workflow, dozens of great Photoshop tips, details on using all of my image clean-up tools, the use of Contrast Masks, several different ways of expanding and filling in canvas, all of my time-saving Keyboard Shortcuts, Quick Masking, Layer Masking, and NIK Color Efex Pro basics, the use of Contrast Masks, Digital Eye Doctor techniques, Gaussian Blurs, Dodge and Burn, a variety of ways to make selections, how to create time-saving actions, the Surface Blur settings that I use at times to smooth background noise, and tons more.
APTATS I & II
Learn the details of advanced Quick Masking techniques in APTATS I. Learn Advanced Layer Masking Techniques in APTATS I. Mention this blog post and apply a $5 discount to either with phone orders only. Buy both APTATS I and APTATS II and we will be glad to apply at $15 discount with phone orders. Please call Jim or Jennifer weekdays at 863-221-2372 to take advantage of this special offer. You can find the same deal in the BAA Online Store here.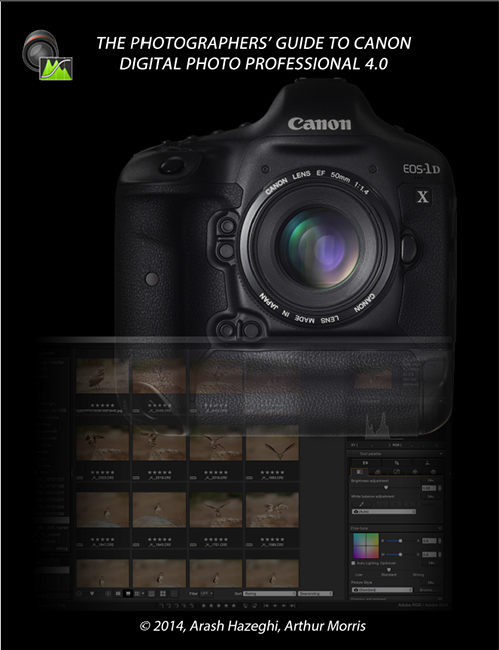 You can order your copy of "The Photographers' Guide to Canon Digital Photo Professional 4.0" (aka the DPP 4 Raw Conversion eGuide) by Arash Hazeghi and Arthur Morris by clicking here.
The DPP 4 eGuide (PDF)
The RAW file for today's image was of course converted in DPP 4. Learn how and why I and many other discerning photographers choose and use only DPP 4 to convert their Canon RAW files in the DPP 4 RAW Conversion Guide by Arash Hazeghi and yours truly. The latest version supports all of the newer Canon camera bodies and several older models including the EOS-7D and the EOS-1D Mark IV. The DPP IV Guide is the ideal companion to the 7D Mark II User's Guide, a runaway best seller.
The DPP 4 eGuide (PDF) Updated for 1D Mark IV and the original 7D
The DPP 4 eGuide was recently updated to include the luminance and chrominance noise reduction values for both the 1D Mark IV and the original 7D. If you purchased your copy from BAA please e-mail Jim and request the DPP 4 1d IV/7D update. Please be sure to cut and paste page 1 into your e-mail as proof of purchase.
Please Remember to use our Affiliate Links 🙂
To show your appreciation for my continuing efforts here, we ask, as always, that you get in the habit of using my B&H affiliate links on the right side of the blog for all of your photo and electronics purchases. Please check the availability of all photographic accessories in the BIRDS AS ART Online Store, especially the Mongoose M3.6 tripod heads, Induro tripods and ballheads, Wimberley heads and plates, LensCoats and accessories, and the like. We sell only what I have used, have tested, and can depend on. We will not sell you junk. We know what you need to make creating great images easy and fun. And we are always glad to answer your gear questions via e-mail.
I would of course appreciate your using our B&H affiliate links for all of your major gear, video, and electronic purchases. For the photographic stuff mentioned in the paragraph above we, meaning BAA, would of course greatly appreciate your business. Here is a huge thank you to the many who have been using our links on a regular basis and visiting the BAA Online store as well.
I would of course appreciate your using our B&H affiliate links for all of your major gear, video, and electronic purchases. For the photographic stuff mentioned in the paragraph above we, meaning BAA, would of course greatly appreciate your business. Here is a huge thank you to the many who have been using our links on a regular basis and visiting the BAA Online store as well.
Facebook
Be sure to like and follow BAA on Facebook by clicking on the logo link upper right. Tanks a stack!
Typos
In all blog posts and Bulletins, feel free to e-mail or to leave a comment regarding any typos or errors. Just be right 🙂