What's Up
Apologies. This blog post was published at 3:30am on the morning of Friday, May 13, 2016 with grievous errors in the image caption. As of 9:42am, those errors have been corrected. We have been enjoying consistently great afternoon sessions on the Fort Desoto IPT and finally had a great morning shoot today, Friday the 13th 🙂
The Streak
Today's blog post marks 189 days in a row with a new educational blog post, dozens of new topics to cover, and no end in sight until my big South America trip next fall. As always-–and folks have been doing a really great job recently–-please remember to use our B&H links for your major gear purchases. For best results use one of our many product-specific links; after clicking on one of those you can continue shopping with all subsequent purchases invisibly tracked to BAA. Your doing so is always greatly appreciated. Please remember: web orders only. Please remember that if you are shopping for items that we carry in the BAA Online Store (as noted in red at the close of this post below) we would appreciate your business.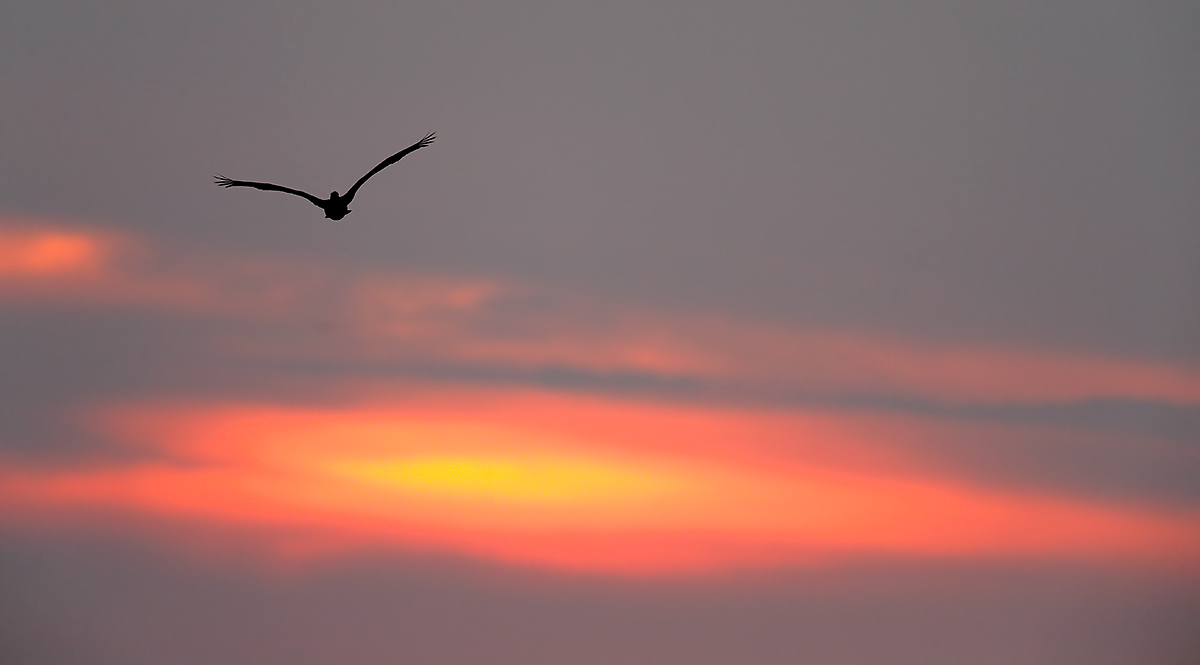 This image was created on the Fort DeSoto IPT with the hand held Canon EF 600mm f/4L IS II USM lens, the Canon Extender EF 1.4X III, and the Canon EOS-1D X Mark II with a 64GB Card and Reader ISO 1000. Evaluative metering +1/3 stop: 1/500 sec. at f/5.6.
65-Point Automatic Selection/AI Servo/Shutter Button AF as framed was active at the moment of exposure (as is always best when hand holding). The system selected a single AF point the fell squarely on the bird, one row up and four to the left of the center AF point. Click on the image to see a larger version.
Brown Pelican at sunrise
Your browser does not support iFrame.
1DX II Automatic Selection AF at Sunrise…
Though it looked as if it were going to be a totally overcast morning, there was a small pink hole in the clouds in the predawn that got pretty red just after sunrise. And there were more than a few pelicans flying around in the eastern sky. I let the group know that the best images would contain the nice patch of colored sky and a pelican. And that the best way to come up with a pleasing composition would be to use the Automatic Selection AF mode on their Canon cameras or the Nikon equivalent. That would be 61- or 65-point on the newer Canon camera bodies. So I did as I said and it worked out quite nicely with the pelican positioned well off center and the color nicely framed.
Tripod Question
Can anyone figure out why I was hand holding the 600 II with the 1.4X III TC in relatively low light rather than working on my Induro tripod?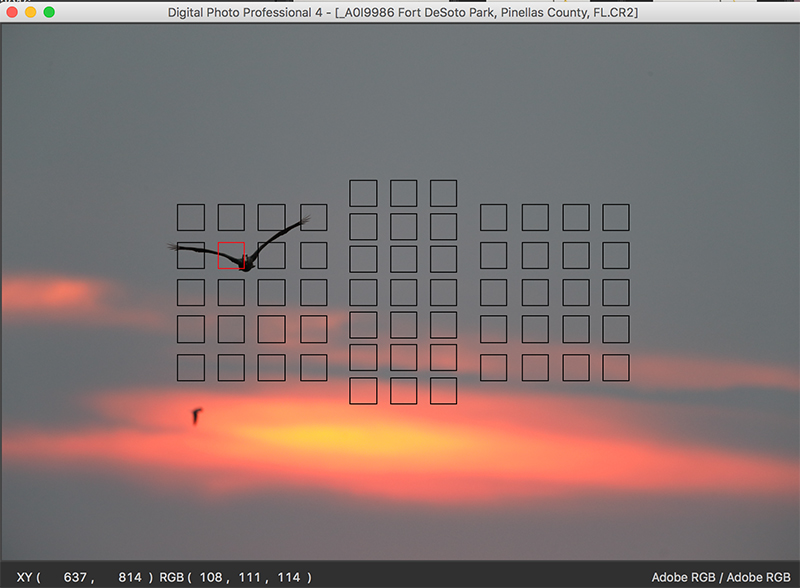 DPP 4 Screen Capture
DPP 4 Screen Capture
In the DPP 4 screen capture above, the illuminated red AF point shows that the system worked perfectly and in doing so, allowed me to put the pelican well to one side of the frame. As with the 5DS R, I have found that Automatic Selection AF performs superbly in all but very low contrast situations…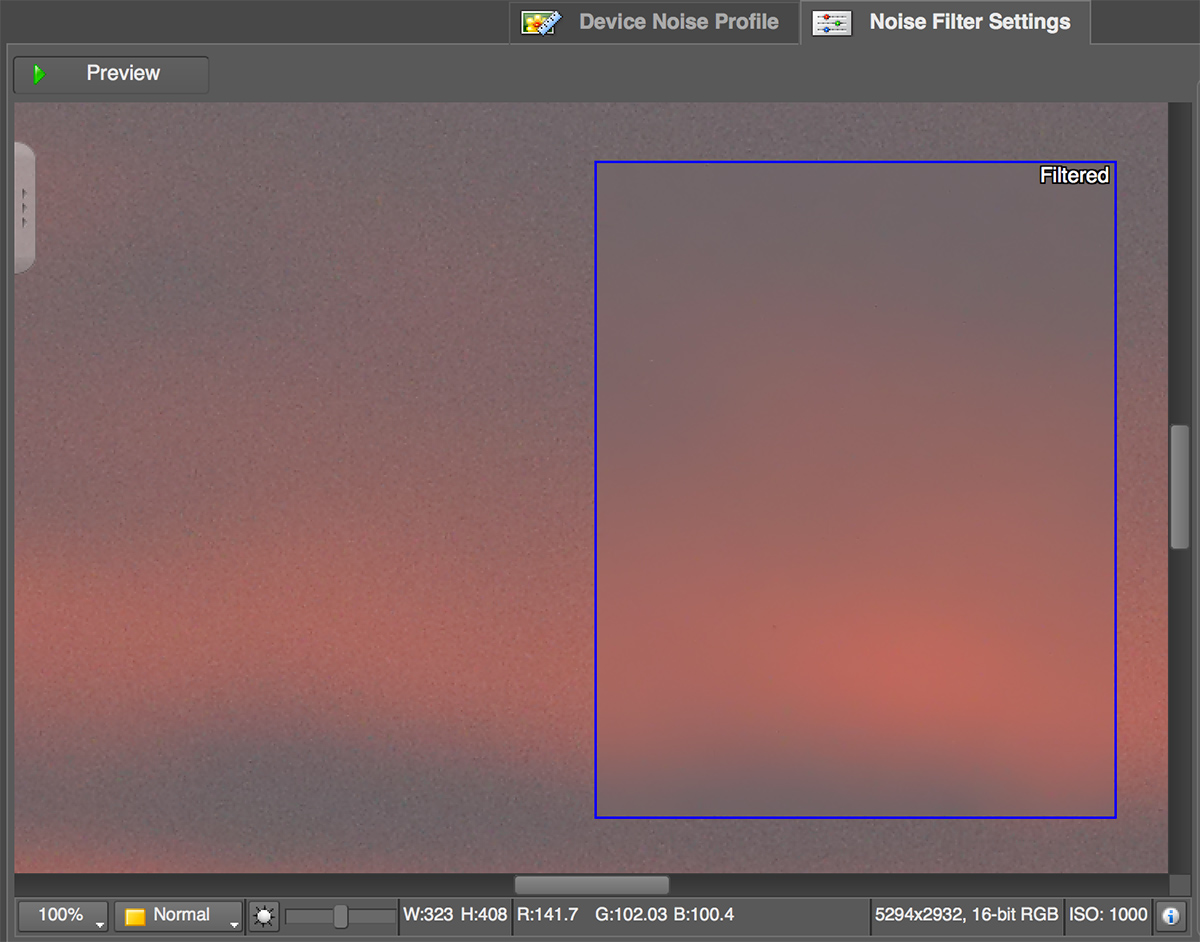 Neat Image Noise Reduction
Neat Image Noise Reduction
Because the RAW file was about a stop underexposed from ideal, the image showed a good deal of background noise. As noise on the jet-black subject was not a concern, I created a Neat Image noise profile for this specific image and was able to apply it to the entire photograph. The area inside the blue box above shows the noise completely eliminated. The area outside the blue box shows the original sky after conversion in DPP 4. As you can see, the improvement is huge.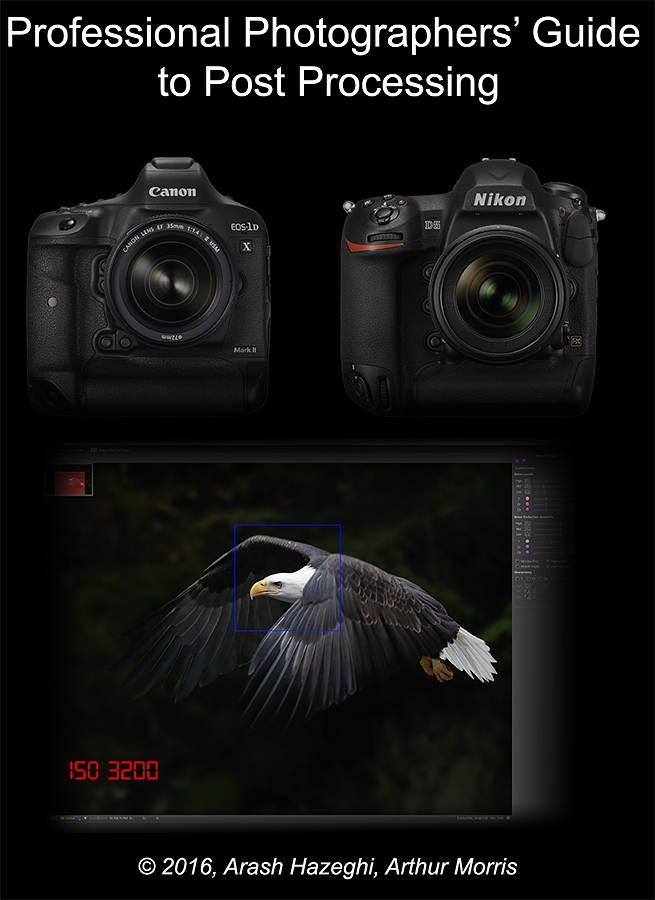 The Professional Photographers' Guide to Post-Processing by Arash Hazaghi with Arthur Morris
You can order your copy here
If you are ever at all concerned with noise in your optimized images this new e-guide will astound you.
The Professional Photographers' Guide to Post-Processing: $48.
Your e-book (11mb) will be delivered either by e-mail or by Hightail (for download).
Arash's Take on the guide…
In recent years, advances in CMOS image sensor technology have enabled DSLR cameras to capture detailed, high-quality images at very high ISO settings; this has taken low-light and action photography to a whole new level. To make the most out of your camera's high ISO performance, proper post-processing, including advanced noise reduction and efficient sharpening, is essential. The first step in effective post-processing is executing an optimal RAW conversion that produces a TIFF file that is clean, free of artifacts, and detailed, without too much sharpening or strong noise reduction. For Canon users, we recommend converting your RAW images in Canon Digital Photo Professional 4 (DPP 4). We cover exactly how to do that in the DPP 4 RAW Conversion Guide. This new supplemental guide deals with the post-RAW conversion processing of your TIFF files for final presentation.
In order to use this guide, you need Adobe Photoshop (CS4 or later) as well as the Neat Image noise reduction plugin for Photoshop. This plugin can be downloaded here. We recommend the pro version. You will need an up-to-date PC or Mac computer to process your files. A modern quad-core processor (Intel i7 or Xeon) with at least 16GB of RAM and a fast SSD drive for running Photoshop is recommended. It is best to do your image processing on a high quality IPS LCD panel capable of displaying Adobe RGB color gamut. We recommend calibrating your screen using a hardware color calibration solution such as Spyder or Xrite. The consumer LCD screens used in many laptops and low-end desktops suffer from poor contrast ratios and a limited color gamut. Images processed on inferior screens may appear noisy, too dark, too bright, or unsharp. And they will often show a color cast when viewed on a high quality monitor that has been properly calibrated.
Artie's Take on the guide…
This guide is for serious photographers who wish to maximize the quality of their optimized, noise reduced files and who want to learn to sharpen their images after they are sized for a final usage. The emphasis is on sharpening for electronic presentation. The guide includes the brilliant techniques that Arash developed for applying just the right amount of NR to the subject (while retaining all the fine detail) and then applying a lot more NR to the background where it is almost always needed. His efforts were refined by Arthur Morris to ensure that the guide is clear, concise, easy-to-read, and easy to-easy-to-follow; artie's great strength is his how-to writing. He has used Arash's brilliant NR and sharpening techniques on his 15 inch Macbook Pro with Retina Display with great success.
You can order your copy here.
The first guides should be sent out on Monday, April 11, 2016.
Important Note
The entire guide is based on the remarkable Pro Version of NeatImage. Only the Pro Version supports 16-bit files. This Photoshop Plug-in requires a separate $79.95 purchase. Why NeatImage when there are so many other Noise Reduction programs available?
When someone asked about Topaz Denoise on the blog I got in touch with Arash. Here was his response:
It cannot calibrate the noise levels. I tried it. It was garbage.
Best
Arash Hazeghi Ph.D.
To which I added:
In the guide, we teach folks to calibrate noise levels for an image or series of images. As an option, also covered in the guide, we teach you to create a Noise Profile for each ISO with a given camera by photographing a NeatImage calibration target.
Arash continued the next day; this published here for the first time:
Here is a more elaborate answer. A preset is a "one size fit all" solution; it is not the same as a calibration. If you look carefully through your images you will find that the ISO value used and the amount of visible noise in the image aren't always correlated. An image at ISO 400 can look noisier than an image taken at ISO 3200. Many factors other than the ISO determine the amount of visible noise in an image. Two images taken at the same ISO may require significantly different amounts of NR. Furthermore, different areas of the same image often require different amounts of noise reduction.
The presets are made by looking at the noise characteristics of a flat neutral or 18% grey target with no detail. They don't include shadows, highlights, grain size, or the possibility of the effects of post-capture exposure boosts. (In other words, images made at a given ISO that are lightened during or after conversion will always exhibit more noise than properly exposed images.) The presets are often made using in-camera JPEGs that have been already noise-reduced, sharpened, and compressed thus smearing (destroying) the fine feather detail. Sometimes they are made from ACR RAW conversions that are vastly inferior as compared to properly executed DPP 4 RAW conversions.
A calibrated noise profile is created for each image in its present form independent of the ISO value, the exposure levels, or the RAW convertor. It makes no assumptions. NeatImage NR calibrations can be compared to purchasing a hand-crafted, custom-tailored suit versus buying a suit off the rack at WalMart. In engineering terms, NeatImage calculates the noise spectrum for each image and then with proper adjustment attenuates only the frequencies that don't overlap with the detail. Other NR tools like Topaz, Nik etc. apply constant attenuation regardless of what the spectrum looks like. Try the guide and see for yourself.
You can learn more about NeatImage or purchase a copy here. NeatImage does offer a demo version.
IPT Similarities
The Fort DeSoto and the Nickerson Beach IPTs have a lot in common. Lots of birds, lots of sand, and lots of learning. The big difference is that there are lots more flight opportunities at Nickerson: hovering terns, birds landing at the nest, and with luck and the right morning winds, skimmers skimming.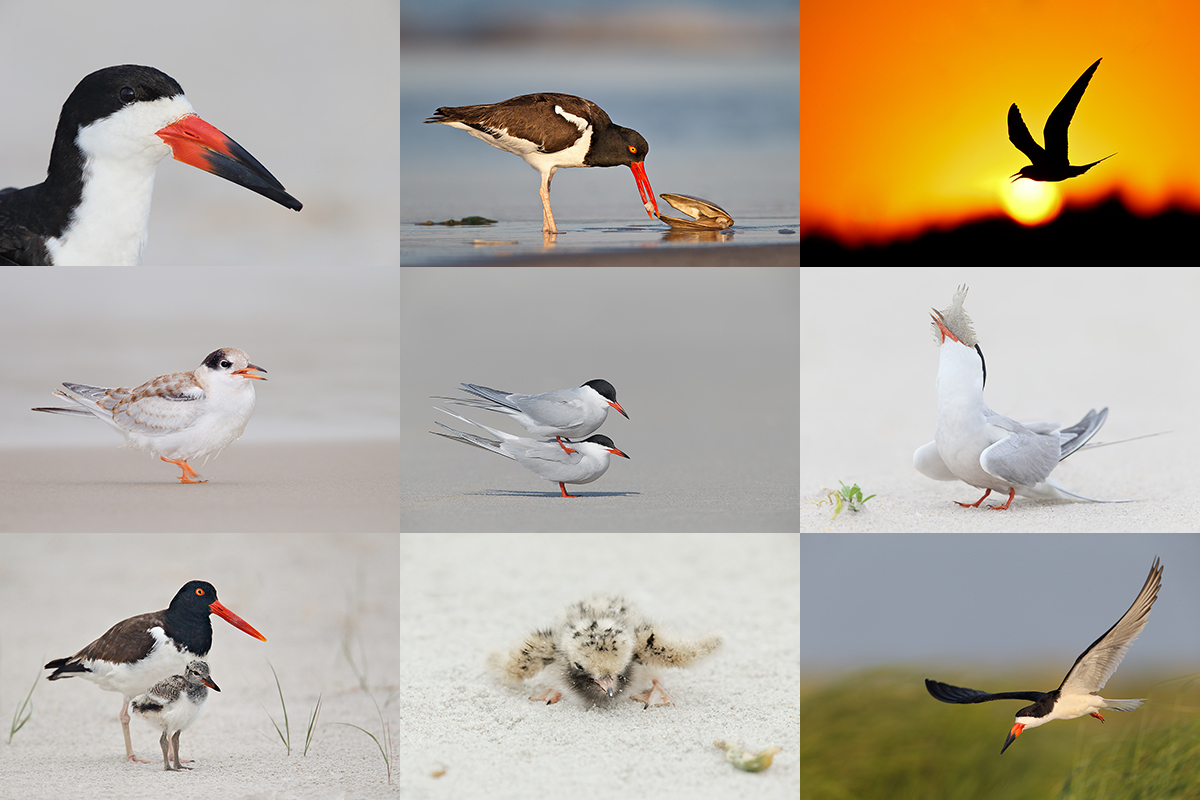 From upper left clockwise to center: Black Skimmer head portrait, American Oystercatcher dining on surf clam flesh, Common Tern at sunset, Common Tern adult swallowing flatfish, Black Skimmer in flight, newborn Common Tern chick, American Oystercatcher with chick, fresh juvenile Common Tern (with fill flash), and Common Terns copulating.
Nickerson Beach Terns/Skimmers/Oystercatchers Instructional Photo-Tour (IPT): July 18-22, 2016. 4 1/2 DAYS: $1899. Limit 10/Openings 8.
Meet and greet at 3pm on the afternoon of Monday, July 18. Limit 10.
The primary subject species of this IPT will be the nesting Common Terns. The trip is timed so that we will get to photograph tiny chicks as well as fledglings. There will be lots of flight photography including adults flying with baitfish. Creating great images of the chicks being fed is a huge challenge. In addition to the terns we will get to photograph lots of Black Skimmers courting, setting up their nesting territories, and in flight (both singles and large pre-dawn flocks blasting off). Midair battles are guaranteed on sunny afternoons. And with luck, we might even see a few tiny chicks toward the end of the trip. We will also get to photograph the life cycle of American Oystercatcher. This will likely include nests with eggs and tiny chicks, young being fed, and possibly a few fledglings.
Nesting Piping Plover is also possibly. There will be lots of gulls to photograph; most years I am able to find a few Lesser Black-backed Gulls of varying ages in addition to the Herring, Ring-billed, and Great Black-backed Gulls. You will learn to identify and age the various gull species. There will likely be some Willets feeding along the surf and with luck we might get to photograph a handsome juvenile or two. In addition to the locally breeding shorebirds, we will likely get to see some southbound migrant arctic-and sub-arctic breeding shorebird species such as Sanderling, Semipalmated Plover, and maybe even Red Knot.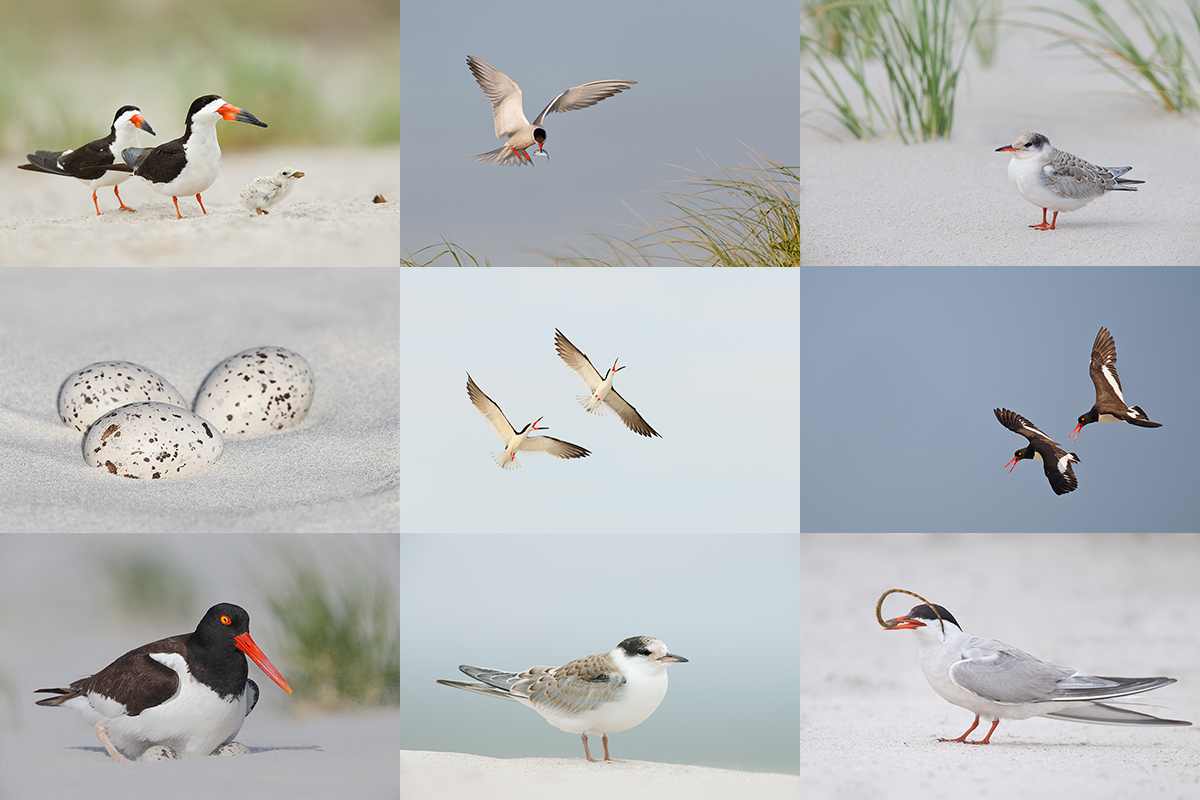 From upper left clockwise to center: Black Skimmers with tiny chick, Common Tern landing with baitfish for young, fledged Common Tern chick in dunes, American Oystercatchers/display flight, adult Common Tern with pipefish for chick, Common Tern fledgling in soft light, American Oystercatcher on nest with eggs, American Oystercatcher 3-egg clutch, battling Black Skimmers.
The IPT Logistics
The tour will begin with a meet and greet on the afternoon of Monday, July 18, 2016. That will be followed by our first shooting session at the beach. From Tuesday through and including all of Friday we will have two photography sessions daily. Our morning sessions will start very early so that we are on the beach well before sunrise. We usually photograph for about four hours. Then we will enjoy a group brunch. We will always have a midday break that will include a nap for me. That followed by our daily afternoon classroom sessions that will include image review, workflow and Photoshop, and a review/critique of five of your trip images. Folks are always invited to bring their laptops to brunch for image sharing. I always have mine with me but heck, I am a big show-off. Afternoon in-the-field sessions generally run from 5pm through sunset.
Breakfasts are grab what you can. Four brunches are included. Dinners (if at all) will be on your own as we will often get back to the hotel at about 9pm. There is a fridge in every room and a supermarket within walking distance of the hotel so nobody should starve. You will learn a ton during the nine shooting sessions, the four in-classroom sessions, and even at lunch. Early morning and late afternoon parking is free. If we want to head back to the beach early we will need to arrange tight carpools and share the $30/vehicle parking fee. Non-photographer spouses, friends, or companions are welcome for $100/day, $450 for the whole IPT.
Save a space by calling Jim or Jen at the office at 863-692-0906 and arranging to leave your deposit of $599–credit cards are accepted for deposits only. Your balance will be due on April 18, 2016. I hope that you can join me for what will be an exciting and educational IPT.
Please Remember to use our Affiliate Links 🙂
To show your appreciation for my continuing efforts here, we ask, as always, that you get in the habit of using my B&H affiliate links on the right side of the blog for all of your photo and electronics purchases. Please check the availability of all photographic accessories in the BIRDS AS ART Online Store, especially the Mongoose M3.6 tripod heads, Induro tripods and ballheads, Wimberley heads and plates, LensCoats and accessories, and the like. We sell only what I have used, have tested, and can depend on. We will not sell you junk. We know what you need to make creating great images easy and fun. And we are always glad to answer your gear questions via e-mail.
I would of course appreciate your using our B&H affiliate links for all of your major gear, video, and electronic purchases. For the photographic stuff mentioned in the paragraph above we, meaning BAA, would of course greatly appreciate your business. Here is a huge thank you to the many who have been using our links on a regular basis and visiting the BAA Online store as well.
I would of course appreciate your using our B&H affiliate links for all of your major gear, video, and electronic purchases. For the photographic stuff mentioned in the paragraph above we, meaning BAA, would of course greatly appreciate your business. Here is a huge thank you to the many who have been using our links on a regular basis and visiting the BAA Online store as well.
Facebook
Be sure to like and follow BAA on Facebook by clicking on the logo link upper right. Tanks a stack!
Typos
In all blog posts and Bulletins, feel free to e-mail or to leave a comment regarding any typos or errors. Just be right 🙂