What's Up
Saturday was a much appreciated lazy day. I was out early in the morning and enjoyed sitting behind my lowered tripod in six inches of water photographing a variety of shorebirds. It is Saturday afternoon as I type; I will head back out at about 4:30pm in hopes that the newly found spectacle will continue.
If you own the Fort DeSoto Site Guide–or if you purchase it on Monday–and send me an e-mail that includes a cut and paste of the first page of the guide, I will be glad to let you know the details of the currently hot location. It has been amazing but I am not sure how much longer the action will continue.
The Streak
Today's blog post marks 191 days in a row with a new educational blog post, dozens of new topics to cover, and no end in sight until my big South America trip next fall. As always-–and folks have been doing a really great job recently–-please remember to use our B&H links for your major gear purchases. For best results use one of our many product-specific links; after clicking on one of those you can continue shopping with all subsequent purchases invisibly tracked to BAA. Your doing so is always greatly appreciated. Please remember: web orders only. Please remember that if you are shopping for items that we carry in the BAA Online Store (as noted in red at the close of this post below) we would appreciate your business.
Selling Your Used Gear Through BIRDS AS ART
Selling your used (or like-new) photo gear through the BAA Blog or via a BAA Online Bulletin is a great idea. We charge only a 5% commission. One of the more popular used gear for sale sites charges a minimum of 20%. Plus assorted fees! Yikes. The minimum item price here is $500 (or less for a $25 fee). If you are interested please e-mail with the words Items for Sale Info Request cut and pasted into the Subject line :). Stuff that is priced fairly–I offer free pricing advice, usually sells in no time flat. In the past few months, we have sold just about everything in sight. Do know that prices on some items like the EOS-1D Mark IV, the old Canon 500mm, the EOS-7D, and the original 400mm IS DO lens have been dropping steadily. You can see all current listings by clicking here or by clicking on the Used Photo Gear tab on the yellow-orange tab on the right side of the menu bar above.
IPT veteran Carolyn Peterson sold her Canon EOS 5D Mark III DSLR camera body in excellent condition for $1,549 in early May.
New Listing
Canon EF 500mm f/4L IS USM Lens, the "old five"
Walt Novinger is offering a used Canon EF 500mm f/4L IS USM lens in very good plus condition for $3,899. The glass and lens body are perfect with wear showing only on the lens foot. The sale includes the lens trunk, the front leather hood, the rear lens cap, and insured ground shipping within the continental US. Will deliver within 100 miles of San Diego, CA. The lens will be shipped only after your check clears unless other arrangements are made.
Interested folks can contact Walt via e-mail or by phone at 442-222-4081. (Pacific Time Zone).
I owned and used this lens for well more than a decade before upgrading to the 500 II. Lenses of this versatile focal length have long been the world's most popular super-telephoto lenses. artie
How We Found the Feeding Aggregation
My good friend Tom Pfeifer from Long Island is staying in Clearwater with wife Carleen to attend a family wedding this weekend. I invited Tom to meet the IPT group and photograph with us on Thursday afternoon. I gave him perfect directions but fortunately, he got lost. When he had not showed up by 5:30pm, I called his cell. He had turned right too soon and wound up at a spot that I had rarely visited. But he found dozens of pelicans and Sandwich Terns diving on bait. Not too far from shore. I rounded up the group and we enjoyed three great afternoons of flight and action photography… Talk about serendipity.
The Biology of the Situation
The pelicans dive for small baitfish. When they come up, they squeeze the water out of their bill pouches. More than a few small fish escape with the expelled water. The Laughing Gulls routinely land on the pelican's head so that they are in good position to snatch a free meal or two. And the terns will often dive within inches of the pelican's heads to do the same. Kleptoparasitism at its finest. (Learn more here.)
1200mm Flight and Action with the 1DX Mark II
While I was having fun photographing the Laughing Gulls landing atop the pelican's heads I really did not expect any great results. But when I saw the images on my Apple 15.4″ MacBook Pro with Retina Display I was astounded. Most of the images were tack sharp. I had even messed around photographing single birds in flight and again I was shocked by how sharp some of those were.
Why Flight and Action Success at 1200mm?
Three reasons:
#1: 1DX Mark II AF is far faster (in terms of initial focusing acquisition) and surer and more accurate by far than with any previous Canon camera body.
#2: At +4 micro-adjustemt, this combination–the 600 II, 2X III TC, & 1DX Mark II–has been perfectly LensAligned/FocusTuned.
#3: I used an advanced pro technique that involves the Lens Drive When AF impossible setting. This technique is covered in detail in all recent Camera User's Guides including the 1DX AF Guide, the 5D Mark III User's Guide, and the 7D Mark II User's Guide. With all of the action at relatively consistent distances from the lens, this trick really helped. Note that the info on this feature in the Canon camera manuals and the info that is available on the camera itself is 100% confusing. Doubt me? Try to figure it out yourself.
Lens Drive When AF Impossible Guide Offer
If you are one of those rare photographers who shoots Canon and does not own one of the Camera User's Guides mentioned above and would like to learn this very specialized technique, you can send us a Paypal for $10 to birdsasart@verizon.net with the words Lens Drive When AF Impossible Guide cut and pasted into the Subject Line and I promise to get you the info by Tuesday, May 31, 2016. Folks who do not use Paypal are invited to call Jim at 863-692-0906 with a credit card in hand to order.
The 1D X II
If what you read today on the blog inspires you to purchase a Canon EOS-1D X Mark II DSLR Camera Premium Kit with 64GB Card and Reader please use the active link or click on the logo-link above. Doing so will be greatly appreciated. Many who used our link right off the bat already have their 1DX Mark IIs.
IPT Similarities
The Fort DeSoto and the Nickerson Beach IPTs have a lot in common. Lots of birds, lots of sand, and lots of learning. The big difference is that there are lots more flight opportunities at Nickerson: hovering terns, birds landing at the nest, and with luck and the right morning winds, skimmers skimming.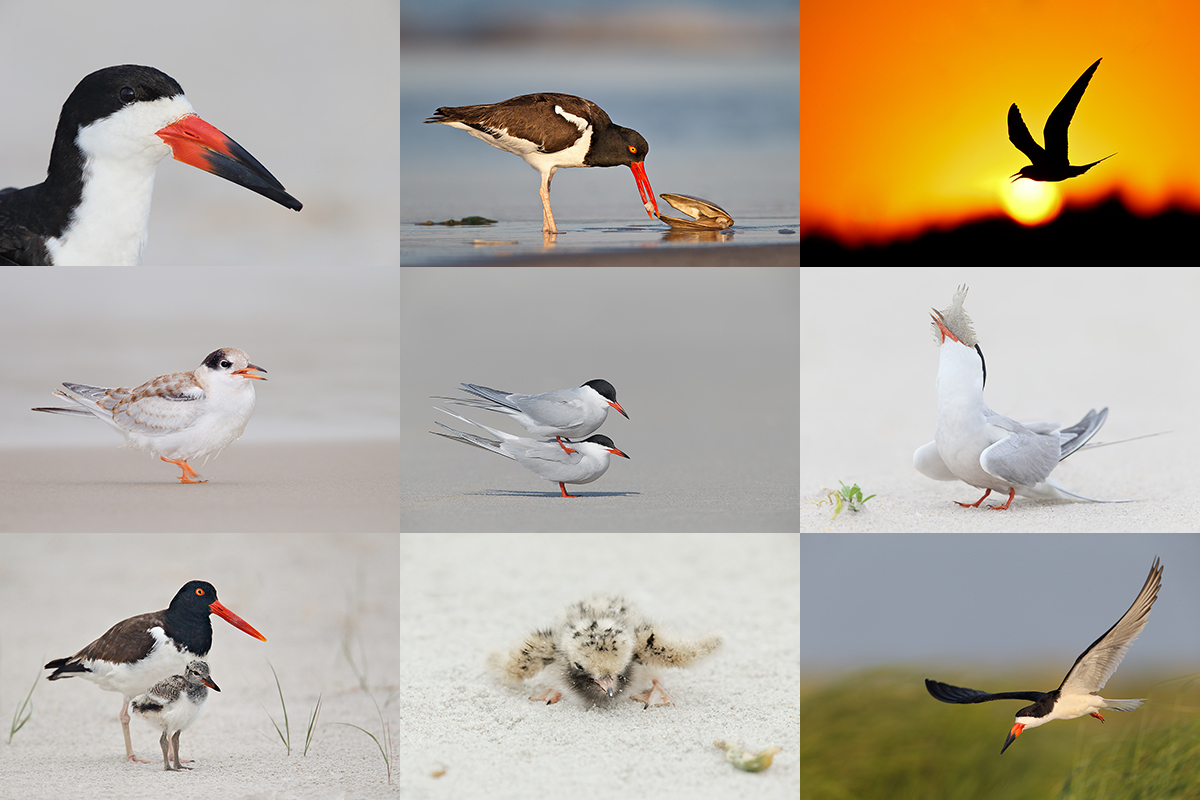 From upper left clockwise to center: Black Skimmer head portrait, American Oystercatcher dining on surf clam flesh, Common Tern at sunset, Common Tern adult swallowing flatfish, Black Skimmer in flight, newborn Common Tern chick, American Oystercatcher with chick, fresh juvenile Common Tern (with fill flash), and Common Terns copulating.
Nickerson Beach Terns/Skimmers/Oystercatchers Instructional Photo-Tour (IPT): July 18-22, 2016. 4 1/2 DAYS: $1899. Limit 10/Openings 8.
Meet and greet at 3pm on the afternoon of Monday, July 18. Limit 10.
The primary subject species of this IPT will be the nesting Common Terns. The trip is timed so that we will get to photograph tiny chicks as well as fledglings. There will be lots of flight photography including adults flying with baitfish. Creating great images of the chicks being fed is a huge challenge. In addition to the terns we will get to photograph lots of Black Skimmers courting, setting up their nesting territories, and in flight (both singles and large pre-dawn flocks blasting off). Midair battles are guaranteed on sunny afternoons. And with luck, we might even see a few tiny chicks toward the end of the trip. We will also get to photograph the life cycle of American Oystercatcher. This will likely include nests with eggs and tiny chicks, young being fed, and possibly a few fledglings.
Nesting Piping Plover is also possibly. There will be lots of gulls to photograph; most years I am able to find a few Lesser Black-backed Gulls of varying ages in addition to the Herring, Ring-billed, and Great Black-backed Gulls. You will learn to identify and age the various gull species. There will likely be some Willets feeding along the surf and with luck we might get to photograph a handsome juvenile or two. In addition to the locally breeding shorebirds, we will likely get to see some southbound migrant arctic-and sub-arctic breeding shorebird species such as Sanderling, Semipalmated Plover, and maybe even Red Knot.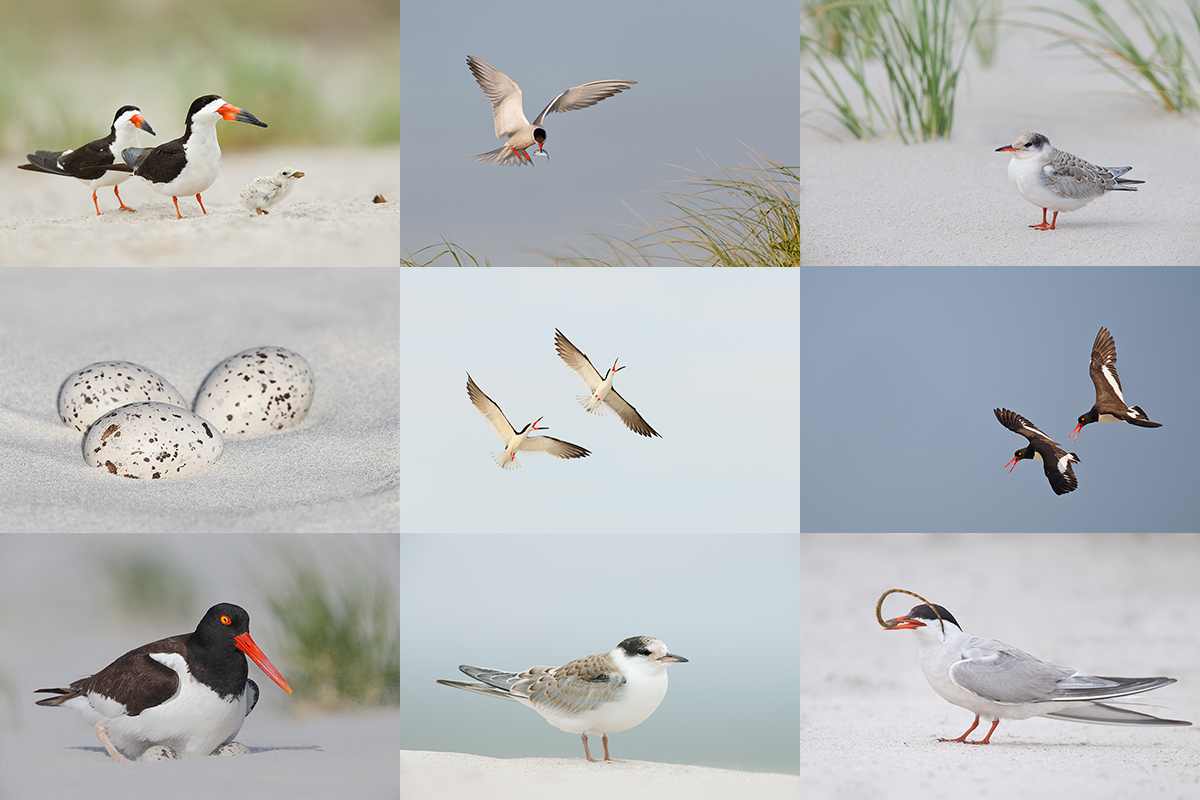 From upper left clockwise to center: Black Skimmers with tiny chick, Common Tern landing with baitfish for young, fledged Common Tern chick in dunes, American Oystercatchers/display flight, adult Common Tern with pipefish for chick, Common Tern fledgling in soft light, American Oystercatcher on nest with eggs, American Oystercatcher 3-egg clutch, battling Black Skimmers.
The IPT Logistics
The tour will begin with a meet and greet on the afternoon of Monday, July 18, 2016. That will be followed by our first shooting session at the beach. From Tuesday through and including all of Friday we will have two photography sessions daily. Our morning sessions will start very early so that we are on the beach well before sunrise. We usually photograph for about four hours. Then we will enjoy a group brunch. We will always have a midday break that will include a nap for me. That followed by our daily afternoon classroom sessions that will include image review, workflow and Photoshop, and a review/critique of five of your trip images. Folks are always invited to bring their laptops to brunch for image sharing. I always have mine with me but heck, I am a big show-off. Afternoon in-the-field sessions generally run from 5pm through sunset.
Breakfasts are grab what you can. Four brunches are included. Dinners (if at all) will be on your own as we will often get back to the hotel at about 9pm. There is a fridge in every room and a supermarket within walking distance of the hotel so nobody should starve. You will learn a ton during the nine shooting sessions, the four in-classroom sessions, and even at lunch. Early morning and late afternoon parking is free. If we want to head back to the beach early we will need to arrange tight carpools and share the $30/vehicle parking fee. Non-photographer spouses, friends, or companions are welcome for $100/day, $450 for the whole IPT.
Save a space by calling Jim or Jen at the office at 863-692-0906 and arranging to leave your deposit of $599–credit cards are accepted for deposits only. Your balance will be due on April 18, 2016. I hope that you can join me for what will be an exciting and educational IPT.
Please Remember to use our Affiliate Links 🙂
To show your appreciation for my continuing efforts here, we ask, as always, that you get in the habit of using my B&H affiliate links on the right side of the blog for all of your photo and electronics purchases. Please check the availability of all photographic accessories in the BIRDS AS ART Online Store, especially the Mongoose M3.6 tripod heads, Induro tripods and ballheads, Wimberley heads and plates, LensCoats and accessories, and the like. We sell only what I have used, have tested, and can depend on. We will not sell you junk. We know what you need to make creating great images easy and fun. And we are always glad to answer your gear questions via e-mail.
I would of course appreciate your using our B&H affiliate links for all of your major gear, video, and electronic purchases. For the photographic stuff mentioned in the paragraph above we, meaning BAA, would of course greatly appreciate your business. Here is a huge thank you to the many who have been using our links on a regular basis and visiting the BAA Online store as well.
I would of course appreciate your using our B&H affiliate links for all of your major gear, video, and electronic purchases. For the photographic stuff mentioned in the paragraph above we, meaning BAA, would of course greatly appreciate your business. Here is a huge thank you to the many who have been using our links on a regular basis and visiting the BAA Online store as well.
Facebook
Be sure to like and follow BAA on Facebook by clicking on the logo link upper right. Tanks a stack!
Typos
In all blog posts and Bulletins, feel free to e-mail or to leave a comment regarding any typos or errors. Just be right 🙂