What's Up
I spent most of the day on Tuesday catching up on e-mails and Used Gear stuff. I enjoyed a swim and an ice bath. And I started working on my 2015 tax return. Lots more of that today.
I learned yesterday that the sale of Paul Roscoe's Canon EF 600mm f/4L IS II lens in mint condition is pending. See more on Used Gear below.
The Streak
Today's blog post marks 193 days in a row with a new educational blog post, dozens of new topics to cover, and no end in sight until my big South America trip next fall. As always-–and folks have been doing a really great job recently–-please remember to use our B&H links for your major gear purchases. For best results use one of our many product-specific links; after clicking on one of those you can continue shopping with all subsequent purchases invisibly tracked to BAA. Your doing so is always greatly appreciated. Please remember: web orders only. Please remember that if you are shopping for items that we carry in the BAA Online Store (as noted in red at the close of this post below) we would appreciate your business.
Selling Your Used Gear Through BIRDS AS ART
Selling your used (or like-new) photo gear through the BAA Blog or via a BAA Online Bulletin is a great idea. We charge only a 5% commission. One of the more popular used gear for sale sites charges a minimum of 20%. Plus assorted fees! Yikes. The minimum item price here is $500 (or less for a $25 fee). If you are interested please e-mail with the words Items for Sale Info Request cut and pasted into the Subject line :). Stuff that is priced fairly–I offer free pricing advice, usually sells in no time flat. In the past few months, we have sold just about everything in sight. Do know that prices on some items like the EOS-1D Mark IV, the old Canon 500mm, the EOS-7D, the original 400mm IS DO lens, and most recently, the 200-400 with Internal Extender, have been dropping steadily. You can see all current listings by clicking here or by clicking on the Used Photo Gear tab on the yellow-orange tab on the left side of the lower menu bar above.
IPT veteran Carolyn Peterson sold her Canon EOS 5D Mark III DSLR camera body in excellent condition for $1,549 in early May.
New Listings
Canon EF 300mm f/2.8L IS II USM Lens, the "new 300 2.8"
Les Greenberg is offering his Canon EF 300mm f/2.8L IS II lens in mint condition for $4499. The sale includes a Wimberley lens plate, the lens trunk, the rear lens cap, the original leather front lens cover, and insured ground shipping to US addresses only in the original Canon cardboard shipping box. This lens was purchased on 04/03/12 and used less than a dozen times. Your item will not ship until your check clears unless other arrangements are made.
Interested folks can contact Les via e-mail or by phone as follows: 216-571-3636 (cell) or 216-292-7510 (home, after 6:00pm) Eastern time.
I own and use this super-sharp lens for flight and when I want to go light to the beach and hand hold. It is quite versatile as it pairs well with both the 1.4X III and 2X III teleconverters. The new 300 II would make a great super-telephoto lens for someone with a 7D Mark II body… artie
Canon EOS Canon 5D Mark III Camera Body
Les Greenberg is also offering a used Canon 5D Mark III body in excellent condition for $1649 with two great extras. The sale includes the front body cap, the original boxes, one LP-E6 battery, the battery charger, and all the cables and CDs that came in the box. The two big extras are the BG-E11 Battery Pack/Vertical Grip and a Kirk L-bracket. And insured ground shipping to US addresses only.
Interested folks can contact Les via e-mail or by phone as follows: 216-571-3636 (cell) or 216-292-7510 (home, after 6:00pm) Eastern time.
I have owned and used this superb, full frame, 22mp digital body for several years. It was always my first choice for scenic, Urbex, and flower photography until I fell in love with the 5DS R (for a lot more money!). artie
This image was created on the next-to-last afternoon of the Fort DeSoto IPT with the hand held Canon EF 100-400mm f/4.5-5.6L IS II USM lens, the Canon Extender EF 1.4X III (at 390mm) and the Canon EOS-1D X Mark II with Premium Kit: 64GB Card and Reader. ISO 800. Evaluative metering +1/3 stop off the light blue sky: 1/3200 sec. at f/8.
AF Micro-adjustment via LensAlign/Focus Tune: +4. Tutorial coming soon.
Center AF point (Manual selection)/AI Servo Expand/Shutter Button AF as originally framed framed was active at the moment of exposure (as is always best when hand holding). The selected AF point was squarely on the center of the tern's back. (This is a small crop for composition from the left and the top.) Click on the image to see a larger version.
Sandwich Tern diving
Your browser does not support iFrame.
Canon 100-400II + 1.4X III TC + 1DX Mark II for Hand Held Flight/Teacher Learns From Student: Machine Gun Mike Hankes…
The DeSoto IPT group was a pleasure. Mike Hankes, an earnest young man who was eager to learn, attended with his grandfather Randy Cleveland, about as smiling and pleasant a guy as you are likely to meet. Both had started photographing nature about five years ago as a shared common interest. They soon turned to portrait photography, and then–about 6 months ago–got back into wildlife and bird photography. Mike describes himself as an intermediate photographer. As far as bird photography goes, Grandpa Randy describes himself as a beginner. I agree.
We learned from good friend Tom Pfeifer of the huge pelican/Sandwich Tern feeding spree taking place every afternoon. As the group learned a ton and enjoyed the phenomenal action, I noted several things about Mike.
He was using the hand held 100-400 II with the 1.4X III TC and the new 1DX Mark II.
His hand-eye coordination were extraordinary; he was able to get focus on a bird and fire off ten shots to every one or none of mine. He photographed the terns hovering, the terns and pelicans diving, and the terns coming out of the water with a fish.
I had never even considered photographing flight and frantic action with the 1-4 and the 1.4TC, assuming that AF would not be able to acquire focus quickly enough. But that was before the remarkable EOS-1D X Mark II. Inspired by Machine Gun Mike, I tried the combo and was amazed at how quickly and accurately the AF system acquired focus.
Today's featured image was my favorite from that first afternoon. I was much more selective than Mike, waiting for a tern to hover on sun angle at relatively close range. But even then this was extremely difficult photography as the Sandwich Terns rarely hover for more than a second or two. The fun starts when they stall and dive; tracking them in flight is quite a challenge. I wound up with many images with only a bird's head or tail in the frame, and many that featured only blue sky. But as is usually the case, my persistence (rather than my skill) paid off handsomely.
Thanks a stack to Mike Hankes for opening my eyes to the gear possibilities. I will be sharing one of Mike's tern images with you here on the blog soon.
Image Questions
What do you like about today's featured image? What don't you like? What is your favorite part of this image? What do you think is my favorite part?
The 1D X II
If what you read here on the blog today and recently inspires you to purchase a Canon EOS-1D X Mark II DSLR Camera Premium Kit with 64GB Card and Reader please use the active link or click on the logo-link above. Doing so will be greatly appreciated. Many who used our link right off the bat already have their 1DX Mark IIs.
IPT Similarities
The Fort DeSoto and the Nickerson Beach IPTs have a lot in common. Lots of birds, lots of sand, and lots of learning. The big difference is that there are lots more flight opportunities at Nickerson: hovering terns, birds landing at the nest, and with luck and the right morning winds, skimmers skimming.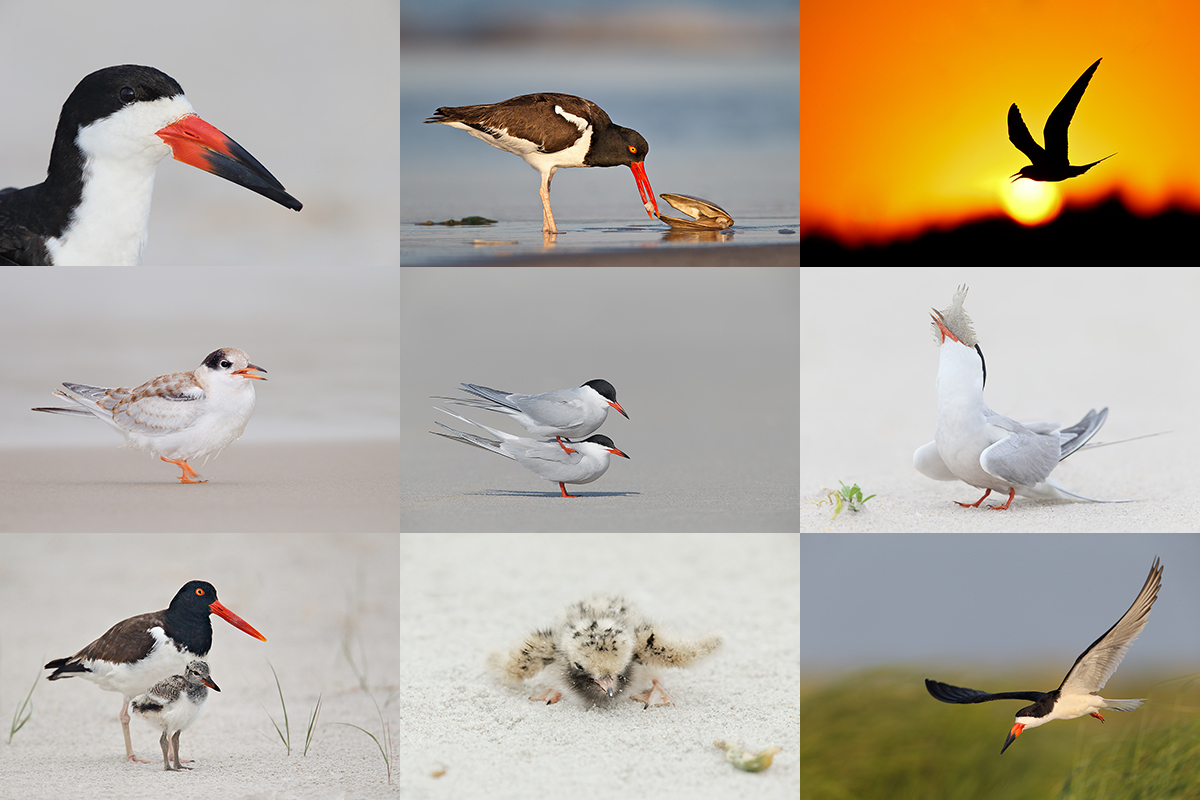 From upper left clockwise to center: Black Skimmer head portrait, American Oystercatcher dining on surf clam flesh, Common Tern at sunset, Common Tern adult swallowing flatfish, Black Skimmer in flight, newborn Common Tern chick, American Oystercatcher with chick, fresh juvenile Common Tern (with fill flash), and Common Terns copulating.
Nickerson Beach Terns/Skimmers/Oystercatchers Instructional Photo-Tour (IPT): July 18-22, 2016. 4 1/2 DAYS: $1899. Limit 10/Openings 8.
Meet and greet at 3pm on the afternoon of Monday, July 18. Limit 10.
The primary subject species of this IPT will be the nesting Common Terns. The trip is timed so that we will get to photograph tiny chicks as well as fledglings. There will be lots of flight photography including adults flying with baitfish. Creating great images of the chicks being fed is a huge challenge. In addition to the terns we will get to photograph lots of Black Skimmers courting, setting up their nesting territories, and in flight (both singles and large pre-dawn flocks blasting off). Midair battles are guaranteed on sunny afternoons. And with luck, we might even see a few tiny chicks toward the end of the trip. We will also get to photograph the life cycle of American Oystercatcher. This will likely include nests with eggs and tiny chicks, young being fed, and possibly a few fledglings.
Nesting Piping Plover is also possibly. There will be lots of gulls to photograph; most years I am able to find a few Lesser Black-backed Gulls of varying ages in addition to the Herring, Ring-billed, and Great Black-backed Gulls. You will learn to identify and age the various gull species. There will likely be some Willets feeding along the surf and with luck we might get to photograph a handsome juvenile or two. In addition to the locally breeding shorebirds, we will likely get to see some southbound migrant arctic-and sub-arctic breeding shorebird species such as Sanderling, Semipalmated Plover, and maybe even Red Knot.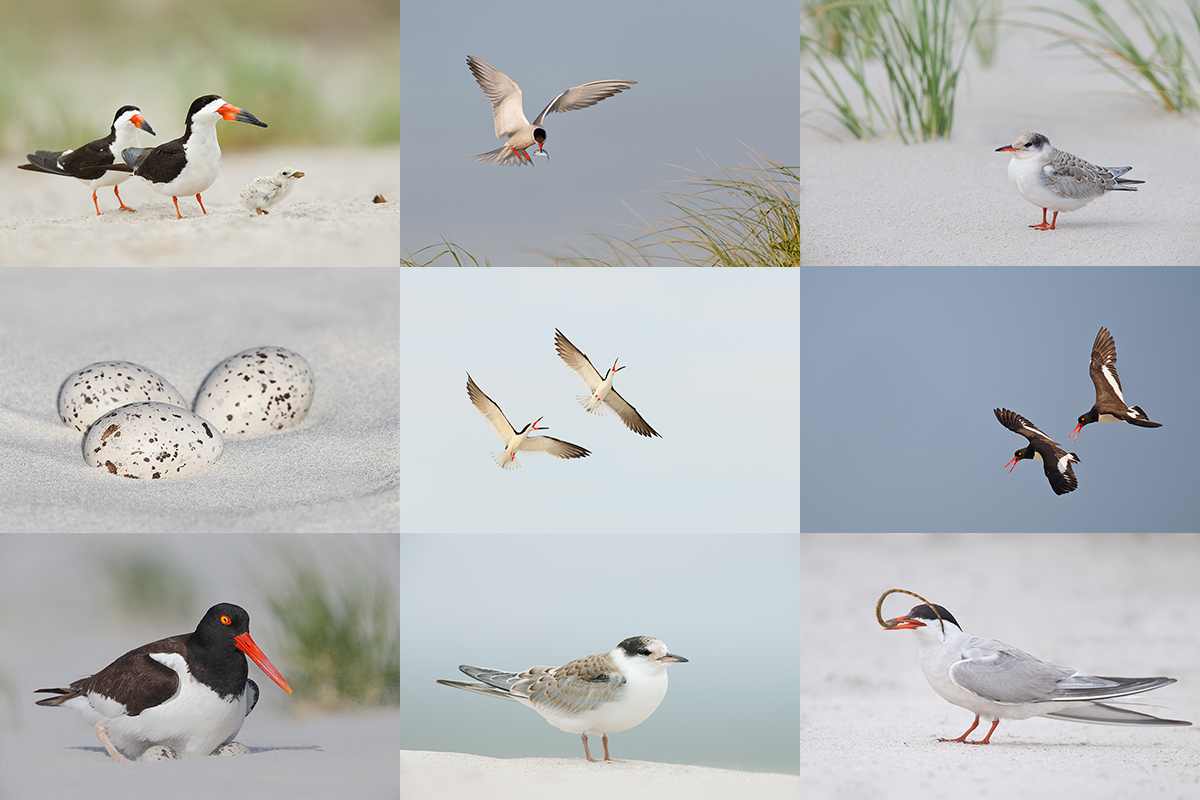 From upper left clockwise to center: Black Skimmers with tiny chick, Common Tern landing with baitfish for young, fledged Common Tern chick in dunes, American Oystercatchers/display flight, adult Common Tern with pipefish for chick, Common Tern fledgling in soft light, American Oystercatcher on nest with eggs, American Oystercatcher 3-egg clutch, battling Black Skimmers.
The IPT Logistics
The tour will begin with a meet and greet on the afternoon of Monday, July 18, 2016. That will be followed by our first shooting session at the beach. From Tuesday through and including all of Friday we will have two photography sessions daily. Our morning sessions will start very early so that we are on the beach well before sunrise. We usually photograph for about four hours. Then we will enjoy a group brunch. We will always have a midday break that will include a nap for me. That followed by our daily afternoon classroom sessions that will include image review, workflow and Photoshop, and a review/critique of five of your trip images. Folks are always invited to bring their laptops to brunch for image sharing. I always have mine with me but heck, I am a big show-off. Afternoon in-the-field sessions generally run from 5pm through sunset.
Breakfasts are grab what you can. Four brunches are included. Dinners (if at all) will be on your own as we will often get back to the hotel at about 9pm. There is a fridge in every room and a supermarket within walking distance of the hotel so nobody should starve. You will learn a ton during the nine shooting sessions, the four in-classroom sessions, and even at lunch. Early morning and late afternoon parking is free. If we want to head back to the beach early we will need to arrange tight carpools and share the $30/vehicle parking fee. Non-photographer spouses, friends, or companions are welcome for $100/day, $450 for the whole IPT.
Save a space by calling Jim or Jen at the office at 863-692-0906 and arranging to leave your deposit of $599–credit cards are accepted for deposits only. Your balance will be due on April 18, 2016. I hope that you can join me for what will be an exciting and educational IPT.
Please Remember to use our Affiliate Links 🙂
To show your appreciation for my continuing efforts here, we ask, as always, that you get in the habit of using my B&H affiliate links on the right side of the blog for all of your photo and electronics purchases. Please check the availability of all photographic accessories in the BIRDS AS ART Online Store, especially the Mongoose M3.6 tripod heads, Induro tripods and ballheads, Wimberley heads and plates, LensCoats and accessories, and the like. We sell only what I have used, have tested, and can depend on. We will not sell you junk. We know what you need to make creating great images easy and fun. And we are always glad to answer your gear questions via e-mail.
I would of course appreciate your using our B&H affiliate links for all of your major gear, video, and electronic purchases. For the photographic stuff mentioned in the paragraph above we, meaning BAA, would of course greatly appreciate your business. Here is a huge thank you to the many who have been using our links on a regular basis and visiting the BAA Online store as well.
I would of course appreciate your using our B&H affiliate links for all of your major gear, video, and electronic purchases. For the photographic stuff mentioned in the paragraph above we, meaning BAA, would of course greatly appreciate your business. Here is a huge thank you to the many who have been using our links on a regular basis and visiting the BAA Online store as well.
Facebook
Be sure to like and follow BAA on Facebook by clicking on the logo link upper right. Tanks a stack!
Typos
In all blog posts and Bulletins, feel free to e-mail or to leave a comment regarding any typos or errors. Just be right 🙂