What's Up
Sunday was a hazy lazy day. I did a bit of mopping up on my 2015 taxes, worked on a few Soduko puzzles, and watched some golf and NBA playoff basketball. And again I enjoyed a great sunny day swim. Oh, and started and finished this blog post.
I took a rare Sunday evening ice bath end enjoyed my best night's sleep since the surgery.
IPT Similarities
The Fort DeSoto and the Nickerson Beach IPTs have a lot in common. Lots of birds, lots of sand, and lots of learning. The big difference is that there are lots more flight opportunities at Nickerson: hovering terns, birds landing at the nest, and with luck and the right morning winds, skimmers skimming. And we will surely get to photograph American Oystercatchers. With a bit of luck, they will be feeding chicks of various ages. Scroll down here for complete Nickerson details.
The Streak
Today's blog post marks an insane 199 days in a row with a new educational blog post. And I still have dozens of new topics to cover; there should be no end in sight until my big South America trip next fall. As always-–and folks have been doing a really great job recently–-please remember to use our B&H links for your major gear purchases. For best results use one of our many product-specific links; after clicking on one of those you can continue shopping with all subsequent purchases invisibly tracked to BAA. Your doing so is always greatly appreciated. Please remember: web orders only. Please remember that if you are shopping for items that we carry in the BAA Online Store (as noted in red at the close of this post below) we would appreciate your business.
All of the images in today's blog post were created on the last morning of my Fort DeSoto busman's holiday with the Induro GIT 304L/Mongoose M3.6-mounted Canon EF 600mm f/4L IS II USM lens, the Canon Extender EF 1.4X III, and the Canon EOS-1D X Mark II with a 64GB Card and Reader ISO 400. Evaluative metering at about +1/3 stop: 1/1250 sec. at f/7.1.
I selected on AF point above the center AF point/AI Servo Surround/Rear Focus AF as framed. AF was of course active at the moment of exposure as the bird was striding forward while calling. Click here to see the latest version of the Rear Focus Tutorial. Click on the image to see a larger version.
AF Micro-adjustment via LensAlign/Focus Tune: +4. Tutorial coming soon.
Group I: Image #1:
Your browser does not support iFrame.
The Situation and the Set-Up
I was sitting in about six inches of saltwater at my favorite early morning spot. I had lowered my Induro tripod and taken the time to level the bubble on the tripod platform (by shoving first this leg and then that leg into the wet sand) and then leveling the camera body; this ensured that no matter where I pointed the lens the image would be pretty darned close to perfectly level. I taught this lesson several times on the IPT. It works great whenever you will be working from the same spot for more than a few minutes. Sometimes you need to lengthen or shorten a leg to get the bubble centered in the circle. This technique also works well when you are standing for flight photography, and equally well when your tripod is on a solid surface such as a dirt road or a parking lot.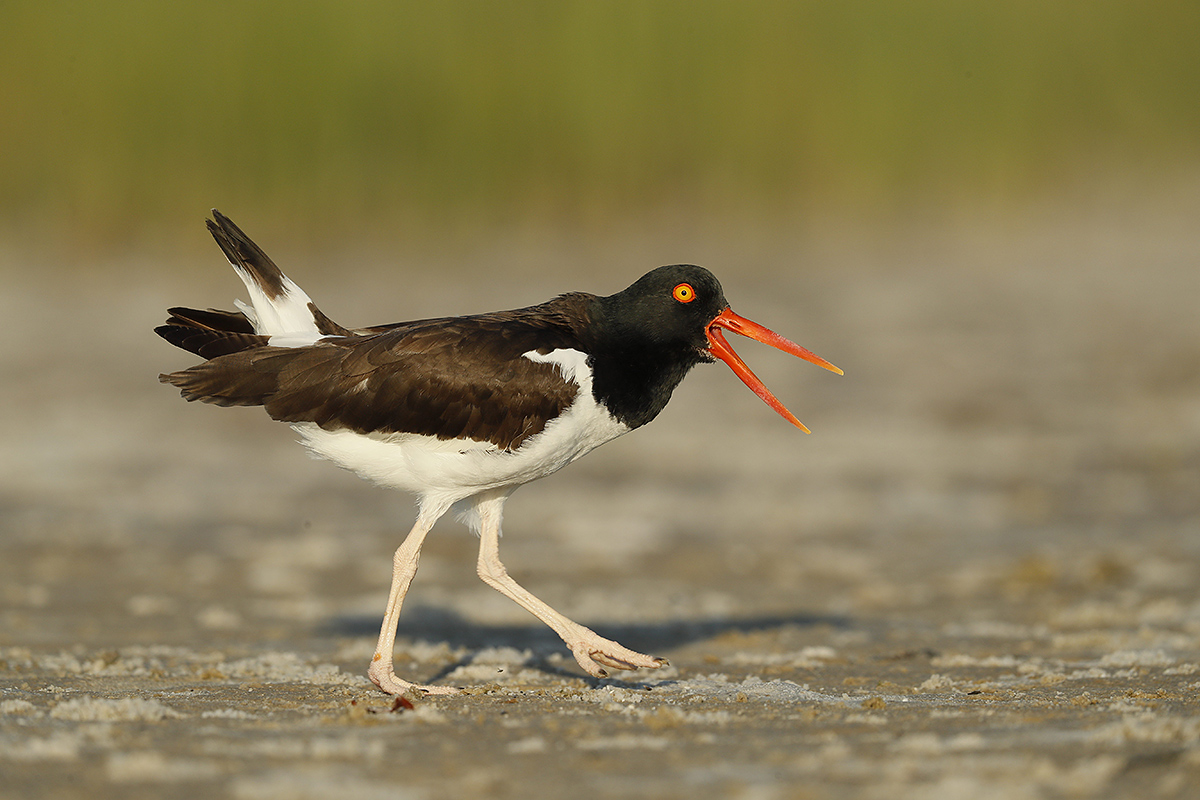 Group I: Image #2:
Displaying Oystercatcher Lands Right in my Wheelhouse
While I was photographing some feeding breeding plumage Dunlins this oystercatcher flew in and landed–right down my sun angle–right in front of me and began displaying. As I swung the lens to get on the bird I clicked the index finger wheel one click clockwise for the next faster shutter speed (to avoid burning the oystercatcher's brighter whites) and moved the AF point up one row. Then I fired off about 20 frames. The extracted JPEGs from the best six are presented here today in two groups. In Group I, the bird is parallel to the back of the camera. In Group II, the bird is angling toward me.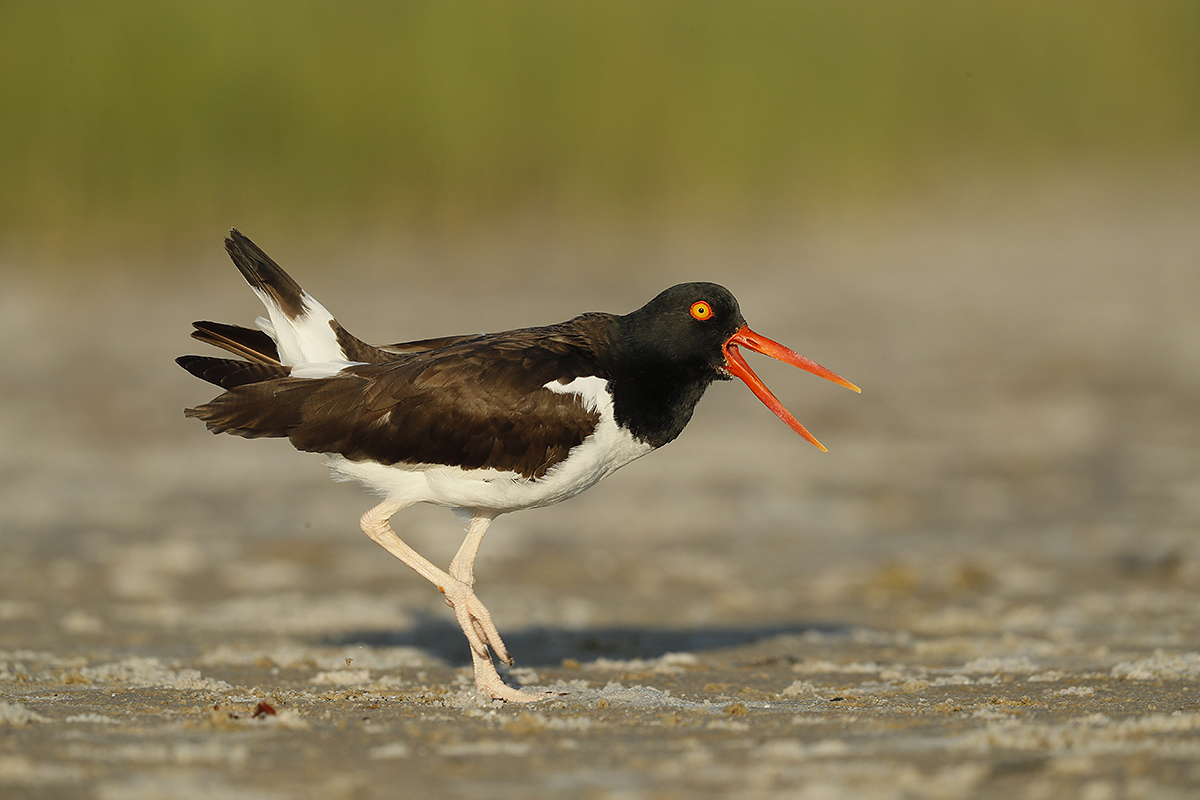 Group I: Image #3:
You Get to Edit the Two Groups, i.e., pick the keepers
Your Chinese Food Menu Task
Please select the best image from Group I, and the best image from Group II. Feel free to comment on one or more images from each group, and please let us know why you made your choices. For me, the choice with Group II is crystal clear. With Group I, not so clear… I will be interested to see what y'all have to say.
Please note that you are viewing full frame extracted JPEGs cropped to 1200 pixels wide and sharpened with Unsharp Mask at 110/.3/0.
The Hardest Question
Which is the single strongest image? Why?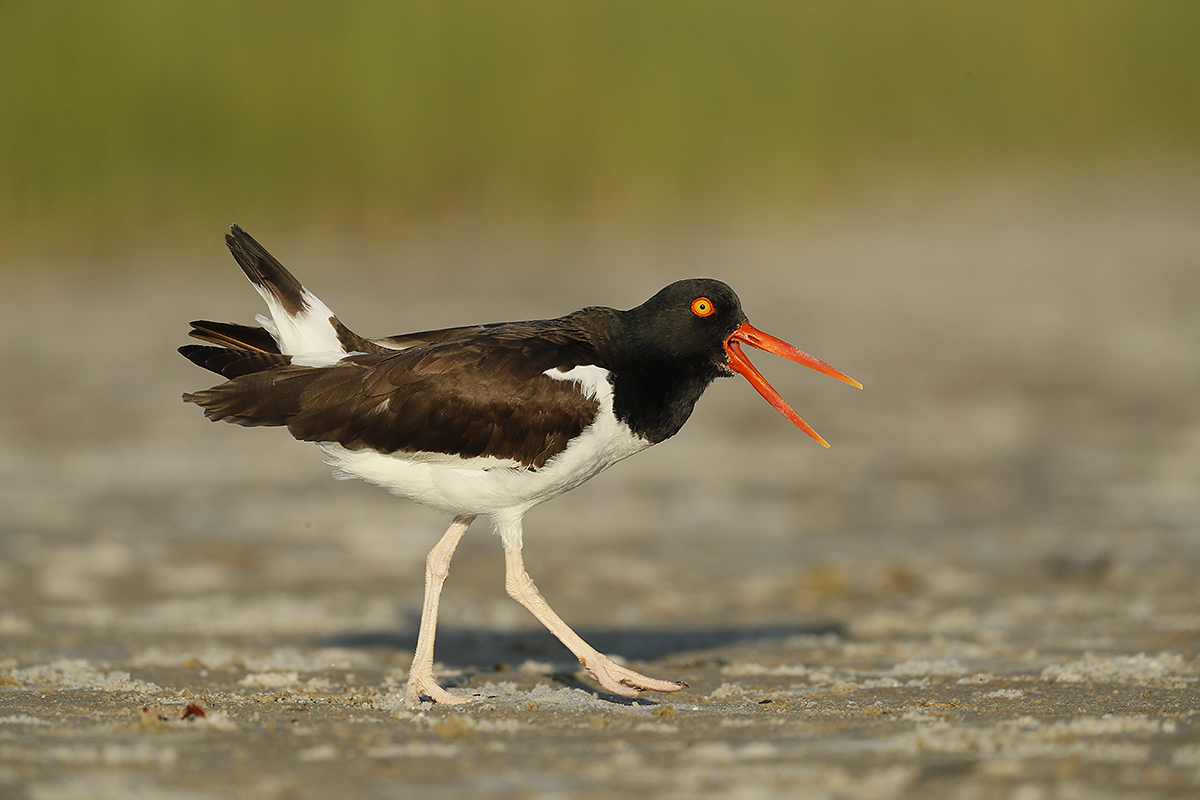 Group I: Image #4:
AF Comments
With the first four images, the selected AF point fell just forward of the white slash at the bird's shoulder. With lots of contrast there, the 1DX II AF acquired instantly and tracked the subject perfectly. Once the bird turned to angle toward me, I kept the same AF point and Area Selection mode and the system again worked perfectly; with the last two images, those in Group II, the selected AF point was not even on the bird; it was in front of the bird well below the bill. But one or more of the upper left Surround assist points was on the bird's neck and the system got every image sharp.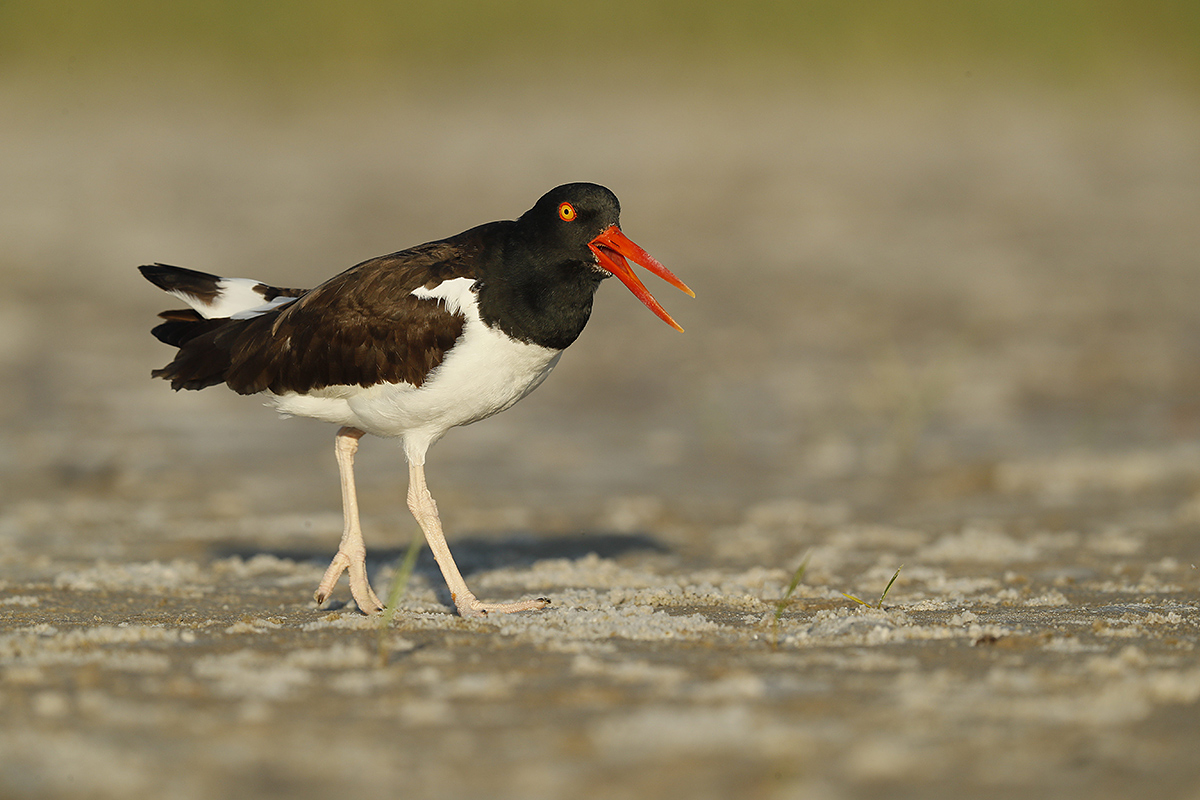 Group II: Image #5:
My Perspective on My Perspective
I could not have (without lying down in the water) chosen a better perspective. I was very happy that the bird's head did not merge with the base of the background grasses. Lying flat down in 4-6 inches of water would have provided a wondrous perspective, but it is not a lot of fun> It can put a lot of stress on the muscles in your lower back and shoulders and, as I learned last year, put's your gear at risk of saltwater damage.
As age 70 draws closer, sitting is fine for me 🙂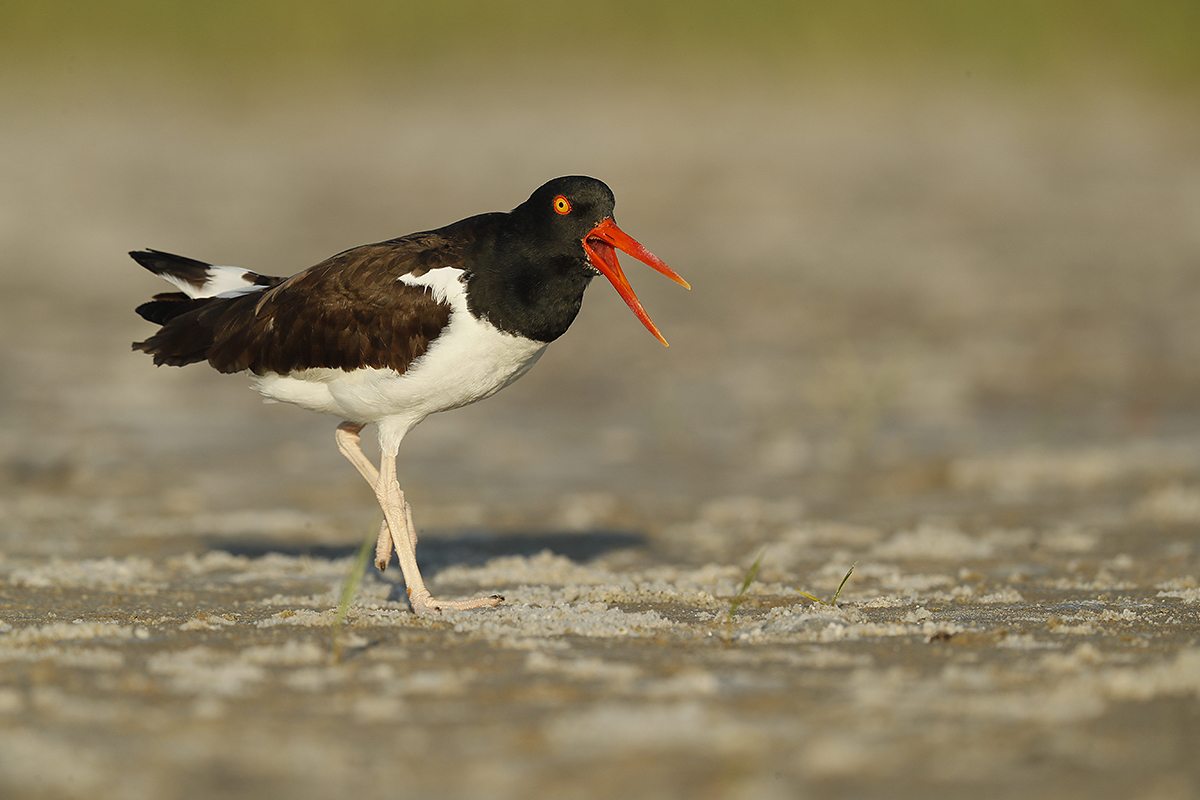 Group II: Image #6:
Head Angle Comments
In Image #1-4, the bird was kind enough to turn his head a perfect two degrees toward me. And the head angles in frames 5&6 are just fine as well.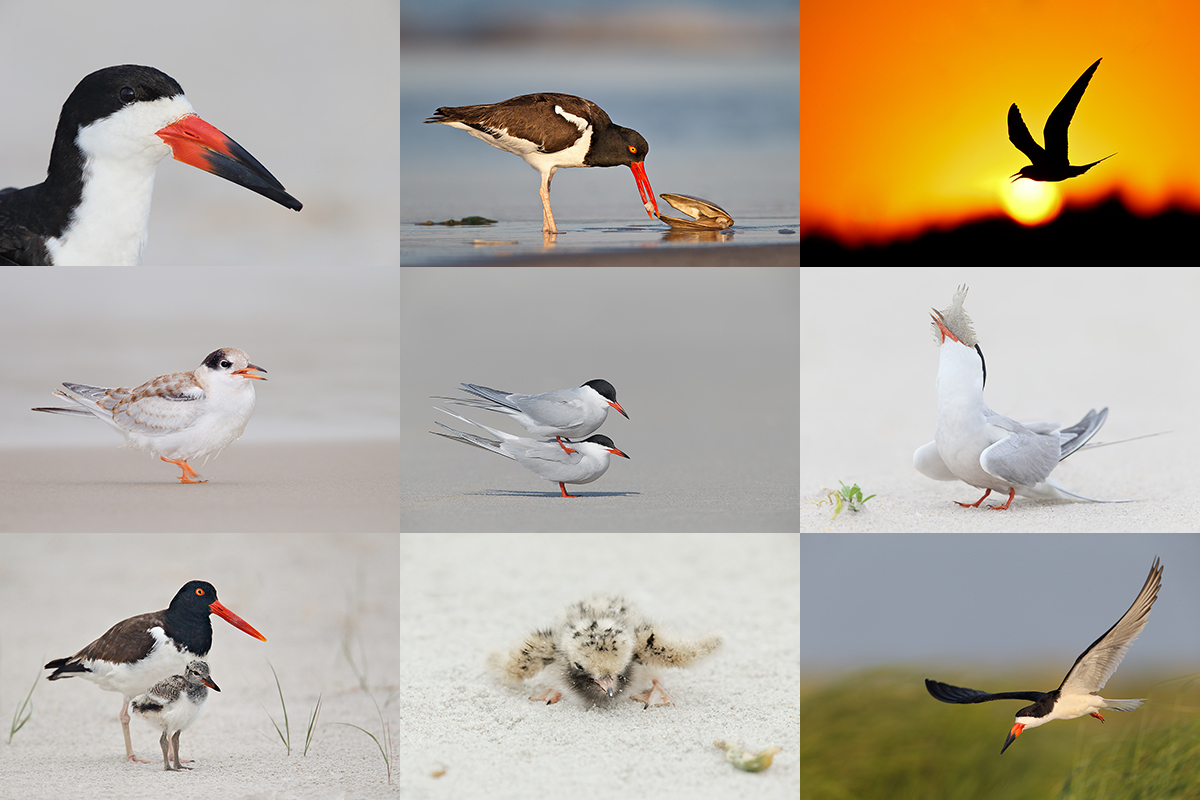 From upper left clockwise to center: Black Skimmer head portrait, American Oystercatcher dining on surf clam flesh, Common Tern at sunset, Common Tern adult swallowing flatfish, Black Skimmer in flight, newborn Common Tern chick, American Oystercatcher with chick, fresh juvenile Common Tern (with fill flash), and Common Terns copulating.
Nickerson Beach Terns/Skimmers/Oystercatchers Instructional Photo-Tour (IPT): July 18-22, 2016. 4 1/2 DAYS: $1899. Limit 10/Openings 8.
Meet and greet at 3pm on the afternoon of Monday, July 18. Limit 10.
The primary subject species of this IPT will be the nesting Common Terns. The trip is timed so that we will get to photograph tiny chicks as well as fledglings. There will be lots of flight photography including adults flying with baitfish. Creating great images of the chicks being fed is a huge challenge. In addition to the terns we will get to photograph lots of Black Skimmers courting, setting up their nesting territories, and in flight (both singles and large pre-dawn flocks blasting off). Midair battles are guaranteed on sunny afternoons. And with luck, we might even see a few tiny chicks toward the end of the trip. We will also get to photograph the life cycle of American Oystercatcher. This will likely include nests with eggs and tiny chicks, young being fed, and possibly a few fledglings.
Nesting Piping Plover is also possibly. There will be lots of gulls to photograph; most years I am able to find a few Lesser Black-backed Gulls of varying ages in addition to the Herring, Ring-billed, and Great Black-backed Gulls. You will learn to identify and age the various gull species. There will likely be some Willets feeding along the surf and with luck we might get to photograph a handsome juvenile or two. In addition to the locally breeding shorebirds, we will likely get to see some southbound migrant arctic-and sub-arctic breeding shorebird species such as Sanderling, Semipalmated Plover, and maybe even Red Knot.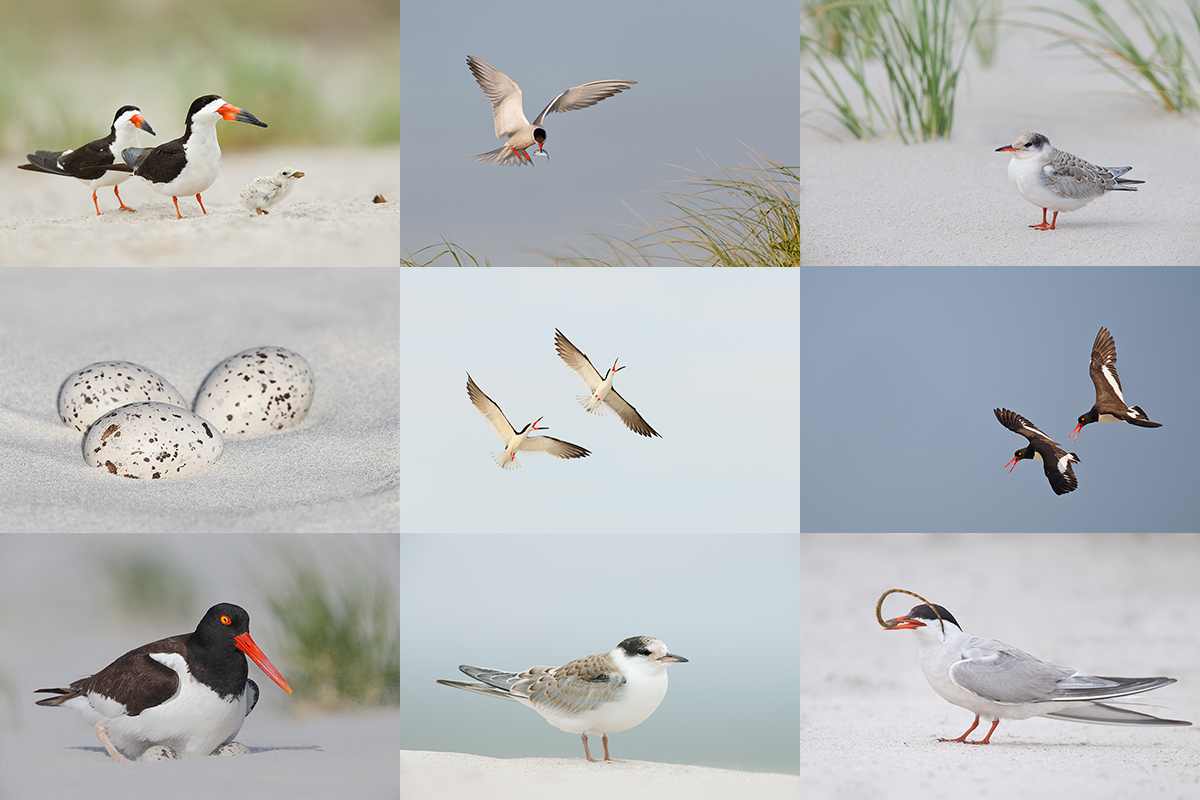 From upper left clockwise to center: Black Skimmers with tiny chick, Common Tern landing with baitfish for young, fledged Common Tern chick in dunes, American Oystercatchers/display flight, adult Common Tern with pipefish for chick, Common Tern fledgling in soft light, American Oystercatcher on nest with eggs, American Oystercatcher 3-egg clutch, battling Black Skimmers.
The IPT Logistics
The tour will begin with a meet and greet on the afternoon of Monday, July 18, 2016. That will be followed by our first shooting session at the beach. From Tuesday through and including all of Friday we will have two photography sessions daily. Our morning sessions will start very early so that we are on the beach well before sunrise. We usually photograph for about four hours. Then we will enjoy a group brunch. We will always have a midday break that will include a nap for me. That followed by our daily afternoon classroom sessions that will include image review, workflow and Photoshop, and a review/critique of five of your trip images. Folks are always invited to bring their laptops to brunch for image sharing. I always have mine with me but heck, I am a big show-off. Afternoon in-the-field sessions generally run from 5pm through sunset.
Breakfasts are grab what you can. Four brunches are included. Dinners (if at all) will be on your own as we will often get back to the hotel at about 9pm. There is a fridge in every room and a supermarket within walking distance of the hotel so nobody should starve. You will learn a ton during the nine shooting sessions, the four in-classroom sessions, and even at lunch. Early morning and late afternoon parking is free. If we want to head back to the beach early we will need to arrange tight carpools and share the $30/vehicle parking fee. Non-photographer spouses, friends, or companions are welcome for $100/day, $450 for the whole IPT.
Save a space by calling Jim or Jen at the office at 863-692-0906 and arranging to leave your deposit of $599–credit cards are accepted for deposits only. Your balance will be due on April 18, 2016. I hope that you can join me for what will be an exciting and educational IPT.
Please Remember to use our Affiliate Links 🙂
To show your appreciation for my continuing efforts here, we ask, as always, that you get in the habit of using my B&H affiliate links on the right side of the blog for all of your photo and electronics purchases. Please check the availability of all photographic accessories in the BIRDS AS ART Online Store, especially the Mongoose M3.6 tripod heads, Induro tripods and ballheads, Wimberley heads and plates, LensCoats and accessories, and the like. We sell only what I have used, have tested, and can depend on. We will not sell you junk. We know what you need to make creating great images easy and fun. And we are always glad to answer your gear questions via e-mail.
I would of course appreciate your using our B&H affiliate links for all of your major gear, video, and electronic purchases. For the photographic stuff mentioned in the paragraph above we, meaning BAA, would of course greatly appreciate your business. Here is a huge thank you to the many who have been using our links on a regular basis and visiting the BAA Online store as well.
Facebook
Be sure to like and follow BAA on Facebook by clicking on the logo link upper right. Tanks a stack!
Typos
In all blog posts and Bulletins, feel free to e-mail or to leave a comment regarding any typos or errors. Just be right 🙂