What's Up
My 2015 taxes are done and on their way to the accountant! I came up with a new method for preparing my end of the work last year when I got audited for 2014; it puts nearly all of the responsibility on me and almost none on daughter Jennifer. My return will be deadly accurate and I am ready to walk into an audit at any time.
I enjoyed another wonderful 30 lap swim (22 laps is a half mile) and will be climbing into the ice bath very soon.
Galapagos 2017
If you would like to join me on the August 2017 Galapagos Photo-Cruise of a lifetime, please scroll down and see the details below. Please e-mail for couples or repeat customer discount information.
The Streak
Today's blog post marks an insane 203 days in a row with a new educational (and fun) blog post. And I still have dozens of new topics to cover; there should be no end in sight until my big South America trip next fall. As always-–and folks have been doing a really great job recently–-please remember to use our B&H links for your major gear purchases. For best results use one of our many product-specific links; after clicking on one of those you can continue shopping with all subsequent purchases invisibly tracked to BAA. Your doing so is always greatly appreciated. Please remember: web orders only. Please remember that if you are shopping for items that we carry in the BAA Online Store (as noted in red at the close of this post below) we would appreciate your business.
Selling Your Used Gear Through BIRDS AS ART
Selling your used (or like-new) photo gear through the BAA Blog or via a BAA Online Bulletin is a great idea. We charge only a 5% commission. One of the more popular used gear for sale sites charges a minimum of 20%. Plus assorted fees! Yikes. The minimum item price here is $500 (or less for a $25 fee). If you are interested please e-mail with the words Items for Sale Info Request cut and pasted into the Subject line :). Stuff that is priced fairly–I offer free pricing advice, usually sells in no time flat. In the past few months, we have sold just about everything in sight. Do know that prices on some items like the EOS-1D Mark IV, the old Canon 500mm, the EOS-7D, the original 400mm IS DO lens, and most recently, the 200-400 with Internal Extender, have been dropping steadily. You can see all current listings by clicking here or by clicking on the Used Photo Gear tab on the yellow-orange tab on the left side of the lower menu bar above.
Robert Doster sold his used Canon EOS 7D body in excellent condition for $419 in early April.
Sandra Calderbank sold her Canon EOS 5D Mark III DSLR camera body in mint condition for $1599 in mid-April in one day.
Jim Keener sold a Canon EF 16-35mm f/2.8L II USM lens in mint condition for $999 in early May.
IPT veteran Bill Wingfield sold his Canon EOS 5D Mark III in excellent condition for $1498 in late April.
IPT veteran Carolyn Peterson sold her Canon EOS 5D Mark III in excellent condition for $1,549 in early May.
KW McCulloch sold his used Canon 5DMark III for $1499 in mid-May before it was even listed.
Paul Roscoe sold his Canon EF 600mm f/4L IS II lens in mint condition for $9450 in mid-May.
The sale of Les Greenberg's Canon EOS Canon 5D Mark III is pending.
Price Reduction!
Canon EOS-1DX Professional Digital Camera Body
Yet Another Lowest-ever BAA Price!
Price Reduced $200 on May 27, 2016.
Multiple IPT veteran Larry Master is offering a near-mint condition Canon EOS-1DX for only $2699. Was $2899. The sale includes the LP-E4N battery, the battery charger, the front cap, the original box, and insured ground shipping via major courier. Your item will not ship until your check clears unless other arrangements are made.
Interested folks may contact Larry on his cell phone at 518-645-1545 or via e-mail.
I used, depended on, and loved my two 1DX bodies since their release several years ago. artie
A New Bright Sunny Day Creative Technique: Glamour Glow Without the Glamour?
The rather handsome subject in the image above stood like a statue for more than 30 minutes a good distance from our safari van. It never moved a muscle. But the sun was so bright that I stuck with photographing a mother zebra with a young colt. When they finally moved off I came up with an idea; with my lens atop the roof of the van on my splayed Induro GIT 304L tripod I was going to create a soft sharp blur–a double exposure with one image sharply focused and the other defocused. This technique is used often with flowers and at times goes by the name "Orton Effect."
It took me a minute to set up for the double exposure; for whatever reason I decided to create the de-focused image first. You guessed it; at that moment, the statue decided that it was indeed alive and took a short hike. So I was left only with the single de-focused frame. It caught my eye while I was reviewing the images from that day and then I came up with the idea for this blog post.
I know for sure that I like it a lot better than any traditional image that I might have created in the harsh desert light.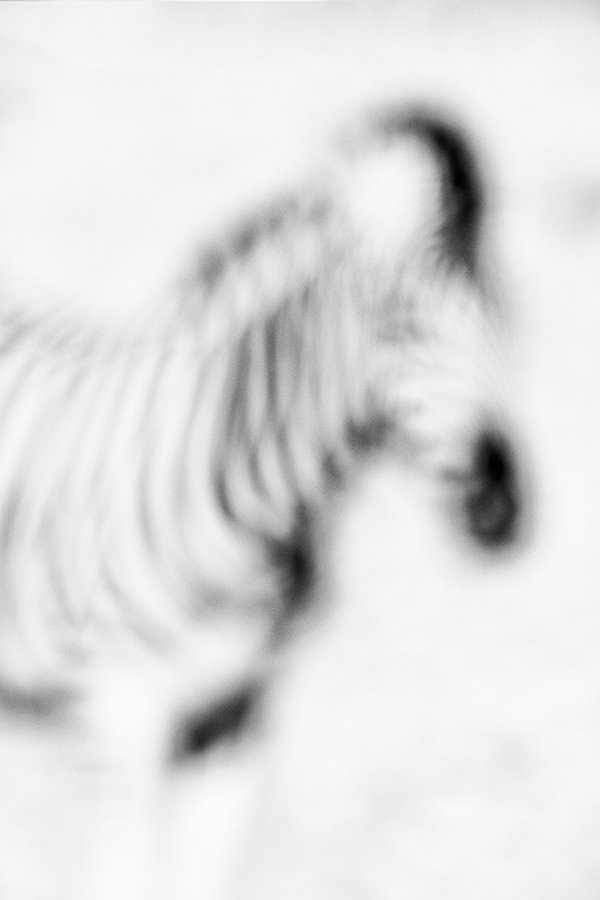 This image was created from the opening image above. It was converted to B&W using the Wet Rock pre-set in NIK Silver EFEX Pro. It is one of my favorite NIK SEP pre-sets.
Burchell's Zebra intentionally de-focused
Your browser does not support iFrame.
Multiple Choice Test
Pick one and leave a comment:
A-I hate all blurs including both of these images. Why would you publish such garbage?
B-I find the de-focused blurs mildly interesting.
C-Of the two, I like the original image better because…
D-Of the two, I like the B&W image better because…
E-I like both of the de-focused blurs because…
F-I am smart enough to speak for myself. Here is what I have to say about today's two featured images: …..
Feel free–of course–to expand or embellish upon your answer.
[Not a valid template]
Learn the secrets of creating contest-winning images in our "A Guide to Pleasing Blurs."
A Guide to Pleasing Blurs
In our A Guide to Pleasing Blurs, by Denise Ippolito and yours truly, we discuss just about every technique ever used to create pleasingly blurred image. Heck, between the two of us we created many of them! Ninety-nine point nine percent of pleasing blurs are not happy accidents. You can learn pretty much everything that there is to know about creating them in this instructive, well written, easy to follow guide.
And yes, we even cover de-focused blurs!
A Comment from Kathleen
I ordered this e-Book when it first came out; it maybe the best $33 that I have ever spent on photography!
My own style is crisp and sharply-focused and I've been thinking of adding a more artistic effect to some images. This PDF gives me way more ideas than I could possibly have come up with on my own. The images are great and so are the detailed instructions. It's well worth buying if you're looking to add something different to your repertoire.
The Namibia IPT
For a variety of reasons, I decided not to go back to Namibia next year. Good friend Denise Ippolito is going. You can learn about her trip here; if you sign up, please let her know that I sent you.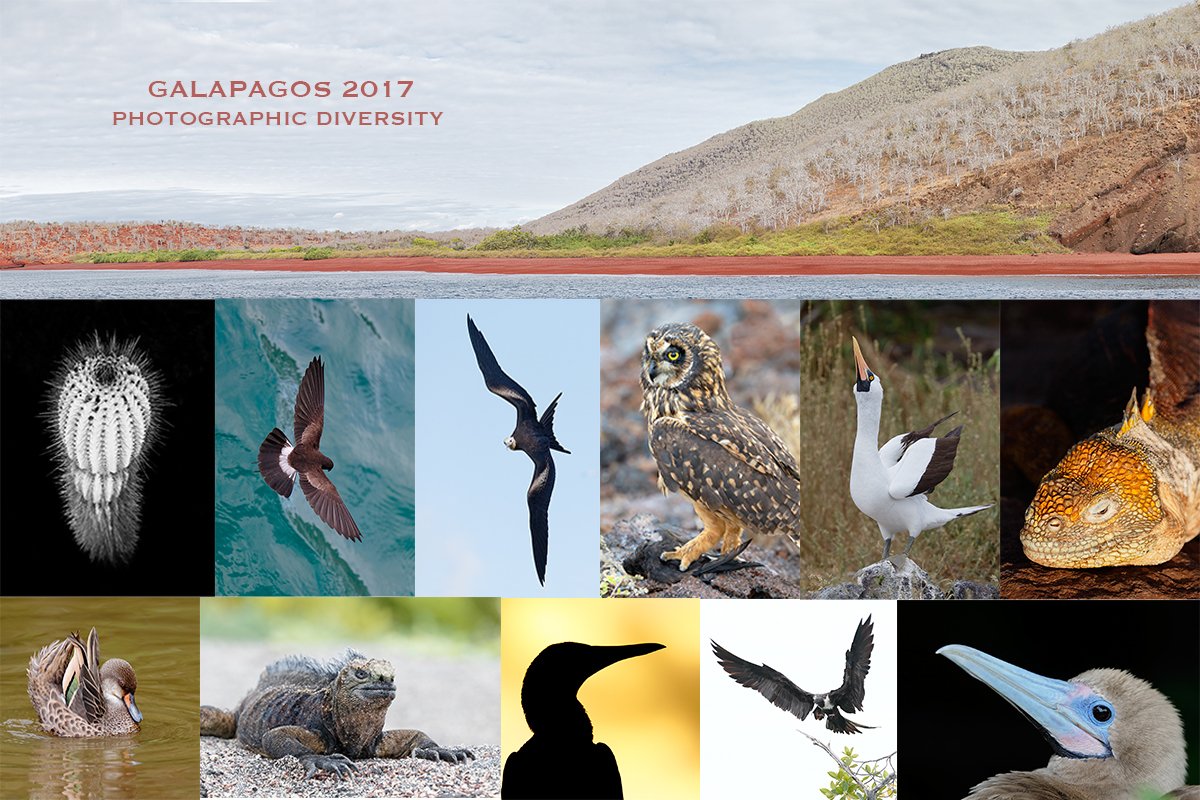 Tame birds and wildlife. Incredible diversity. You only live once…
GALAPAGOS Photo Cruise of a Lifetime IPT/The Complete Galapagos Photographic Experience. August 8-22, 2017 on the boat. 13 FULL and two half-days of photography: $12,499. Limit: 13 photographers plus the leader: yours truly. Openings: 4.
Same great trip; no price increase!
This trip needs nine to run; in the unlikely event that it does not, all payments to BAA will be refunded in full.
My two-week Galapagos Photo-Cruises are without equal. The world's best guide, a killer itinerary, a great boat (the Samba), and two great leaders with ten Galapagos cruises under their belts. Pre-trip and pre-landing location-specific gear advice. In-the-field photo instruction and guidance. Jeez, I almost forgot: fine dining at sea!
The great spots that we will visit include Tower Island (including Prince Phillips Steps and Darwin Bay), Hood Island (including Punta Suarez, the world's only nesting site of Waved Albatross, and Gardner Bay)—each of the preceding are world class wildlife photography designations that rank right up there with Antarctica, Africa, and Midway. We will also visit Fernandina, Puerto Ayora for the tortoises, Puerto Egas—James Bay, and North Seymour for nesting Blue-footed Boobies in most years, South Plaza for Land Iguanas, Floreana for Greater Flamingoes, and Urbina Bay, all spectacular in their own right. We visit every great spot on a single trip. Plus tons more. And there will be lots of opportunities to snorkel on sunny mid-days for those like me who wish to partake.
It is extremely likely that we will visit the incredible Darwin Bay and the equally incredible Hood Island, world home of Waved Albatross twice on our voyage. The National Park Service takes its sweet time in approving such schedule changes.
We will be the first boat on each island in the morning and the last boat to leave each island every afternoon. If we are blessed with overcast skies, we will often spend 5-6 hours at the best sites. And as noted above, mid-day snorkeling is an option on most sunny days depending on location and conditions. On the 2015 trip most snorkeled with a mega-pod of dolphins. I eased off the zodiac to find hundreds of dolphins swimming just below me. Note: some of the walks are a bit difficult but can be made by anyone if half way decent shape. Great images are possible on all landings with either a hand held 70-200mm lens and a 1.4X teleconverter or an 80- or 100-400. I sometimes bring a longer lens ashore depending on the landing. In 2017 I will be bring the Canon 400mm IS DO II lens. In the past I have brought either the 300mm f/2.8L IS II or the 200-400mm f/4 L IS with Internal Extender.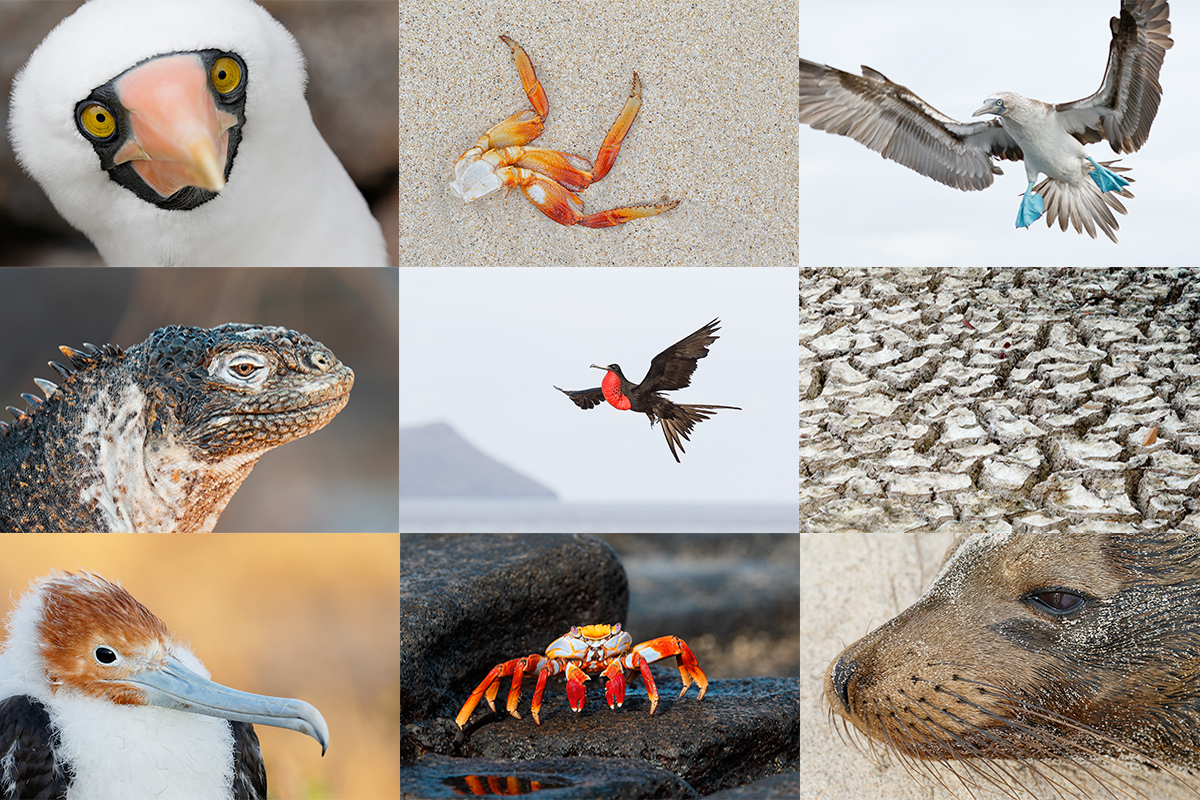 Do consider joining me for this once in a lifetime trip to the Galapagos archipelago. There simply is no finer Galapagos photography trip. Learn why above.
An Amazing Value…
Do know that there are one week Galapagos trips for $8500! Thus, our trip represents a tremendous value; why go all that way and miss half of the great photographic locations?
The Logistics
August 6, 2017: We arrive in Guayaquil, Ecuador a day early to ensure that we do not miss the boat in case of a travel delay.
August 7, 2017: There will be an introductory Galapagos Photography session and a hands on exposure session at our hotel.
August 8, 2017: We fly to the archipelago and board the Samba. Heck, on the 2015 trip some people made great images at the dock in Baltra while our luggage was being loaded!
August 22, 2017: We disembark late morning and fly back to Guayaquil midday; most will overnight there.
Most will fly home on the early morning of July 23 unless they are staying on or going elsewhere (or catching a red-eye flight on the evening of the 22nd).
$12,499 includes just about everything: all transfers, guide and park fees, all food on the boat, transfers and ground transportation, your flights to the archipelago, and three nights (double occupancy) in a top notch hotel in Guayaquil. If you are good to go, a non-refundable deposit of $5,000 per person is due immediately. The second payment of $4,000 is not due until 11/1/16. The final payment of $3449 per person will be due on 2/1/17. A $200 discount will be applied to each of the balances for couples or friends who register at the same time.
Purchasing travel insurance within 2 weeks of our cashing your deposit check is strongly recommended. On two fairly recent cruises a total of 5 folks were forced to cancel less than one week prior to the trip. My family and I use Travel Insurance Services and strongly recommend that you do the same.
Not included: your round trip airfare from your home to and from Guayaquil, beverages on the boat, phone calls, your meals in Guayaquil, personal items, and a $600/person cash tip for the crew and the guide—this works out to roughly $40/day to be shared by the 7 folks who will be waiting on us hand and foot every day for two weeks. The service is so wonderful that many folks choose to tip extra.
Please e-mail for the tentative itinerary or with questions. Please cut and paste "Galapagos 2017 Tentative Itinerary Please" into the Subject line.
Please Remember to use our Affiliate Links 🙂
To show your appreciation for my continuing efforts here, we ask, as always, that you get in the habit of using my B&H affiliate links on the right side of the blog for all of your photo and electronics purchases. Please check the availability of all photographic accessories in the New BIRDS AS ART Online Store, especially the Mongoose M3.6 tripod head, Wimberley lens plates, Delkin flash cards and accessories, and LensCoat stuff.
As always, we sell only what I have used, have tested, and can depend on. We will not sell you junk. We know what you need to make creating great images easy and fun. And we are always glad to answer your gear questions via e-mail.
I would of course appreciate your using our B&H affiliate links for all of your major gear, video, and electronic purchases. For the photographic stuff mentioned in the paragraph above we, and for everything else in the new store, we, meaning BAA, would of course greatly appreciate your business. Here is a huge thank you to the many who have been using our links on a regular basis and those who will be visiting the New BIRDS AS ART Online Store as well.
Facebook
Be sure to like and follow BAA on Facebook by clicking on the logo link upper right. Tanks a stack!
Typos
In all blog posts and Bulletins, feel free to e-mail or to leave a comment regarding any typos or errors. Just be right 🙂