What' Up?
I am putting the finishing touches on this blog post on the late afternoon of Friday June 3. The first IPT group is great and we had a wonderful, wonderful day that started with a very early sunrise.
The Streak
Today's blog post marks an insane 211 days in a row with a new educational (and fun) blog post. And I still have dozens of new topics to cover; there should be no end in sight until my big South America trip next fall. As always-–and folks have been doing a really great job recently–-please remember to use our B&H links for your major gear purchases. For best results use one of our many product-specific links; after clicking on one of those you can continue shopping with all subsequent purchases invisibly tracked to BAA. Your doing so is always greatly appreciated. Please remember: web orders only. Please remember that if you are shopping for items that we carry in the BAA Online Store (as noted in red at the close of this post below) we would appreciate your business.
Breezebrowser Update
From Chris Breeze of Breeeze Systems via e-mail:
The next release of BreezeBrowser Pro will add support for Canon EOS-1D X Mark II, Canon EOS 80D and Canon EOS 1300D (aka Rebel T6) with raw conversion and focus point overlay display for each body. I'm hoping to release this version later this month.
If you use a PC and are not using BreezeBrowser (as I did for more than ten years) you are wasting lots of time managing your image files and picking your keepers. Learn more by clicking on the BreezeBrowser link on the right side of each blog page.
Selling Your Used Gear Through BIRDS AS ART
Selling your used (or like-new) photo gear through the BAA Blog or via a BAA Online Bulletin is a great idea. We charge only a 5% commission. One of the more popular used gear for sale sites charges a minimum of 20%. Plus assorted fees! Yikes. The minimum item price here is $500 (or less for a $25 fee). If you are interested please e-mail with the words Items for Sale Info Request cut and pasted into the Subject line :). Stuff that is priced fairly–I offer free pricing advice, usually sells in no time flat. In the past few months, we have sold just about everything in sight. Do know that prices on some items like the EOS-1D Mark IV, the old Canon 500mm, the EOS-7D, the original 400mm IS DO lens, and most recently, the 200-400 with Internal Extender, have been dropping steadily. You can see all current listings by clicking here or by clicking on the Used Photo Gear tab on the yellow-orange tab on the left side of the lower menu bar above.
The sale of Les Greenberg's Canon EF 300mm f/2.8L IS II lens in mint condition for $4499 is pending.
National Geographic photographer Tim Laman sold his Canon EOS-1DC in good-plus condition for $2100 in early June.
Moody McCall sold his Canon 100-400L IS USA lens in excellent condition for $599 in early June and the sale of his 300mm f/2.8L IS II is pending.
Canon EF 300mm f/2.8L USM Lens
Bud Friesen is offering an oldie but goodie, plus extras: a Canon EF 300mm f/2.8L USM lens (the non-IS version) plus a set of the older 1.4X and 2X TCs (with the pouches for each extender) for $1799. The lens is easily in excellent plus condition, probably closer to near mint. The sale includes the Canon drop-in polarizer, the leather lens cap, the rear cap, the lens trunk, the original box, and insured ground shipping via major courier to US addresses. The glass is perfect. This lens is not longer serviced by Canon USA but if you did run into a problem (unlikely as that is), you would likely be able to have it fixed in a non-Canon repair shop. These items were all purchased in July 1994 for a trip to Alaska. They have been used very little since. Photos are available. Your items will not ship until your check clears unless other arrangements are made.
Please contact Bud via e-mail or by phone at 1-269-468-5583 evenings (Central time).
This package represents an exceptional value for a photographer with a low budget as the original 300mm f/2.8L is an exceptionally sharp lens that does well with the older TCs. artie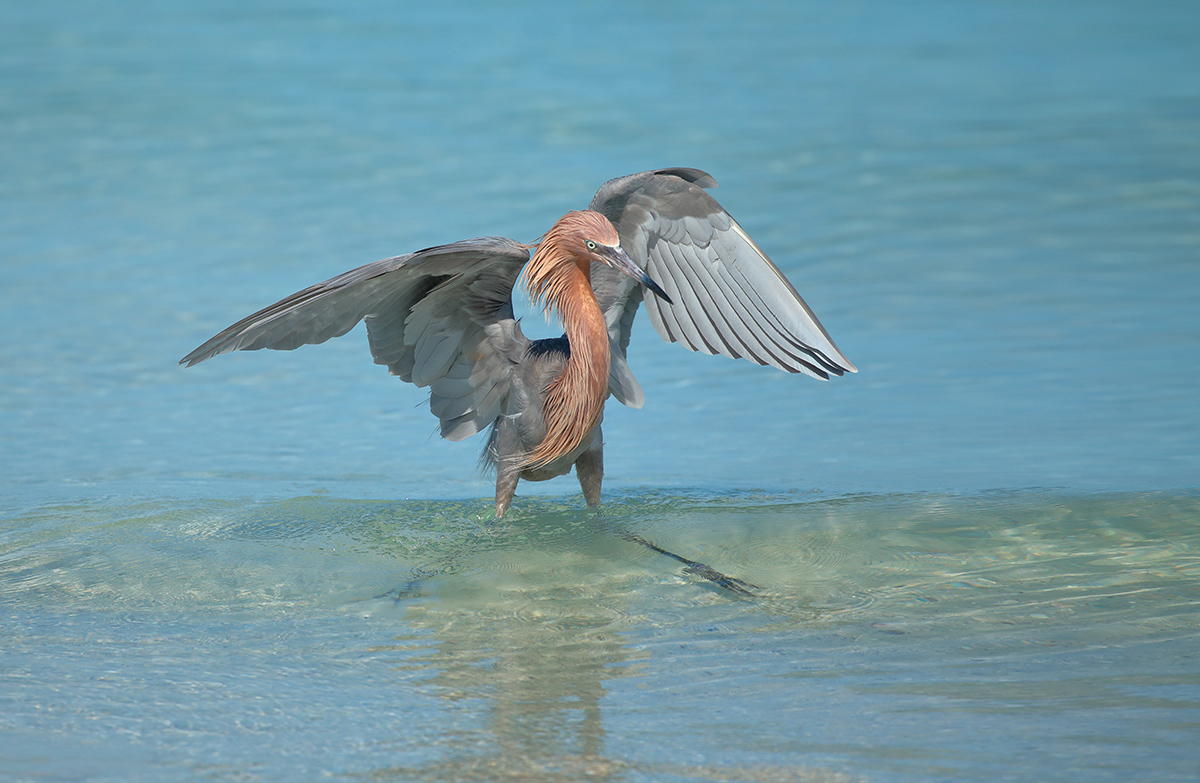 This image was created at Fort DeSoto on Saturday past by Joel Eade with the hand held Canon EF 100-400mm f/4.5-5.6L IS II USM lens (at 400mm) and the Canon EOS-1D X. ISO 400. Evaluative metering at zero in Av mode: 1/2000 sec. at f/6.3. Daylight WB.
Center AF point/AI Servo Surround/Rear Focus AF as originally framed was active at the moment of exposure. Click here to see the latest version of the Rear Focus Tutorial. Click on the image to see a larger version.
Image #1: Reddish Egret fishing dance. Image courtesy of and copyright 2016, Dr. Joel Eade
Your browser does not support iFrame.
Dr. Morris/Joel Eade Revelations…
Will the real doctor please stand up
In the Dueling Reddish Egret Images: Dr. Morris vs. Joel Eade blog post here, folks were asked to figure out which image I created and which image the real doctor, student Joel Eade (say "eed," one syllable) created.
As you can see, it was Joel who created Image #1, above. A fine image indeed.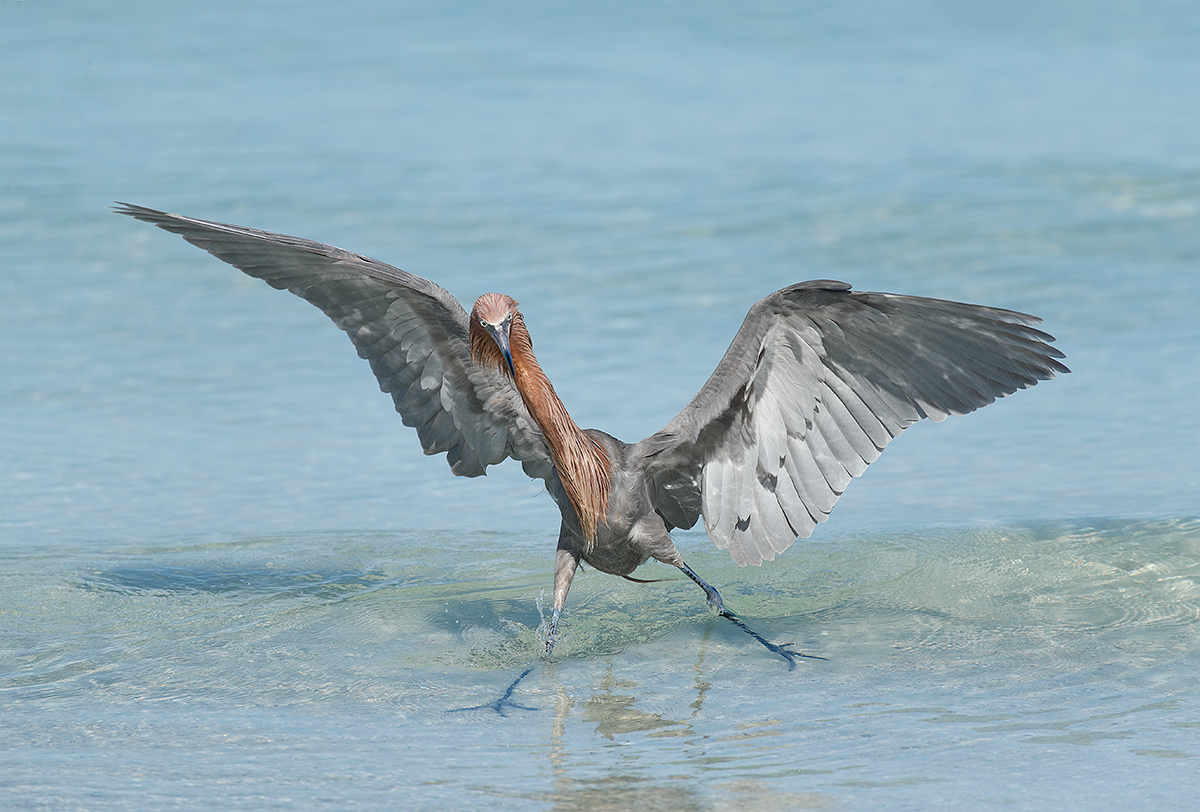 This image–obviously of the same bird–was also created at Fort DeSoto on Saturday past with the hand held Canon EF 100-400mm f/4.5-5.6L IS II USM lens (at 400mm) with the Canon EOS-1D X Mark II. ISO 400. Evaluative metering +1/3 stop: 1/2000 sec. at f/6.3 in Manual mode. Daylight WB.
Manual selection/AI Servo Large Zone/Shutter button AF as originally framed was active at the moment of exposure. Though the image selected two AF points below and to the right of the center AF point the image was sharp as can be on the bird's eye. Click on the image to see a larger version.
Image #2: Reddish Egret dancing. Image copyright 2016: Arthur Morris/BIRDS AS ART
Your browser does not support iFrame.
The Consensus
There was no consensus as the first few folks to comment correctly connected me with Image #2 but then several folks stated their clear preference for Image #1. Everyone did a good job of noting the strong and weak points of each image.
For my taste, on my laptop, Joel's fine image could have been processed a bit lighter and a bit less saturated. Do note that several folks preferred that look. Despite the incredible AF systems of both the 1D X and the 1D X II we each had several unsharp images in our series. Dancing Reddish Egrets
are very challenging subject for AF; in an ideal world, Automatic Selection AI Servo AF would work exactly as it was designed to and focus on the nearest part of the subject, in this case, the bird's face or head. If only…
Yeah, I wish that the bird's head in my image did not merge with the bird's right wing; I had that one but it was not sharp… And yes, the left wing in Joel's image is more evenly lit than the left wing is in my photo. But I do prefer the more angled position of the right wing in my image.
So What–If Anything–Does This Exercise Prove?
This was surely a lot of fun, and while it does not prove a whole lot, it does illustrate one very important point: digital photography is so easy as compared to film photography that students who are well prepared and well practiced can easily create images that are as good as those of a top professional. It was quite evident from the moment I met Dr. Eade that he had come well-prepared as he was very familiar with many of the concepts that we cover here on the blog most every day.
In addition, these two images reinforce another point that I have been making here often recently: owning the latest greatest lens or camera body does not guarantee you anything. Everyone needs to learn to make the best images possible with the gear that they have in their hands.
Why Stand (In This Situation?)
Both Joel and I were standing when we created our respective images. Why not sit to effectively move the background farther from the subject when photographing a dancing Reddish Egret on a sunny morning?
Please Remember to use our Affiliate Links and to Visit the New BAA Online Store 🙂
To show your appreciation for my continuing efforts here, we ask, as always, that you get in the habit of using my B&H affiliate links on the right side of the blog for all of your photo and electronics purchases. Please check the availability of all photographic accessories in the New BIRDS AS ART Online Store, especially the Mongoose M3.6 tripod head, Wimberley lens plates, Delkin flash cards and accessories, and LensCoat stuff.
As always, we sell only what I have used, have tested, and can depend on. We will not sell you junk. We know what you need to make creating great images easy and fun. And we are always glad to answer your gear questions via e-mail.
I would of course appreciate your using our B&H affiliate links for all of your major gear, video, and electronic purchases. For the photographic stuff mentioned in the paragraph above we, and for everything else in the new store, we, meaning BAA, would of course greatly appreciate your business. Here is a huge thank you to the many who have been using our links on a regular basis and those who will be visiting the New BIRDS AS ART Online Store as well.
Facebook
Be sure to like and follow BAA on Facebook by clicking on the logo link upper right. Tanks a stack!
Typos
In all blog posts and Bulletins, feel free to e-mail or to leave a comment regarding any typos or errors. Just be right 🙂