What's Up?
More R&R and more Chopped re-runs were on the menu on Monday.
Wind and weather are looking good for FRI and SAT mornings at Nickerson. If anyone is interested in cheap ($350) private or small group instruction (limit 3) please shoot me an e-mail. The session includes a working brunch and image review. More dates to follow. Inquiries welcome.
The Streak
Today's blog post marks a totally insane, absurd, completely ridiculous, unfathomable, silly, incomprehensible, what's wrong with this guy?, makes-no-sense, 258 days in a row with a new educational blog post. And I still have dozens of new topics to cover; there should be no end in sight until my big South America trip next fall. As always-–and folks have been doing a really great job recently–-please remember to use our B&H links for your major gear purchases. For best results use one of our many product-specific links; after clicking on one of those you can continue shopping with all subsequent purchases invisibly tracked to BAA. Your doing so is always greatly appreciated. Please remember: web orders only. AND Please remember also that if you are shopping for items that we carry in the new BAA Online Store (as noted in red at the close of this post below) we would appreciate your business.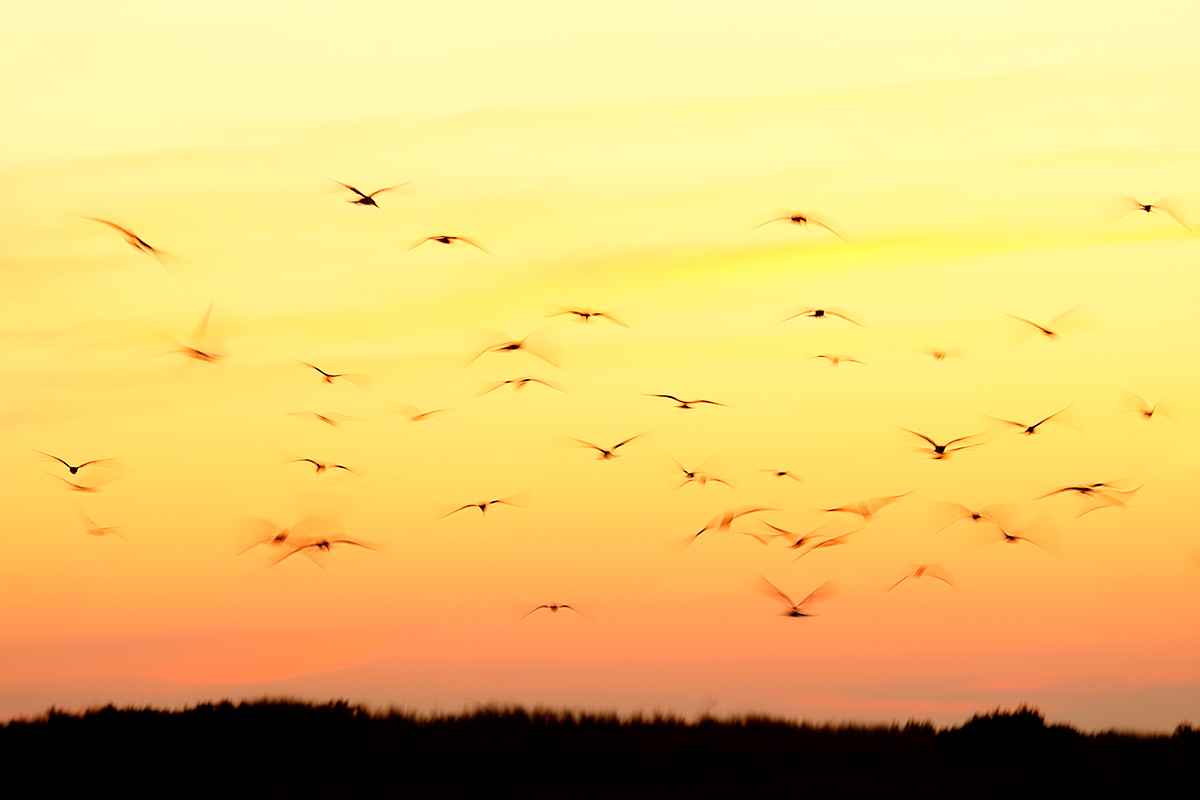 This image was created on the first morning of the recently concluded Nickerson Beach IPT with the hand held Canon EF 70-200mm f/4L IS USM lens (at 257mm) with the mega mega-pixel Canon EOS 5DS R. ISO 400. Evaluative metering as framed: 1/13 sec. at f/8 in Tv mode. Color temperature: 8000K.
65-point Automatic selection/AI Servo/Shutter Button AF as framed was active at the moment of exposure (as is always best when hand holding). Click on the image to see a larger version.
Image #1: Common Terns above the colony in pre-dawn color
Your browser does not support iFrame.
Getting Up Early…
Except for our last morning–we had been at Tony Cuban enjoying some fine dining until after 11pm the night before–we had left the IPT hotel at 4:30am everyday and been in place for pre-dawn silhouettes and blurs with all our gear no later than 5:15am. In addition to the pre-dawn stuff, some clouds on the eastern horizon allowed us some extra times shooting back to the east before the skies cleared.
How Bad Was It?
The group was amazed many times as we encountered photographers arriving as we were packing up to head to brunch… I was not as I have seen it all too many times before. Arriving very early in the morning is always important but becomes even more important when the weather calls for clear skies and west/southwest winds.
Bad Wind/Good Wind…
Many folks do not realize that if the forecast calls for bad winds for clear sky flight photography, i.e., west winds in the morning or east winds in the afternoons, that those conditions are perfect for creating backlit images at dawn or dusk. With some color in the sky and things can be just ducky.
We were able to put this concept into practice on the morning that I made Image #1; with a SW wind the terns were all facing us.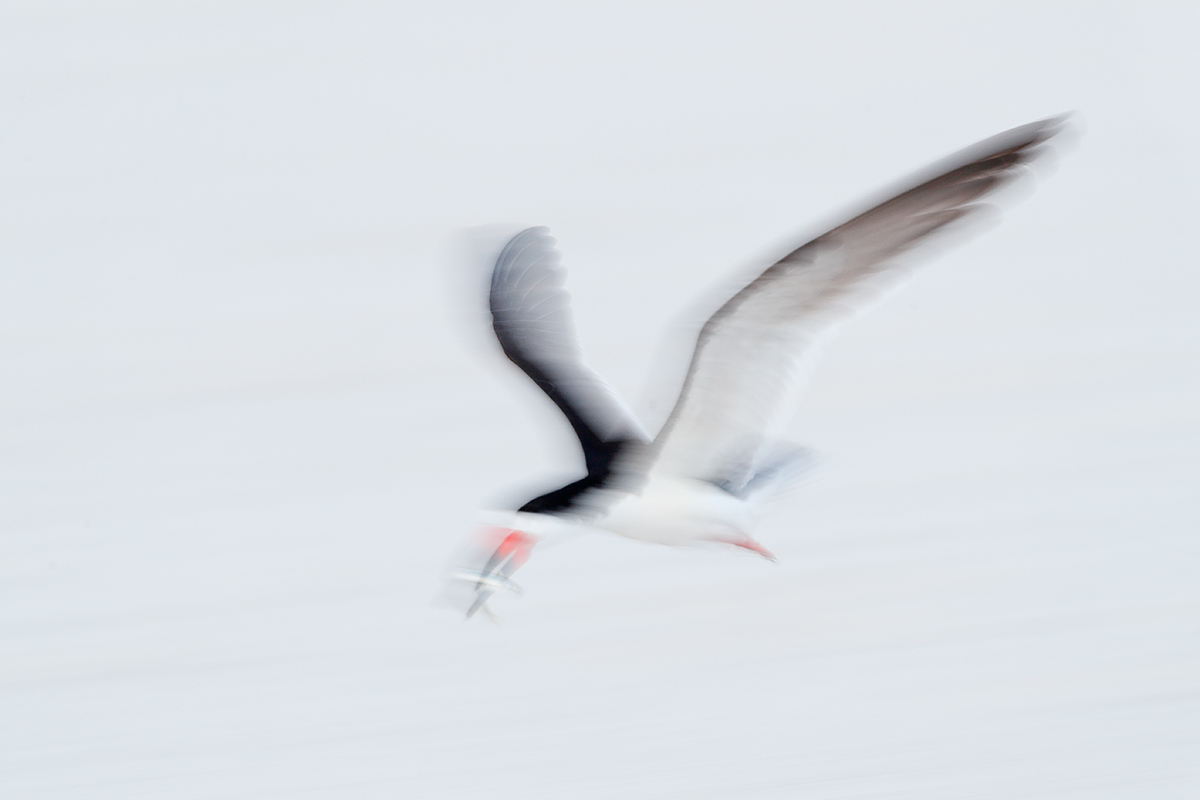 This image was created on the second morning of the 2016 Nickerson Beach IPT with the hand held Canon EF 400mm f/4 DO IS II USM lens, Canon Extender EF 1.4X III, and the rugged, blazingly fast, autofocus king, the Canon EOS-1D X Mark II with 64GB Card and Reader. ISO 800. Evaluative metering +2 2/3 stops off the pre-dawn sky: 1/15 sec. at f/5.6 in Manual mode. AWB.
Center Large Zone AF/AI Servo/Shutter Button AF as originally framed was active at the moment of exposure (as is always best when hand holding). The AF system performed perfectly activating two AF points that fell on the bill and the head.
Image #2: Black Skimmer in flight with fish blur
Your browser does not support iFrame.
Experimenting with the AF System
Experimenting with your camera's AF system can pay big dividends. With today's Image #1, I went with 65-point knowing that it would hold focus once I acquired it. When some skimmers started leaving the group to my leaf to fly to the northwest (into the wind of course) i.e., to my right, they were fairly large in the frame so I tried center Large Zone AF; it worked to perfection. I kept four interesting frames from the short-lived situation.
While AF Expand is my go-to AF Area Selection mode, I do not hesitate to try others that I think might be better in a given situation.
Your Favorite?
Please help to keep the blog interactive–it maximizes the learning opportunities–by leaving a comment and letting us know which of today's featured images you like best. And please, of course, let us know why. If you hate all blurs as a matter of course, you can let us know why.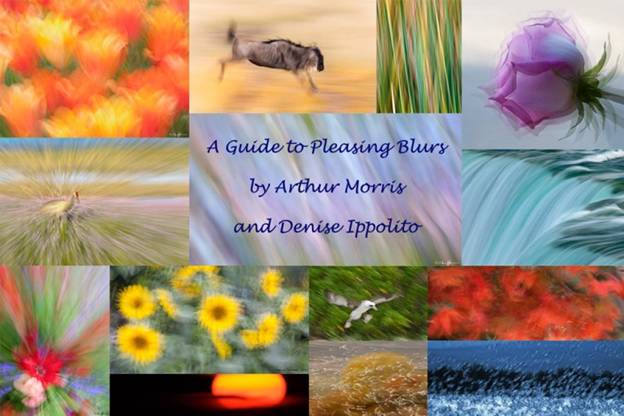 Learn the secrets of creating contest winning images in our "A Guide to Pleasing Blurs."
A Guide to Pleasing Blurs
In A Guide to Pleasing Blurs the authors discuss just about every technique ever used by mankind to create pleasingly blurred images. Ninety-nine point nine percent of pleasing blurs are not happy accidents. You can learn pretty much everything that there is to know about creating them in this instructive, well written, easy to follow guide.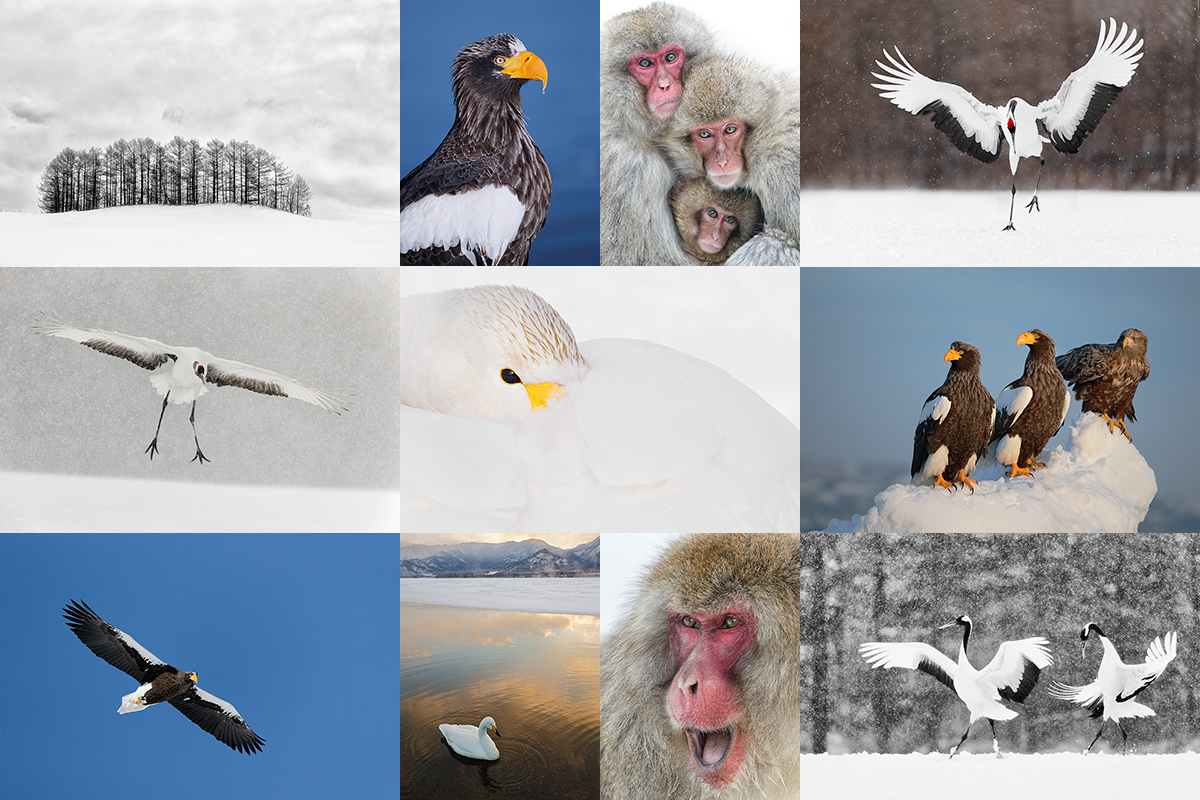 Consider joining me in Japan in February, 2017, for the world's best Japan in Winter workshop. Click on the card to enjoy the spectacular larger version.
Japan In Winter IPT. February 9-24, 2017: $11,499 (was $13,999)/double occupancy. Limit 8/Openings: 3.
Price Reduced $2,500 on 3-8-16!
All lodging including the Tokyo hotel on 9 FEB, all breakfasts & dinners, ground transport and transfers including bus to the monkey park hotel, and all entrance fees and in-country flights are included. Not included: international flights, all lunches–most are on the run, and alcoholic beverages.

Please e-mail for couple and IPT repeat customer discount information.
This trip is one day longer than the great 2014 trip to allow for more flexibility, more time with the cranes, and most importantly, more time for landscape photography. Hokkaido is gorgeous. You will enjoy tons of pre-trip planning and gear advice, in-the-field instruction and guidance, at-the-lodge Photoshop and image review sessions in addition to short introductory slide programs for each of the amazing locations. Skilled photographer Paul McKenzie handles the logistics and we enjoy the services of Japan's best wildlife photography guide whom I affectionately call "Hokkaido Bear." His network of local contacts and his knowledge of the weather, the area, and the birds is unparalleled and enables him to have us in the best location every day.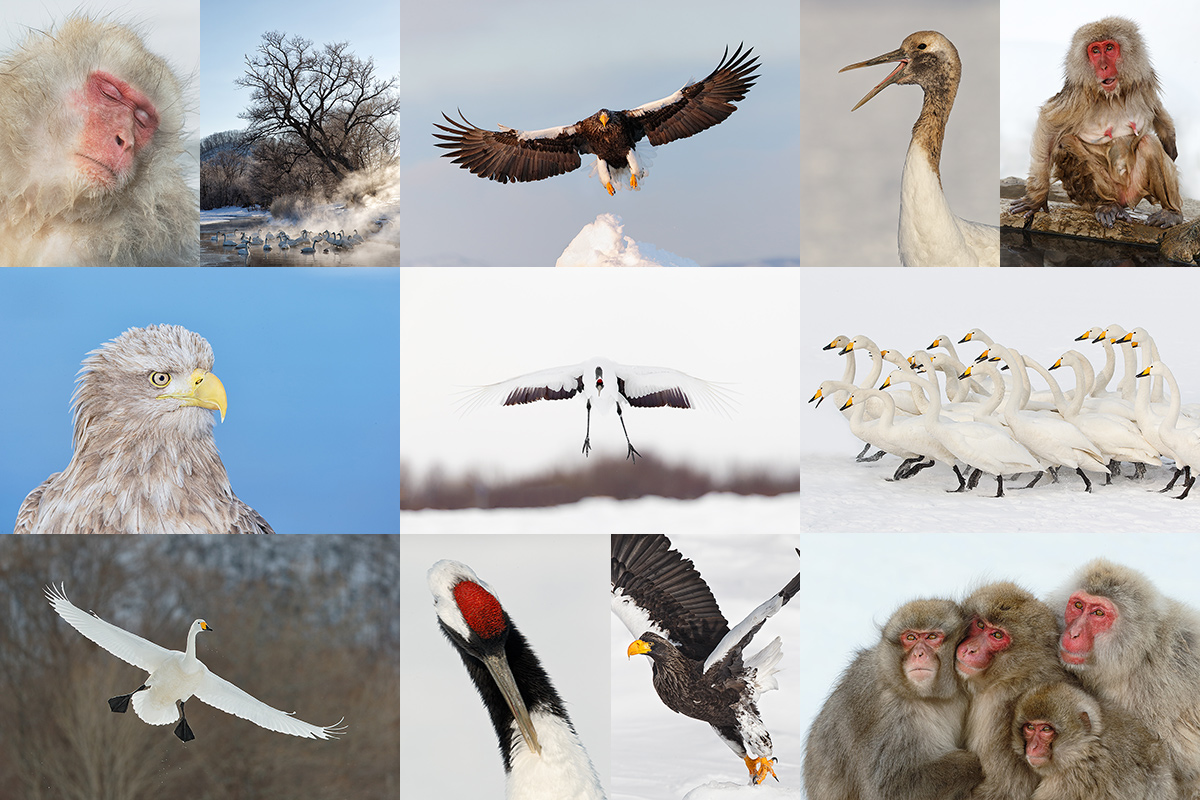 Amazing subjects. Beautiful settings. Nonstop action and unlimited opportunities. Join me.
The Logistics
Arrive Tokyo: 9 FEB 2017 the latest. 8 FEB is safer and gives you a day to get acclimated to the time change. Your hotel room for the night of the 9th is covered.
Bus Travel to Monkey Park Hotel: 10 FEB: A 1/2 DAY of monkey photography is likely depending on our travel time… This traditional hotel is first class all the way. Our stay includes three ten course Japanese dinners; these sumptuous meals will astound you and delight your taste buds. There are many traditional hot springs mineral baths (onsens) on site in this 150 year old hotel.
Full Day snow monkeys: FEB 11.
Full Day snow monkeys: FEB 12.
13 FEB: Full travel day to Hokkaido/arrive at our lodge in the late afternoon. The lodge is wonderful. All the rooms at the lodge have beds. Bring your warm pajamas. A local onsen (hot springs bath and tubs) is available for $5 each day before dinner–when you are cold, it is the best thing since sliced bread. The home-cooked Japanese styles meals at the lodge are to die for. What's the best news? Only a small stand of woods separates us from the very best crane sanctuary. During one big snowstorm we were the only photo group to be able to get to Tsurui Ito; we had the whole place to ourselves in perfect conditions for crane photography!
FEB 14-23: Red-crowned Crane, raptors in flight, Whooper Swans, and scenic photography. Ural Owl possible. An overnight trip to Rausu for Steller's Sea Eagle and White-tailed Eagle photography on the tourists boats is 100% dependent on the weather, road, and sea ice conditions. Only our trip offers complete flexibility in this area. It has saved us on more than once occasion. The cost of 2 eagle-boat trips is included. If the group would like to do more than two boat trips and we all agree, there will be an additional charge for the extra trip or trips. No matter the sea ice conditions, we will do two eagle boat trips (as long as we can make the drive to Rausu; it snows a lot up there). We have never been shut out.In 2016 there was no sea ice but our guide arranged for two amazingly productive boat trips.
Lodging notes: bring your long johns for sleeping in the lodge. At the Snow Monkey Park, and in Rausu, the hotel the rooms are Japanese-style. You sleep on comfortable mats on the floor. Wi-fi is available every day of the trip.
FEB 24. Fly back to Tokyo for transfer to your airport if you are flying home that night, or, to your hotel if you are overnighting. If you need to overnight, the cost of that room is on you.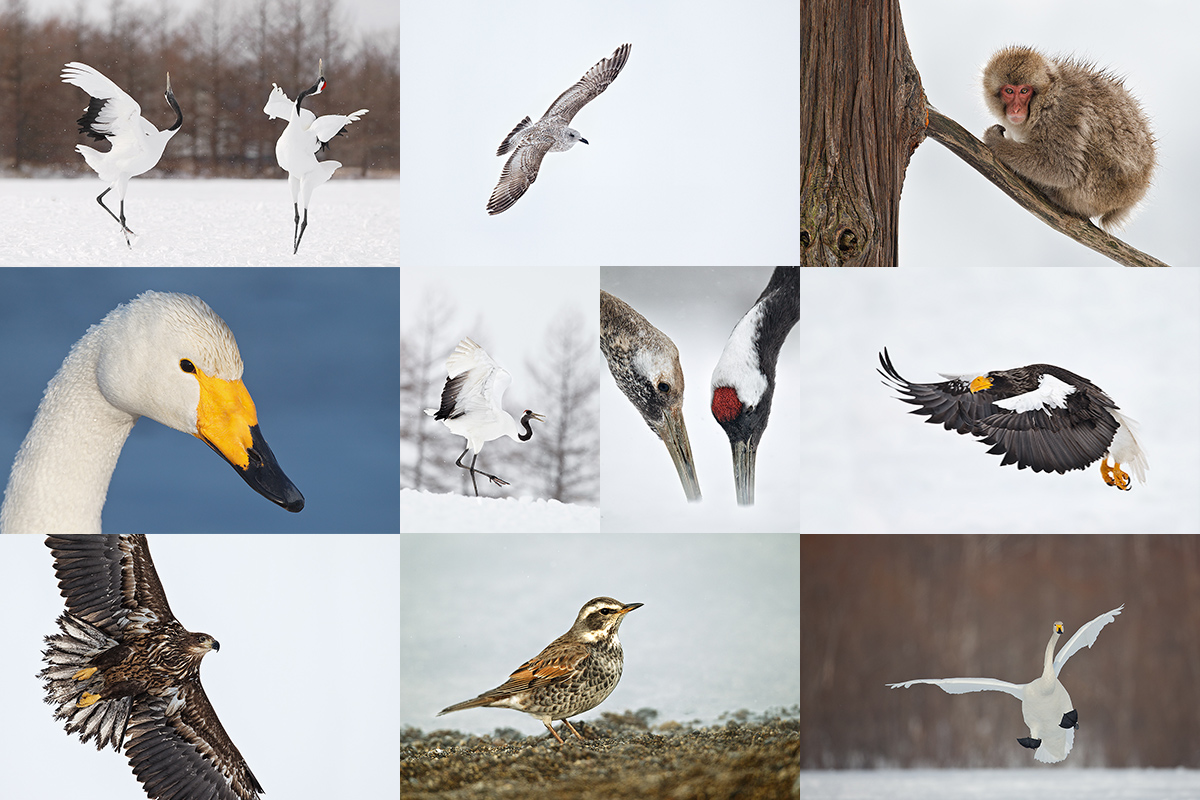 Life is short. Hop on the merry-go-round.
To Sign Up
To save your spot, please send your $5,000 non-refundable deposit check made out to "Birds as Art" to Arthur Morris/BIRDS AS ART, PO Box 7245, Indian Lake Estates, FL 33855. I do hope that you can join me for this trip of a lifetime. Do e-mail with any questions or give me a buzz at 863-692-0906.
Purchasing travel insurance within 2 weeks of our cashing your deposit check is strongly recommended. On two fairly recent Galapagos cruises a total of 5 folks were forced to cancel less than one week prior to the trip. My family and I use Travel Insurance Services and strongly recommend that you do the same.
Please Remember to use my Affiliate Links and to Visit the New BAA Online Store 🙂
To show your appreciation for my continuing efforts here, we ask, as always, that you get in the habit of using my B&H affiliate links on the right side of the blog for all of your photo and electronics purchases. Please check the availability of all photographic accessories in the New BIRDS AS ART Online Store, especially the Mongoose M3.6 tripod head, Wimberley lens plates, Delkin flash cards and accessories, and LensCoat stuff.
As always, we sell only what I have used, have tested, and can depend on. We will not sell you junk. We know what you need to make creating great images easy and fun. And we are always glad to answer your gear questions via e-mail.
I would of course appreciate your using our B&H affiliate links for all of your major gear, video, and electronic purchases. For the photographic stuff mentioned in the paragraph above we, and for everything else in the new store, we, meaning BAA, would of course greatly appreciate your business. Here is a huge thank you to the many who have been using our links on a regular basis and those who will be visiting the New BIRDS AS ART Online Store as well.
Facebook
Be sure to like and follow BAA on Facebook by clicking on the logo link upper right. Tanks a stack!
Typos
In all blog posts and Bulletins, feel free to e-mail or to leave a comment regarding any typos or errors. Just be right 🙂