What's Up?
We brought the Mets some needed good luck. And the threatening weather held. The Mets beat the Rockies 6-4 on Neil Walker's three run bomb in the bottom of the seventh inning to the delight of three generations of Morrises.
The Streak
Today's blog post marks a totally insane, absurd, completely ridiculous, unfathomable, silly, incomprehensible, what's wrong with this guy?, makes-no-sense, 263 days in a row with a new educational blog post. And I still have dozens of new topics to cover; there should be no end in sight until my big South America trip next fall. As always-–and folks have been doing a really great job recently–-please remember to use our B&H links for your major gear purchases. For best results use one of our many product-specific links; after clicking on one of those you can continue shopping with all subsequent purchases invisibly tracked to BAA. Your doing so is always greatly appreciated. Please remember: web orders only. AND Please remember also that if you are shopping for items that we carry in the new BAA Online Store (as noted in red at the close of this post below) we would appreciate your business.
This image was created on the afternoon of the private day (FRI pm and SAT am) that I spent with multiple IPT veteran Jake Levin. I used the Induro GIT 304L/Mongoose M3.6-mounted Canon EF 600mm f/4L IS II USM lens, the Canon Extender EF 2X III, and the mega mega-pixel Canon EOS 5DS R. ISO 400. Evaluative metering +1/3 stop: 1/1000 sec. at f/10. Daylight WB.
Center AF point (by necessity)/AI Servo Expand/Rear Focus AF as framed was active at the moment of exposure. The active AF point fell on the side of the bird's upper back just above the dark mark on the folded wing. Click here to see the latest version of the Rear Focus Tutorial. Click on the image to see a larger version.
LensAlign/FocusTune micro-adjustment: -5.
Common Tern fledgling posing perfectly in late afternoon light
Your browser does not support iFrame.
Today's Featured Image
What makes today's featured image so special? Is it the sweet late afternoon light. The soft, splendid, de-focused background that came with getting down on the ground? The beautiful young Common Tern? The alert posture? (Perhaps the bird thought that it heard mom coming with a fish…) The fact that the shadow adds so nicely to the image design? Or the out of focus beach vegetation in the ULC? Or all of the above?
Yeah, the above is a set of rhetorical questions…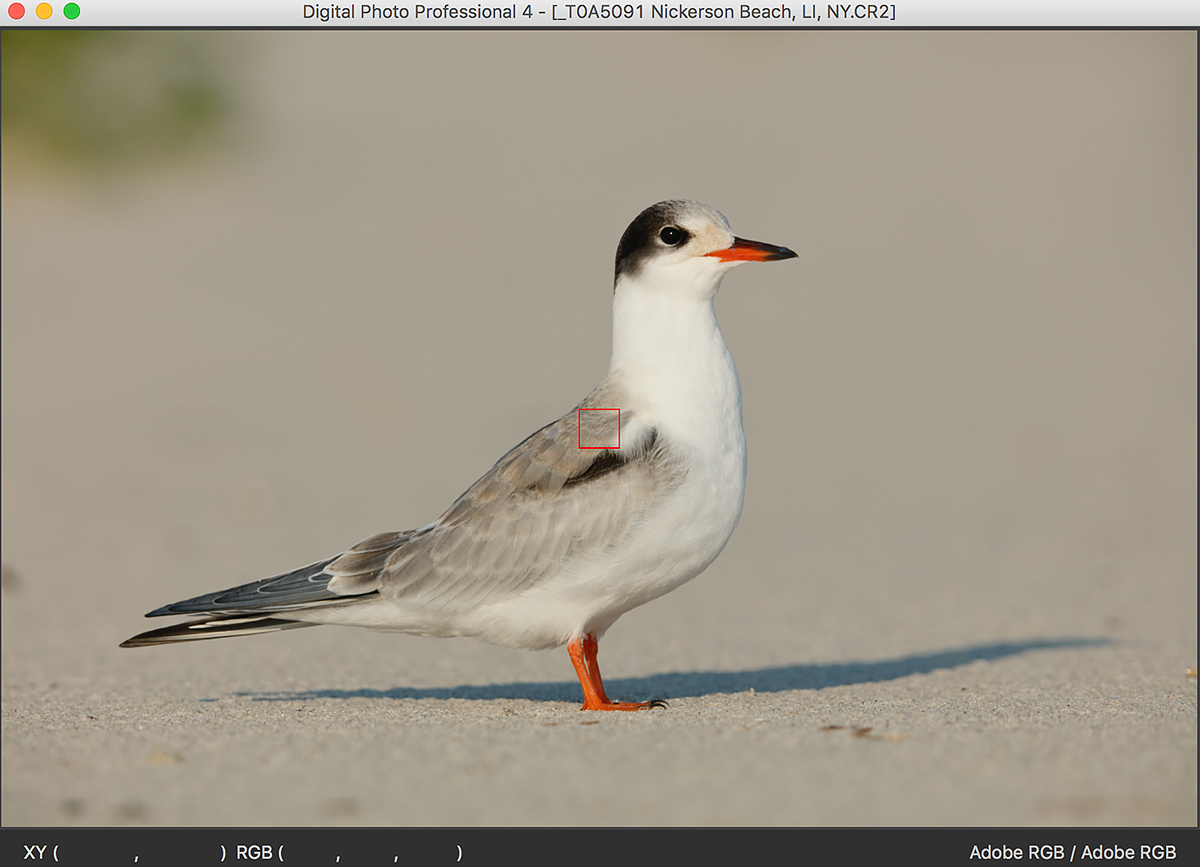 DPP 4 Screen Capture showing active AF point
The Active AF Point
I placed the AF point on a spot that I thought would approximate the plane of the bird's eye. I think that i did quite well. See more below.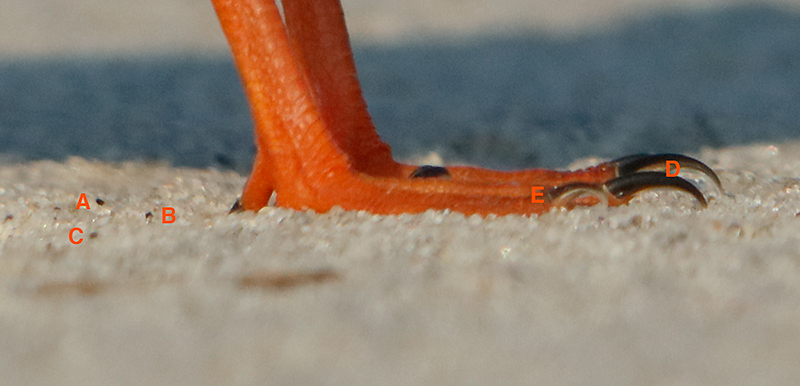 Tight crop of feet, toes, and sand grains…
Understanding Depth of Field and Plane of Sharp Focus Issues
The black grain of sand to the right of A is in very sharp focus.
The black grain of sand to the left of B is not quite in sharp focus.
The dark grain of sand to the left of C is completely out of focus.
The two long toes, the one on the right foot (nearest us) and the one on the left foot (farthest from us), are both pretty well focused. If push came to shove, I'd say that the near long toe is a bit sharper than the far long toe. This makes sense as A, the sharpest grain of sand, looks to be on the same plane as the near long toe, the one below the letter D.
Thus, with the slight head turn toward us, the bird's razor sharp eye must be pretty much on the same plane as the long toe of the near foot.
At f/10 at 1200mm with a full frame camera body and estimating the distance at 25 feet, my favorite online depth of field calculator, DOF Master.Com, states that depth of field in front of and behind the plane of focus would be more than .4 inches with a total depth of field of more than .8 inches. A quick glance at the tight crop of the feet, toes, and sand grains shows that that is at least a 50% over-estimate…
The fact is that at 1200mm with the subject 20-30 feet from the back of the camera, depth of field is measured in small fractions of an inch. Thus, if your gear or the bird moves even a fraction of an inch you will not produce an image that is sharp on the eye. That is the great challenge of working with extremely long focal lengths.
Ramifications
Yes, creating razor sharp on the eye images at 1200mm is a big challenge. It is almost always better to have AF active at the moment of exposure (even when you are limited to the center AF point) than it is to use rear focus (or One Shot AF) and re-compose (even when you are on a tripod). Why? It the bird shifts position even slightly, you are toast as far as sharpness is concerned. There is of course a big advantage with the 1DX Mark II in these situations as you would have all AF points available.
On a related matter, try to get the active AF point on an area with at least some pattern and contrast. Placing the active AF point on a featureless white breast might work on occasion but much better to give the AF system a fair chance. And that goes double in low light situations…
A Question
Are you better off working at the same distance with the 600 II and the 1.4X III TC, enjoying more d-o-f, producing sharper images with more fine feather detail, and then cropping than you are with the 600 II/2X III TC combo?
My answer? I honestly don't know. What do you think? Does anyone know the theoretically correct answer?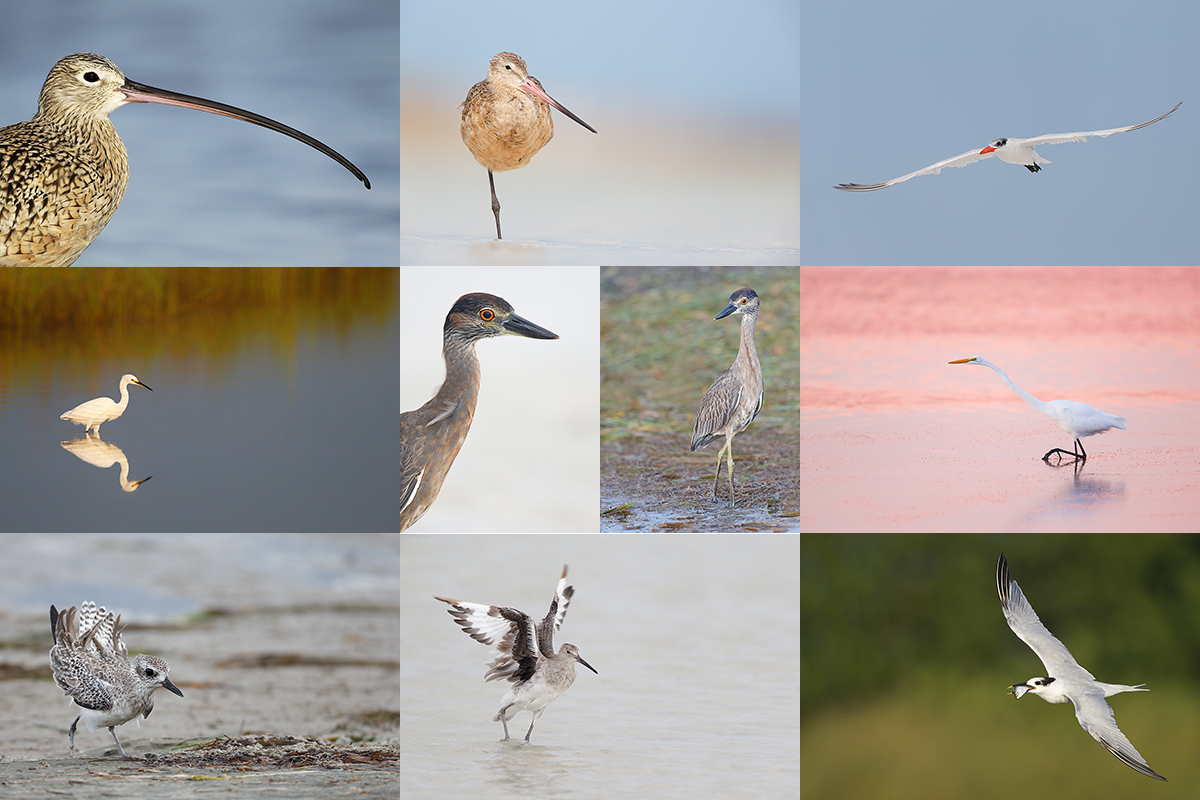 Fort DeSoto in fall is rife with tame birds. All of the images in this card were created at Fort DeSoto in either late September or early October. I hope that you can join me there this fall one way or another. Click on the composite to enjoy a larger version.
BIRDS AS ART Fort DeSoto In-the-Field Meet-up Workshop (ITFW): $99
Join me on the morning of October 2, 2016 for 3-hours of photographic instruction at Fort DeSoto Park. Beginners are welcome. Lenses of 300mm or longer are recommended but even those with 70-200s should get to make some nice images. Teleconverters are always a plus.
You will learn the basics of digital exposure and image design, autofocus basics, and how to get close to free and wild birds. We should get to photograph a variety of wading birds, shorebirds, terns, and gulls. This inexpensive morning workshop is designed to give folks a taste of the level and the quality of instruction that is provided on BIRDS AS ART Instructional Photo-tours. I hope to meet you there.
To register please call Jim or Jennifer during weekday business hours with a credit card in hand to pay the nominal registration fee. Your registration fee is non-refundable. You will receive a short e-mail with instructions, gear advice, and meeting place one week before the event.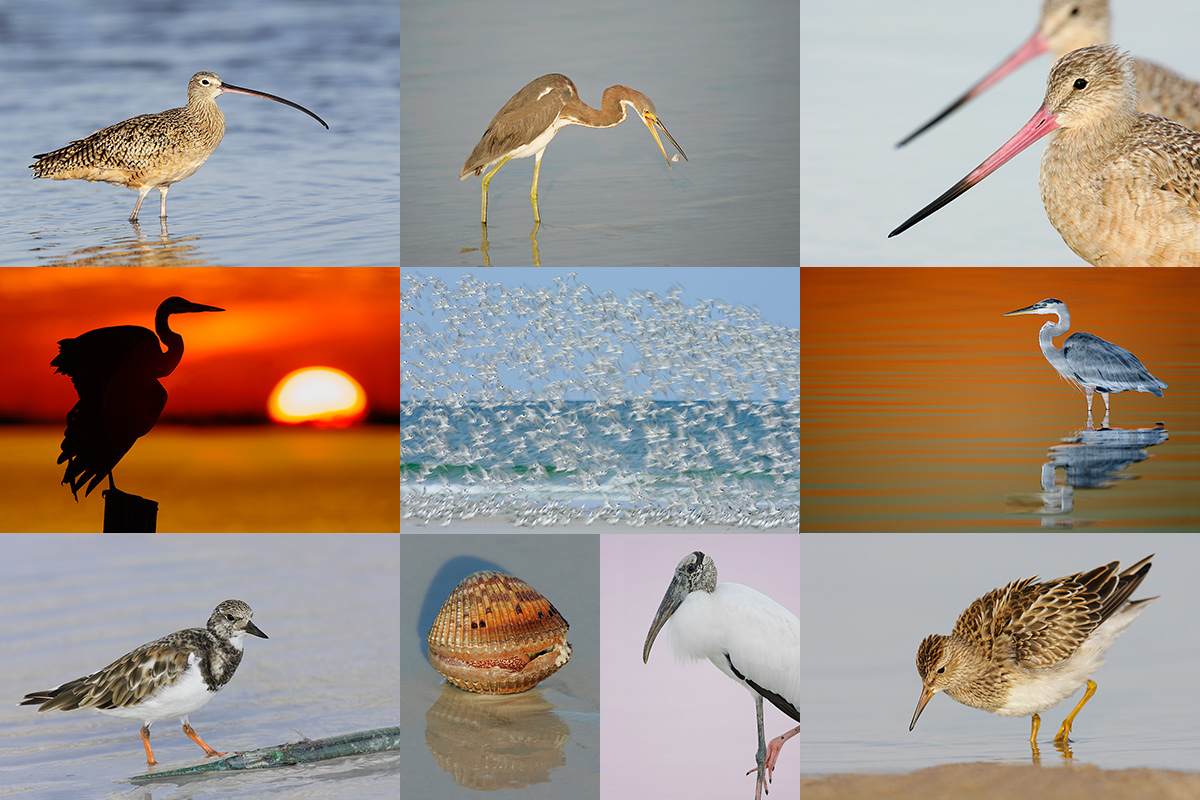 Folks attending the IPT will be in the field early and stay out late to take advantage of sunrise and sunset colors. The good news is that the days are relatively short in early fall. Click on the composite to enjoy a larger version.
Fort DeSoto Short Notice Fall IPT/September 28 (meet & greet and afternoon session) through the full day on October 1, 2016. 3 1/2 DAYs: $1549. Limit 10. Sunday morning ITFW free to IPT registrants.
Fort DeSoto, located just south of St. Petersburg, FL, is a mecca for migrant shorebirds in fall. There they join dozens of egrets, herons, night-herons, gulls, and terns who winter on the T-shaped peninsula that serves as their wintering grounds. With any luck, we should get to photograph two of Florida's most desirable shorebird species: Marbled Godwit and the spectacular Long-billed Curlew. Black-bellied Plover and Willet are easy, American Oystercatcher likely. Great Egret, Snowy Egret, Great Blue Heron, and Tricolored Heron are easy as well and we will almost surely come up with a tame Yellow-crowned Night-Heron or two. We should get to do some Brown Pelican flight photography. And Royal, Sandwich, Forster's, and Caspian Terns will likely provide us with some good flight opportunities as well. Though not guaranteed, Roseate Spoonbill and Wood Stork would not be unexpected.
Folks who sign up for the IPT are welcome to join me as my guest on the ITFW on the Sunday morning following the workshop. See above for details on that.
On this and all other IPTs you will learn basics and fine points of digital exposure and to get the right exposure every time after making a single test exposure, how to approach free and wild birds without disturbing them, to understand and predict bird behavior, to identify and age many species of shorebirds, to spot the good situations, to choose the best perspective, to see and understand the light, to, and to design pleasing images by mastering your camera's AF system. And you will learn learn how and why to work in Manual mode (even if you're scared of it).
At brunch (included) we will review my images–folks learn a ton watching me edit–why keep this one and delete that one. If you opt to bring your laptop, we can take a look at a few of your images from the morning session. We will process a few of my images in Photoshop after converting them in DPP. That followed by Instructor Nap Time.
As I already have one signed up for this workshop, it is a go. Hotel info will be e-mailed when you register. The best airport is Tampa (TPA). It is always best if IPT folks stay in the same hotel so if you are interested it would be a good idea to register now and make your hotel reservations as soon as you hear from us. We can, however, coordinate with local folks who opt to stay at home.
Because of the relatively late date, payment is full is due upon registration either by check or credit card. If the former, please e-mail us immediately so that we can save you a spot. If the latter, please call Jim or Jennifer during weekday business hours at 863-692-0906 with a credit card in hand to register. Your registration fee is non-refundable unless the IPT sells out with eight so please check your plans carefully before committing. You will receive a confirmation e-mail with detailed instructions and gear & clothing advice a fairly soon.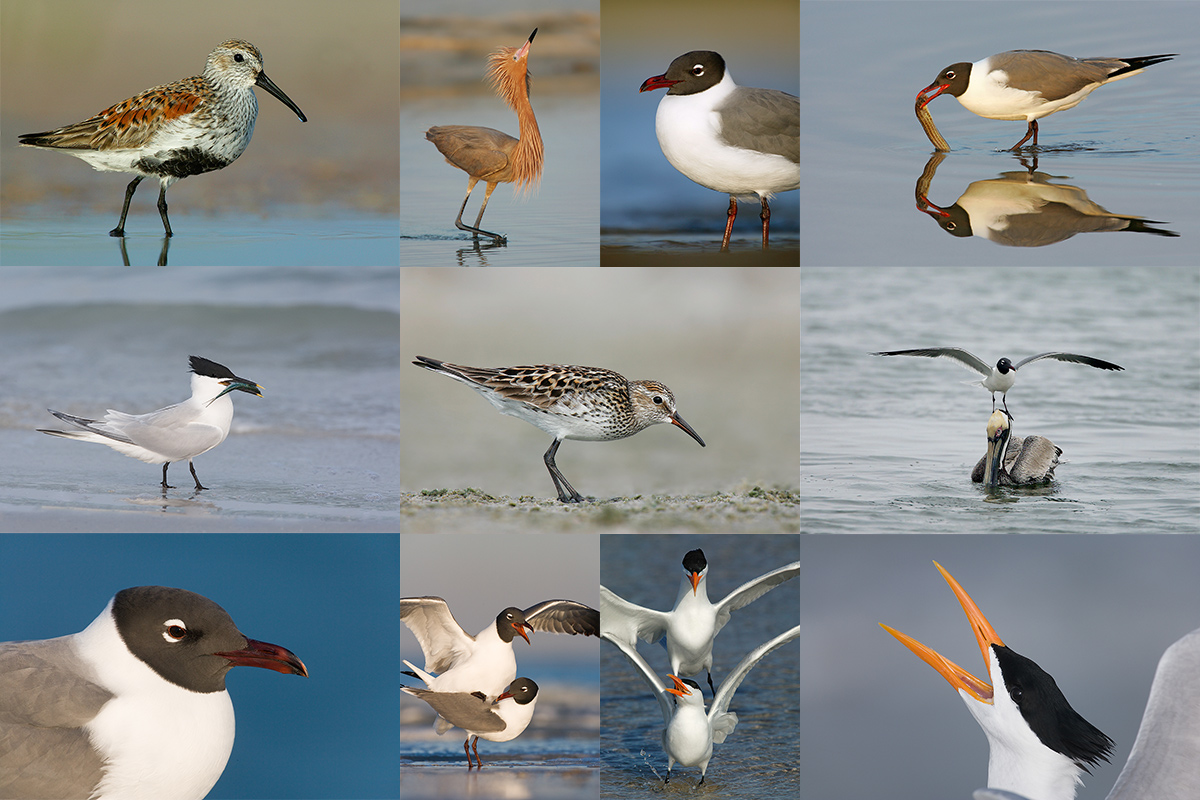 BAA Site Guides are the next best thing to being on an IPT.
The Fort DeSoto Site Guide
Can't make the IPT or the ITFW? Get yourself a copy of the Fort DeSoto Site Guide. Learn the best spots, where to be when in what season in what weather. Learn the best wind directions for the various locations. BAA Site Guides are the next best thing to being on an IPT. You can see all of them here.
Please Remember to use my Affiliate Links and to Visit the New BAA Online Store 🙂
To show your appreciation for my continuing efforts here, we ask, as always, that you get in the habit of using my B&H affiliate links on the right side of the blog for all of your photo and electronics purchases. Please check the availability of all photographic accessories in the New BIRDS AS ART Online Store, especially the Mongoose M3.6 tripod head, Wimberley lens plates, Delkin flash cards and accessories, and LensCoat stuff.
As always, we sell only what I have used, have tested, and can depend on. We will not sell you junk. We know what you need to make creating great images easy and fun. And we are always glad to answer your gear questions via e-mail.
I would of course appreciate your using our B&H affiliate links for all of your major gear, video, and electronic purchases. For the photographic stuff mentioned in the paragraph above we, and for everything else in the new store, we, meaning BAA, would of course greatly appreciate your business. Here is a huge thank you to the many who have been using our links on a regular basis and those who will be visiting the New BIRDS AS ART Online Store as well.
Facebook
Be sure to like and follow BAA on Facebook by clicking on the logo link upper right. Tanks a stack!
Typos
In all blog posts and Bulletins, feel free to e-mail or to leave a comment regarding any typos or errors. Just be right 🙂