What's Up?
I rested and got a lot accomplished on Monday. I worked on this post early on Monday morning. I am heading into the community pool at my Mom's place as soon as I finish this one.
The Streak
Today's blog post marks a totally insane, absurd, completely ridiculous, unfathomable, silly, incomprehensible, what's wrong with this guy?, makes-no-sense, 264 days in a row with a new educational blog post. And I still have dozens of new topics to cover; there should be no end in sight until my big South America trip next fall. As always-–and folks have been doing a really great job recently–-please remember to use our B&H links for your major gear purchases. For best results use one of our many product-specific links; after clicking on one of those you can continue shopping with all subsequent purchases invisibly tracked to BAA. Your doing so is always greatly appreciated. Please remember: web orders only. AND Please remember also that if you are shopping for items that we carry in the new BAA Online Store (as noted in red at the close of this post below) we would appreciate your business.
Selling Your Used Gear Through BIRDS AS ART
Selling your used (or like-new) photo gear through the BAA Blog or via a BAA Online Bulletin is a great idea. We charge only a 5% commission. One of the more popular used gear for sale sites charges a minimum of 20%. Plus assorted fees! Yikes. The minimum item price here is $500 (or less for a $25 fee). If you are interested please e-mail with the words Items for Sale Info Request cut and pasted into the Subject line :). Stuff that is priced fairly–I offer free pricing advice, usually sells in no time flat. In the past few months, we have sold just about everything in sight. Do know that prices on some items like the EOS-1D Mark IV, the old Canon 500mm, the EOS-7D, and the original 400mm IS DO lens have been dropping steadily. You can see all current listings by clicking here or by clicking on the Used Photo Gear tab on the yellow-orange tab on the right side of the menu bar above.
Used Gear Sales Continue to be Brisk
Tom Mast sold his Canon 300mm f/4L IS USM lens in excellent condition for $625 in late July.
Henry Raymundo sold his Gitzo 1325 tripod and a Wimberley V-2 head both in very good plus condition for the very low price of $699 and two used Canon 100-400mm IS L Zoom lenses, one in excellent condition for $599, the other in very good plus condition for $549–all in late July.
Jonathan Ward sold his Canon 70-200 f/2.8L IS II USM lens in excellent condition for $2,000 CAD in early July.
Long ago multiple IPT veteran Charles McRae sold his Canon EF 600mm f/4L IS lens in good to very good condition in early July for a record low $4,199.
Jeffrey Fredberg sold his EF 70-300mm f/4-5.6L IS USM L series lens in like-new condition for the record-low BAA price of $749 in late June.
Jim Burns sold his Canon 200-400mm F/4L IS zoom lens with Internal 1.4X Extender in brand new condition for the insane BAA record-low price of $8499 in late June.
Moody McCall sold his Canon 300mm F/2.8L IS II in excellent condition for $4199 in mid-June.
Long-ago IPT veteran Charles Sleicher sold his Canon EF 500mm f/4L IS USM lens in very good plus condition for $3400 in mid-June.
Top BAA Used Gear seller Jim Keener sold his Canon EOS 5D Mark III in absolute mint condition for $1599 in mid-June.
KW McCulloch sold his Canon EOS-1D X in excellent condition for $2459 in mid-June.
Top BAA Used Gear seller Jim Keener sold his Canon EF 500mm f/4L IS USM lens (the old five) in very good plus condition for a BAA record low price of $3699 in mid-June.
New Listing
Canon EOS-5D Mark III
Multiple IPT-veteran and all around nice guy Sheldon Goldstein is offering a Canon EOS-5D Mark III in excellent plus condition but for a few scuffs on the bottom of the camera for the great price of $1479. The body was just cleaned and checked by Canon; it has only about 16,500 actuations. The sale includes the camera strap, the battery, the battery charger, and the manual.
Please contact Shelly via e-mail or by phone at 1-646-423-0392 (eastern time).
I have owned and used this superb, full frame, 22mp digital body for several years. It was always my first choice for scenic, Urbex, and flower photography until I fell in love with the 5DS R (for a lot more money!). artie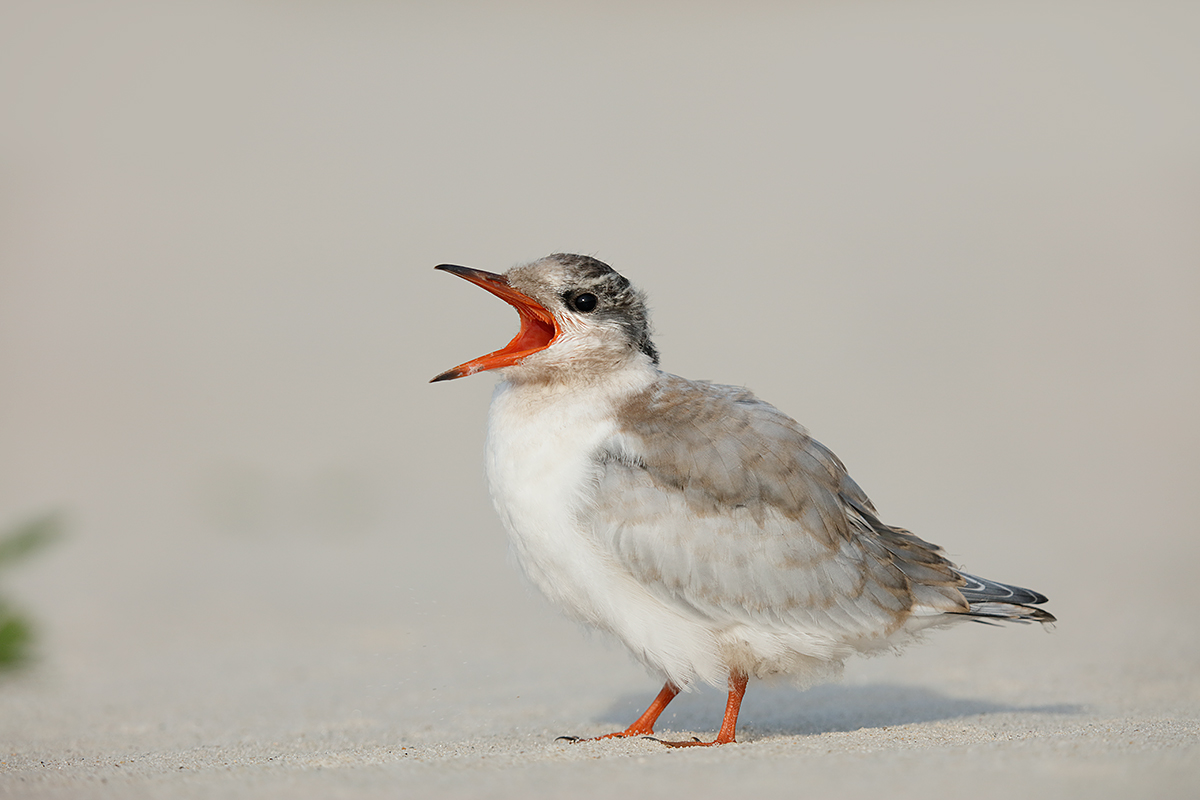 This image was created by multiple IPT veteran Will Schilling on the recently concluded Nickerson Beach IPT with the Induro GIT 304L/Mongoose M3.6-mounted Canon EF 600mm f/4L IS II USM lens, the Canon Extender EF 2X III, and the mega mega-pixel Canon EOS 5DS R. ISO 400. Evaluative metering +2/3 stop: 1/1000 sec. at f/8. Daylight WB.
Center AF point (by necessity)/AI Servo Expand/Rear Focus AF as framed was active at the moment of exposure. The active AF point fell just below the side of the bird's neck just a bit behind the eye. See the illuminated red square in the DPP 4 screen capture below. Click here to see the latest version of the Rear Focus Tutorial. Click on the image to see a larger version.
Common Tern chick begging. Image courtesy of and copyright 2016: Will Schilling
Your browser does not support iFrame.
Well Done Will
Amateur Nailed It!
I knew that Will had rocked this one the moment that I saw it on the back of his camera. He had been sitting about 10 feet to my right. This was the session where we chose to sit up sun angle from a patch of really clean sand and wait for the action to come to us. (See the A Different Approach to Bird Photography blog post here if you missed it.)
Will was using my back-up 5DS R. He rented it for the IPT before his previously saltwater damaged 1D X bit the bullet and failed completely. He did not use it much until after his 1D X went down the tubes.
Camera Thoughts from Will via e-mail
I'm so glad that I rented one of your 5DS R bodies for this trip. Not only because my primary camera crapped out on me, but because it was good getting some experience with the 5DS R first hand. The image quality is obviously incredible. I had gotten used to the large/high quality files on my Nikon D810 before my recent switch to Canon. I think that because of my familiarity with the D810's high resolution, I was already used to having to keep the camera/lens really still to get sharp pictures, so this wasn't an issue for me. The 5DS R AF system really impressed me though. Even with the 2X tele-converter on it was really quick and accurate.
When I left the IPT, I was pretty sure I was going to immediately replace my dead 1D X with a 5DS R, but now I'm leaning more towards the EOS-1DX Mark II. I am thinking that I will either pick up a 5DS R or the eventual (rumoured) 5D Mark IV as a second camera. Looking back, I didn't really get to use the 5DS R much for flight photography, so that's why I'm leaning towards the 1DX-II first. It seems that it may be the best camera body for me until I get a second body. I've been trying to go back through your old blog posts and Arash's comments on BPN to help me decide. I think I know your thoughts on this, but welcome any additional comments you may have.
I was about to reply to Will that he might be making an expensive mistake, but before I had a chance to answer him he sent this via e-mail:
FYI, I used your B&H affiliate link to purchase a new 1DX Mark II, an extra LPE 19 battery, a second CFast memory card, and an extra LPE6N battery for my 5DS R. I was able to pick up factory reconditioned 5DS R from Canon; sorry, but it saved me $700. I couldn't make up my mind to get one or the other and I knew that I need two bodies anyway…
I am officially broke now!
Will
I wrote back forgiving Will and telling him that I was curious as to how often he would use each body for bird photography. On the recent IPT I used the 5DS R a lot and my 1D X II infrequently after the first afternoon… And yes, I thanked him profusely for using my B&H links for his $6442.94 purchase!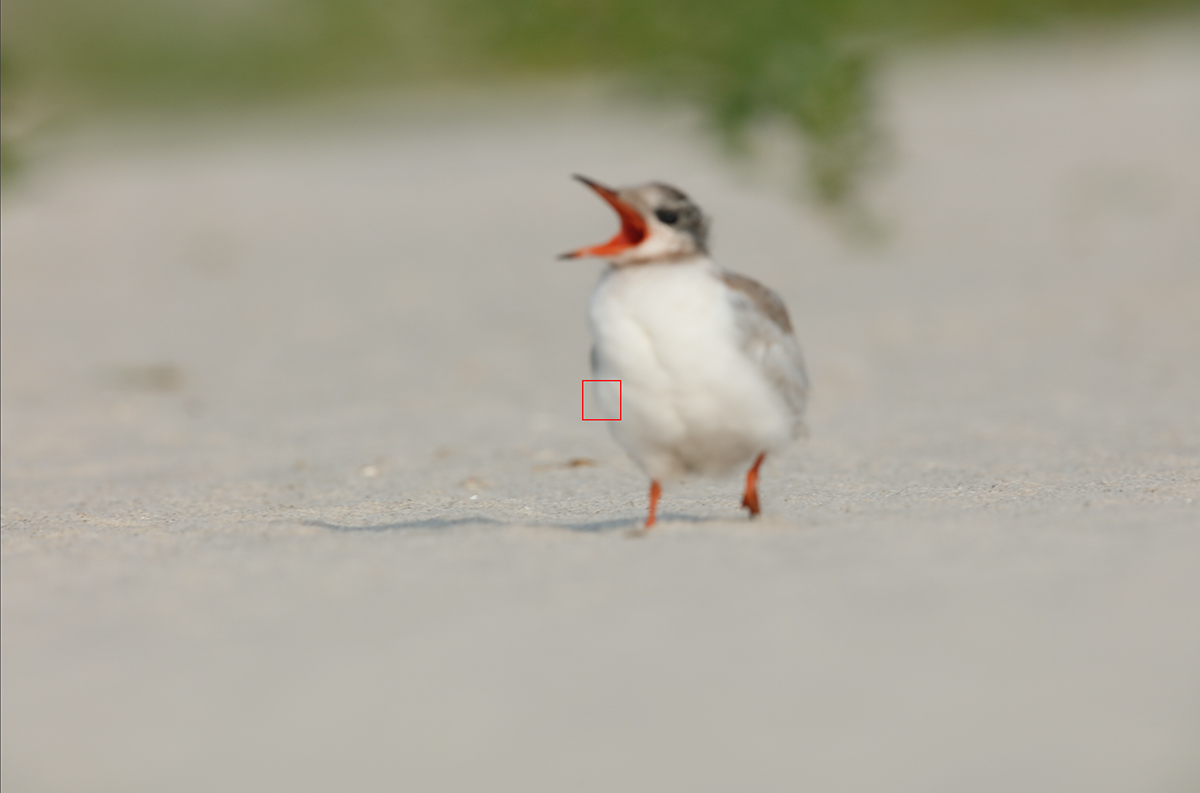 My best effort…
Your browser does not support iFrame.
My Best Effort…
Pro: Failed!
Using the same gear as Will, I failed miserably several times to photograph the same chick that Will nailed when creating today's featured image. I write often that with advancing age my fine motor skills, strength, and hand-eye coordination are not what they used to be. But the DPP 4 AF point screen capture above shows that maybe folks should start believing me… Note that I failed to get the selected AF point on an area of contrast as Will did. Even when the chick stopped to beg in one spot I fanned on it…
I still am not sure if the 1D X Mark II would offer better AF than the 5DS R with the 600 II/2X III combo. I did go to the 1D X II/600 II/2X III during my Saturday session with Jake Levin. I did pretty well but have not made a final decision. I will be running lots more on the 1DX II vs. 5DS R comparison in the next few weeks.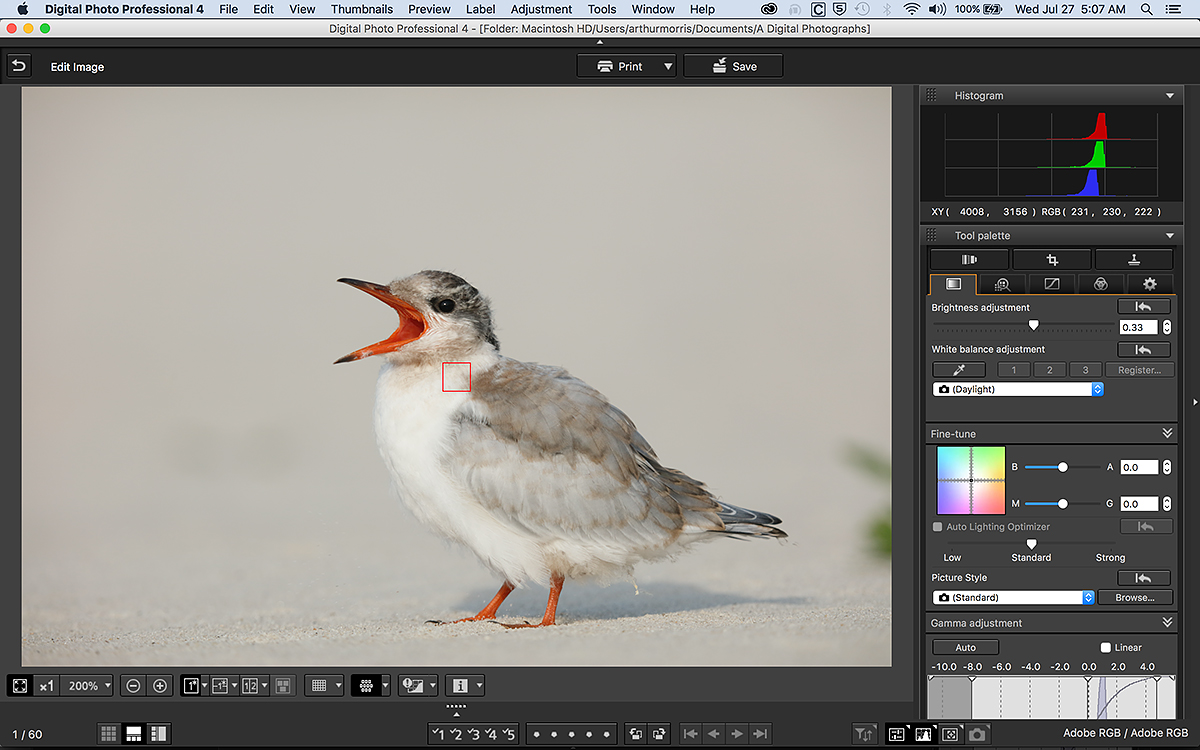 The DPP 4 screen capture for Will's image
The DPP 4 Screen Capture for Will's Image
Note that Will created a fine exposure with some data well into the fifth histogram box as seen in the RGB histogram. Note his white RBG values in the high 220s and the low 230s. And Will did a great job getting the AF point on an area with at least some contrast and doing that quickly enough so that the system had a chance to acquire focus and lock on. The latter was something that I failed to do so consistently, at least with this subject.
The Image Optimization
When I optimized Will's image, note that I cleaned some poop off of the fine feathers near the rear of the bird. I addition, I used a flopped Quick Mask to move the o-o-f green vegetation from the right side of the frame to the left–with Will's permission–for better compositional balance. Note that the sand was pretty much pristine…
APTATS I & II
Learn the details of advanced Quick Masking techniques in APTATS I. Learn Advanced Layer Masking Techniques in APTATS II. Save $15 by ordering both here.
Please Remember to use my Affiliate Links and to Visit the New BAA Online Store 🙂
To show your appreciation for my continuing efforts here, we ask, as always, that you get in the habit of using my B&H affiliate links on the right side of the blog for all of your photo and electronics purchases. Please check the availability of all photographic accessories in the New BIRDS AS ART Online Store, especially the Mongoose M3.6 tripod head, Wimberley lens plates, Delkin flash cards and accessories, and LensCoat stuff.
As always, we sell only what I have used, have tested, and can depend on. We will not sell you junk. We know what you need to make creating great images easy and fun. And we are always glad to answer your gear questions via e-mail.
I would of course appreciate your using our B&H affiliate links for all of your major gear, video, and electronic purchases. For the photographic stuff mentioned in the paragraph above we, and for everything else in the new store, we, meaning BAA, would of course greatly appreciate your business. Here is a huge thank you to the many who have been using our links on a regular basis and those who will be visiting the New BIRDS AS ART Online Store as well.
Facebook
Be sure to like and follow BAA on Facebook by clicking on the logo link upper right. Tanks a stack!
Typos
In all blog posts and Bulletins, feel free to e-mail or to leave a comment regarding any typos or errors. Just be right 🙂