What's Up?
I finished this blog post on Saturday morning. I leave with daughter Alissa and husband Ajiniyaz for lunch in the city followed by Jersey Boys on Broadway (the second time for me). I am excited. On Friday I got lots more work done my B&H Event Space programs… See the details below.
Only Bob DeCroce, who was with me on the Nickerson Beach IPT, has signed up for the DeSoto IPT so it is looking like more very intimate small group instruction.
The Streak
Today's blog post marks a totally insane, irrational, absurd, completely ridiculous, unfathomable, silly, incomprehensible, what's wrong with this guy?, makes-no-sense, 269 days in a row with a new educational blog post. And I still have dozens of new topics to cover; there should be no end in sight until my big South America trip next fall. As always-–and folks have been doing a really great job recently–-please remember to use our B&H links for your major gear purchases. For best results use one of our many product-specific links; after clicking on one of those you can continue shopping with all subsequent purchases invisibly tracked to BAA. Your doing so is always greatly appreciated. Please remember: web orders only. AND Please remember also that if you are shopping for items that we carry in the new BAA Online Store (as noted in red at the close of this post below) we would appreciate your business.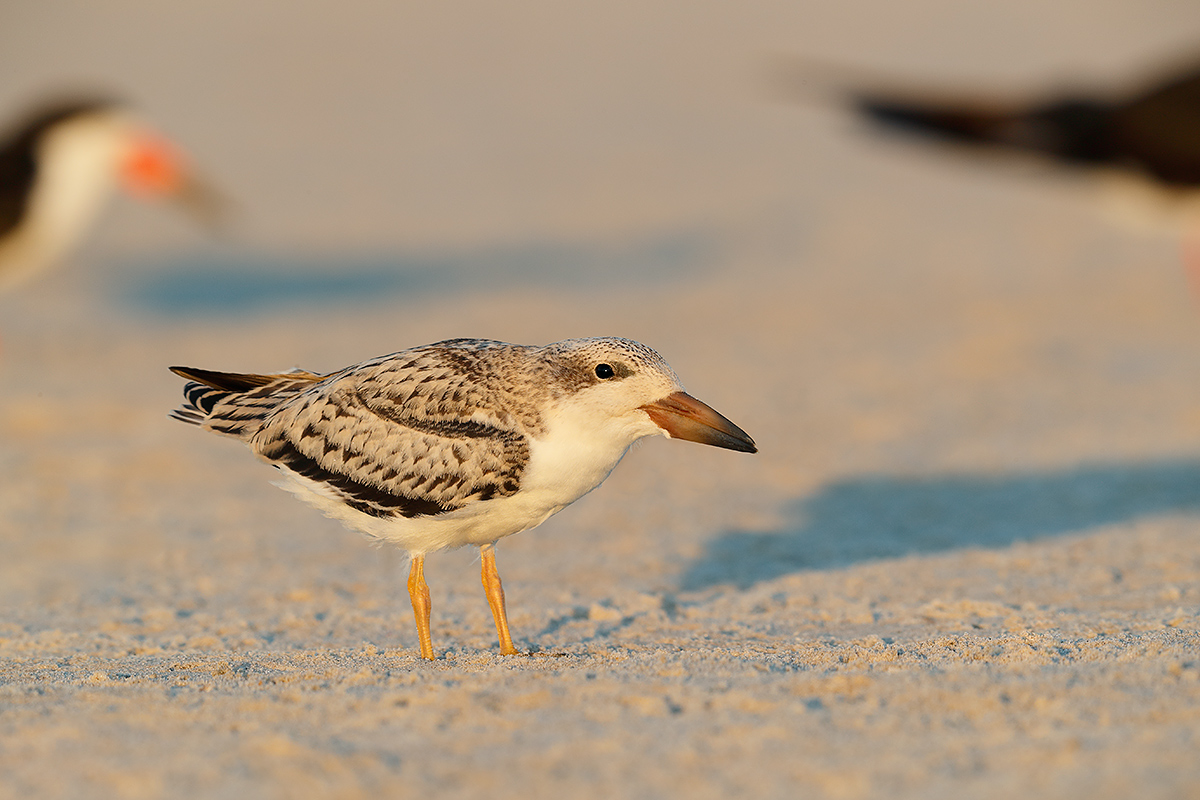 This image was created on that wonderful Thursday morning (August 3, 2016) at Nickerson Beach. I used the Induro GIT 304L/Mongoose M3.6-mounted Canon EF 600mm f/4L IS II USM lens, the Canon Extender EF 2X III, and the fast, rugged Canon EOS-1D X Mark II with 64GB Card and Reader. ISO 800. Evaluative metering +1 stop: 1/250 sec. at f/10 in Manual mode. Daylight WB.
The center AF point/AI Servo Expand/Rear Focus AF as framed was active at the moment of exposure. The selected AF point fell just below the bird's eye. Click here to see the latest version of the Rear Focus Tutorial. Click on the image to see a larger version.
LensAlign/FocusTune micro-adjustment = 0.
Black Skimmer, nearly fledged young
Your browser does not support iFrame.
What I Was Thinking
I stood, as I have been doing every morning when approaching the large numbers of skimmers with chicks (well outside the colony ropes) right after sunrise. I move very slowly looking for good situations before getting my butt on the ground. As there were only a few of the larger, nearly fledged young around, I concentrated on them. But I still wound up creating hundreds of images of the smaller, fluffier, whiter chicks.
I chose to work well off sun angle to create today's featured image in part because the light is not as harsh at 6:15am as it is at 7:15am. In addition, if I had moved all the way to sun angle, I would have been shooting "up the bird's butt," that is, with the bird's tail closer to me than it's head. The main reason that I chose the perspective that I did was to frame the young bird with the head of one adult and the tail of the other.
Do note that the blue line on the bird's chest is not a sharpening halo. If you think that you know what caused it, do leave a comment and share your thoughts with the group.
The RAW Conversion
This image was taken so early in the morning that it was actually too yellow and too red, in short, too warm. During the RAW conversion in DPP 4 I tried a few things with the White Balance and wound up converting it at K 4700. In addition, I moved the color Fine Tune dot about 1/4 of the way to the upper left corner, towards CYAN. This cooled the image down nicely while still keeping the early morning light look. Learn why and how Arash Hazeghi and I use DPP 4 for all of our RAW conversions in the DPP 4 RAW Conversion Guide here.
Once I Started I Couldn't Stop!
I knew that the two shadows on the left frame-edge had to go, along with the small piece of straw on the sand in front of the bird. After a while, I decided that the o-o-f stuff below the base of the birds bill also had to go. For that I used cloning on a layer in case I painted outside of the lines 🙂 When I started the bill clean-up I was sure that I would just do a bit. Each time I viewed the image full frame I'd see one more little bit that had to go. Before I knew it the fledgling's bill was so clean that it looked as if he had just gotten back from an ocean bath. What can I say? I could't help myself.
As far as clean-up, what would you have done with this image if it were yours?
You can learn about all of my clean-up tools, techniques, and shortcuts in Digital Basics which also includes dozens other great Photoshop tips.
B&H August 11, 2016 Event Space Programs
On Thursday, August 11, 2016, I will be presenting two free programs at the B&H Event Space as below. If you would like to attend, it would be best to register asap as both programs have begun filling nicely.
Using Teleconverters with Intermediate and Super Telephotos Lenses: 1:00 to 2:30pm
The word on the street is that you simply cannot make sharp images with teleconverters (TCs) especially with the doublers. Nothing could be further from the truth. With some practice and good sharpness techniques you can learn to use TCs effectively to photograph small, distant, or shy subjects.
Teleconverters or multipliers come in a variety of strengths, most usually 1.4X and 2X. Nikon also offers a 1.7X TCE. Each will multiply your effective focal length by the factor in its name. A 1.4X TC will make your 400mm lens into a 640mm lens. A doubler, aka a 2X TC, will enable your 600mm lens to give you 1200mm of reach.
In this program, Arthur Morris, internationally noted bird photographer and educator, will share the tips, techniques, and secrets that he has developed and used for more than three decades so that you too can use teleconverters to improve your photography. This program will be illustrated with Artie's spectacular images of birds, wildlife, flowers, and even a few unexpected subjects.
Learn more or register here.
Putting Art into Your Nature Photography: 3:00 to 4:30pm
With today's amazing photographic gear that includes camera bodies with surreal autofocus that can routinely produce superb image files in the right hands and fast, sharp lenses (including and especially the amazing super-telephotos) creating images of various birds, animals, flowers, and landscapes, is pretty much child's play. Anyone can do it. In this program, Arthur Morris, internationally noted bird photographer and educator, will teach you to take your images to the next level. You will learn to identify good situations, to create pleasing backgrounds, to photograph action and behavior, to choose the best perspective, to read and use the light, when and how to create pleasing blurs, and how to consistently create dramatic, evocative images with contest-winning potential.
This program will be illustrated with several hundred of Artie's spectacular images, many published around the world above his most fitting credit line: BIRDS AS ART.
Learn more or register here.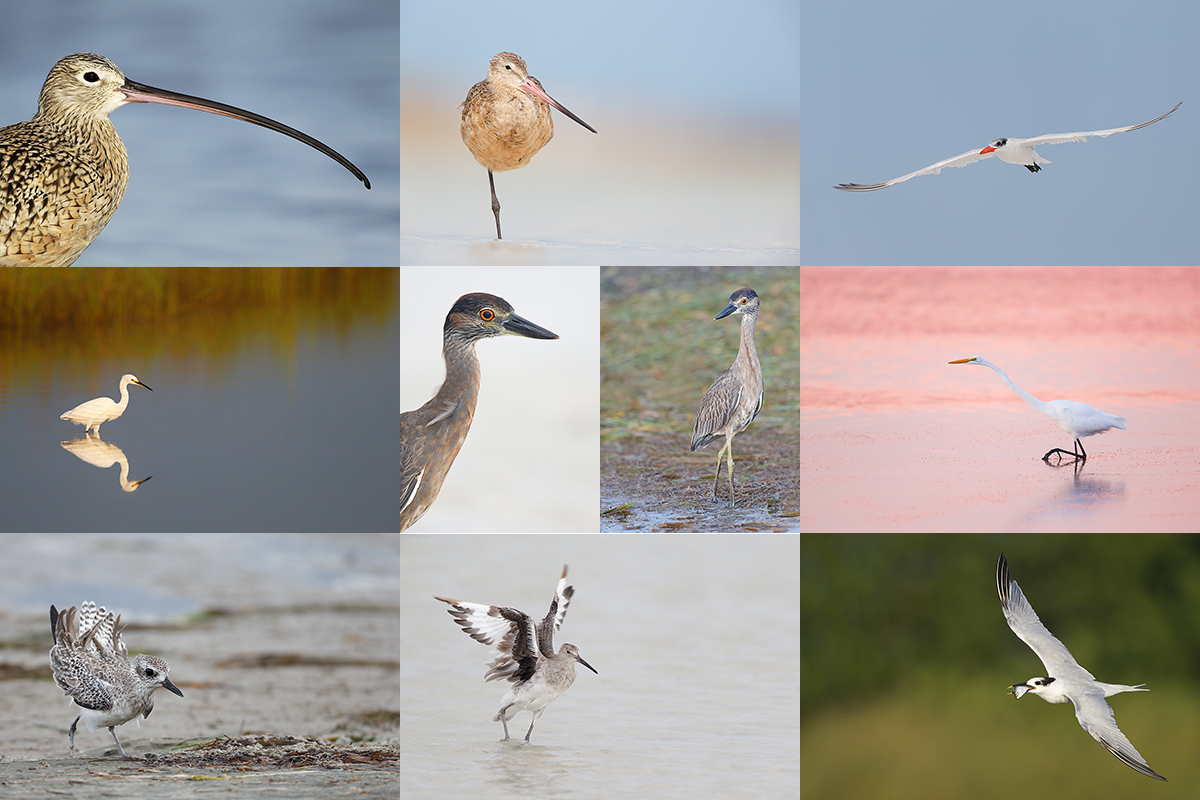 Fort DeSoto in fall is rife with tame birds. All of the images in this card were created at Fort DeSoto in either late September or early October. I hope that you can join me there this fall one way or another. Click on the composite to enjoy a larger version.
BIRDS AS ART Fort DeSoto In-the-Field Meet-up Workshop (ITFW): $99
Join me on the morning of October 2, 2016 for 3-hours of photographic instruction at Fort DeSoto Park. Beginners are welcome. Lenses of 300mm or longer are recommended but even those with 70-200s should get to make some nice images. Teleconverters are always a plus.
You will learn the basics of digital exposure and image design, autofocus basics, and how to get close to free and wild birds. We should get to photograph a variety of wading birds, shorebirds, terns, and gulls. This inexpensive morning workshop is designed to give folks a taste of the level and the quality of instruction that is provided on BIRDS AS ART Instructional Photo-tours. I hope to meet you there.
To register please call Jim or Jennifer during weekday business hours with a credit card in hand to pay the nominal registration fee. Your registration fee is non-refundable. You will receive a short e-mail with instructions, gear advice, and meeting place one week before the event.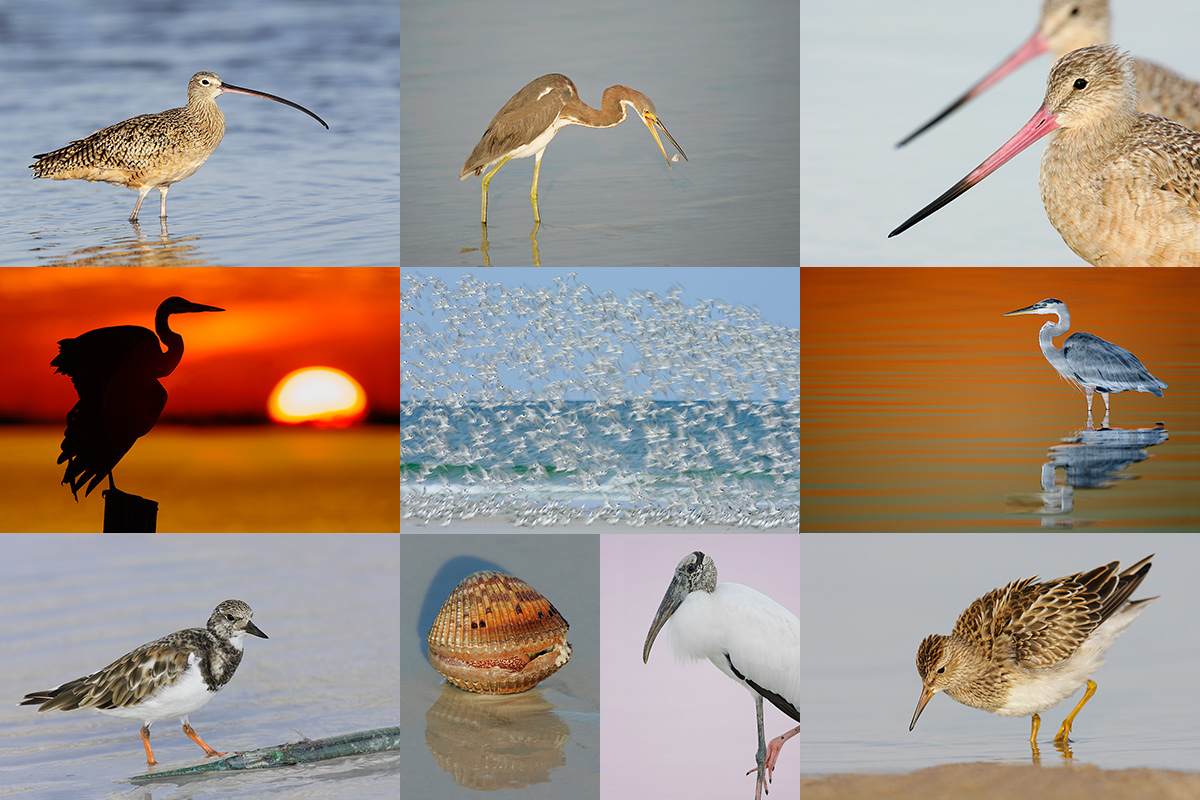 Folks attending the IPT will be in the field early and stay out late to take advantage of sunrise and sunset colors. The good news is that the days are relatively short in early fall. Click on the composite to enjoy a larger version.
Fort DeSoto Short Notice Fall IPT/September 28 (meet & greet and afternoon session) through the full day on October 1, 2016. 3 1/2 DAYs: $1549. Limit 10. Sunday morning ITFW free to IPT registrants.
Fort DeSoto, located just south of St. Petersburg, FL, is a mecca for migrant shorebirds in fall. There they join dozens of egrets, herons, night-herons, gulls, and terns who winter on the T-shaped peninsula that serves as their wintering grounds. With any luck, we should get to photograph two of Florida's most desirable shorebird species: Marbled Godwit and the spectacular Long-billed Curlew. Black-bellied Plover and Willet are easy, American Oystercatcher likely. Great Egret, Snowy Egret, Great Blue Heron, and Tricolored Heron are easy as well and we will almost surely come up with a tame Yellow-crowned Night-Heron or two. We should get to do some Brown Pelican flight photography. And Royal, Sandwich, Forster's, and Caspian Terns will likely provide us with some good flight opportunities as well. Though not guaranteed, Roseate Spoonbill and Wood Stork would not be unexpected.
Folks who sign up for the IPT are welcome to join me as my guest on the ITFW on the Sunday morning following the workshop. See above for details on that.
On this and all other IPTs you will learn basics and fine points of digital exposure and to get the right exposure every time after making a single test exposure, how to approach free and wild birds without disturbing them, to understand and predict bird behavior, to identify and age many species of shorebirds, to spot the good situations, to choose the best perspective, to see and understand the light, to, and to design pleasing images by mastering your camera's AF system. And you will learn learn how and why to work in Manual mode (even if you're scared of it).
At brunch (included) we will review my images–folks learn a ton watching me edit–why keep this one and delete that one. If you opt to bring your laptop, we can take a look at a few of your images from the morning session. We will process a few of my images in Photoshop after converting them in DPP. That followed by Instructor Nap Time.
As I already have one signed up for this workshop, it is a go. Hotel info will be e-mailed when you register. The best airport is Tampa (TPA). It is always best if IPT folks stay in the same hotel so if you are interested it would be a good idea to register now and make your hotel reservations as soon as you hear from us. We can, however, coordinate with local folks who opt to stay at home.
Because of the relatively late date, payment is full is due upon registration either by check or credit card. If the former, please e-mail us immediately so that we can save you a spot. If the latter, please call Jim or Jennifer during weekday business hours at 863-692-0906 with a credit card in hand to register. Your registration fee is non-refundable unless the IPT sells out with eight so please check your plans carefully before committing. You will receive a confirmation e-mail with detailed instructions and gear & clothing advice a fairly soon.
Please Remember to use my Affiliate Links and to Visit the New BAA Online Store 🙂
To show your appreciation for my continuing efforts here, we ask, as always, that you get in the habit of using my B&H affiliate links on the right side of the blog for all of your photo and electronics purchases. Please check the availability of all photographic accessories in the New BIRDS AS ART Online Store, especially the Mongoose M3.6 tripod head, Wimberley lens plates, Delkin flash cards and accessories, and LensCoat stuff.
As always, we sell only what I have used, have tested, and can depend on. We will not sell you junk. We know what you need to make creating great images easy and fun. And we are always glad to answer your gear questions via e-mail.
I would of course appreciate your using our B&H affiliate links for all of your major gear, video, and electronic purchases. For the photographic stuff mentioned in the paragraph above we, and for everything else in the new store, we, meaning BAA, would of course greatly appreciate your business. Here is a huge thank you to the many who have been using our links on a regular basis and those who will be visiting the New BIRDS AS ART Online Store as well.
Facebook
Be sure to like and follow BAA on Facebook by clicking on the logo link upper right. Tanks a stack!
Typos
In all blog posts and Bulletins, feel free to e-mail or to leave a comment regarding any typos or errors. Just be right 🙂