What's Up?
I wrote this post on Monday afternoon after getting my most recent trigger finger (left ring ) injected. I screamed a bit, moaned and groaned a lot, and concentrated on my breath to lessen the impact of the pain. When Dr. Poupolo took the needle out, I said, "That wasn't too bad." And I meant it. The young doctor assisting him said, "You could have fooled me." Dr. Poupolo said, "For him, that was a very subdued reaction; he usually screams bloody murder." And he meant that too.
My plan at present is to get out on Tuesday, Wednesday, and Thursday mornings to photograph. I fly home early on Friday morning.
The Streak
Today's blog post marks a totally insane, irrational, illogical, preposterous, absurd, completely ridiculous, unfathomable, silly, incomprehensible, what's wrong with this guy?, makes-no-sense, 279 days in a row with a new educational blog post. There should be no end in sight until my big South America trip next fall. As always-–and folks have been doing a really great job recently–-please remember to use our B&H links for your major gear purchases. For best results use one of our many product-specific links; after clicking on one of those you can continue shopping with all subsequent purchases invisibly tracked to BAA. Your doing so is always greatly appreciated. Please remember: web orders only. And please remember also that if you are shopping for items that we carry in the new BAA Online Store (as noted in red at the close of this post below) we would appreciate your business.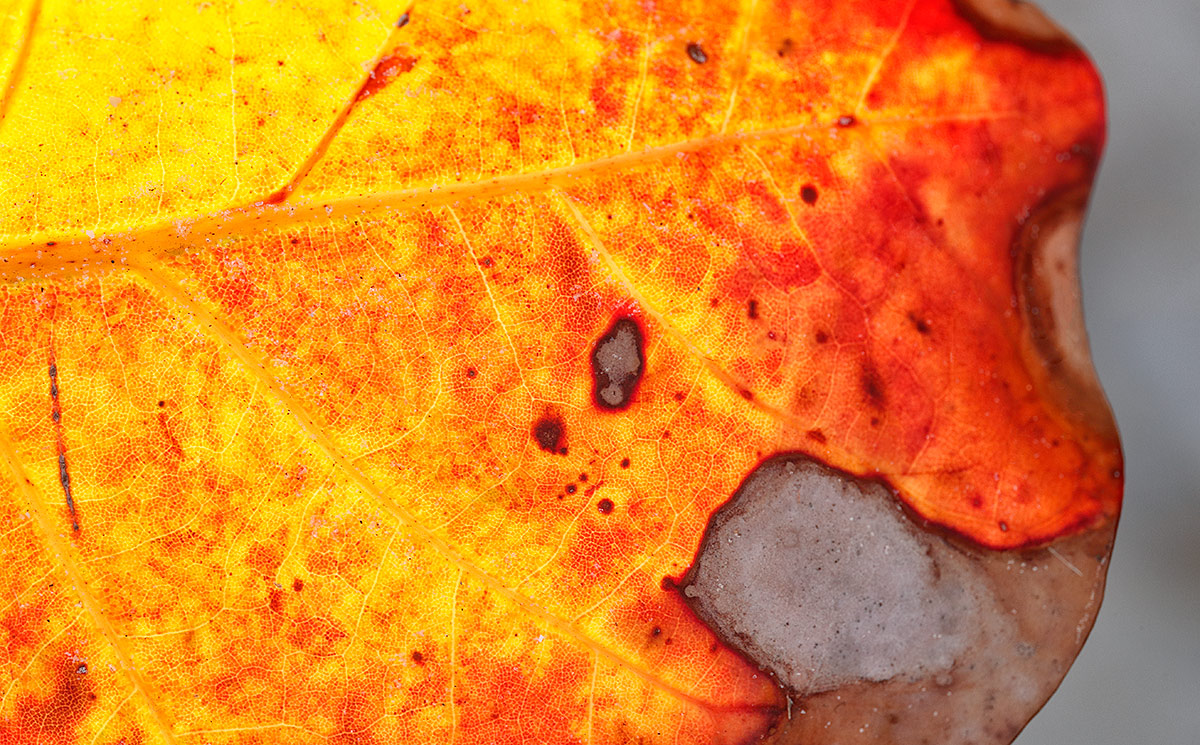 This image was created at Fort DeSoto with the hand held Canon EF 100-400mm f/4.5-5.6L IS II USM lens, the Canon Extender EF 1.4X III (at 560mm) and rugged, blazingly fast Canon EOS-1D X Mark II with 64GB Card and Reader. ISO 800. Evaluative metering +2/1 stop: 1/400 sec. at f/13. Daylight WB.
Center AF point/AI Servo Expand/Rear Focus AF as originally framed was active at the moment of exposure (as is always best when hand holding). The selected AF point fell on the dark spot just right of center. Click here to see the latest version of the Rear Focus Tutorial. Click on the image to see a larger version.
Backlit Sea Grape leaf
Your browser does not support iFrame.
What Catches Your Eye?
Private client Joel Eade and I were walking along the beach to check out a few birds we had seen. They flew when a beach-goer stood and vigorously shook the sand off his blanket. You gotta love it. Looking away from the Gulf, I showed Joel two dead Sea Grape leaves that had caught my eye. They were orange and yellow and red and backlit and stood right out among a sea of browns and greens. I showed him that if we bent down, one of us at a time as it was very tight with bushes and branches, we could get a relatively distant, relatively dark, and relatively clean background. I went with the 1.4TC for extra reach and was almost able to fill the frame with color. It would have been impossible to get a tripod into position as getting the lens exactly where I wanted it with the back of the camera parallel to the leaf was enough of a challenge when hand holding. We took turns and both of use wound up creating a variety of both horizontal and vertical images. This image, a small crop all around, was my favorite.
More Depth-of-Field Lessons
Notice that even at f/13, the part of the leaf that curls away from the plane of leaf that is in sharp focus has fallen totally out of focus. Why? D-o-F at or close to the minimum focusing distance of any telephoto lens is next to nothing, measured in mere fractions of an inch, even at small apertures.
Like it or hate it?
Do you like today's image, do you consider it waste of pixels, or are you ambivalent about it? However you feel, let us know why.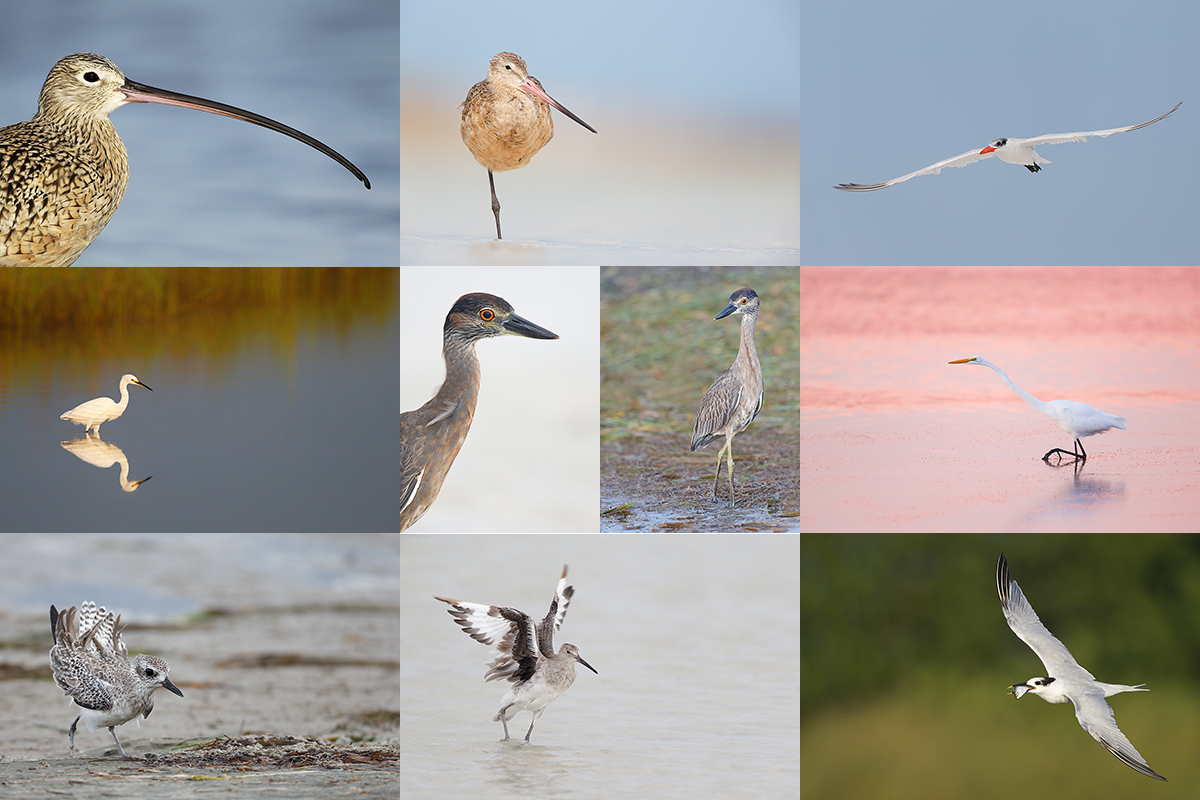 Fort DeSoto in fall is rife with tame birds. All of the images in this card were created at Fort DeSoto in either late September or early October. I hope that you can join me there this fall one way or another. Click on the composite to enjoy a larger version.
BIRDS AS ART Fort DeSoto In-the-Field Meet-up Workshop (ITFW): $99
Join me on the morning of October 2, 2016 for 3-hours of photographic instruction at Fort DeSoto Park. Beginners are welcome. Lenses of 300mm or longer are recommended but even those with 70-200s should get to make some nice images. Teleconverters are always a plus.
You will learn the basics of digital exposure and image design, autofocus basics, and how to get close to free and wild birds. We should get to photograph a variety of wading birds, shorebirds, terns, and gulls. This inexpensive morning workshop is designed to give folks a taste of the level and the quality of instruction that is provided on BIRDS AS ART Instructional Photo-tours. I hope to meet you there.
To register please call Jim or Jennifer during weekday business hours with a credit card in hand to pay the nominal registration fee. Your registration fee is non-refundable. You will receive a short e-mail with instructions, gear advice, and meeting place one week before the event.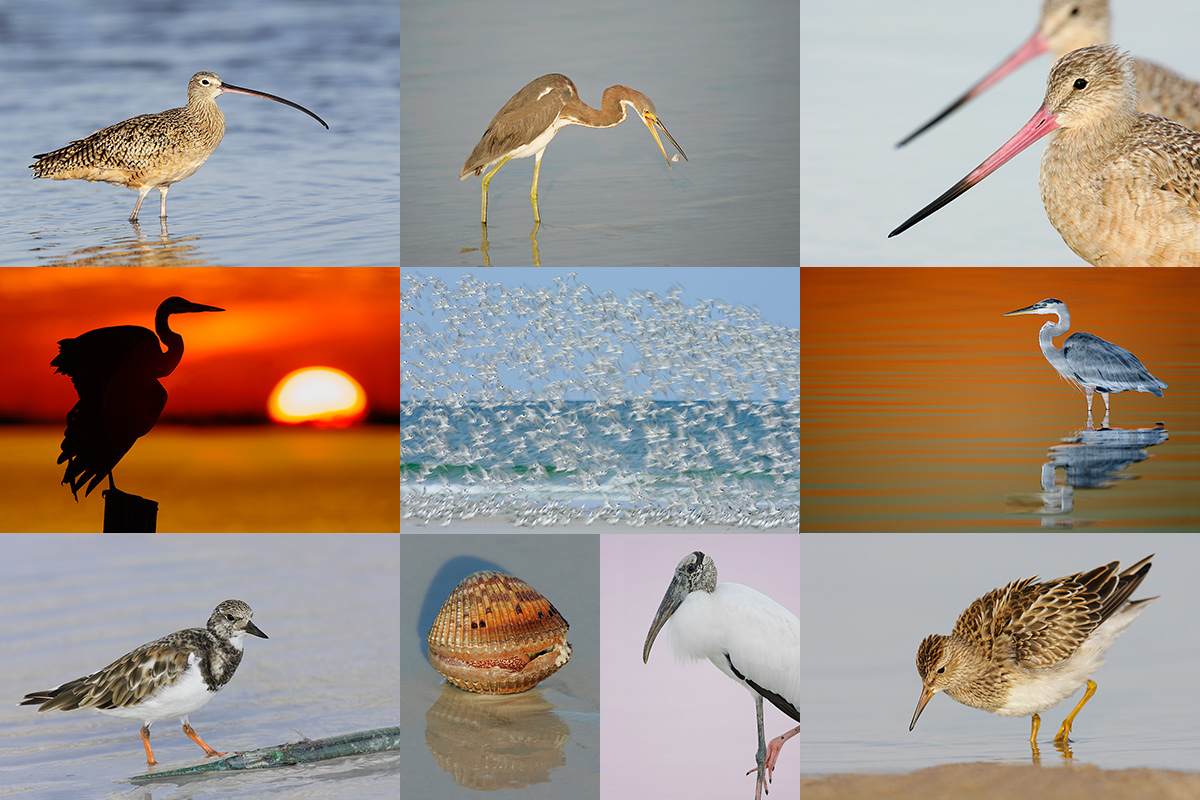 Folks attending the IPT will be in the field early and stay out late to take advantage of sunrise and sunset colors. The good news is that the days are relatively short in early fall. Click on the composite to enjoy a larger version.
Fort DeSoto Short Notice Fall IPT/September 28 (meet & greet at 2pm followed by our afternoon session) through the full day on October 1, 2016. 3 1/2 DAYs: $1549. Limit 10/Openings: 7. Sunday morning ITFW free to IPT registrants.
Fort DeSoto, located just south of St. Petersburg, FL, is a mecca for migrant shorebirds in fall. There they join dozens of egrets, herons, night-herons, gulls, and terns who winter on the T-shaped peninsula that serves as their wintering grounds. With any luck, we should get to photograph two of Florida's most desirable shorebird species: Marbled Godwit and the spectacular Long-billed Curlew. Black-bellied Plover and Willet are easy, American Oystercatcher likely. Great Egret, Snowy Egret, Great Blue Heron, and Tricolored Heron are easy as well and we will almost surely come up with a tame Yellow-crowned Night-Heron or two. We should get to do some Brown Pelican flight photography. And Royal, Sandwich, Forster's, and Caspian Terns will likely provide us with some good flight opportunities as well. Though not guaranteed, Roseate Spoonbill and Wood Stork would not be unexpected.
Folks who sign up for the IPT are welcome to join me as my guest on the ITFW on the Sunday morning following the workshop. See above for details on that.
On this and all other IPTs you will learn basics and fine points of digital exposure and to get the right exposure every time after making a single test exposure, how to approach free and wild birds without disturbing them, to understand and predict bird behavior, to identify and age many species of shorebirds, to spot the good situations, to choose the best perspective, to see and understand the light, to, and to design pleasing images by mastering your camera's AF system. And you will learn learn how and why to work in Manual mode (even if you're scared of it).
At brunch (included) we will review my images–folks learn a ton watching me edit–why keep this one and delete that one? If you opt to bring your laptop, we can take a look at a few of your images from the morning session. We will process a few of my images in Photoshop after converting them in DPP. That followed by Instructor Nap Time.
As I already have one signed up for this workshop, it is a go. Hotel info will be e-mailed when you register. The best airport is Tampa (TPA). It is always best if IPT folks stay in the same hotel so if you are interested it would be a good idea to register now and make your hotel reservations as soon as you hear from us. We can, however, coordinate with local folks who opt to stay at home.
Because of the relatively late date, payment is full is due upon registration either by check or credit card. If the former, please e-mail us immediately so that we can save you a spot. If the latter, please call Jim or Jennifer during weekday business hours at 863-692-0906 with a credit card in hand to register. Your registration fee is non-refundable unless the IPT sells out with eight so please check your plans carefully before committing. You will receive a confirmation e-mail with detailed instructions and gear & clothing advice a fairly soon.
Please Remember to use my Affiliate Links and to Visit the New BAA Online Store 🙂
To show your appreciation for my continuing efforts here, we ask, as always, that you get in the habit of using my B&H affiliate links on the right side of the blog for all of your photo and electronics purchases. Please check the availability of all photographic accessories in the New BIRDS AS ART Online Store, especially the Mongoose M3.6 tripod head, Wimberley lens plates, Delkin flash cards and accessories, and LensCoat stuff.
As always, we sell only what I have used, have tested, and can depend on. We will not sell you junk. We know what you need to make creating great images easy and fun. And we are always glad to answer your gear questions via e-mail.
I would of course appreciate your using our B&H affiliate links for all of your major gear, video, and electronic purchases. For the photographic stuff mentioned in the paragraph above we, and for everything else in the new store, we, meaning BAA, would of course greatly appreciate your business. Here is a huge thank you to the many who have been using our links on a regular basis and those who will be visiting the New BIRDS AS ART Online Store as well.
Facebook
Be sure to like and follow BAA on Facebook by clicking on the logo link upper right. Tanks a stack!
Typos
In all blog posts and Bulletins, feel free to e-mail or to leave a comment regarding any typos or errors. Just be right 🙂