What's Up?
Many thanks to multiple IPT veteran Elizabeth MacSwan for joining me at JBWR on Thursday morning. With overcast skies, the day was totally different from Wednesday but we had pretty much endless great opportunities with a variety of shorebird species. Most were tame juveniles that walked right up to us as we sat (me) or lay down (Elizabeth) in the mud and muck. Elizabeth learned the East Pond ropes that included the history and biology of the pond. She enjoyed it so much that she returned on Friday morning before heading to Philadelphia to visit her grandmother.
This blog post, created on Saturday morning, too more than three hours to prepare.
The Streak
Today's blog post marks a totally insane, irrational, illogical, preposterous, absurd, completely ridiculous, unfathomable, silly, incomprehensible, what's wrong with this guy?, makes-no-sense, 283 days in a row with a new educational blog post. There should be no end in sight until my big South America trip next fall. Or not… As always-–and folks have been doing a really great job recently–-please remember to use our B&H links for your major gear purchases. For best results use one of our many product-specific links; after clicking on one of those you can continue shopping with all subsequent purchases invisibly tracked to BAA. Your doing so is always greatly appreciated. Please remember: web orders only. And please remember also that if you are shopping for items that we carry in the new BAA Online Store (as noted in red at the close of this post below) we would appreciate your business.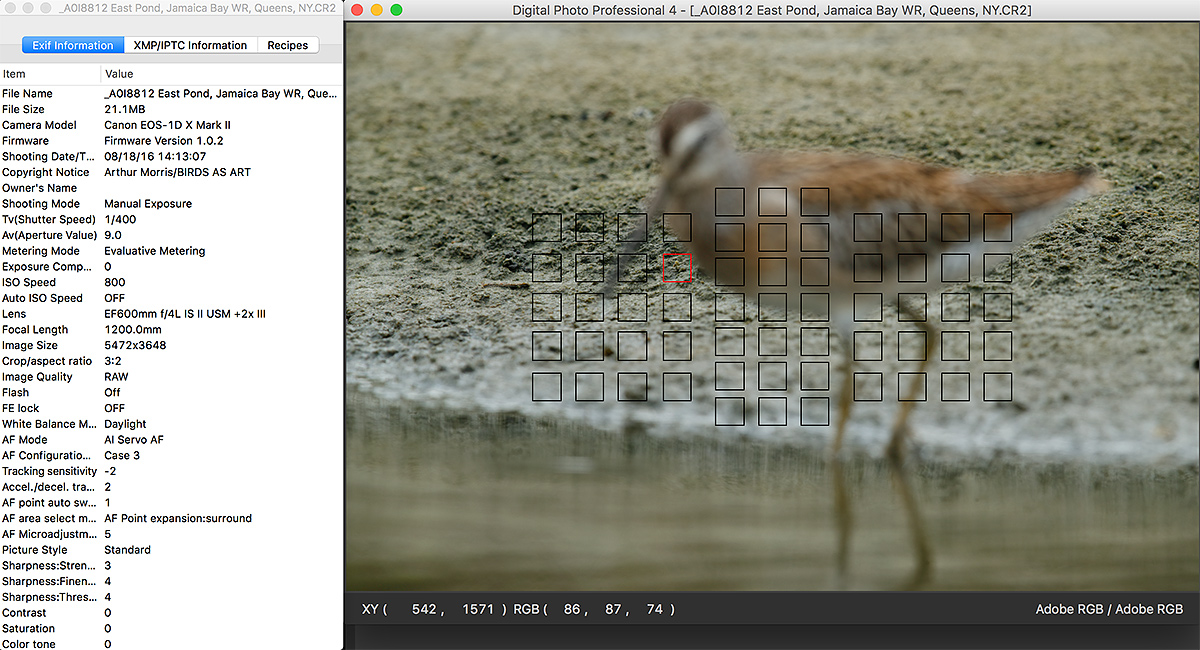 Image #1: Out of focus juvenile Short-billed Dowitcher
How?
Many would ask, How could the dowitcher image above, with AF Surround, be so out of focus when you are using the best gear, including the vaunted 1DX Mark II?
That's an easy one: 100% operator error. I had been photographing an interesting group of gulls out in the middle of the pond; the focus was at about 200 yards. When I saw the dowitcher pause and pose uncharacteristically for 2 seconds, I swung the lens to the bird, half pressed the shutter button–I was using shutter button AF on the feeding shorebirds–and immediately fired off two out of focus frames. Then the bird resumed feeding.
Once I was done with the distant gulls, I should have pre-focused on a nearby bird. I could have done that either manually by turning the focus ring or automatically by half-pressing the shutter button. The fact that it was a cloudy, low contrast day also factored in the AF failure. AF has a lot more trouble picking up the subject in low contrast situations. Lastly, initial focusing acquisition with the 2X TC which robs the AF system of 2 stops of light, is always a bit slower than with the 1.4X TC, and a lot slower than with the prime lens alone.
Please do not forget that I made many dozens of sharp shorebird images with the 600II/2XIII/1DX Mark II combo during my two mornings of photography at Jamaica Bay Wildlife Refuge (including the fabulous dowitcher image in the Two Huge EOS-1DX Mark II Advantages… blog post here.
The Facts
On average I delete 80 to 90% of the images that I create. Of those rejects, 70-80% are deleted because the images are not sharp. On average probably a third of those are due to motion blur, a third due to operator error, and a third due to the AF system not quite performing up to par. In general, half of those in the latter group are in part due to operator error… That means that about half of the unsharp images that I create are clearly due to operator error.
With motion blurred images, sharp focus will have been attained properly but the shutter speed was not high enough to freeze the movement of the bird, often the bird's head while feeding. Operator error often involves the failure to either get the AF sensor on the bird's face or head or the failure to select the proper AF point for the pose at a given moment. Both of these problems combined led to my deleting many hundreds of unsharp images from my two mornings with the shorebirds at the East Pond.
Many folks were incredulous when they saw my completely out of focus begging Common Tern chick in the Pro versus Amateur: Failed (look in the mirror) and Nailed. blog pose here. Most folks blame their gear for grossly out of focus images. I look in the mirror…
Please understand fully that the purpose of this blog post is to explain rather than to complain…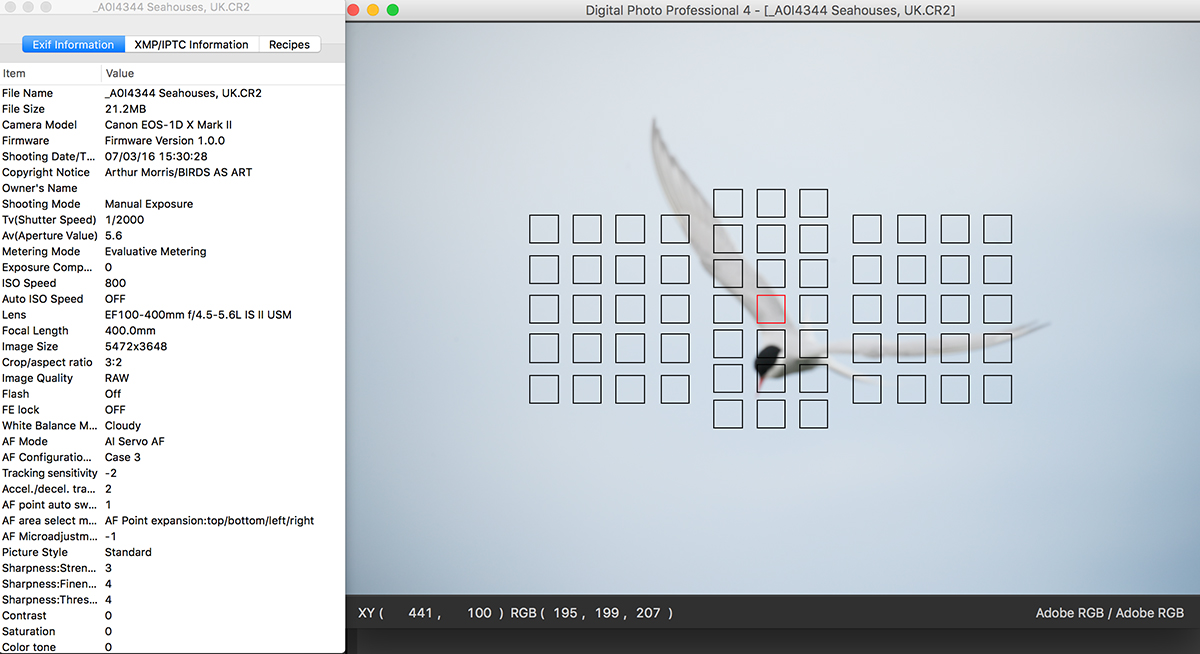 Image #2: Out of focus Arctic Tern in flight
More Operator Error
The big problem here is that I did not get the selected AF point right on the bird's face, and I did not give the system time to acquire focus and track the subject. Here again, seeing the active AF point, most would put the blame on the camera… In many situations, because of deteriorating strength and hand-eye coordination, I jerk the camera to get the AF point on the subject just before pressing the shutter button; as noted above, the AF system simply does not have enough time to acquire and track.
Note also that the selected AF point was on the far wing, an area of very low contrast (especially on a cloudy day). Getting the AF point on the bird's head would have offered the AF system lots of contrast via the tern's black cap.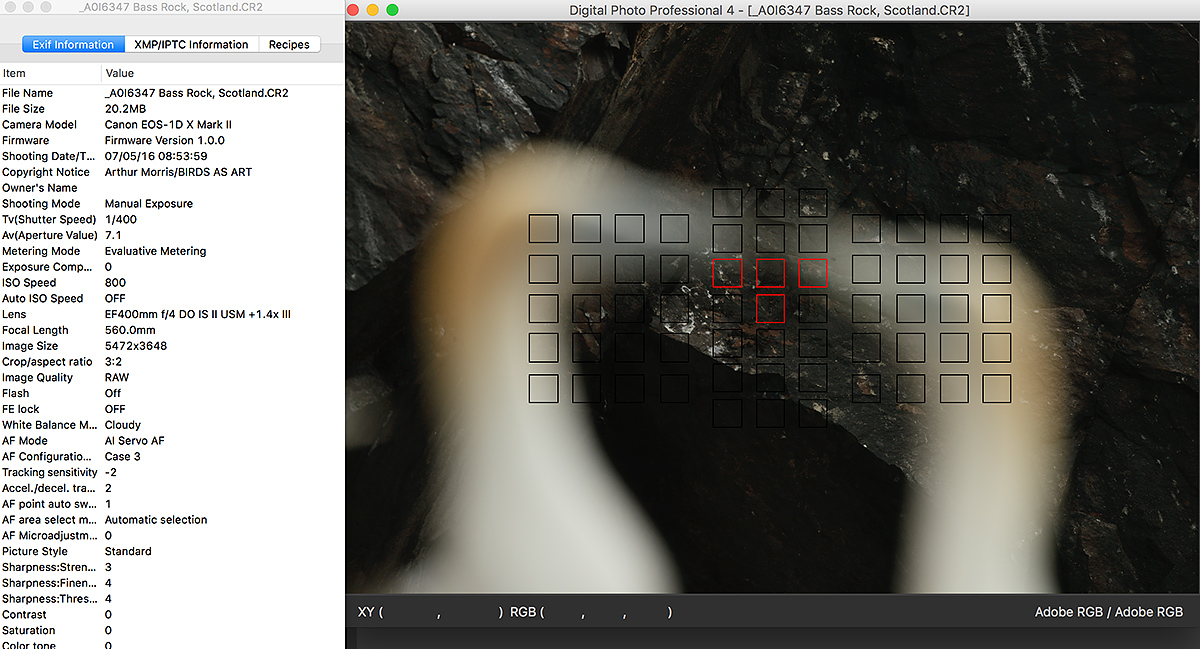 Image #3: Out of focus Northern Gannets courting
Automatic Selection AF
61- or 65-point Automatic Selection AF is like the bad little boy; when it is good, it can be very, very good. I often turn to 65-point Automatic Selection AF for doing vertical head and long neck portraits, for tight horizontal head portraits, and, as above, in situations when there are two birds in the frame. The strategy is to acquire focus in the middle of the array and then recompose for a pleasing composition. Most of the time, AF holds. Sometimes as in the image above, it fails. I did wind up with nine lovely sharp keepers. I will share one of those with you here at some point.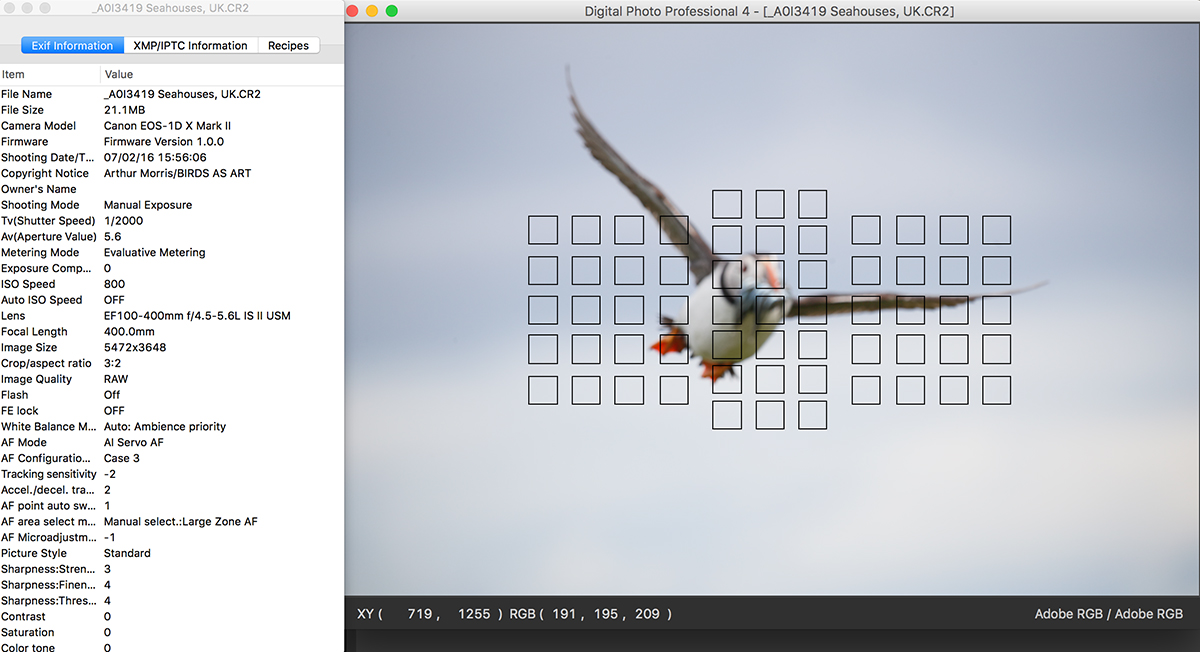 Image #4: Out of focus Atlantic Puffin in flight
Oops…
Notice here that no AF point is illuminated in red. That indicates that AF was not active at the moment of exposure. The only explanation is that I had been using rear focus just prior to making this image and forgot to switch back to shutter button. I use rear focus for most birds that are perched but always use shutter button AF for flying and for constantly moving birds like foraging sandpipers.
Here, I simply screwed up.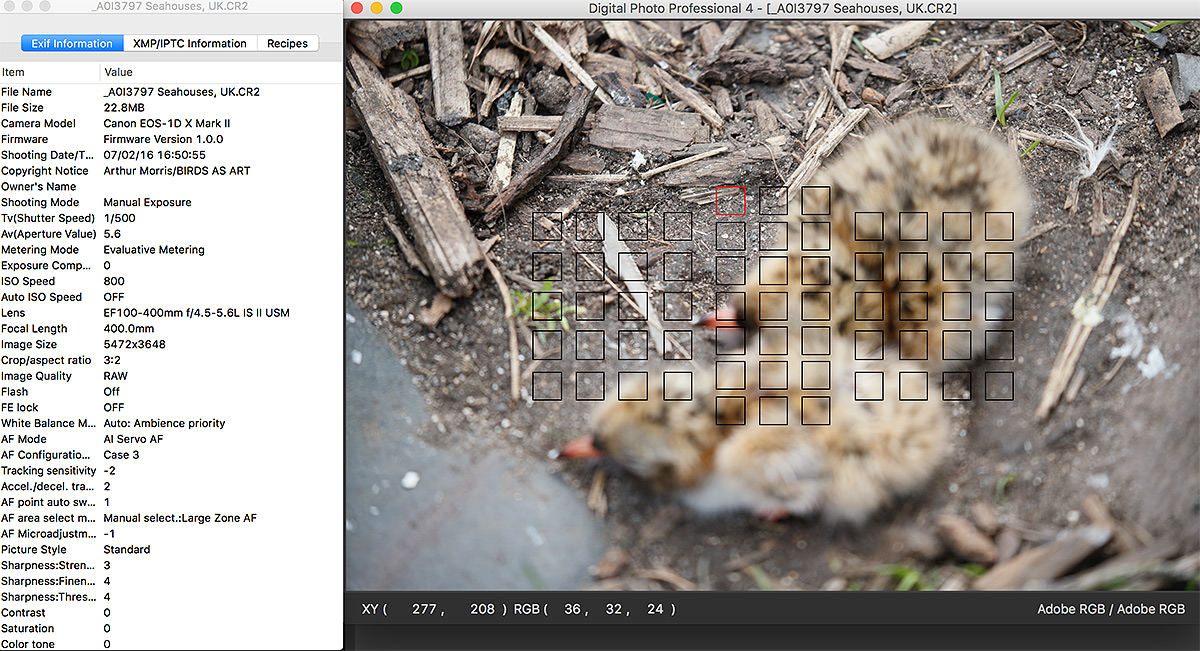 Image #5: Out of focus Arctic Tern chicks
Too Excited for Brain to Function Properly…
When the adult Arctic Tern got up off its nest and went for a walk, its two tiny chicks were left lying there. One had hatched just an hour before. Wow, what a great opportunity. But I knew the the adult would be returning in a matter of seconds and would obscure our view of the chicks. In my haste to select the bottom center AF point, I went one click too far and selected the top center AF point…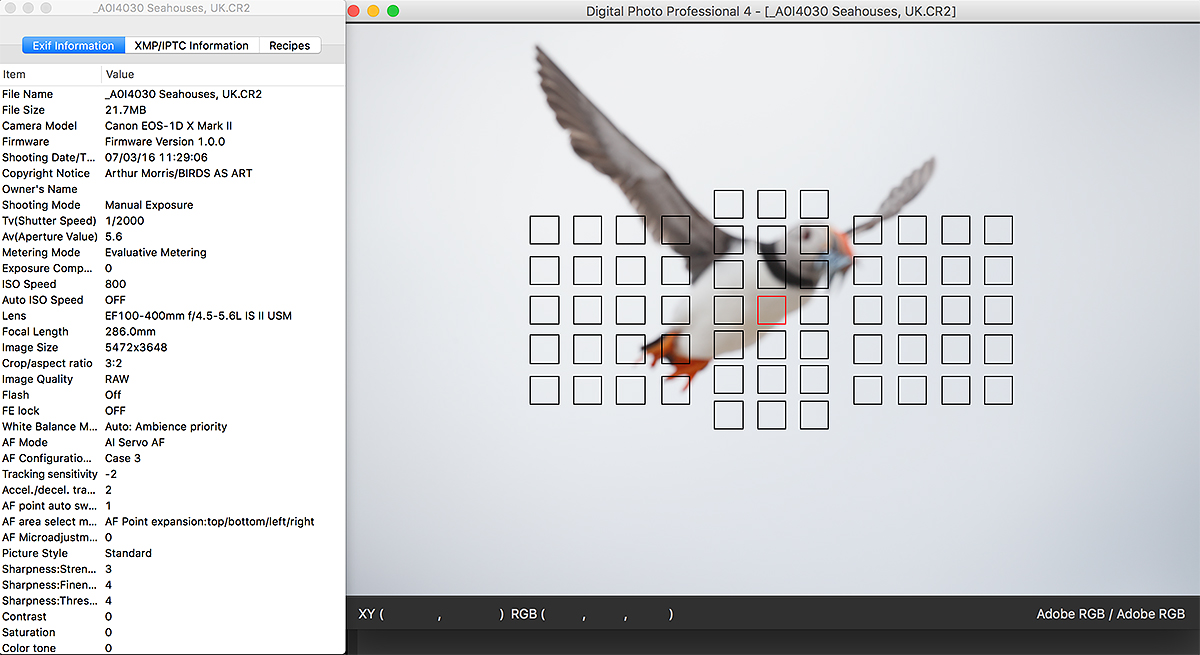 Image #6: Out of focus Atlantic Puffin in flight
More of the Same…
Cloudy with low contrast. Failure to get the AF point on either the bird's head or neck, areas with lots more contrast than the white breast… Failure to give the AF system time to acquire AF and properly track the subject.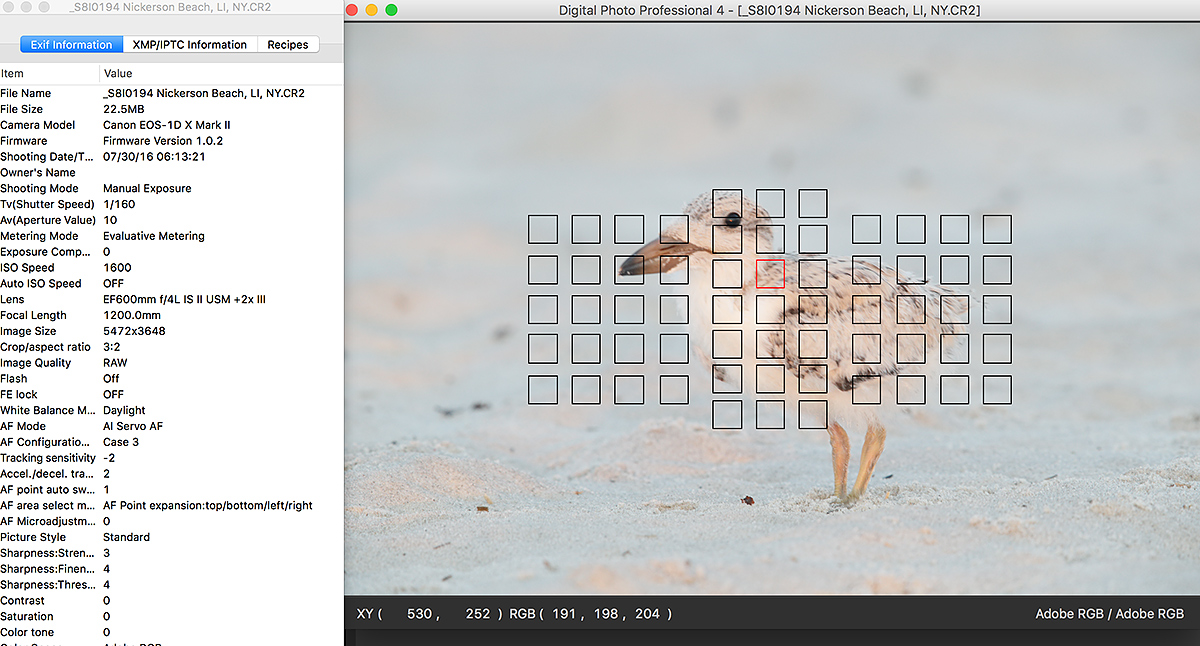 Image #7: Out of focus Black Skimmer chick
AF and Sharpness Off by Just a Bit
Grossly out of focus images like the six above are the exception rather than the rule. I saved and used them here to make a variety of important and educational points. #7–the Black Skimmer chick image–is much more typical in the image is not critically sharp. Image #7 might look save-able here but it is not.
So why is it not razor sharp like the 25 keepers from the series? The AF point was on low contrast area. The light was low-contrast-soft. And as above, I may not have given the AF system enough time to acquire and lock focus. Many times you can prevent this by first acquiring focus on a higher contrast area like the bird's bill and face in this image and then re-composing slowly as desired; most times AF will hold. Another possibility is that I did not keep the lens completely still; lens shake, especially with extremely long effective focal lengths like 1200mm, is a leading cause of unsharpness especially for those who do not employ the very best sharpness techniques. Assuming a shutter speed of greater than 1/60 sec., the bird's body will usually be sharp on a motion blurred image, but the head will not be. When lens shake is the culprit, nothing will be sharp.
You can learn to improve your sharpness techniques by studying the section on Advanced Sharpness Techniques in "The Art of Bird Photography II" (916 pages, 900+ images on CD only). ABP II is simply the best digital bird photography guide ever written. You can order your copy here.
Do Understand
I added this section to yesterday's blog post at 9:15am. It is so important that I opted to include it here with an additional comments.
Do understand that the collection of superb images that accompanied Arash's excellent EOS-1DX Mark II Field Review are due more to the following factors than to Arash's choice of gear….
#1: Arash puts in long hours of hard work in the field.
#2: Arash has above average strength, stamina, and hand-eye coordination.
#3: Arash practices, practices, and then practices some more.
#4: Arash is fiercely determined and is blessed with far above average intelligence…
I am pretty good as far as #1, #3, and #4. But far, far behind when it comes to the items in #2. That said, I do not believe that even 20 years ago I had the skills that Arash has when it comes to photographing birds in flight and in action…
While I can hand hold the 400 DO II with the 2X III TC and the 1DX Mark II for a while for birds in flight, I find it really difficult to keep the bird centered in the frame, much less to keep the center AF point on the subject's face, head, neck, or breast. I do pretty well with the 400 DO II/1.4X III/1DX II combo, but not nearly as well as Arash. And I am no longer capable of hand holding the 600 II/1DX II rig for flight photography.
Again…
Many folks will assume that if they own the gear that Arash does (600 II, 400 DO II, both Series III TCs, and a 1DX Mark II) that they will easily be able to go out and make images like those that were shared with you yesterday. For 99% of us, that ain't gonna happen. That said, I, like many others, enjoy knowing that I have the best available gear at my disposal. And using it.
Please remember, it ain't the lens and it ain't the camera…
As Always…
As always, question and comments are welcome.
Please Remember to use my Affiliate Links and to Visit the New BAA Online Store 🙂
To show your appreciation for my continuing efforts here, we ask, as always, that you get in the habit of using my B&H affiliate links on the right side of the blog for all of your photo and electronics purchases. Please check the availability of all photographic accessories in the New BIRDS AS ART Online Store, especially the Mongoose M3.6 tripod head, Wimberley lens plates, Delkin flash cards and accessories, and LensCoat stuff.
As always, we sell only what I have used, have tested, and can depend on. We will not sell you junk. We know what you need to make creating great images easy and fun. And we are always glad to answer your gear questions via e-mail.
I would of course appreciate your using our B&H affiliate links for all of your major gear, video, and electronic purchases. For the photographic stuff mentioned in the paragraph above we, and for everything else in the new store, we, meaning BAA, would of course greatly appreciate your business. Here is a huge thank you to the many who have been using our links on a regular basis and those who will be visiting the New BIRDS AS ART Online Store as well.
Facebook
Be sure to like and follow BAA on Facebook by clicking on the logo link upper right. Tanks a stack!
Typos
In all blog posts and Bulletins, feel free to e-mail or to leave a comment regarding any typos or errors. Just be right 🙂