Stuff
I got lots of BAA bookkeeping work done on Saturday. I enjoyed a 66-length (3/4mile) swim in my very own pool. It is great to swim in a pool with a centerline; that way I do not get lost! I relaxed a bunch watching Olympics and some UFC stuff on tape. On Sunday morning when I created this blog post in about four hours (including the image optimization and the Used Gear stuff). I watched the Conor McGregor/Nate Diaz II UFC 202 Pay Per View battle on Tivo. I was rooting really hard for McGregor whom I disliked fiercely until he lost (graciously) to Diaz in their first fight. I thought that he would be lucky to get a draw but he won a majority decision. Diaz did not lose quite as graciously…) Pretty much everyone in the world gave McGregor rounds 1, 2, and 4. I was glad for him. It was a fierce and brutal fight.
The Streak
Today's blog post marks a totally insane, irrational, illogical, preposterous, absurd, completely ridiculous, unfathomable, silly, incomprehensible, what's wrong with this guy?, makes-no-sense, 284 days in a row with a new educational blog post. There should be no end in sight until my big South America trip next fall. Or not… As always-–and folks have been doing a really great job recently–-please remember to use our B&H links for your major gear purchases. For best results use one of our many product-specific links; after clicking on one of those you can continue shopping with all subsequent purchases invisibly tracked to BAA. Your doing so is always greatly appreciated. Please remember: web orders only. And please remember also that if you are shopping for items that we carry in the new BAA Online Store (as noted in red at the close of this post below) we would appreciate your business.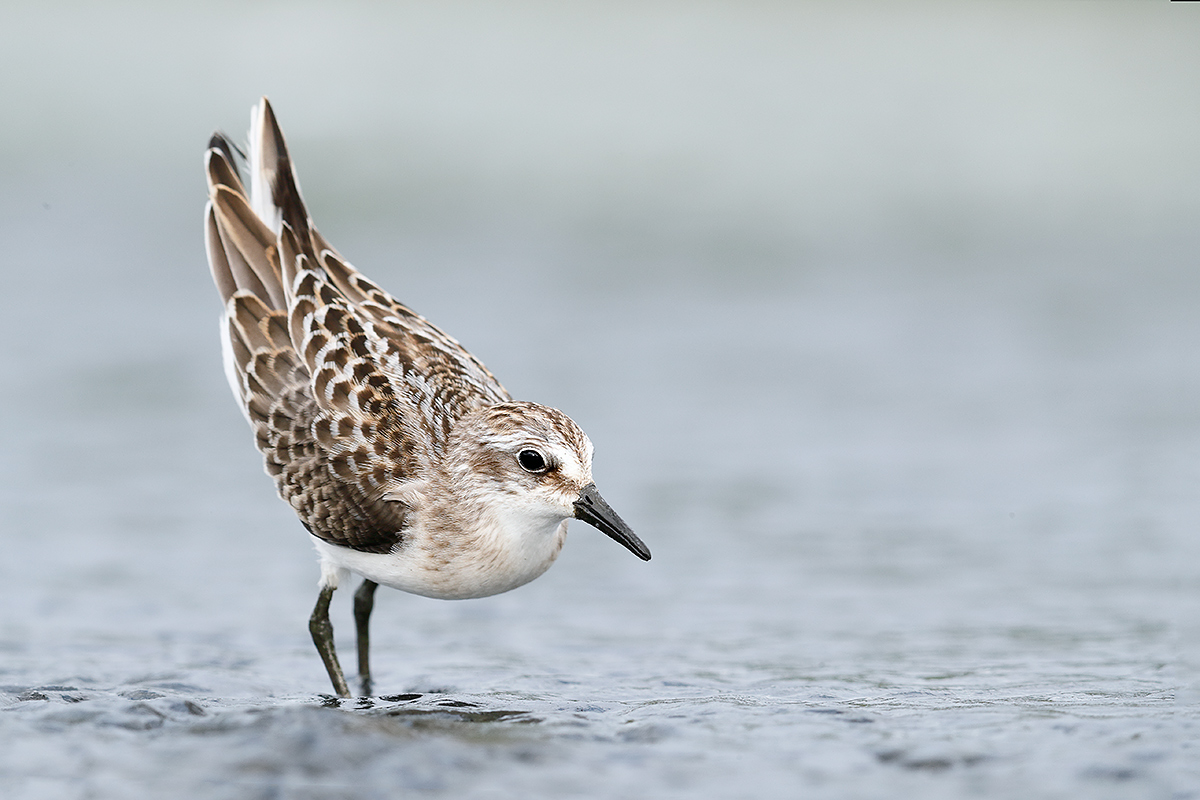 This image was created at Jamaica Bay Wildlife Refuge on Thursday morning past while I was with private client and multiple IPT veteran Elizabeth MacSwann. I sat behind my Induro GIT 304L/Mongoose M3.6-mounted Canon EF 600mm f/4L IS II USM lens, the Canon Extender EF 2X III, and the fast, rugged Canon EOS-1D X Mark II with 64GB Card and Reader. ISO 800. Evaluative metering +1/3 stop: 1/400 sec. at f/9 in Manual mode. Cloudy WB.
Lower center Zone/Shutter Button AF as originally framed was active at the moment of exposure. See the DPP 4 screen capture below to see how effective Zone AF was for this image. Click on the image to see a larger version.
LensAlign/FocusTune micro-adjustment = +5.
Semipalmated Sandpiper in fresh juvenal plumage/aggression display while feeding
Your browser does not support iFrame.
Feeding Threat Display
It is not uncommon to see peeps (small sandpipers of the genus Calidris) feeding with their tails in the air. Their message is clear: this feeding area is mine; stay away. This foraging bird paused for a moment to stare down another juvie semi-sand that had gotten a bit too close. Fights over feeding territories often break out between birds of the same species; disputes between different species are rare. On our cloudy morning together at JBWR private client Elizabeth MacSwann and I witnessed more than a few threat displays and disputes, most between Semipalmated Plovers. Photographing these behaviors is extremely difficult as they start and end quickly; acquiring focus before the action is over is a big challenge…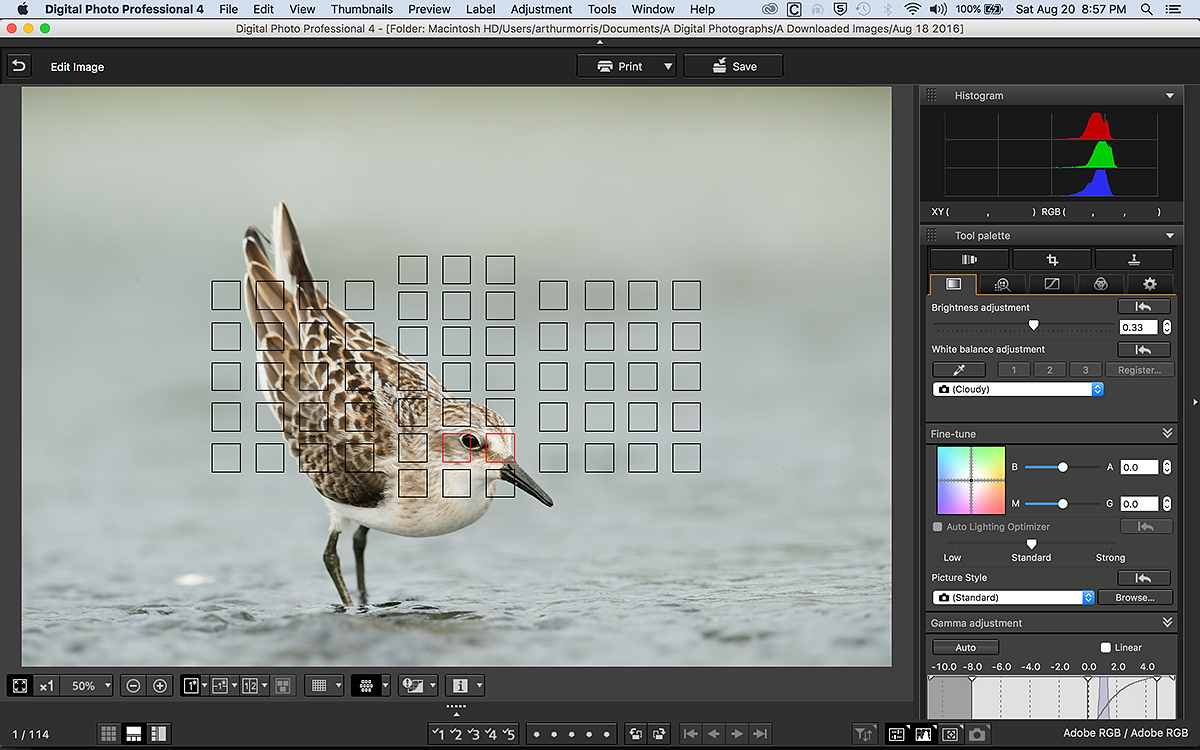 DPP 4 Screen Capture
Zone AF Tips
Looking at the active AF sensors–illuminated in red in the DDP 4 screen capture above–shows that Zone AF can perform superbly. Note that I opted to move the bird back in the frame during post processing by cropping from the top, left, and bottom and then expanding canvas right. I filled in the blank canvas by stretching the water in front of the bird after selecting it with the Rectangular Marquee Tool. (Learn all that and tons more in my Digital Basics File.)
I was reluctant to go to Lower left Zone AF in fear of cutting off the bird's tail with the left frame edge. In retrospect, I should have gone with the Surround AF Area Selection Mode. When you shift Surround it can be done seamlessly; it does not jump from center to left as Zone does…Live and learn. I will soon get a chance to practice as we should get to photograph lots of shorebirds on the Fort DeSoto Fall IPT. See the details on that below.
More on the Image Optimization
You can see the crop and the added canvas by comparing the JPEG that represents the master file with the DPP 4 screen capture. Note also that I eliminated the bit of white poop in the water below and behind the bird. I used a small Quick Mask refined by a Regular Layer Mask. As I saved the master file I was not thrilled with the color so I went back and added a 75% layer of Nik Color EFEX Pro White Neutralizer. The result? Pure magic. Again, compare the almost blue water in the optimized version to the sickly yellow green blues in the RAW file as seen in the DPP 4 screen capture. Again, you can learn all of the above and lots more in my Digital Basics File. Learn the basics of Quick Masking and Layer Masking in APTATS I & II. You can save $15 by purchasing the pair.
A Tough Shorebird Photography Technique Question
A look at the histogram shows that the image was at least 2/3 stop under-exposed. I did that purposely. Why?
Another EOS-1DX Mark II f/8 Advantage
Note that the 1DX Mark II is the only Canon camera that allows you to utilize all of the AF Area Selection Modes when working at f/8. This is a huge advantage for folks working with the f/4 super-telephotos and the 2X TC or those using an f/5.6 lens with the 1.4X III TC.
The 1DX II is so similar to the original 1DX that I have no plans on doing any type of 1DX Mark II guide. If you use my B&H affiliate link to purchase your Canon EOS-1D X Mark II with 64GB Card and Reader and send me your B&H receipt via e-mail I will be glad to have Jim send you the 1DX AF Guide as a thank you once I confirm that I received credit for the sale.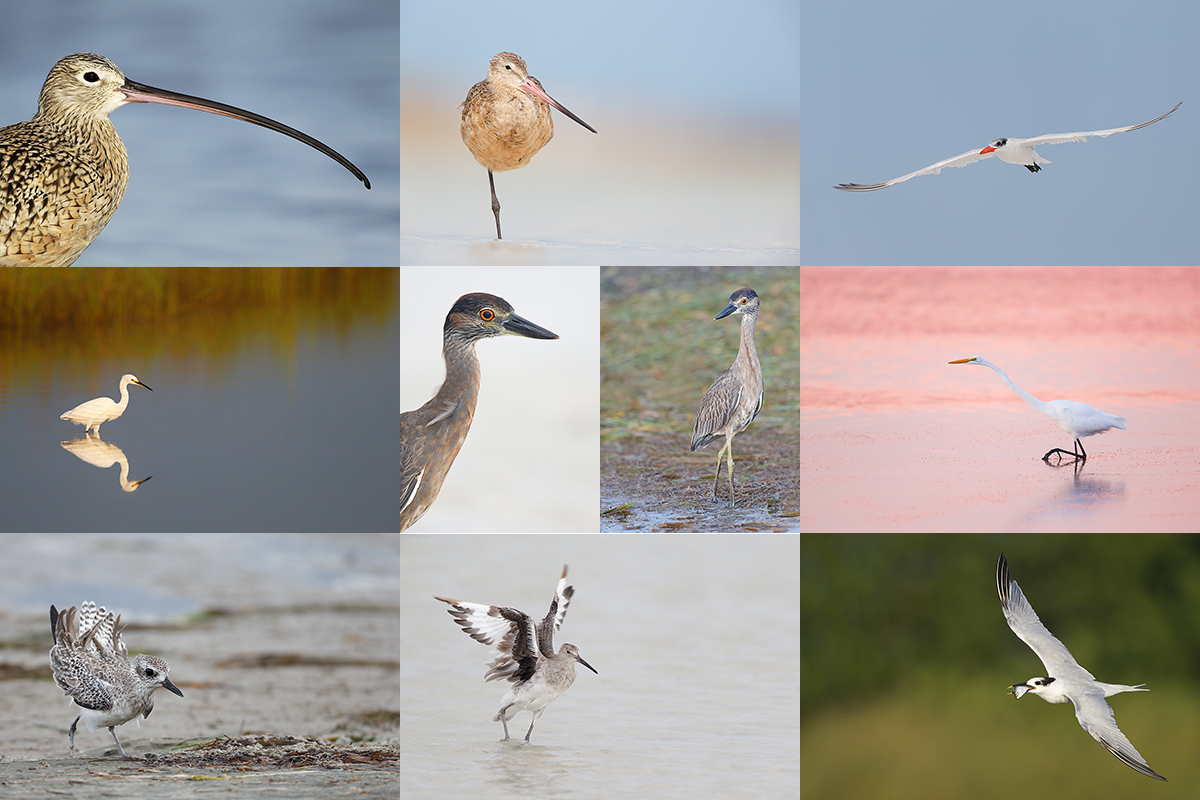 Fort DeSoto in fall is rife with tame birds. All of the images in this card were created at Fort DeSoto in either late September or early October. I hope that you can join me there this fall one way or another. Click on the composite to enjoy a larger version.
BIRDS AS ART Fort DeSoto In-the-Field Meet-up Workshop (ITFW): $99. Limit 12/Openings: 10)
Join me on the morning of October 2, 2016 for 3-hours of photographic instruction at Fort DeSoto Park. Beginners are welcome. Lenses of 300mm or longer are recommended but even those with 70-200s should get to make some nice images, especially with a 7D Mark II. Teleconverters are always a plus.
You will learn the basics of digital exposure and image design, autofocus basics, and how to get close to free and wild birds. We should get to photograph a variety of wading birds, shorebirds, terns, and gulls. This inexpensive morning workshop is designed to give folks a taste of the level and the quality of instruction that is provided on BIRDS AS ART Instructional Photo-tours. I hope to meet you there.
To register please call Jim or Jennifer during weekday business hours with a credit card in hand to pay the nominal registration fee. Your registration fee is non-refundable. You will receive a short e-mail with instructions, gear advice, and meeting place one week before the event.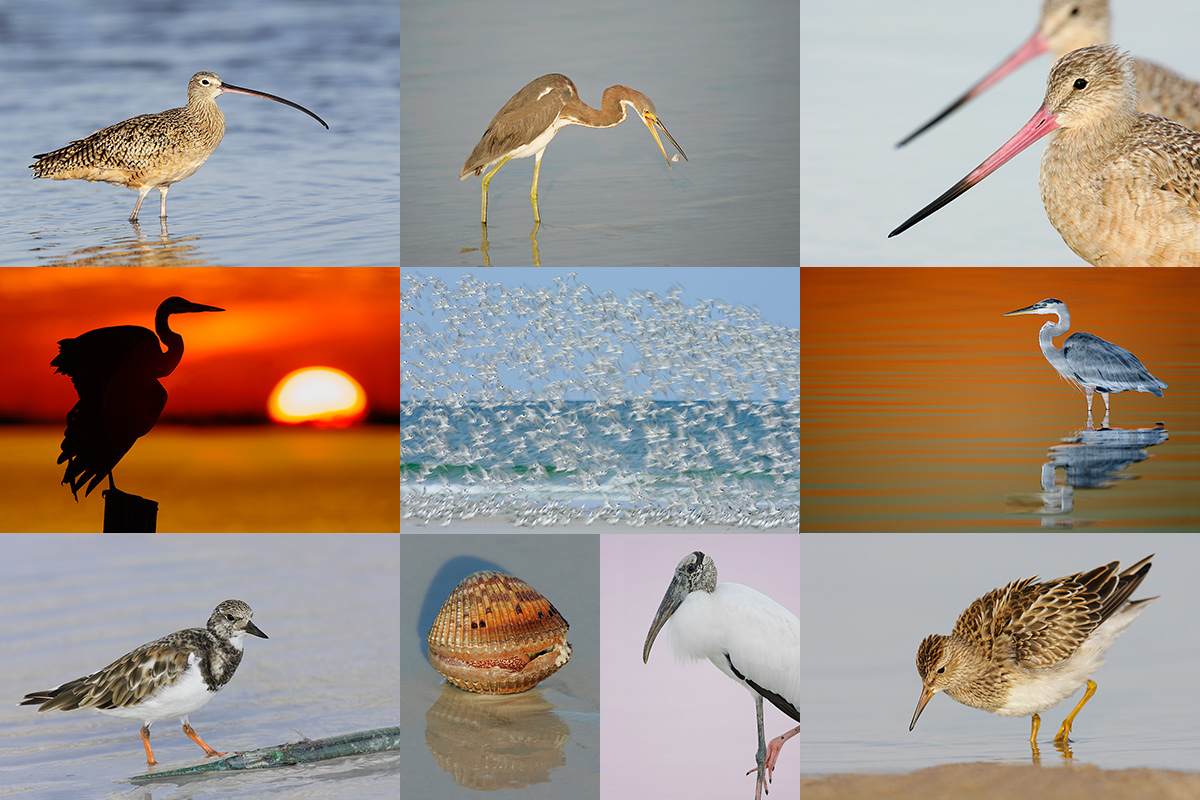 Folks attending the IPT will be in the field early and stay out late to take advantage of sunrise and sunset colors. The good news is that the days are relatively short in early fall. Click on the composite to enjoy a larger version.
Fort DeSoto Short Notice Fall IPT/September 28 (meet & greet at 2pm followed by our afternoon session) through the full day on October 1, 2016. 3 1/2 DAYs: $1549. Limit 10/Openings: 6. Sunday morning ITFW free to IPT registrants.
Fort DeSoto, located just south of St. Petersburg, FL, is a mecca for migrant shorebirds in fall. There they join dozens of egrets, herons, night-herons, gulls, and terns who winter on the T-shaped peninsula that serves as their wintering grounds. With any luck, we should get to photograph two of Florida's most desirable shorebird species: Marbled Godwit and the spectacular Long-billed Curlew. Black-bellied Plover and Willet are easy, American Oystercatcher likely. Great Egret, Snowy Egret, Great Blue Heron, and Tricolored Heron are easy as well and we will almost surely come up with a tame Yellow-crowned Night-Heron or two. We should get to do some Brown Pelican flight photography. And Royal, Sandwich, Forster's, and Caspian Terns will likely provide us with some good flight opportunities as well. Though not guaranteed, Roseate Spoonbill and Wood Stork would not be unexpected.
Folks who sign up for the IPT are welcome to join me as my guest on the ITFW on the Sunday morning following the workshop. See above for details on that.
On this and all other IPTs you will learn basics and fine points of digital exposure and to get the right exposure every time after making a single test exposure, how to approach free and wild birds without disturbing them, to understand and predict bird behavior, to identify and age many species of shorebirds, to spot the good situations, to choose the best perspective, to see and understand the light, to, and to design pleasing images by mastering your camera's AF system. And you will learn learn how and why to work in Manual mode (even if you're scared of it).
At brunch (included) we will review my images–folks learn a ton watching me edit–why keep this one and delete that one? If you opt to bring your laptop, we can take a look at a few of your images from the morning session. We will process a few of my images in Photoshop after converting them in DPP. That followed by Instructor Nap Time.
As I already have one signed up for this workshop, it is a go. Hotel info will be e-mailed when you register. The best airport is Tampa (TPA). It is always best if IPT folks stay in the same hotel so if you are interested it would be a good idea to register now and make your hotel reservations as soon as you hear from us. We can, however, coordinate with local folks who opt to stay at home.
Because of the relatively late date, payment is full is due upon registration either by check or credit card. If the former, please e-mail us immediately so that we can save you a spot. If the latter, please call Jim or Jennifer during weekday business hours at 863-692-0906 with a credit card in hand to register. Your registration fee is non-refundable unless the IPT sells out with eight so please check your plans carefully before committing. You will receive a confirmation e-mail with detailed instructions and gear & clothing advice a fairly soon.
Please Remember to use my Affiliate Links and to Visit the New BAA Online Store 🙂
To show your appreciation for my continuing efforts here, we ask, as always, that you get in the habit of using my B&H affiliate links on the right side of the blog for all of your photo and electronics purchases. Please check the availability of all photographic accessories in the New BIRDS AS ART Online Store, especially the Mongoose M3.6 tripod head, Wimberley lens plates, Delkin flash cards and accessories, and LensCoat stuff.
As always, we sell only what I have used, have tested, and can depend on. We will not sell you junk. We know what you need to make creating great images easy and fun. And we are always glad to answer your gear questions via e-mail.
I would of course appreciate your using our B&H affiliate links for all of your major gear, video, and electronic purchases. For the photographic stuff mentioned in the paragraph above we, and for everything else in the new store, we, meaning BAA, would of course greatly appreciate your business. Here is a huge thank you to the many who have been using our links on a regular basis and those who will be visiting the New BIRDS AS ART Online Store as well.
Facebook
Be sure to like and follow BAA on Facebook by clicking on the logo link upper right. Tanks a stack!
Typos
In all blog posts and Bulletins, feel free to e-mail or to leave a comment regarding any typos or errors. Just be right 🙂