EOS 5D Mark IV Shipping 8 September
I learned five minutes ago that the new Canon EOS 5D Mark IV DSLR will begin shipping from B&H on September 8, 2016. If you have been hot to get one, please be sure to use my product-specific B&H link (in this paragraph) or the to click on the logo link above. Once you get to the B&H product page, please click on Pre-order. Please do NOT click on Request stock alert (as that option will not track to me).
I do not know much about the camera. 30.4mp files, 7 frames per second, and the best in-the-camera video ever sounds pretty impressive, not to mention the fact that the 5D IV will cost you $2,500 less than the Canon EOS-1D X Mark II DSLR.
The 5D IV sounds like the perfect body for those who do serious landscape, travel, Urbex, nature, and wildlife photography, including and especially birds. I will be borrowing one to test on the DeSoto IPT. Each participant will get one hour to play with the new body.
Why use my link? It's the best way to thank me for 288 days with a new educational blog post and for the time spent answering dozens of e-mails each week on a variety of photography related subjects.
Questions Welcome
If you have any questions on the 5D IV please leave a comment; I will do my best to get you an answer asap.
The Spiel
EOS 5D Mark IV
Continuing on in their legacy of powerful workhorse cameras, Canon has released the 5D Mark IV DSLR which is an outstanding still photography option and an able 4K-capable video machine. This multimedia maven offers a newly developed 30.4MP full-frame CMOS sensor paired with the DIGIC 6+ image processor in order to balance fine detail and resolution with low-light performance and sensitivity. It is able to work within a native range of ISO 100-32000, which can then be expanded to an impressive ISO 50-102400, for sharp, low-noise images in a variety of conditions. Along with these improvements to image quality, users will enjoy a performance boost across the board with an enhanced AF system, built-in Wi-Fi, NFC, and GPS, and much more.
In order to deliver detailed images quickly and effectively the 5D Mark IV leverages the power of the DIGIC 6+ image processor, which can handle up to 7 frames per second during continuous shooting. It also uses a 150,000-pixel RGB+IR metering sensor to evaluate the scene and subjects for accurate exposures under a variety of different lighting conditions. An improved 61-point High Density Reticular AF furthers the camera's speed by tracking and locking onto subjects quickly and accurately for tack sharp photos. A new AF area select button is now available as well for near immediate access to this setting.
Video benefits from the addition of Dual Pixel CMOS AF and Movie Servo AF to smoothly rack focus during a shot. Shooters can even make use of the 3.2″ 1.62m-dot touchscreen LCD to simply tap to adjust the focus point. Furthermore, now that the camera has DCI 4K (4096 x 2160) video recording at up to 30 fps, users can snag 8.8MP stills from the video for an even faster capture option. Tied into the Dual Pixel sensor architecture is a brand new feature for Canon: Dual Pixel RAW, which allows for fine tuning of certain image parameters, including bokeh shift and focus micro adjustment, after the image is taken. The body has been further refined for comfort and ease of access, as well as durability and weather resistance. The Canon N3 remote port has been relocated to the front of the camera body and they have added both GPS and Wi-Fi with NFC to make this model a connected camera.
30.4MP Full-Frame CMOS Sensor and DIGIC 6+ Image Processor
In line with previous members of the main 5D series, the Mark IV attempts to balance high resolution with low-light performance with a newly developed 30.4MP full-frame CMOS sensor. This provides a beneficial increase in overall resolution without compromising on sensitivity. Additionally, thanks to the DIGIC 6+ image processor it is paired with, it offers impressive performance within a native range of ISO 100-32000, which can be expanded to ISO 50-102400.
Versatility is key with the 5D, as it needs to be able to tackle landscapes and weddings with equal ease. By using a 150,000-pixel RGB+IR metering sensor shooters will be able to more comfortably rely on the camera to capture difficult scenes. This sensor also has face detection as well as flicker detection which can ensure proper exposure in less-than-ideal lighting situations. Along with this, the camera offers an improved continuous shooting rate of 7 fps, making it a great option for events and action.
High Density Reticular AF and Dual Pixel CMOS AF Systems
Ensuring your subject is tack sharp, the 5D Mark IV incorporates an enhanced High Density Reticular AF system, which offers 61 phase-detect points, with all points sensitive to f/8 and 41 of which are cross-type. The center point can function down to -3 EV for working in extremely dim lighting. Compared to previous versions, this sensor has expanded vertical coverage of 24% on the peripherals and 8% in the center in order to better track and locate subjects in the frame.
In addition to advanced tracking and focusing while using the optical finder for stills, Live View and video can now use Dual Pixel CMOS AF on the actual imaging sensor. This offers about 80% coverage of phase-detection autofocus for faster and more accurate focusing in these modes. It is ideal for video as users will enjoy smoother rack focusing without the downsides normally encountered with contrast-based systems. Also, this works well with the touchscreen functions, allowing shooters to just tap to adjust focus.
DCI 4K Video Recording
Designed for both professional stills shooting and video recording, the 5D Mark IV supports DCI 4K (4096 x 2160) resolution recording at up to 30 fps at 500 Mbps, along with Full HD 1080p shooting at 60 fps and HD 720p at 120 fps for slow motion playback. When recording in-camera, 4K video has 4:2:2 sampling and 8-bit color depth, while Full HD 1080p footage has 4:2:0 sampling. Uncompressed Full HD 1080p video can also be saved via HDMI to an optional external recorder with 4:2:2 color sampling. 4K video is recorded using a central 4096 x 2160 area of the sensor at a 1.74x crop in order to record video with an ideal 1:1 pixel sampling ratio, while Full HD recording makes use of the entire full frame.
Audio can be recorded using the on-board stereo microphone or an optional external mic can also be used via the 3.5mm mic jack. Real time audio monitoring is possible, too, via the 3.5mm headphone jack. The 4K video recording also avails the ability to take 8.8MP still frame grabs during playback on the rear touchscreen and save them as single images.
Dual Pixel RAW
First implemented here on the 5D Mark IV, Dual Pixel RAW allows photographers to record all the information the sensor's unique pixel architecture can deliver, providing a way for fine adjustments to be made after the image is taken. These adjustments include focus fine tuning that can help you ever-so-slightly adjust the focus point to bring out extra details, shift bokeh around for improved composition, and reduce the impact of ghosting on your photos. This requires the use of Canon's Digital Photo Professional 4.5 software.
Body Design
A large 3.2″ 1.62m-dot Clear View II LCD monitor is available and features an anti-reflective design for bright, vivid image playback and live view shooting, and its touchscreen interface can be used for intuitive touch-to-focus control and adjusting settings in the menus. A dedicated AF mode selection button located beneath the rear joystick offers another avenue for accessing settings, allowing for fast, intuitive access to commonly changed options.
Dual CompactFlash and SD memory card slots allow you to extend your file saving capabilities by permitting overflow recording or in-camera file type separation while shooting. An Intelligent Viewfinder II uses a pentaprism design and offers a bright means for viewing. When using the viewfinder, AF points are highlighted in red for greater visibility in low-light conditions, and the finder can also be configured to display a range of other shooting aids, such as an electronic level, grid, flicker detection, white balance, metering mode, AF information, and other settings.
A Mirror Vibration Control System helps to minimize mechanical vibrations in order to better ensure sharpness during long exposures or fast continuous shooting bursts. A robust magnesium alloy body design is both dust- and weather-sealed to permit working in harsh environments.
Other Camera Features
A built-in GPS module allows you to geotag imagery in-camera as well as auto time sync with the Universal Time Code via satellites. This module is compatible with American GPS, Russian GLONASS, and Japanese quasi-zenith Michibiki satellites for a wide coverage of support. Digital Lens Optimizer technology compensates for a range of optical defects from various lenses, including chromatic aberration, distortion, peripheral brightness, and diffraction, and the camera can store lens data in order to avoid having to re-register lenses prior to each use. The camera can handle this process in real time, delivering JPEGs with the corrections already applied.
A built-in intervalometer permits the creation of time lapse imagery and supports recording 1-99 consecutive frames in pre-selected intervals from 1 second to 99 hours 59 minutes and 59 seconds. Users can also choose to set the camera to unlimited frames. Built-in Wi-Fi and NFC connectivity enable wireless sharing, control, and image transfer with a compatible smart device as well as the CS100 Connect Station.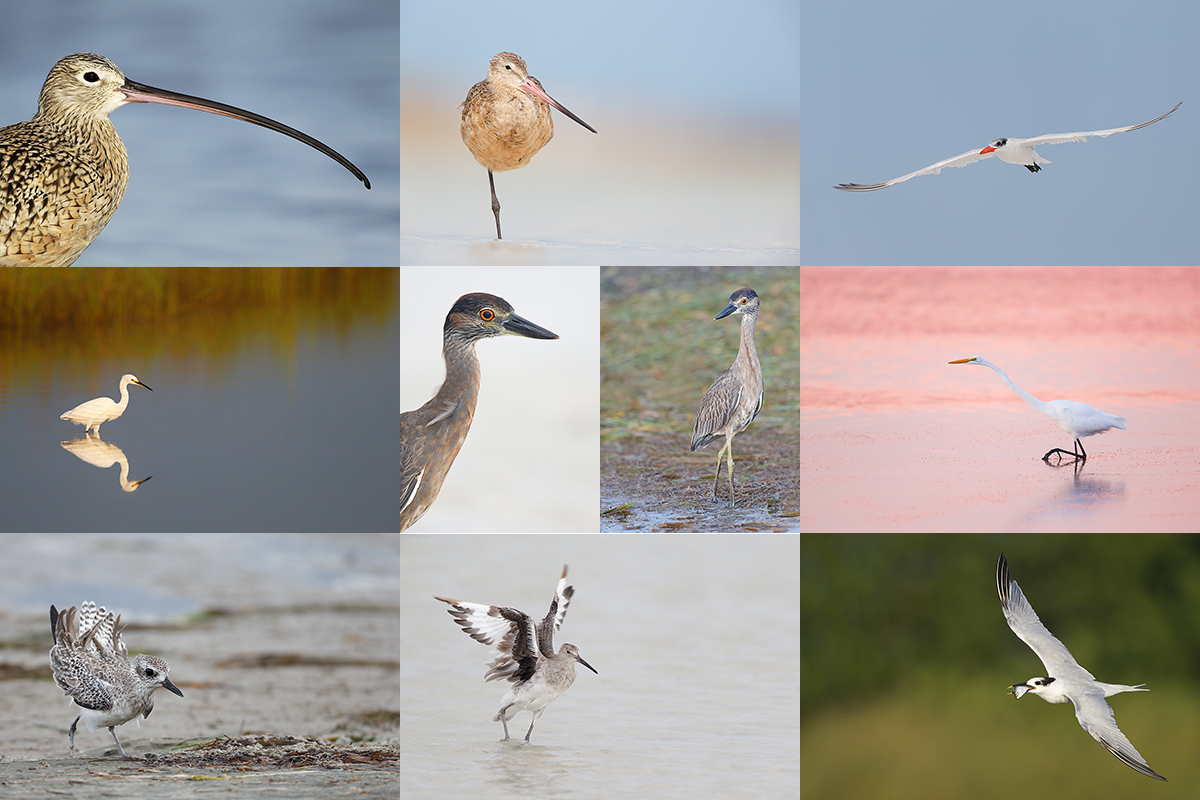 Fort DeSoto in fall is rife with tame birds. All of the images in this card were created at Fort DeSoto in either late September or early October. I hope that you can join me there this fall one way or another. Click on the composite to enjoy a larger version.
BIRDS AS ART Fort DeSoto In-the-Field Meet-up Workshop (ITFW): $99. Limit 12/Openings: 10)
Join me on the morning of October 2, 2016 for 3-hours of photographic instruction at Fort DeSoto Park. Beginners are welcome. Lenses of 300mm or longer are recommended but even those with 70-200s should get to make some nice images, especially with a 7D Mark II. Teleconverters are always a plus.
You will learn the basics of digital exposure and image design, autofocus basics, and how to get close to free and wild birds. We should get to photograph a variety of wading birds, shorebirds, terns, and gulls. This inexpensive morning workshop is designed to give folks a taste of the level and the quality of instruction that is provided on BIRDS AS ART Instructional Photo-tours. I hope to meet you there.
To register please call Jim or Jennifer during weekday business hours with a credit card in hand to pay the nominal registration fee. Your registration fee is non-refundable. You will receive a short e-mail with instructions, gear advice, and meeting place one week before the event.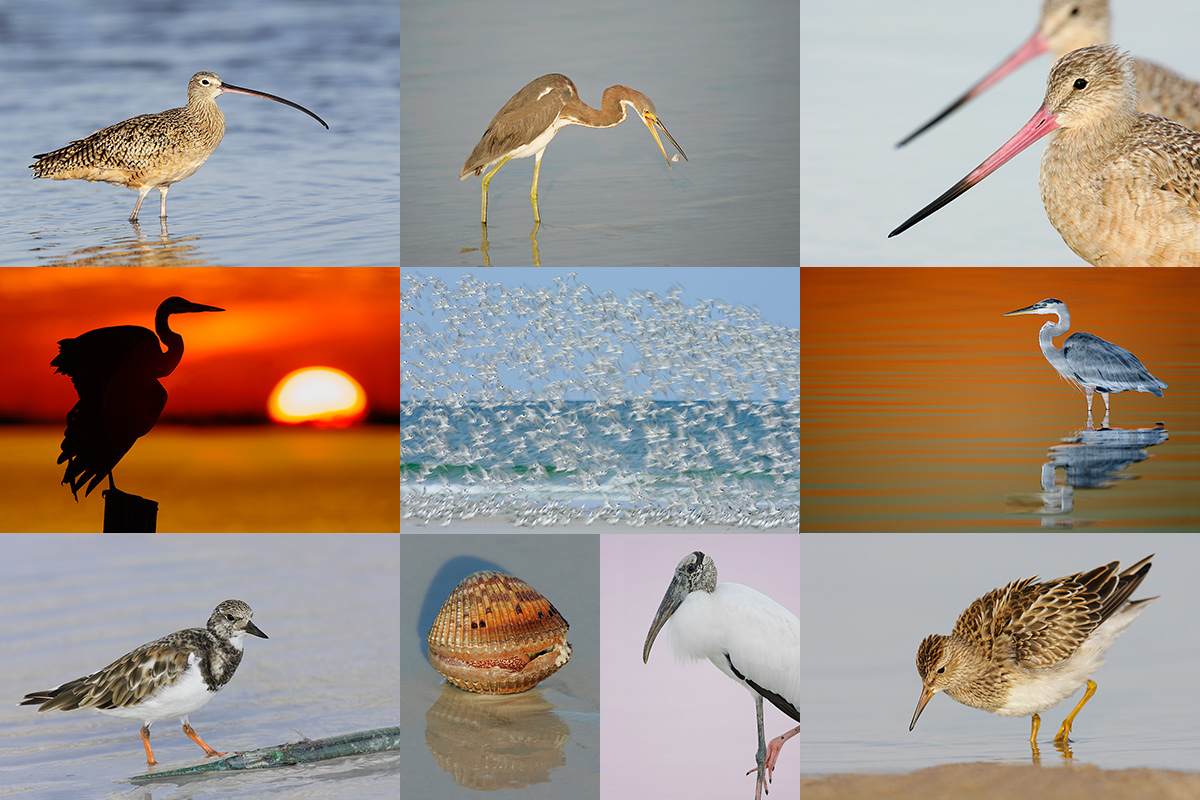 Folks attending the IPT will be in the field early and stay out late to take advantage of sunrise and sunset colors. The good news is that the days are relatively short in early fall. Click on the composite to enjoy a larger version.
Fort DeSoto Short Notice Fall IPT/September 28 (meet & greet at 2pm followed by our afternoon session) through the full day on October 1, 2016. 3 1/2 DAYs: $1549. Limit 10/Openings: 6. Sunday morning ITFW free to IPT registrants.
Fort DeSoto, located just south of St. Petersburg, FL, is a mecca for migrant shorebirds in fall. There they join dozens of egrets, herons, night-herons, gulls, and terns who winter on the T-shaped peninsula that serves as their wintering grounds. With any luck, we should get to photograph two of Florida's most desirable shorebird species: Marbled Godwit and the spectacular Long-billed Curlew. Black-bellied Plover and Willet are easy, American Oystercatcher likely. Great Egret, Snowy Egret, Great Blue Heron, and Tricolored Heron are easy as well and we will almost surely come up with a tame Yellow-crowned Night-Heron or two. We should get to do some Brown Pelican flight photography. And Royal, Sandwich, Forster's, and Caspian Terns will likely provide us with some good flight opportunities as well. Though not guaranteed, Roseate Spoonbill and Wood Stork would not be unexpected.
Folks who sign up for the IPT are welcome to join me as my guest on the ITFW on the Sunday morning following the workshop. See above for details on that.
On this and all other IPTs you will learn basics and fine points of digital exposure and to get the right exposure every time after making a single test exposure, how to approach free and wild birds without disturbing them, to understand and predict bird behavior, to identify and age many species of shorebirds, to spot the good situations, to choose the best perspective, to see and understand the light, to, and to design pleasing images by mastering your camera's AF system. And you will learn learn how and why to work in Manual mode (even if you're scared of it).
At brunch (included) we will review my images–folks learn a ton watching me edit–why keep this one and delete that one? If you opt to bring your laptop, we can take a look at a few of your images from the morning session. We will process a few of my images in Photoshop after converting them in DPP. That followed by Instructor Nap Time.
As I already have one signed up for this workshop, it is a go. Hotel info will be e-mailed when you register. The best airport is Tampa (TPA). It is always best if IPT folks stay in the same hotel so if you are interested it would be a good idea to register now and make your hotel reservations as soon as you hear from us. We can, however, coordinate with local folks who opt to stay at home.
Because of the relatively late date, payment is full is due upon registration either by check or credit card. If the former, please e-mail us immediately so that we can save you a spot. If the latter, please call Jim or Jennifer during weekday business hours at 863-692-0906 with a credit card in hand to register. Your registration fee is non-refundable unless the IPT sells out with eight so please check your plans carefully before committing. You will receive a confirmation e-mail with detailed instructions and gear & clothing advice a fairly soon.
Please Remember to use my Affiliate Links and to Visit the New BAA Online Store 🙂
To show your appreciation for my continuing efforts here, we ask, as always, that you get in the habit of using my B&H affiliate links on the right side of the blog for all of your photo and electronics purchases. Please check the availability of all photographic accessories in the New BIRDS AS ART Online Store, especially the Mongoose M3.6 tripod head, Wimberley lens plates, Delkin flash cards and accessories, and LensCoat stuff.
As always, we sell only what I have used, have tested, and can depend on. We will not sell you junk. We know what you need to make creating great images easy and fun. And please remember that I am always glad to answer your gear questions via e-mail.
I would of course appreciate your using our B&H affiliate links for all of your major gear, video, and electronic purchases. For the photographic stuff mentioned in the paragraph above, and for everything else in the new store, we, meaning BAA, would of course greatly appreciate your business. Here is a huge thank you to the many who have been using our links on a regular basis and those who will be visiting the New BIRDS AS ART Online Store as well.
Facebook
Be sure to like and follow BAA on Facebook by clicking on the logo link upper right. Tanks a stack!
Typos
In all blog posts and Bulletins, feel free to e-mail or to leave a comment regarding any typos or errors. Just be right 🙂