What's Up?
Boy, this is getting repetitive. What's on the schedule for Sunday? BAA clerical work and answering e-mails, preparing blog posts, posting different stuff on FaceBook–most recently some tulips, an easy 3/4 mile swim, and more core exercises and stretching. All accompanied by UFC on Tivo.
Gear Questions and Advice
Too many folks attending IPTs and dozens of the folks whom I see in the field and on BPN, are–out of ignorance–using the wrong gear, especially when it comes to tripods and more especially, tripod heads… Please know that I am always glad to answer your gear questions via e-mail.
The Streak
Today's blog post marks a totally insane, irrational, illogical, preposterous, absurd, completely ridiculous, unfathomable, silly, incomprehensible, what's wrong with this guy?, makes-no-sense, 291 days in a row with a new educational blog post. There should be no end in sight until my big South America trip next fall. Or not… As always-–and folks have been doing a really great job recently–-please remember to use our B&H links for your major gear purchases. For best results use one of our many product-specific links; after clicking on one of those you can continue shopping with all subsequent purchases invisibly tracked to BAA. Your doing so is always greatly appreciated. Please remember: web orders only. And please remember also that if you are shopping for items that we carry in the new BAA Online Store (as noted in red at the close of this post below) we would appreciate your business.
What to do, what to do, what to do?
With the release of the EOS 5D Mark IV DSLR it is an exciting time for bird, wildlife, and nature photographers using the Canon system. Do you go with the new body, with the mega mega-pixel Canon EOS 5DS R DSLR, or with the rugged blazingly fast Canon EOS-1D X Mark II DSLR with 64GB Card and Reader?
The discussions below can help you with your decision. If you are in the market for a new body, please remember to use one of my B&H affiliate links; it is the best way to thank me for the work that I am doing both here and via e-mail. If you opt for the 5D Mark IV, please, once you get to the B&H product page, click on Pre-order. If instead you click on Request stock alert that option will not track to me.
Most Important
Please remember that it ain't the camera and it ain't the lens… A competent and creative photographer with older gear who practices and studies and works hard on their post-processing skills will create much better images than a lazy incompetent photographer with the latest greatest camera bodies and lenses. But only 100% of the time.
Before you reach for your credit card, be sure also to ask yourself, "What is the end purpose of my images, what will I be using them for?" Your honest answer might save you thousands of dollars.
The Canon EOS 5DS R versus the Canon EOS 5D Mark IV
Here is an e-mail exchange with Ken Lui who e-mailed with a gear question:
am: Hi Ken, re:
KL: I take both landscape and bird photos, including birds in flight. I have both 100-400 IS II and the 600 mm IS II and a few other L lenses for landscapes. Any thoughts as to which camera would be better for me, the 5DS R or the Canon 5D Mark IV?
am: Unless you are routinely making very large prints I would lean toward the 5D Mark IV for its faster frame rate, its likely improved AF system, AF at f/8, improved low light/high ISO performance, and its more manageable file sizes (though I have no problem at all with the large 5DS R image files on my Macbook Pro). More on the AF at f/8 bit: at f/8, the 5D IV (like the more expensive 1DX II) offers all AF points and all AF Area Selection modes.
That said you should be able to make some pretty wonderful large prints with 5D Mark IV images. If you remember, when I first mentioned that it is harder to make sharp images with camera bodies with densely packed pixels, pretty much everyone told me that I was wrong. Good friend and technical wizard Alan Lillich kindly explained that I was right because the lens shake needs to be considered on a pixel level. I did not and do not really understand the physics of it, but I knew I was right all along because of what I was experiencing with the 7D II and then later with the 5DS R, each with tiny, tightly packed pixels.
If you watch the 5D Mark IV panel discussion video here, you will note at about the 53:50 mark, that both pros made comments that showed that I was indeed correct. Therefore, for most folks, the real possibility is it would be easier for many of them to make sharp images with a 30mp body than with a 50mp body. For some, this seemingly fine point might be a hugely important factor.
KL: Thanks. Now I have a even harder time choosing between the 5DS R and the 5D MK IV…
am: Whatever you do, please be sure to use my B&H affiliate link. Many thanks for that. And later and love, artie
ps: let me know if you have any additional questions.
KL: I will use your link to purchase when I make up my mind.
am: Many thanks.
To Be Clear: The Big Realization
While it will be slightly more difficult for folks going from a 16-22mp camera body to a 30mp body–the 5D Mark IV–to make sharp images, it will surely be a lot easier for many folks to make sharp images with a 30mp body than with a 50mp body–the 5DS R.
The Canon EOS 5DS R/600II/1.4XIII TC versus the Canon EOS-1DX Mark II/600II/2XII TC.
A Comments conversation with Ryan Sanderson from the blog post here.
RS: What considerations go into your choice of 5DS R/600II/1.4XIII TC versus the 1DX Mark II/600II/2XII TC.
am: There are lots of factors.
RS: It would seem to me that frame rate and perhaps higher ISO capability would be the only reasons you would want to go with the second combo and I guess one could possibly make an argument about weather conditions.
am: Yes to the things that you noted above. And the fact that the 1DX II offers faster initial focusing acquisition (possibly because of battery considerations…) And the 1DX II offers all AF points and all AF Area Selection modes while the 5DS R offers only the center AF point plus the assist point in Expand.
Common sense dictates that a sharp image made with the 5DS R/600II/1.4XIII TC and then cropped will better image quality than an image made with the 1DX Mark II/600II/2XIII TC. And the former combo will enjoy both one stop of AF and ISO advantages as wide open will be f/5.6 rather than f/8. That said, here is one factor that I have long thought about and realized but never written about until now: there is always a subconscious factor that overrules common sense. The brain thinks, "Having the bird larger in the frame (with the1DX Mark II/600II/2XIII TC combo) has got to be better." In addition, bigger in the frame is comforting both to the psyche and the ego.
Then there is the motion blur across the more densely-packed 5DS R pixels (as discussed in the first item in this blog post) to add to the mix as everything above assumed prefect sharpness techniques with each rig. The facts are that I have made lots of great images with the 5DS R/600II/1.4XIII TC, made great images with the 1DX Mark II/600II/2XII TC, and, in the best of all worlds, made great images with the 5DS R/600II/2XIII TC…
RS: I've followed your blog daily and have seen the fine images coming from the 1DX2 combo, but sometimes I did wonder if the 5DsR combo would have been better.
am: As above, I have wondered too.
RS: I've recently acquired a used 5DS R to accompany my 7D Mark II. The 7D II has not been used since I picked up the 5DS R and it's gotten me to thinking about selling the 7D II and picking up a used 1DX as a back-up.
am: Good plan. I'd be glad to help you sell your 7D II via the Used Gear page.
RS: I don't shoot video and with the 5DS R, I feel that any significant reach situations would be handled by cropping 5DS R images. I don't know that going for a 1DX Mark II for double the price of a used 1DX would be advantageous for me, especially since I'm only a hobbyist.
am: I can never know what is "worth it" for someone else. I am blessed to be able to get the gear I need and want whenever I so choose. I will likely be getting my hands on a 5D Mark IV sooner rather than later. Hey, here's something for you to consider: should you be buying a new 5D Mark IV instead of a 5DS R? See the item that opens this blog post for help with that decision…
A Note On Camera Body Weights
Do not forget that both the 5D Mark IV and the 5DS R are a lot lighter than the relative behemoth, the 1DX Mark II.
All Things Considered…
If you read and understand and consider everything above, it sounds as if new 5D Mark IV might be the perfect body for those who do serious landscape, travel, Urbex, nature, and wildlife photography, including and especially birds. I will be borrowing one to test as soon as possible. I will almost surely have one to use on the DeSoto IPT. And each participant will get one hour to play with the new body.
You can learn lots more about the 5D IV in the blog post here.
For folks who specialize in photographing birds in flight and in action, or those who work often in extremely low light conditions, the 1DX Mark II might very well be best for them… Click here for more on that.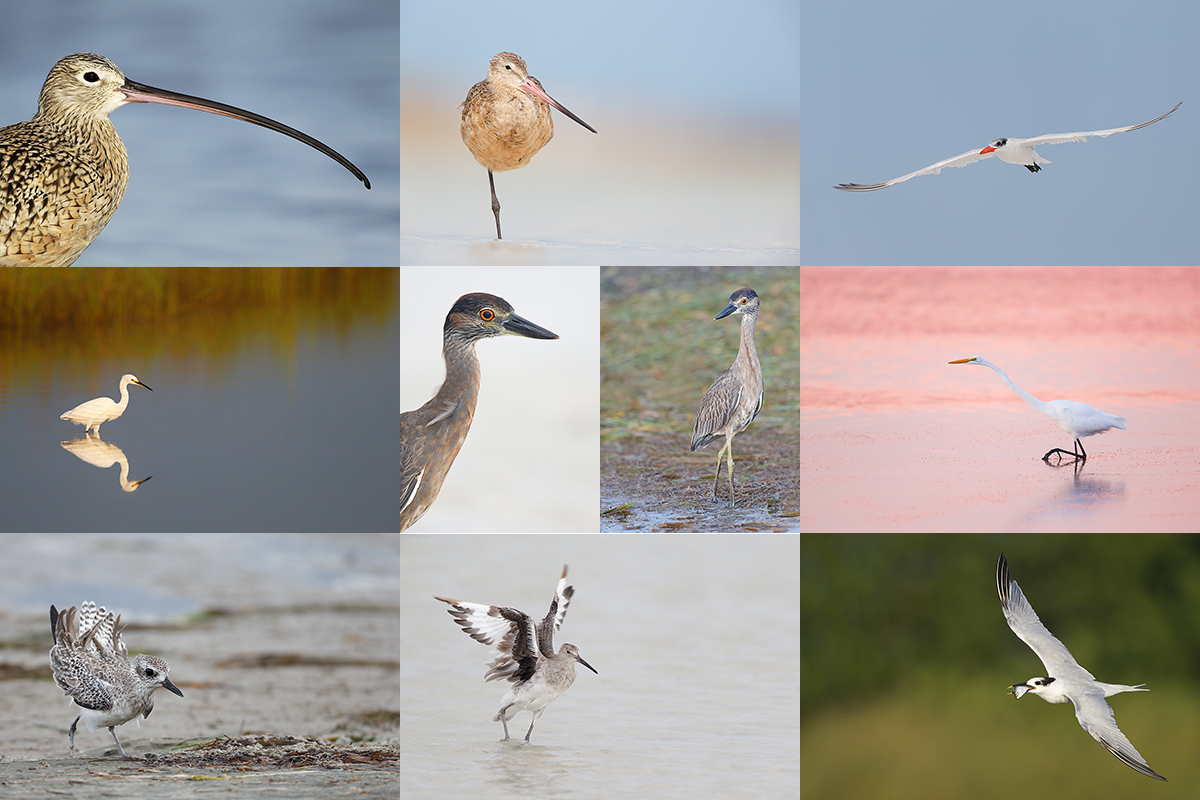 Fort DeSoto in fall is rife with tame birds. All of the images in this card were created at Fort DeSoto in either late September or early October. I hope that you can join me there this fall one way or another. Click on the composite to enjoy a larger version.
BIRDS AS ART Fort DeSoto In-the-Field Meet-up Workshop (ITFW): $99. Limit 12/Openings: 10)
Join me on the morning of October 2, 2016 for 3-hours of photographic instruction at Fort DeSoto Park. Beginners are welcome. Lenses of 300mm or longer are recommended but even those with 70-200s should get to make some nice images, especially with a 7D Mark II. Teleconverters are always a plus.
You will learn the basics of digital exposure and image design, autofocus basics, and how to get close to free and wild birds. We should get to photograph a variety of wading birds, shorebirds, terns, and gulls. This inexpensive morning workshop is designed to give folks a taste of the level and the quality of instruction that is provided on BIRDS AS ART Instructional Photo-tours. I hope to meet you there.
To register please call Jim or Jennifer during weekday business hours with a credit card in hand to pay the nominal registration fee. Your registration fee is non-refundable. You will receive a short e-mail with instructions, gear advice, and meeting place one week before the event.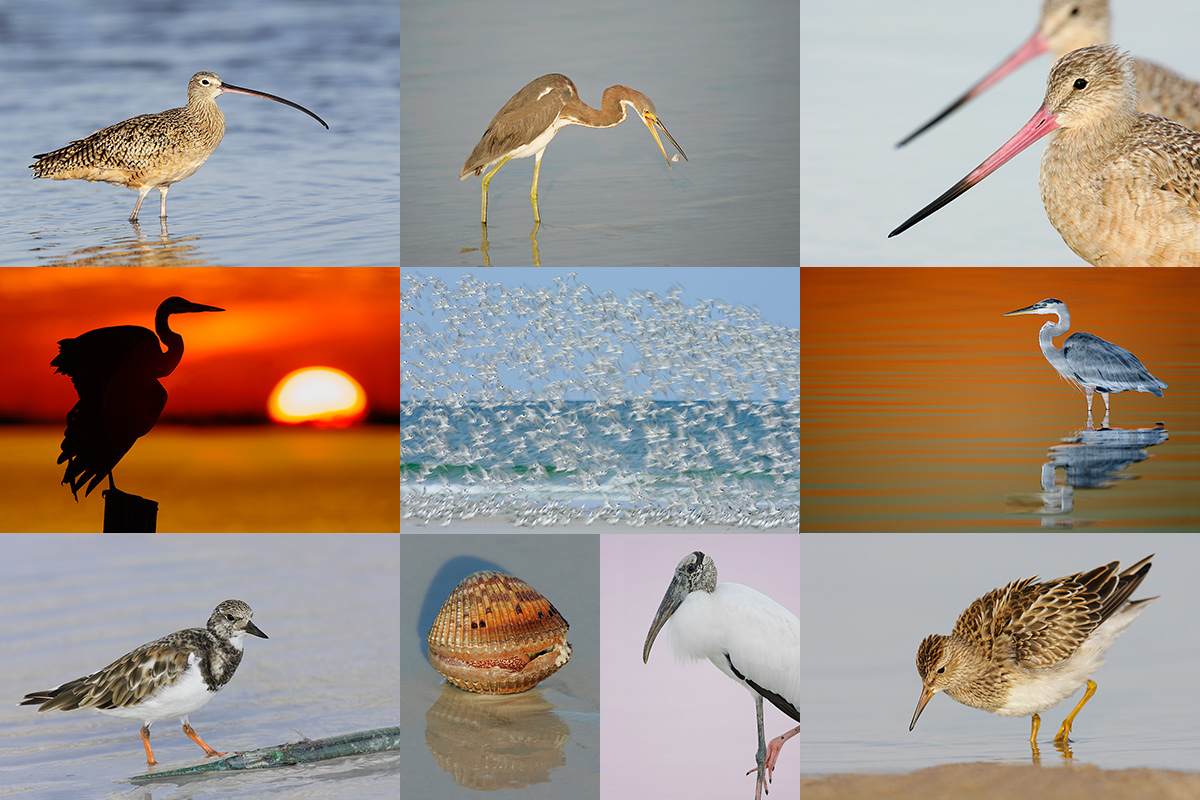 Folks attending the IPT will be in the field early and stay out late to take advantage of sunrise and sunset colors. The good news is that the days are relatively short in early fall. Click on the composite to enjoy a larger version.
Fort DeSoto Short Notice Fall IPT/September 28 (meet & greet at 2pm followed by our afternoon session) through the full day on October 1, 2016. 3 1/2 DAYs: $1549. Limit 10/Openings: 6. Sunday morning ITFW free to IPT registrants.
Fort DeSoto, located just south of St. Petersburg, FL, is a mecca for migrant shorebirds in fall. There they join dozens of egrets, herons, night-herons, gulls, and terns who winter on the T-shaped peninsula that serves as their wintering grounds. With any luck, we should get to photograph two of Florida's most desirable shorebird species: Marbled Godwit and the spectacular Long-billed Curlew. Black-bellied Plover and Willet are easy, American Oystercatcher likely. Great Egret, Snowy Egret, Great Blue Heron, and Tricolored Heron are easy as well and we will almost surely come up with a tame Yellow-crowned Night-Heron or two. We should get to do some Brown Pelican flight photography. And Royal, Sandwich, Forster's, and Caspian Terns will likely provide us with some good flight opportunities as well. Though not guaranteed, Roseate Spoonbill and Wood Stork would not be unexpected.
Folks who sign up for the IPT are welcome to join me as my guest on the ITFW on the Sunday morning following the workshop. See above for details on that.
On this and all other IPTs you will learn basics and fine points of digital exposure and to get the right exposure every time after making a single test exposure, how to approach free and wild birds without disturbing them, to understand and predict bird behavior, to identify and age many species of shorebirds, to spot the good situations, to choose the best perspective, to see and understand the light, to, and to design pleasing images by mastering your camera's AF system. And you will learn learn how and why to work in Manual mode (even if you're scared of it).
At brunch (included) we will review my images–folks learn a ton watching me edit–why keep this one and delete that one? If you opt to bring your laptop, we can take a look at a few of your images from the morning session. We will process a few of my images in Photoshop after converting them in DPP. That followed by Instructor Nap Time.
As I already have one signed up for this workshop, it is a go. Hotel info will be e-mailed when you register. The best airport is Tampa (TPA). It is always best if IPT folks stay in the same hotel so if you are interested it would be a good idea to register now and make your hotel reservations as soon as you hear from us. We can, however, coordinate with local folks who opt to stay at home.
Because of the relatively late date, payment is full is due upon registration either by check or credit card. If the former, please e-mail us immediately so that we can save you a spot. If the latter, please call Jim or Jennifer during weekday business hours at 863-692-0906 with a credit card in hand to register. Your registration fee is non-refundable unless the IPT sells out with eight so please check your plans carefully before committing. You will receive a confirmation e-mail with detailed instructions and gear & clothing advice a fairly soon.
Please Remember to use my Affiliate Links and to Visit the New BAA Online Store 🙂
To show your appreciation for my continuing efforts here, we ask, as always, that you get in the habit of using my B&H affiliate links on the right side of the blog for all of your photo and electronics purchases. Please check the availability of all photographic accessories in the New BIRDS AS ART Online Store, especially the Mongoose M3.6 tripod head, Wimberley lens plates, Delkin flash cards and accessories, and LensCoat stuff.
As always, we sell only what I have used, have tested, and can depend on. We will not sell you junk. We know what you need to make creating great images easy and fun. And please remember that I am always glad to answer your gear questions via e-mail.
I would of course appreciate your using our B&H affiliate links for all of your major gear, video, and electronic purchases. For the photographic stuff mentioned in the paragraph above, and for everything else in the new store, we, meaning BAA, would of course greatly appreciate your business. Here is a huge thank you to the many who have been using our links on a regular basis and those who will be visiting the New BIRDS AS ART Online Store as well.
Facebook
Be sure to like and follow BAA on Facebook by clicking on the logo link upper right. Tanks a stack!
Typos
In all blog posts and Bulletins, feel free to e-mail or to leave a comment regarding any typos or errors. Just be right 🙂