What's Up?
On Friday morning Jim and I packed up the Sequoia with our overnight bags and with mail order product to bring to the Saturday morning program in Naples. B&H is generously supporting the event by providing two $50 and one $100 B&H gift certificates. You need to be present to win.
I was glad to learn that Roger Doughty sold his two like-new Canon bodies, a 1DX and a 7D II, the first day they were listed, each for a price that thrilled him. That is what I called hitting the nail on the head! In addition, the sale of multiple IPT-veteran Mike Goldhamer's
Canon 400mm f/4 DO lens is pending.
Gear Questions and Advice
Too many folks attending IPTs and dozens of the folks whom I see in the field, and on BPN, are–out of ignorance–using the wrong gear, especially when it comes to tripods and more especially, tripod heads… Please know that I am always glad to answer your gear questions via e-mail.
DPI-SIG Naples Speaking Gig
Though it is probably too late for you, do know that on the morning of Saturday September 10, I will be presenting "A Bird Photographer's Story" from 9am to noon in the auditorium at Florida SouthWestern State College located at 7505 Grand Lely Drive, Naples, Florida, 34113. Learn more here. If you live anywhere near SW Florida, I hope to see you there. Be sure to come up for a hug.
The Streak
Today's blog post marks a totally insane, irrational, illogical, preposterous, absurd, completely ridiculous, unfathomable, silly, incomprehensible, what's wrong with this guy?, makes-no-sense, 303 days in a row with a new educational blog post. There should be no end in sight until my big South America trip next fall. Or not… As always-–and folks have been doing a really great job recently–-please remember to use our B&H links for your major gear purchases. For best results use one of our many product-specific links; after clicking on one of those you can continue shopping with all subsequent purchases invisibly tracked to BAA. Your doing so is always greatly appreciated. Please remember: web orders only. And please remember also that if you are shopping for items that we carry in the new BAA Online Store (as noted in red at the close of this post below) we would appreciate your business.
Selling Your Used Gear Through BIRDS AS ART
Selling your used (or like-new) photo gear through the BAA Blog or via a BAA Online Bulletin is a great idea. We charge only a 5% commission. One of the more popular used gear for sale sites charges a minimum of 20%. Plus assorted fees! Yikes. The minimum item price here is $500 (or less for a $25 fee). If you are interested please e-mail with the words Items for Sale Info Request cut and pasted into the Subject line :). Stuff that is priced fairly–I offer free pricing advice, usually sells in no time flat. In the past few months, we have sold just about everything in sight. Do know that prices on some items like the EOS-1D Mark IV, the old Canon 500mm, the EOS-7D, and the original 400mm IS DO lens have been dropping steadily. You can see all current listings by clicking here or by clicking on the Used Photo Gear tab on the yellow-orange tab on the right side of the menu bar above.
September Used Gear Sales Flaming Hot!
IPT veteran Ken Siegel sold his Canon EOS-1DX in excellent condition with several extras for $2899 in early September.
Roger Doughty sold his Canon EOS-1DX in "like-new" condition for $2,749 and his Canon EOS 7D Mark II in like-new condition for $1,049 both within hours of listing them in early September.
Multiple IPT veteran Phil Frigon sold his barely used Canon EOS 5DSR in like-new condition for $2799 within three hours of listing it on September 6.
Joe Alexander sold his Gitzo GT3532LS carbon fiber tripod and a Wimberley V-2 WH-200 gimbal head both in like-new condition for $799 within an hour of listing it on September 6.
IPT veteran Larry Master sold his Canon EOS 5DSR in like-new condition for $2799 in early September.
Top pro Jim Zuckerman sold his Canon 7D Mark II in excellent condition for $899, his 5D Mark II in excellent condition for $799, and his Canon EF 14mm f/2.8L II USM lens in very good condition for the amazingly low price of $1049 in early September, all within a week of listing.
Yours truly sold his Canon 300mm f/2.8L IS II lens in near-mint condition for $4783 in early September.
Multiple IPT-veteran Sheldon Goldstein decided to keep his Canon EOS-5D Mark III and have it converted to Infrared by Kolari Vision using the link on the right side of each blog page. Folks who use that link will receive a free copy of my IR White Balance Guide.
New Listings
Canon EOS 5D Mark III
Gary Meyer is offering a Canon EOS 5D Mark III in mint condition for the great price of $1599; it has only 3015 shutter actuations. The sale includes the original box, the front body cap, the unopened owner's manual, the unopened software disk and cords, the camera strap, the battery charger, an extra Canon battery, the Vellow BG-C9 battery grip, and insured ground shipping via major courier to US addresses only. Your item will not ship until your check clears unless other arrangements are made.
Please contact Gary via e-mail of by phone at 1-612-221-0150 (Central time).
I owned and used this superb, full frame, 22mp digital body for several years. It was always my first choice for scenic, Urbex, and flower photography until I fell in love with the 5DS R (for a lot more money!). artie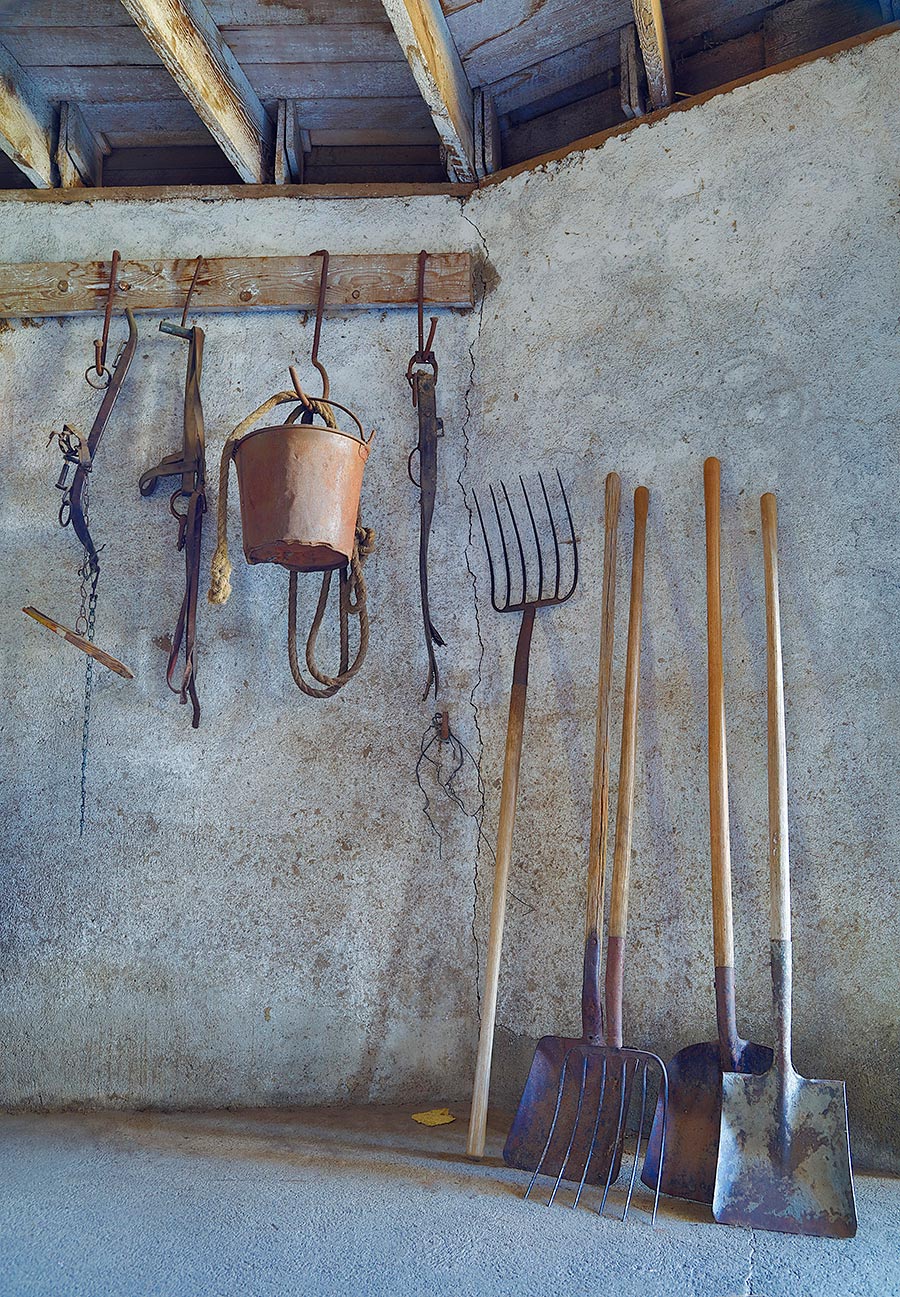 This in-camera Art Vivid image was created on the second Palouse IPT with the Induro GIT 304L tripod and the Induro BHM1 ballhead-mounted Canon EF 24-105mm f/4L IS USM lens (at 28mm) with the mega mega-pixel Canon EOS 5DS R DSLR. ISO 400. Evaluative metering +/-3 stops around a base exposure of 1 second at f/8 in Av mode. Color temperature 5000K. Live View to raise the mirror along with the two-second timer, my "sharp flower: technique.
Center AF point/AI Servo Expand/Rear Focus AF as framed was active at the moment of exposure (as is always best when hand holding). Click here to see the latest version of the Rear Focus Tutorial. Click on the image to see a larger version.
Farm implements in old barn
Your browser does not support iFrame.
A Norman Rockwell?
This image evolved over a period of two weeks. I photographed it much tighter on the first Palouse workshop, as a horizontal that included neither the ceiling nor the floor. After seeing a participant's image during a critiquing session–I think that it was made by Sheena Wilkie–I was inspired to go back and try again. First I shared the concept with the larger second group, and then found other things to do as pretty much everyone worked the tranquil Americana scene. It was during that break that I looked up and discovered the golden treasure that I shared with ya'll in the blog post here.
When everyone was done, I went back to work on the farm implements trying different compositions and straight shots and various HDRs. I wound up with this, my favorite image design, just as we were leaving.
I Shoulda Used the Broom…
There were several brooms in the treasure-filled old barn, but I am not sure if I wielded it in the vicinity of the farm implements. I should have. But I did not, so it was Photoshop to the rescue. I decided to leave the single faded yellow cottonwood leaf. I used my usual friends for the clean-up: a series of transformed and warped Quick Masks refined by regular Layer Masks, the Patch Tool, the Patch Tool, and only rarely, the Clone Stamp Tool. Total time: about 30 minutes for the clean-up alone.
If you could only have one lens, many non-wildlife photographers would pick the upgraded EF 24-105mm f/4L IS II USM lens due to its exceptionally versatile zoom range from wide-angle to short telephoto, a constant f/4 aperture, and an outstanding build quality befitting an L-series lens. This version II of the popular lens makes improvements to image quality through the use of a new optical design with four glass-molded aspherical elements which helps to limit vignetting in your images. Also, it users an Air Sphere Coating to reduce ghosting and flaring.
A ring-type Ultrasonic Motor AF system provides fast and accurate autofocus while built-in optical image stabilization can help compensate for about 4 stops of shutter speed, minimizing the effects of camera shake. This lens also offers a zoom lock switch to prevent lens creep when not actively in use as well as an internal focus system. Full-time manual focus override is available for making adjustments regardless of the AF mode. Additionally, it has a rounded 10-blade aperture diaphragm for smooth out of focus elements.
As with all L-series lenses, this optic has a dust- and water-resistant construction thanks to numerous seals that prevent intrusion when working in inclement weather. It also uses a fluorine coating on the exposed front and rear elements to help prevent smudges and make cleaning easier. Offering a versatile zoom range of 24-105mm, this L-series lens is a staple of many shooters' kits. This updated version offers improved image quality, with a notable enhancement in peripheral brightness. Designed for use with full-frame DSLRs, this optic is compatible with APS-C format cameras as well where it will provide a 38.4-168mm equivalent focal length range.
The constant f/4 maximum aperture offers consistent performance and light transmission throughout the zoom range. Four glass-molded aspherical elements, including one large-diameter double-sided glass-molded lens, help to minimize distortions throughout the zoom range in order to maintain edge-to-edge sharpness and illumination. An Air Sphere Coating (ASC) has been applied to lens elements to reduce backlit flaring and ghosting for maintained light transmission and high contrast in strong lighting conditions. A ring-type Ultrasonic Motor (USM), along with an internal focusing system, high-speed CPU, and optimized AF algorithms, are employed to deliver fast, precise, and near-silent autofocus performance.
Optical image stabilization minimizes the effects of camera shake by compensating for up to 4 stops of shutter speed. Full-time manual focus operation is available for fine-tuning of your focus position when working in the AF mode. Zoom lock prevents lens creep when not in use. A weather-resistant design protects the lens from dust and moisture to enable its use in inclement conditions. Additionally, fluorine coatings have also been applied to the front and rear lens elements for further protection against fingerprints and smudging. Ten rounded diaphragm blades contribute to a pleasing out of focus quality that benefits the use of shallow depth of field and selective focus techniques.
Shipping from B&H on Monday, Oct 31
I am sure that I will be replacing my dependable and versatile B-roll lens fairly soon and selling the old version at a bargain price. Bummer that I will be headed to South America for ten weeks before this lens will be available. The sooner you order yours, the sooner you will own it.
I learned several days ago that the new Canon EF 24-105mm f/4L IS II USM lens will begin shipping from B&H on Monday, Oct 31. If you order one, please be sure to use my product-specific B&H link (in this paragraph) or the to click on the logo link above. Once you to the B&H product page, please click on Pre-order. Please do NOT click on Request stock alert (as that option will not track to me).
Why use my B&H affiliate link? It's the best way to thank me for so many days in a row with a new educational blog post and for the time spent answering dozens of e-mails each week on a variety of photography related subjects.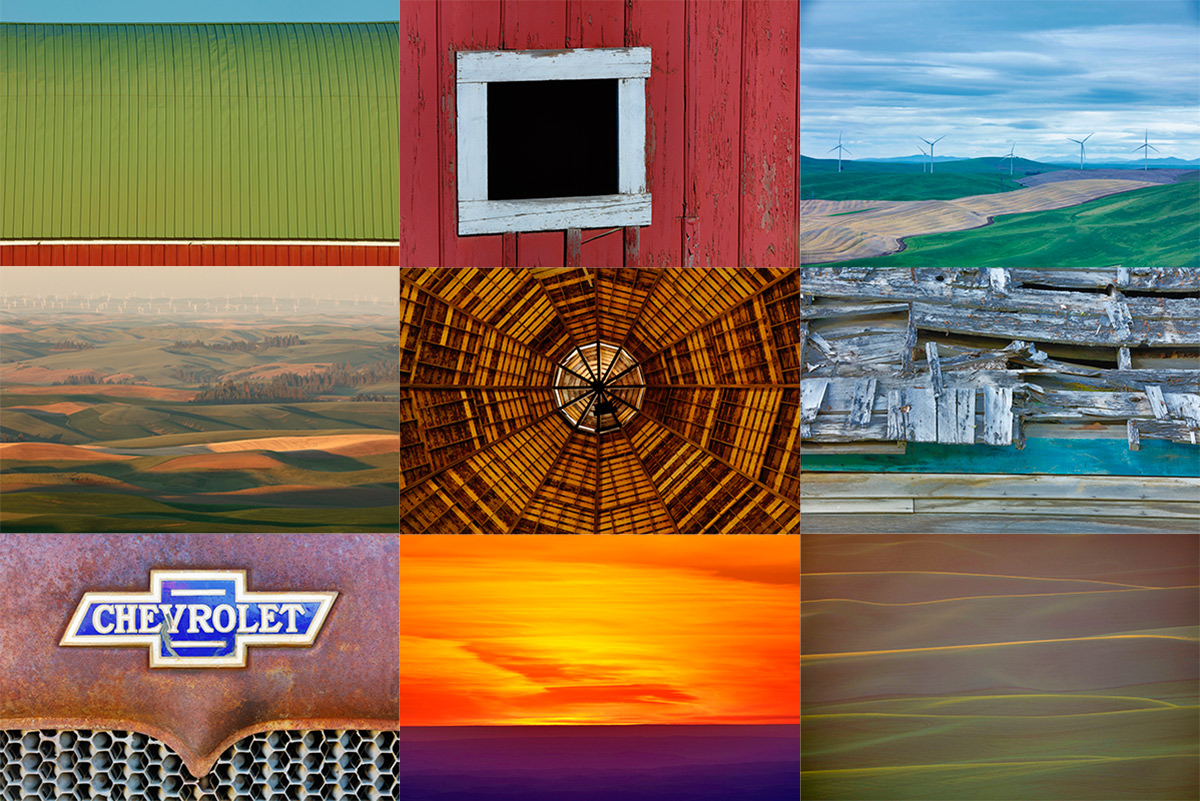 Palouse 2016 Horizontals Card
Why Different?
Announcing the 2017 BIRDS AS ART Palouse Instructional Photo-Tour
In what ways will the 2017 BIRDS AS ART Palouse Instructional Photo-Tour be different from the most other Palouse workshops?
There are so many great locations that a seven-day IPT (as opposed to the typical three- or five-day workshops) will give the group time to visit (and revisit) many of the best spots while allowing you to maximize your air travel dollars. In addition, it will allow us to enjoy a slightly more relaxed pace.
You will be assured of being in the right location for the given weather and sky conditions.
You will learn and hone both basic and advanced compositional and image design skills.
You will learn to design powerful, graphic images.
You will visit all of the iconic locations and a few spectacular ones that are much less frequently visited.
You will learn long lens landscape techniques.
You will learn to master any exposure situation in one minute or less.
You will learn the fine points of Canon in-camera (5D Mark III, 5DS R, and 7D II) HDR techniques.
You will be able to share a variety of my exotic Canon lenses including the Canon EF 11-24mm f/4L USM lens and the Canon EF 8-15mm f/4L Fisheye USM lens, aka the "circle lens."
You will learn to use your longest focal lengths to create rolling field and Urbex abstracts.
You will learn when and how to use a variety of neutral density filters to create pleasing blurs of the Palouse's gorgeous rolling farmlands.
As always, you will learn to see like a pro. You will learn what makes one situation prime and another seemingly similar one a waste of your time. You will learn to see the situation and to create a variety of top-notch images.
You will learn to use super-wide lenses both for big skies and building interiors.
You will learn when, why, and how to use infrared capture; if you do not own an infrared body, you will get to borrow mine.
You will learn to use both backlight and side-light to create powerful and dramatic landscape images.
This trip will run with one participant.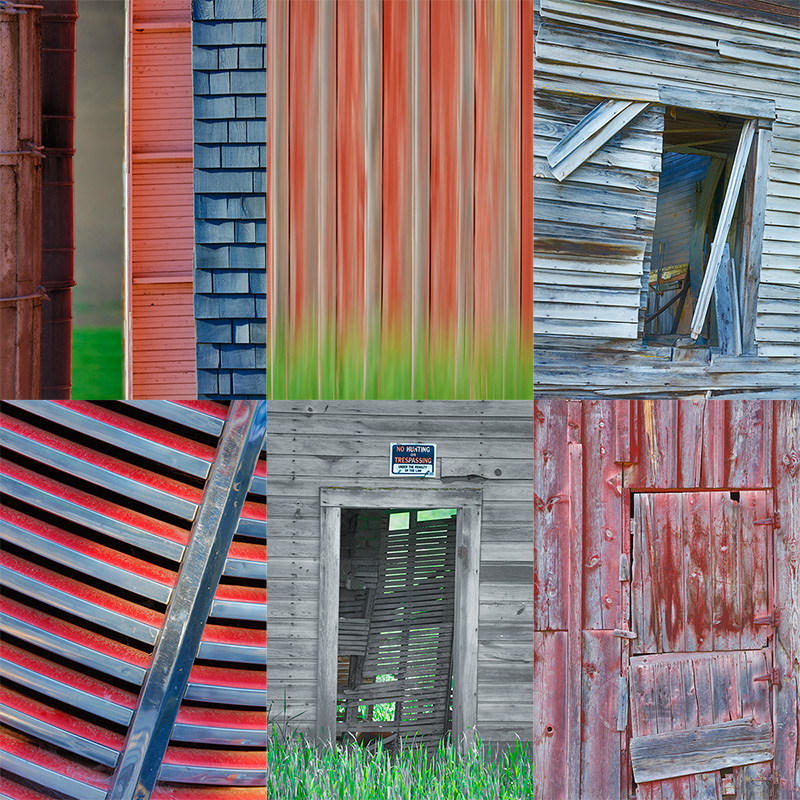 Palouse 2016 Verticals Card
The 2017 BIRDS AS ART Palouse Instructional Photo-Tour
June 8-14, 2017. Seven full days of photography. Meet and greet at 7:30pm on Wednesday, June 7: $2,499. Limit 10/Openings: 9.

Rolling farmlands provide a magical patchwork of textures and colors, especially when viewed from the top of Steptoe Butte where we will enjoy spectacular sunrises and at least one nice sunset. We will photograph grand landscapes and mini-scenics of the rolling hills and farm fields. I will bring you to more than a few really neat old abandoned barns and farmhouses in idyllic settings. There is no better way to improve your compositional and image design skills and to develop your creativity than to join me for this trip. Photoshop and image sharing sessions when we have the time and energy…. We get up early and stay out late and the days are long.
Over the past three years, with the help of a friend, we found all the iconic locations and, in addition, lots of spectacular new old barns and breath-taking landforms and vistas. What's included: In-the-field instruction, guidance, lessons, and inspiration, my extensive knowledge of the area, all lunches, motel lobby grab and go breakfasts, and Photoshop and image sharing sessions. As above, there will be a meet and greet at 7:30pm on the evening before the workshop begins.
To Sign Up
Your non-refundable deposit of $500 is required to hold your spot. Please let me know via e-mail that you will be joining this IPT. Then you can either call Jim or Jennifer at 863-692-0906 during business hours to arrange for the payment of your deposit; if by check, please make out to "BIRDS AS ART" and mail it to: Arthur Morris/BIRDS AS ART, PO Box 7245, Indian Lake Estates, FL, 33855. If you have any questions, please feel free to contact me via e-mail: artie.
Travel Insurance Services offers a variety of plans and options. Included with the Elite Option or available as an upgrade to the Basic & Plus Options. You can also purchase Cancel for Any Reason Coverage that expands the list of reasons for your canceling to include things such as sudden work or family obligation and even a simple change of mind. You can learn more here: Travel Insurance Services. Do note that many plans require that you purchase your travel insurance within 14 days of our cashing your deposit check. Whenever purchasing travel insurance be sure to read the fine print carefully even when dealing with reputable firms like TSI.
Please Remember to use my Affiliate Links and to Visit the New BAA Online Store 🙂
To show your appreciation for my continuing efforts here, we ask, as always, that you get in the habit of using my B&H affiliate links on the right side of the blog for all of your photo and electronics purchases. Please check the availability of all photographic accessories in the New BIRDS AS ART Online Store, especially the Mongoose M3.6 tripod head, Wimberley lens plates, Delkin flash cards and accessories, and LensCoat stuff.
As always, we sell only what I have used, have tested, and can depend on. We will not sell you junk. We know what you need to make creating great images easy and fun. And we are always glad to answer your gear questions via e-mail.
I would of course appreciate your using our B&H affiliate links for all of your major gear, video, and electronic purchases. For the photographic stuff mentioned in the paragraph above we, and for everything else in the new store, we, meaning BAA, would of course greatly appreciate your business. Here is a huge thank you to the many who have been using our links on a regular basis and those who will be visiting the New BIRDS AS ART Online Store as well.
Facebook
Be sure to like and follow BAA on Facebook by clicking on the logo link upper right. Tanks a stack!
Typos
In all blog posts and Bulletins, feel free to e-mail or to leave a comment regarding any typos or errors. Just be right 🙂