What's Up?
On Monday I did lots of work and accomplished a lot but as I was finishing up my work on this post at 5:25pm I cannot remember exactly what I was so busy with… IAC, it seems to have stopped thundering and lightning so I am gonna head for the pool until proven otherwise. I did get in my core exercises before lunch.
Do see the new MP4 video offering below. There are already three more in the pipeline and there will be regular offerings from here on.
Gear Questions and Advice
Too many folks attending BAA IPTs and dozens of the folks whom I see in the field, and on BPN, are–out of ignorance–using the wrong gear, especially when it comes to tripods and more especially, tripod heads… Please know that I am always glad to answer your gear questions via e-mail.
The Streak: 312!
Today's blog post marks a totally insane, irrational, illogical, preposterous, absurd, completely ridiculous, unfathomable, silly, incomprehensible, what's wrong with this guy?, makes-no-sense, 312 days in a row with a new educational blog post. There should be no end in sight until my big South America trip next fall. Or not… As always-–and folks have been doing a really great job recently–-please remember to use our B&H links for your major gear purchases. For best results use one of our many product-specific links; after clicking on one of those you can continue shopping with all subsequent purchases invisibly tracked to BAA. Your doing so is always greatly appreciated. Please remember: web orders only. And please remember also that if you are shopping for items that we carry in the new BAA Online Store (as noted in red at the close of this post below) we would appreciate your business.
New MP4 Video!
Many folks have long been asking for more MP4 videos. I finally got my act together and started back up with Camtasia last week. Camtasia for Mac is actually a lot easier to work with than Camtasia for Windows. The one negative is that the MP4 files are much larger. Today's offering checks in at 167.9 mbs so you will need a decent web connection to download it and at that, it will take some time.
This Just In
We have a relatively slow connection here at ILE; downloading the 170 mb file (if I am correct about the size…) took only ten minutes. Finder shows this: 167.9 MB
Killdeer 5D IV ISO 6400 DPP 4 Conversion/Clean-Up & NeatImage Noise Reduction MP4 Video
The title pretty much says it all but there are lots of great details in this 33 minute screen capture video. Though it is a stand alone product, it will be most beneficial to folks who have studied Digital Basics, the DPP 4 RAW Conversion Guide, and the The Professional Photographer's Guide to Post Processing. Most interestingly, I take you through the steps of determining good chrominance and luminance noise reduction values for a new camera at a high ISO. Without Arash 🙂 I take you through my complete digital workflow from Photo Mechanic to DPP 4 to Photoshop for the image clean-up to the NeatImage plug-in for noise reduction. Then I save the master file and create a JPEG for the blog and for BPN. (Note: NeatImage requires a separate purchase.)
Killdeer 5D IV ISO 6400 DPP 4 Conversion/Clean-Up & NeatImage Noise Reduction MP4 Video: $10
Click here to order the Killdeer ISO 6400 MP4 Video. You can see the older video offerings here. You can order either through the store and pay via Paypal if you wish.
This Just In!
From Mike Ross via a comment on the blog:
I just purchased and watched the Killdeer ISO 6400 MP4 Video. Best $10 I have spent on photography training! Highly recommended.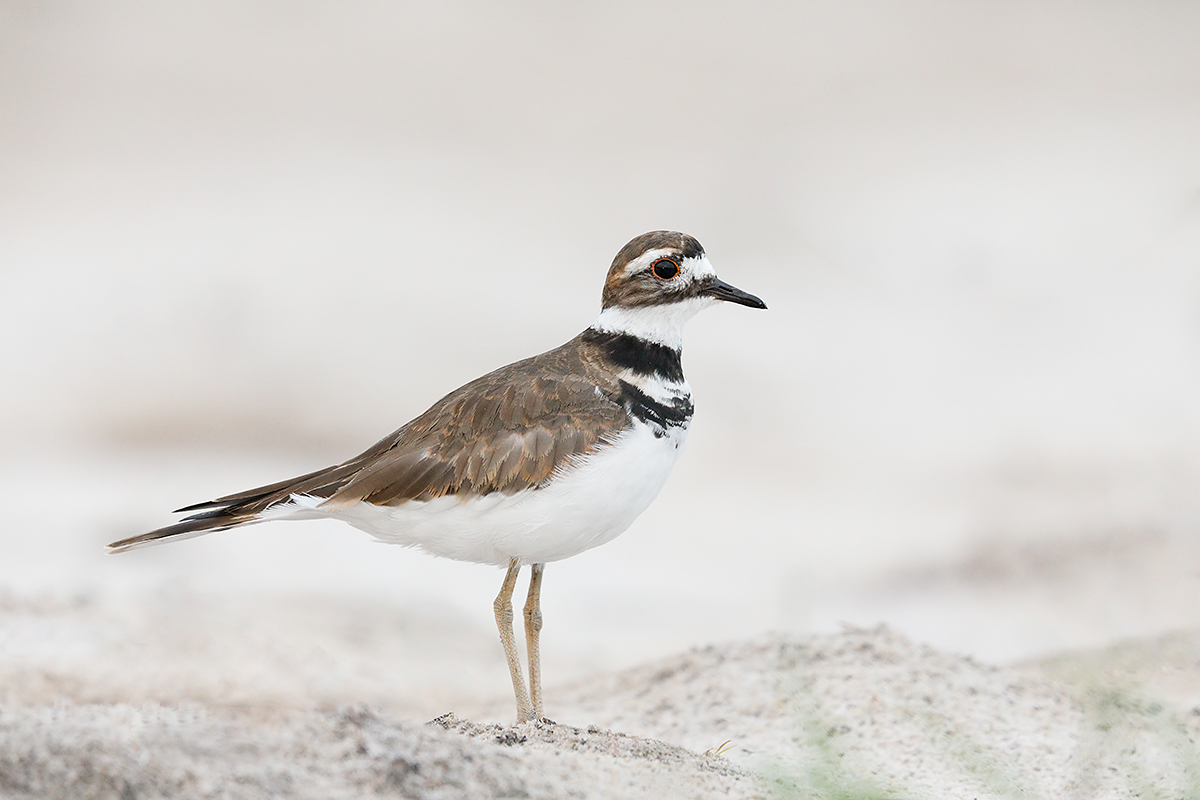 This image was created on the morning of Saturday, 17 2016 with the BLUBB-supported Canon EF 600mm f/4L IS II USM lens, the Canon Extender EF 2X III, and the new Canon EOS 5D Mark IV. ISO 6400. Evaluative metering +1 2/3 stops: 1/640 sec. at f/9. Shade WB.
I selected a single AF point one row to the right and rows up from the center AF point (Manual selection)/AI Servo/Shutter Button AF as originally framed was active at the moment of exposure. The selected AF point fell just below the bird's eye.
LensAlign/FocusTune microadjustment: -1
Killdeer
Your browser does not support iFrame.
Canon EOS 5D Mark IV ISO 6400
From where I sit, ISO 6400 images created with the 5D Mark IV should be–for the most part–quite usable. The chrominance noise is easily eliminated during the RAW conversion in DPP 4. Controlling the luminance noise is a two part procedure, first during the RAW conversion and then again in Photoshop via the amazing NeatImage plug-in. Most surprisingly, the noise levels in the RAW file are excellent, on par with the Canon EOS-1D X and the Canon EOS-1D X Mark II.
For a close look at the noise levels, check out the animated GIF immediately below.
To learn why and how Arash and I use Canon Digital Photo Professional 4 to convert all our RAW files, get yourself a copy of the DPP 4 Raw Conversion Guide. And to learn the fine points of using NeatImage for noise reduction check out the Professional Post Processing Guide.
Neat Image Noise Reduction
Check out the before and after noise level in the dark tones of the eye, the bill, and the neck band. Remember that noise reduction had been applied during the RAW conversion in DPP 4.
Image Question
It is rare for me to increase saturation at all. With this image however, I balanced the warm colors resulting from the Shade WB capture by going to Auto WB and then making a small adjustment of the Color Fine Tune box to bring the WHITEs very close to neutral. So as a last step, I increased the Saturation 10 points after I had already saved the master file.
Do you think that I overdid the saturation? (Do also consider the full frame image that opened this blog post.)
The Image Clean-up
After converting the RAW image in DPP 4 and bringing the TIFF into Photoshop, the orange "thing" behind the bird, whatever it was, was eliminated with some difficulty with a Quick Mask that was refined two ways with the Transform command. The rest of the debris was eliminated using my standard clean-up tools, the Patch Tool, the Spot Healing Brush, and the Clone Stamp Tool.
Everything above plus tons more is of course detailed in my Digital Basics File, an instructional PDF that is sent via e-mail. It includes my complete (former PC) digital workflow, dozens of great Photoshop tips, details on using all of my image clean-up tools, the use of Contrast Masks, several different ways of expanding and filling in canvas, all of my time-saving Keyboard Shortcuts, the basics of Quick Masking, Layer Masking, and NIK Color Efex Pro, Digital Eye Doctor techniques, using Gaussian Blurs, Dodge and Burn, a variety of ways to make selections, how to create time-saving actions, and tons more.
Learn advanced Quick Masking and advanced Layer Masking techniques in APTATS I & II. You can save $15 by purchasing the pair.
Please Remember to use my Affiliate Links and to Visit the New BAA Online Store 🙂
To show your appreciation for my continuing efforts here, we ask, as always, that you get in the habit of using my B&H affiliate links on the right side of the blog for all of your photo and electronics purchases. Please check the availability of all photographic accessories in the New BIRDS AS ART Online Store, especially the Mongoose M3.6 tripod head, Wimberley lens plates, Delkin flash cards and accessories, and LensCoat stuff.
As always, we sell only what I have used, have tested, and can depend on. We will not sell you junk. We know what you need to make creating great images easy and fun. And we are always glad to answer your gear questions via e-mail.
I would of course appreciate your using our B&H affiliate links for all of your major gear, video, and electronic purchases. For the photographic stuff mentioned in the paragraph above we, and for everything else in the new store, we, meaning BAA, would of course greatly appreciate your business. Here is a huge thank you to the many who have been using our links on a regular basis and those who will be visiting the New BIRDS AS ART Online Store as well.
Facebook
Be sure to like and follow BAA on Facebook by clicking on the logo link upper right. Tanks a stack!
Typos
In all blog posts and Bulletins, feel free to e-mail or to leave a comment regarding any typos or errors. Just be right 🙂