What's Up?
I realized this week that I lost one of the two sets of my keys for my Toyota Sequoia so I decided to drive over to Vero Beach to the dealer. Purchase two keys… Simple matter, no? Actually not. It took more than 3 1/2 hours, and at that, they were only able to make me one key… But I had my laptop so I answered e-mails and worked on blog posts. My planned late afternoon swim was cancelled by thunderstorms…
I was thrilled to learn yesterday of the sale of Hisham Atallah's 600 II for the full asking price of $9499 just a day after it was listed. Another gem of a 600 II is listed below.
Gear Questions and Advice
Too many folks attending BAA IPTs and dozens of the folks whom I see in the field, and on BPN, are–out of ignorance–using the wrong gear, especially when it comes to tripods and more especially, tripod heads… Please know that I am always glad to answer your gear questions via e-mail.
The Interview Now on YouTube
The interview by Peggy Farren of Understand Photography can be seen and heard on YouTube. And, the sound is now synched perfectly. If you missed it (or not), you can access it here.
The Streak: 314!
Today's blog post marks a totally insane, irrational, illogical, preposterous, absurd, completely ridiculous, unfathomable, silly, incomprehensible, what's wrong with this guy?, makes-no-sense, 314 days in a row with a new educational blog post. There should be no end in sight until my big South America trip next fall. Or not… As always-–and folks have been doing a really great job recently–-please remember to use our B&H links for your major gear purchases. For best results use one of our many product-specific links; after clicking on one of those you can continue shopping with all subsequent purchases invisibly tracked to BAA. Your doing so is always greatly appreciated. Please remember: web orders only. And please remember also that if you are shopping for items that we carry in the new BAA Online Store (as noted in red at the close of this post below) we would appreciate your business.
Canon 600mm f/4L IS II USM Lens
Another Weapon of Mass Destruction!
IPT veteran Mark Overgaard is offering a Canon EF600 f/4L IS II USM lens in excellent plus condition for $9,495. The sale includes a LensCoat, the rear lens cap, the front lens cover, the lens trunk, the monopod mount, and both the lens and lens trunk straps, the lens manual and warranty card–the latter included for record-keeping purposes only since the warranty is expired, and insured ground shipping via either FEDEX or UPS to US addresses only.
The lens just underwent an 11-point clean and check service from Canon Professional Services.
The lens will not ship until your check clears unless other arrangements are made. Please contact Mark via e-mail.
As y'all know, the 600 II has been my go-to long lens since its introduction several years ago. It is relatively lightweight and super-sharp. It goes great with the 1.4X III TC and with a bit of practice and good sharpness techniques, you should be able to make sharp images with the 2X III TC down to 1/60 sec. As a new one goes for $11,499 you can save a nice $2005 by grabbing Mark's lens right now. artie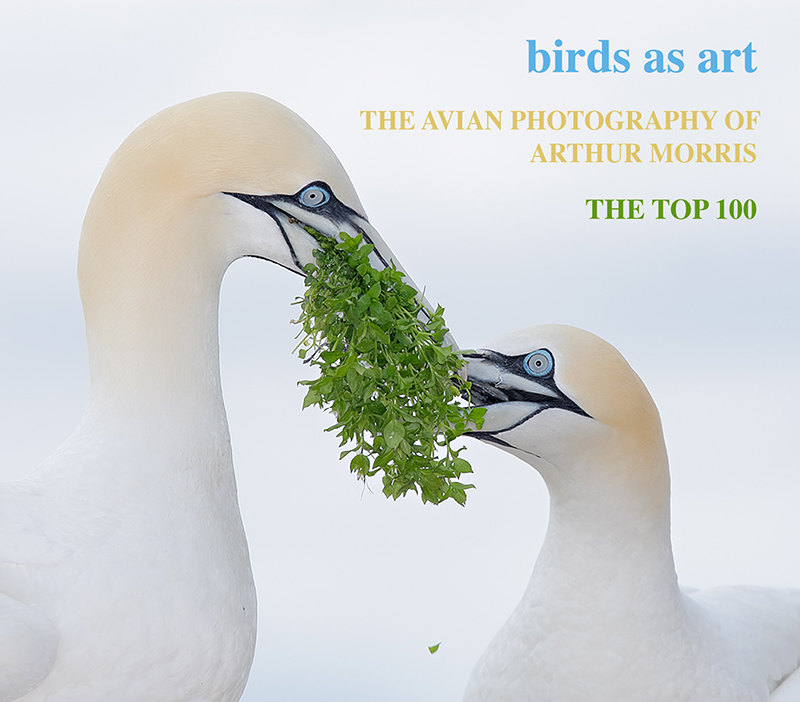 birds as art: The Avian Photography of Arthur Morris/The Top 100
The companion e-book to the solo exhibit at TheNat, San Diego, California
The new e-book on CD is available here.
birds as art: The Avian Photography of Arthur Morris/The Top 100
My latest e-book, created on a wing and a prayer in less than two weeks–see Harebrained Scheme here–includes the 67 spectacular images that hung last winter and spring in the Ordover Gallery at the San Diego Natural History Museum in a career-retrospective solo exhibition. In addition, there are 33 additional images in the spectacular e-book that barely missed making the show.
This exhibition companion e-book makes it possible for everyone to "visit" TheNAT gallery and, in addition, to enjoy seeing my top one hundred bird photographs under one roof. Each image includes a title, the species name, the location, relevant EXIF data, and an anecdotal caption. The short story: the collection is inspirational.
birds as art: The Avian Photography of Arthur Morris/The Top 100: $23 for the professionally produced CD (includes shipping to US addresses only)
Please click here to purchase the physical CD. As above, your purchase price includes shipping to all US addresses. If you would like your CD signed on the inside cover with a black Sharpie, you will need to place your order by phone and request a signed copy: 863-692-0906. For our Canadian friends we are offering the CD for $28 with shipping to Canada via phone orders only: 863-692-0906.
Those who purchase the CD are advised to copy the file to their computers and then archive the CD.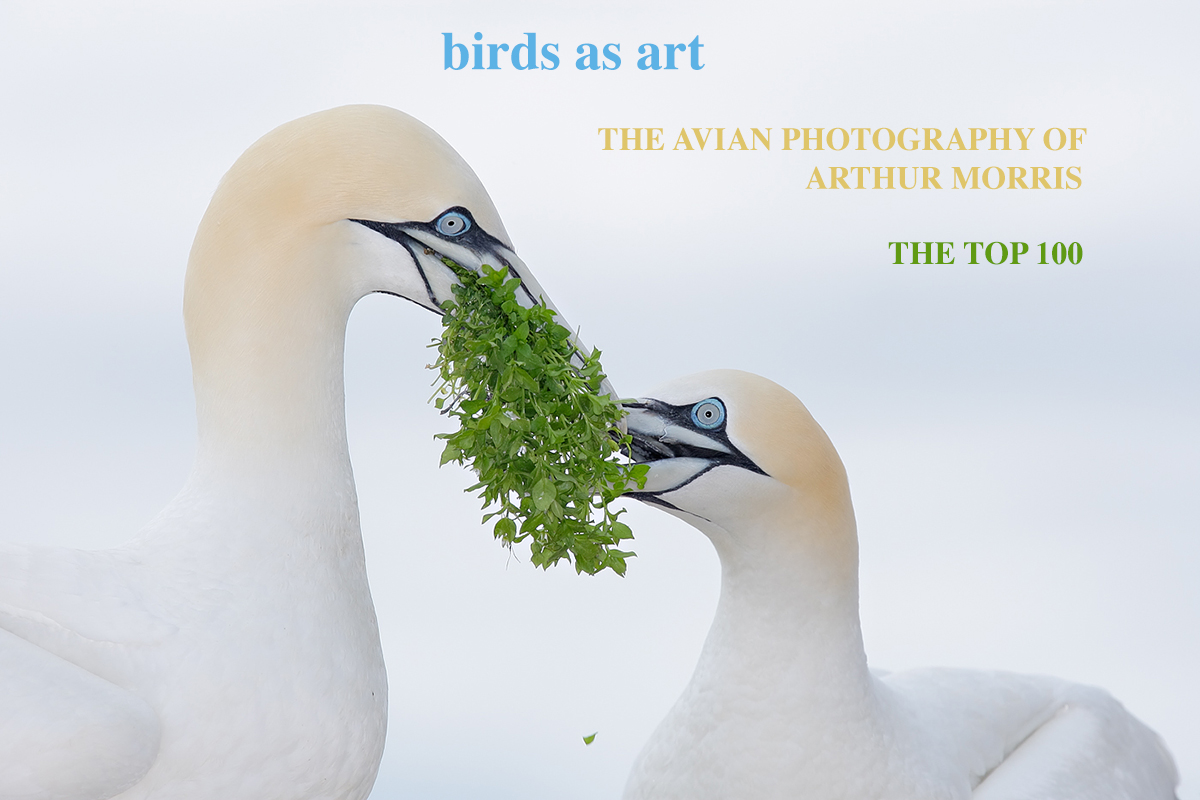 The new e-book via is also available via convenient download for $20 by clicking here.
birds as art: The Avian Photography of Arthur Morris/The Top 100: $20 via convenient download.
Overseas folks, and anyone else as well, can purchase the e-book via convenient download for $20 by clicking here.
Kindly Note
Please share this e-book only with your spouse or significant other. If a friend asks you to share a copy with them, please direct them either to this blog post or to the appropriate link in the BAA Online Store as above. All of the images and text are protected by international copyright law and may not be copied or printed without written permission from the photographer/author. Many thanks for honoring these requests.
You will–of course–need Adobe Acrobat Reader to view the PDF.
Southwest Florida Free Site Guide Update (or should we call it a Downerdate?)
As most of you know, Ding Darling has gone downhill over the past decade in large due to anti-photographer management attitude and policies. Though I have not been in years, I hear that on occasion it can still be worth a visit at times at different seasons. Be clear though, that it is no longer close to being the crown jewel of the National Wildlife Refuge System that it was in the 1990s and a bit beyond.
Little Estero Lagoon on Fort Myers Beach has also hit the skids as the lagoon has pretty much dried up after being cut off from the Gulf. Least Terns and Black Skimmers nest on the beach most years about 3/4 mile east of the Wyndham Garden Hotel (formerly the Holiday Inn).
The Venice Rookery ain't what it used to be, but neither am I; both are still pretty good. And lastly, my understanding is that Corkscrew has been poor forever most likely due to small ecological changes related to the water levels. And to the fact that the Wood Storks have been moving north for more than a decade.
There are however, still lots of tame birds in Southwest Florida and lots of great places to photograph them. Pretty much all of them are covered in detail in the Southwest Florida Site Guide.
Southwest Florida Roseate Spoonbill Site Guide Update
Multiple IPT veteran Jim Robellard and all-around nice guy, who kindly supplied the images for today's blog post, recently alerted me of a new hotspot with spoonbills and skimmers and an assortment of wading birds and shorebirds. The birds are coming to a fairly large but surely temporary rain pool. We are not sure how long it will last. But it is quite active right now.
Folks who have previously purchased the Southwest Florida Site Guide (and those who purchase it now) who would like to learn about this location must contact us via email. You must click on the preceding link and you must cut and paste either the first page of the site guide or your order confirmation e-mail. E-mails from folks who do not include proof of purchase will be deleted.
Your Favorite?
Which of Jim Robellard's fine spoonbill images is your favorite? Please let us know why you made your choice.
More on the Sigma 150-600 Zoom Lenses…
After seeing Jim's images I learned that the Sigma 150-600 is not only available as a Nikon-mount version (the Sigma 150-600mm f/5-6.3 DG OS HSM Sports Lens for Nikon F) but that they make a lighter inexpensive version in each mount for folks on a budget ( the Sigma 150-600mm f/5-6.3 DG OS HSM Contemporary Lens for Canon EF and the Sigma 150-600mm f/5-6.3 DG OS HSM Contemporary Lens for Nikon F.) And the lighter weight Contemporary versions are just as sharp as the Sport versions. What times these are: you can get a sharp, lightweight hand holdable zoom lens that gives you 600mm of reach for under $1000. Amazing.
Please Remember to use my Affiliate Links and to Visit the New BAA Online Store 🙂
To show your appreciation for my continuing efforts here, we ask, as always, that you get in the habit of using my B&H affiliate links on the right side of the blog for all of your photo and electronics purchases. Please check the availability of all photographic accessories in the New BIRDS AS ART Online Store, especially the Mongoose M3.6 tripod head, Wimberley lens plates, Delkin flash cards and accessories, and LensCoat stuff.
As always, we sell only what I have used, have tested, and can depend on. We will not sell you junk. We know what you need to make creating great images easy and fun. And we are always glad to answer your gear questions via e-mail.
I would of course appreciate your using our B&H affiliate links for all of your major gear, video, and electronic purchases. For the photographic stuff mentioned in the paragraph above we, and for everything else in the new store, we, meaning BAA, would of course greatly appreciate your business. Here is a huge thank you to the many who have been using our links on a regular basis and those who will be visiting the New BIRDS AS ART Online Store as well.
Facebook
Be sure to like and follow BAA on Facebook by clicking on the logo link upper right. Tanks a stack!
Typos
In all blog posts and Bulletins, feel free to e-mail or to leave a comment regarding any typos or errors. Just be right 🙂