What's Up?
Jim and I had lots of action on Saturday evening and Sunday morning on our Fort DeSoto scouting trip. With each session I am loving my 5D Mark IV more and more. You will be seeing more amazing 5D IV images toward the end of this week. Jim did his usual stellar job of getting us home from St. Pete. After our usual stop at Publix we were back at ILE just after 1pm. Football and blog posts for me. With help from Tivo, I got in a swim between games…
It is not too late to join me at DeSoto this Wednesday for the Fall IPT. Scroll down for details on the late registration discount. Do consider joining us for part of the IPT or for the Sunday Morning (cheap) In-the-Field Workshop. Please e-mail with any questions.
Gear Questions and Advice
Too many folks attending IPTs and dozens of the folks whom I see in the field, and on BPN, are–out of ignorance–using the wrong gear, especially when it comes to tripods and more especially, tripod heads… Please know that I am always glad to answer your gear questions via e-mail.
The Streak: 318!
Today's blog post marks a totally insane, irrational, illogical, preposterous, absurd, completely ridiculous, unfathomable, silly, incomprehensible, what's wrong with this guy?, makes-no-sense, 318 days in a row with a new educational blog post. There should be no end in sight until my big South America trip next fall. Or not… As always-–and folks have been doing a really great job recently–-please remember to use our B&H links for your major gear purchases. For best results use one of our many product-specific links; after clicking on one of those you can continue shopping with all subsequent purchases invisibly tracked to BAA. Your doing so is always greatly appreciated. Please remember: web orders only. And please remember also that if you are shopping for items that we carry in the new BAA Online Store (as noted in red at the close of this post below) we would appreciate your business.
Selling Your Used Gear Through BIRDS AS ART
Selling your used (or like-new) photo gear through the BAA Blog or via a BAA Online Bulletin is a great idea. We charge only a 5% commission. One of the more popular used gear for sale sites charges a minimum of 20%. Plus assorted fees! Yikes. The minimum item price here is $500 (or less for a $25 fee). If you are interested please e-mail with the words Items for Sale Info Request cut and pasted into the Subject line :). Stuff that is priced fairly–I offer free pricing advice, usually sells in no time flat. In the past few months, we have sold just about everything in sight. Do know that prices on some items like the EOS-1D Mark IV, the old Canon 500mm, the EOS-7D, and the original 400mm IS DO lens have been dropping steadily. You can see all current listings by clicking here or by clicking on the Used Photo Gear tab on the yellow-orange tab on the right side of the menu bar above.
September Used Gear Sales Continue to be Flaming Hot!
Yours truly, Arthur Morris, sold one of his two Canon EOS 5DS R bodies in excellent condition but for a very small, very fine sort of x-shaped crack in the upper-right corner of the top LCD screen, for $2549 in late September.
Doug Rogers sold his Vortex Razor 85mm Ultra High Definition Scope in like-new condition for $795.00 in mid-September.
Ed Hutchinson sold his Canon EF 100-400mm L IS USM lens, the "old 1-4," in like-new condition for $649 and his EOS 5D Mark III in like-new condition for $1499 within days of listing them in mid-September.
Hisham Atallah sold his Canon 600mm f/4L IS II lens in excellent condition for $9499 in mid-September within days of listing it.
Good friend and BAA Japan IPT co-leader–the oft-honored BBC and Nature's Best photographer Paul McKenzie–sold his Canon EOS 1DX in excellent condition with an extra Canon battery for $2299 in mid September two days after it was listed.
Eric Karl sold his Canon EF 200-400mm f/4L IS USM Lens with Internal Extender in excellent condition for the full asking price, a very low $8,099 in mid-September.
Gary Meyer sold his Canon EOS 5D Mark III in mint condition for $1599 with an off-brand battery grip in mid-September.
IPT veteran Ken Siegel sold his Canon EOS-1DX in excellent condition with several extras for $2899 in early September.
Roger Doughty sold his Canon EOS-1DX in "like-new" condition for $2,749 and his Canon EOS 7D Mark II in like-new condition for $1,049 both within hours of listing them in early September.
Multiple IPT veteran Phil Frigon sold his barely used Canon EOS 5DSR in like-new condition for $2799 within three hours of listing it on September 6.
Joe Alexander sold his Gitzo GT3532LS carbon fiber tripod and a Wimberley V-2 WH-200 gimbal head both in like-new condition for $799 within an hour of listing it on September 6.
New Listings
Canon EOS 5DS R/With Extras!
Top BAA Used Gear seller Jim Keener is offering a Canon EOS 5DS R in like-new condition–purchased new from B&H in July 2016– for $2699. When he writes, "like new", that's exactly the condition of the camera. The original box and all accessories and insured ground shipping via major courier are included in the sale price. In addition a Peak Design camera strap, an extra Canon LP-E6N battery–for a total of 2, a Lexar 64 Gbyte UDMA 7 CF card, and a SanDisk 64 Gbyte Extreme Pro SD card are also included. The camera is ready to go. Clip on the strap, load the cards and battery, put on a lens, and click away.
Your item will not ship until your check clears unless other arrangements are made.
Please contact Jim by e-mail or by phone at 310-741-7435 (9am till 9pm Mountain time).
I waited a bit too long to get my first 5DS R but once I did, I quickly added a second. I used each of them more for birds than I did my EOS-1DX Mark II. Go figure. I fell in love with the amazing sharpness and fine feather detail of the 5DS R image files and the AF system was great as well. It is the premier landscape body in the Canon system. artie
Canon EOS 7D
Sale Pending!
Steve Zarate is offering an Canon EOS 7D camera in very good condition with 23,000 actuations on its new shutter for a BAA record low price of $279. Included are the original box, one battery, the charger, the strap, the cables, the documentation and discs, and the cost of insured ground shipping via major courier to US addresses only. Your item will not ship until your check clears unless other arrangements are made.
Please contact Steve via e-mail.
This 7D would make a great starter camera body for any new digital photographer or a great gift for a young photographer.. artie
Canon EOS 7D Mark II
Sale Pending!
Steve Zarate is also offering a Canon EOS 7D II camera showing minor signs of use but in excellent condition for a BAA record low $799. It underwent the 18-Point Digital SLR Clean and Check at Canon Factory Service Center in July, 2016. Included are the original box, one battery pack and the charger, the strap, the cables, the documentation and discs, and the cost of insured ground shipping via major courier to US addresses only. Your item will not ship until your check clears unless other arrangements are made.
Please contact Steve via e-mail.
Simply put, the 7D II is the greatest ever value in a digital camera body. It's 1.6 crop factor is ideal for folks needing additional reach. artie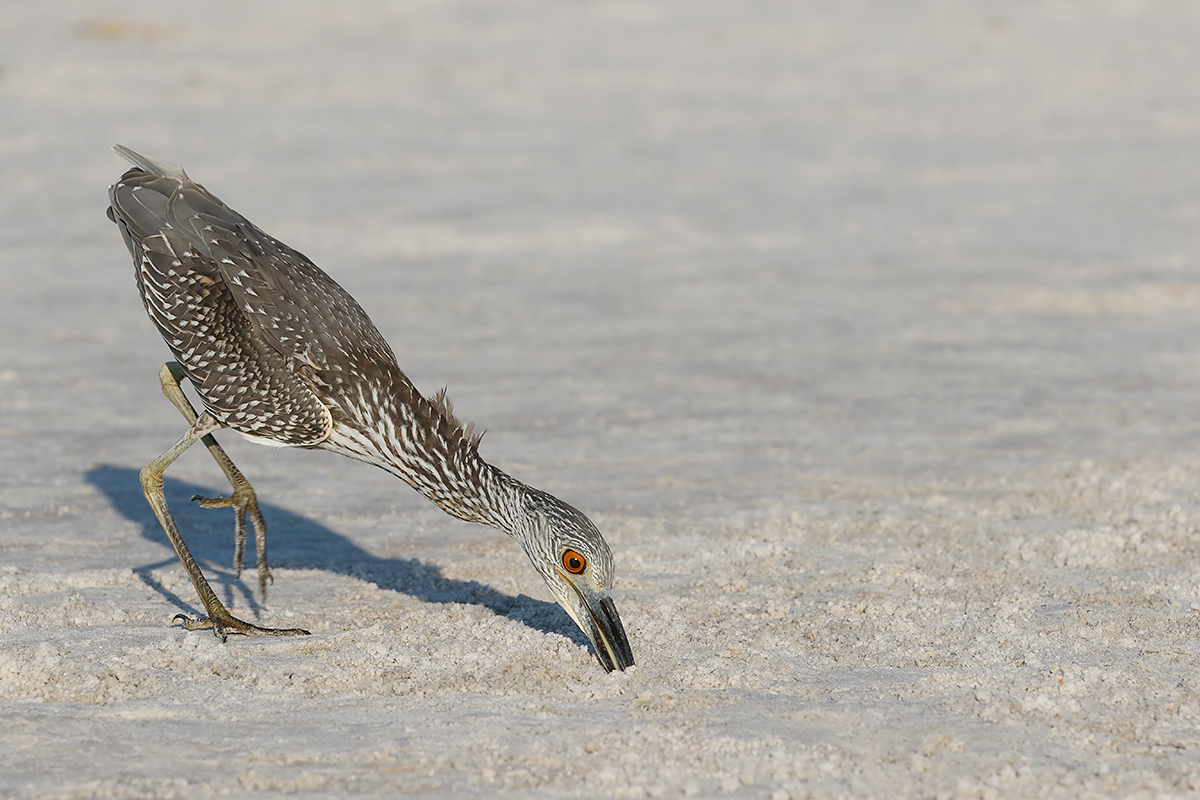 This image was created on October 12, 2014 on the last Fort DeSoto Fall IPT with the hand held Canon EF 70-200mm f/2.8L IS II USM lens with the Canon Extender EF 2X III (at 245mm) with the Canon EOS 7D DSLR. ISO 400. Evaluative metering +1/3 stop: 1/1000 sec. at f/9. AWB.
Three AF points to the left and two rows up from the center AF point/AI Servo Surround/Rear Focus AF as framed was active at the moment of exposure (as is always best when hand holding). See the DPP 4 screen capture to learn more. Click here to see the latest version of the Rear Focus Tutorial. Click on the image to see a larger version.
Yellow-crowned Night-Heron juvenile hunting fiddler crabs
Your browser does not support iFrame.
The Oft-neglected Combo: 70-200 f/2.8L IS II/2X III/7D II…
Since I have fallen in love with the Canon EF 100-400mm f/4.5-5.6L IS II USM lens and with my three (soon to be four) full frame bodies (two Canon EOS 5DS Rs, one Canon EOS-1D X Mark II, and coming today, my EOS 5D Mark IV) I have forgotten how deadly the
70-200 f/2.8L IS II/2X III/7D II can be in the right hands.
For those using big lens on a tripod it is still a great lens to have on your shoulder with an RS-7 strap. And for beginners and for folks who live and work around tame birds, this rig can be a pretty decent "go-to telephoto lens." The maximum effective reach works out to be 640mm…
Basic Exposure Note
Let's not forget that when the sun is out at full strength the meter is pretty darned smart. I needed only to add 1/3 stop to come up with a good histogram. Had it been a cloudy day when all of the evaluative and matrix metering systems are pretty dumb, I would have needed to add well more than a stop of light to the metered exposure. Plus three stops off the sand alone and then set manually when working in low light would have either been perfect or pretty close to it. If you have no idea what I am talking about, you can learn the basics of exposure theory in the original The Art of Bird Photography (now in soft cover) and follow that up by studying the section on Exposure Simplified in The Art of Bird Photography II (ABP II: 916 pages, 900+ images on CD only). Best bet: save $10 by purchasing the two-book bundle here.
Image Design Questions
Should I have gotten lower for this image? Why or why not? How would it have helped? How might it have hurt? What is the biggest advantage of staying on your feet?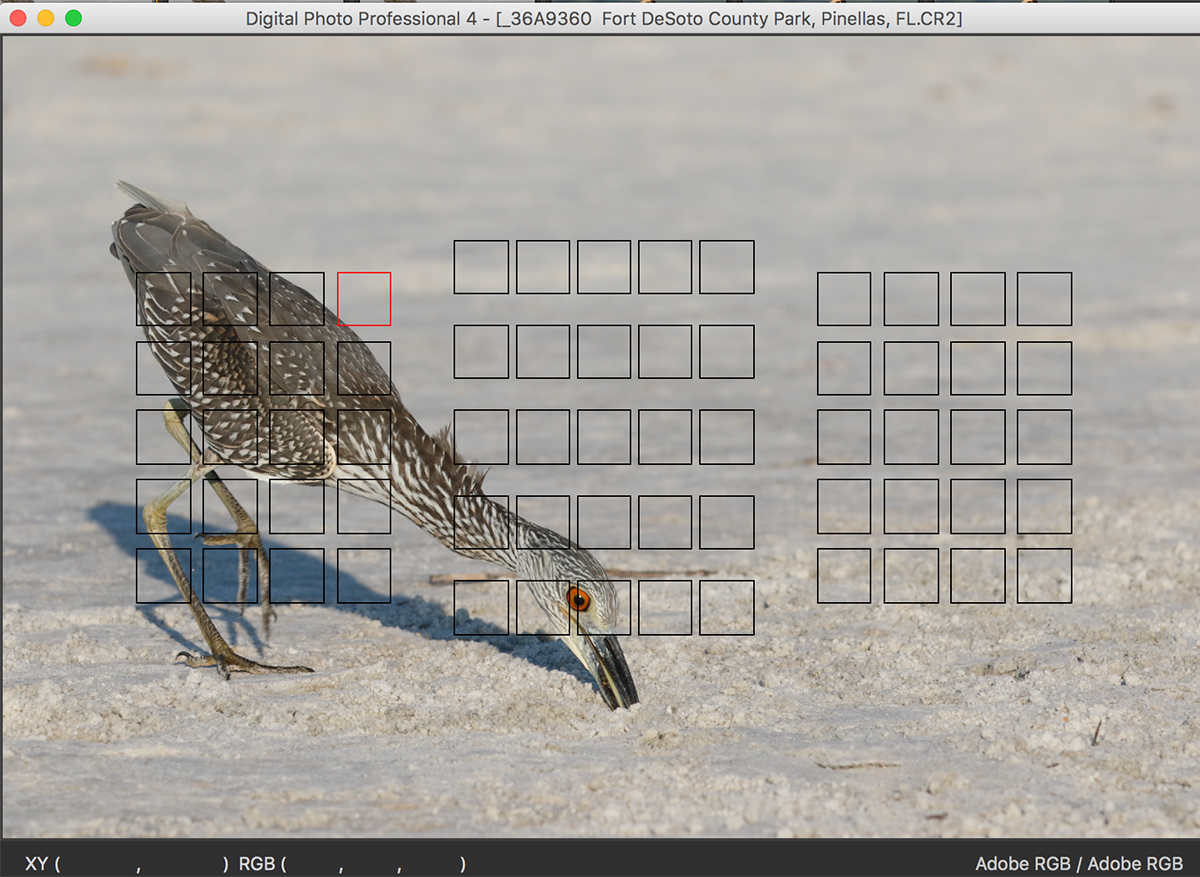 DPP 4 Screen Capture
DPP 4 Screen Capture
After noting the selected AF point illuminated in red, realize that I was tracking the subject while it was standing more erect with its head up. When the bird stopped and crouched forward to strike I did not even attempt to change the AF sensor. Instead, I placed it on the bird's upper back and continued tracking it. With the 7D II and the AF Grid Void issue remember that I only had three assist points with the configuration above–the one to the left and then two below and to the left of the selected point.
A Depth-of-Field Question
In this particular situation how specifically did the extra d-o-f help?
The Image Optimization and Clean-up
After converting the image in DPP 4 I brought it into Photoshop for the beach clean-up. The toughest part was removing the stick that was directly behind the young bird's head. Actually that was not tough at all. I used a combination of the Divide and Conquer technique and followed that up with a series of small Quick Masks that were put on their own layer and refined with a Regular Layer Mask. Remember to zoom in and work large so that you can clean up the edge perfectly. My regular clean-up tools, the Patch Tool, the Spot Healing Brush, and the Clone Stamp Tool (sparingly) were used for the rest of the beach clean-up. Noise reduction with NeatImage really helped in the shadowed area below the bird.
Everything above is detailed in my Digital Basics File, an instructional PDF that is sent via e-mail. It includes my complete digital workflow, dozens of great Photoshop tips, details on using all of my image clean-up tools, the use of Contrast Masks, several different ways of expanding and filling in canvas, all of my time-saving Keyboard Shortcuts, the basics of Quick Masking, Layer Masking, and NIK Color Efex Pro, Digital Eye Doctor techniques, using Gaussian Blurs, Dodge and Burn, a variety of ways to make selections, how to create time-saving actions, and tons more.
Learn about NeatImage for noise reduction in The Professional Guide to Post-Processing. Learn advanced Quick Masking and advanced Layer Masking techniques in APTATS I & II. You can save $15 by purchasing the pair.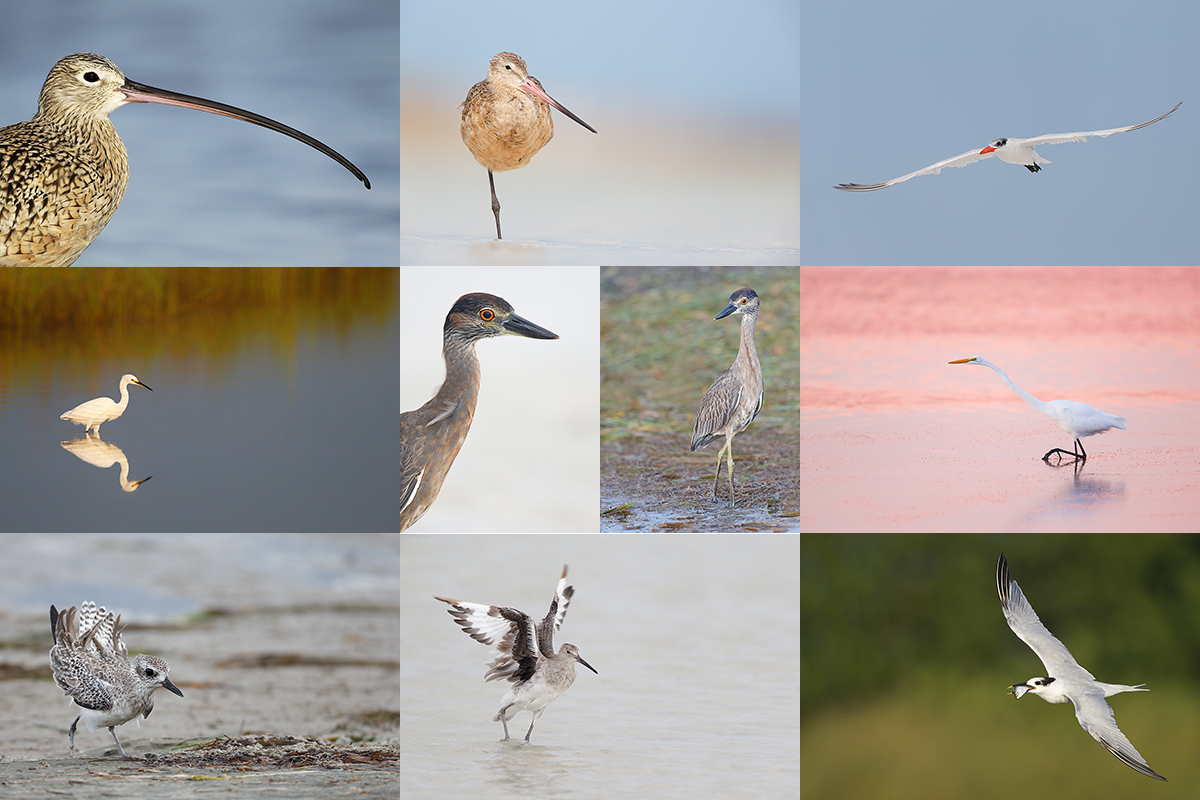 Fort DeSoto in fall is rife with tame birds. All of the images in this card were created at Fort DeSoto in either late September or early October. I hope that you can join me there this fall one way or another. Click on the composite to enjoy a larger version.
BIRDS AS ART Fort DeSoto In-the-Field Meet-up Workshop (ITFW): $99
Join me on the morning of October 2, 2016 for 3-hours of photographic instruction at Fort DeSoto Park. Beginners are welcome. Lenses of 300mm or longer are recommended but even those with 70-200s should get to make some nice images. Teleconverters are always a plus.
You will learn the basics of digital exposure and image design, autofocus basics, and how to get close to free and wild birds. We should get to photograph a variety of wading birds, shorebirds, terns, and gulls. This inexpensive morning workshop is designed to give folks a taste of the level and the quality of instruction that is provided on BIRDS AS ART Instructional Photo-tours. I hope to meet you there.
To register please call Jim or Jennifer during weekday business hours with a credit card in hand to pay the nominal registration fee. Your registration fee is non-refundable. You will receive a short e-mail with instructions, gear advice, and meeting place one week before the event.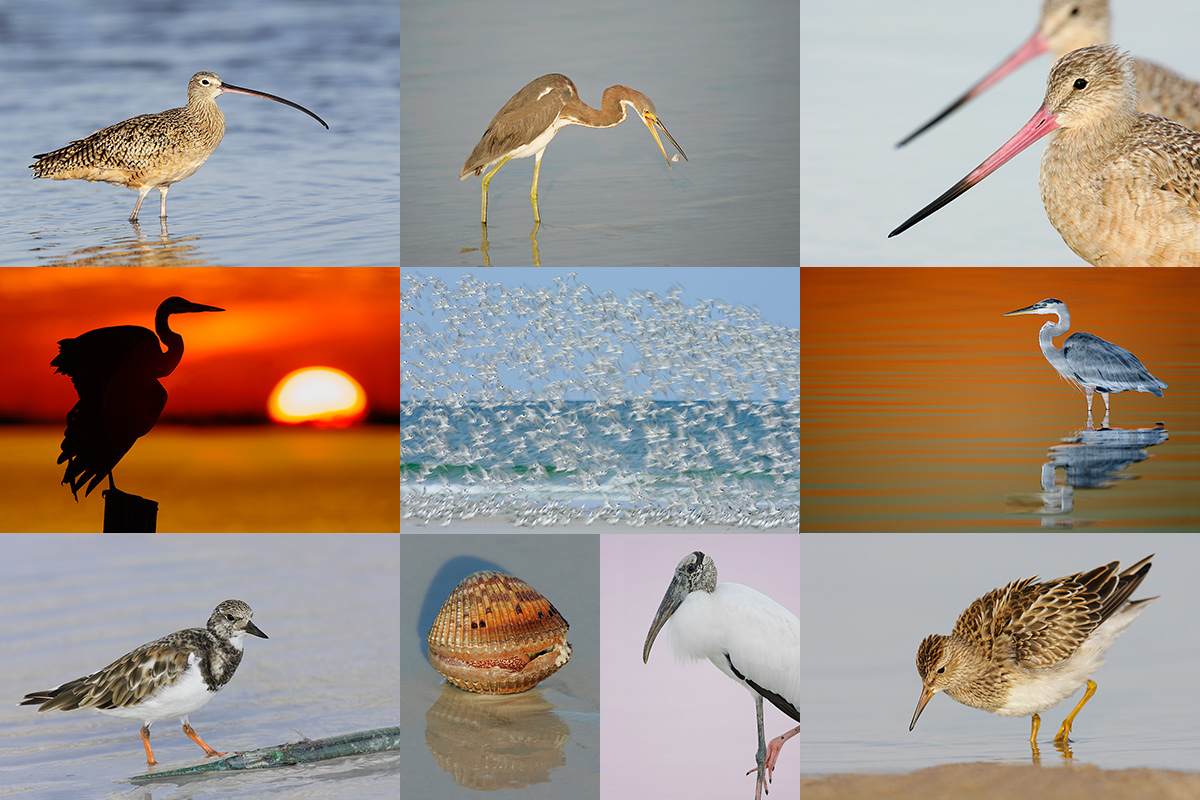 Folks attending the IPT will be in the field early and stay out late to take advantage of sunrise and sunset colors. The good news is that the days are relatively short in early fall. Click on the composite to enjoy a larger version.
Fort DeSoto Short Notice Fall IPT/September 28 (meet & greet at 2pm followed by our afternoon session) through the full day on October 1, 2016. 3 1/2 DAYs: $1549. Limit 10/Openings: 6. Sunday morning ITFW free to IPT registrants.
Call us at 863-692-0906 for late registration discount info.
Fort DeSoto, located just south of St. Petersburg, FL, is a mecca for migrant shorebirds in fall. There they join dozens of egrets, herons, night-herons, gulls, and terns who winter on the T-shaped peninsula that serves as their wintering grounds. With any luck, we should get to photograph two of Florida's most desirable shorebird species: Marbled Godwit and the spectacular Long-billed Curlew. Black-bellied Plover and Willet are easy, American Oystercatcher likely. Great Egret, Snowy Egret, Great Blue Heron, and Tricolored Heron are easy as well and we will almost surely come up with a tame Yellow-crowned Night-Heron or two. We should get to do some Brown Pelican flight photography. And Royal, Sandwich, Forster's, and Caspian Terns will likely provide us with some good flight opportunities as well. Though not guaranteed, Roseate Spoonbill and Wood Stork would not be unexpected.
Folks who sign up for the IPT are welcome to join me as my guest on the ITFW on the Sunday morning following the workshop. See above for details on that.
On this and all other IPTs you will learn basics and fine points of digital exposure and to get the right exposure every time after making a single test exposure, how to approach free and wild birds without disturbing them, to understand and predict bird behavior, to identify and age many species of shorebirds, to spot the good situations, to choose the best perspective, to see and understand the light, to, and to design pleasing images by mastering your camera's AF system. And you will learn learn how and why to work in Manual mode (even if you're scared of it).
At brunch (included) we will review my images–folks learn a ton watching me edit–why keep this one and delete that one? If you opt to bring your laptop, we can take a look at a few of your images from the morning session. We will process a few of my images in Photoshop after converting them in DPP. That followed by Instructor Nap Time.
As I already have one signed up for this workshop, it is a go. Hotel info will be e-mailed when you register. The best airport is Tampa (TPA). It is always best if IPT folks stay in the same hotel so if you are interested it would be a good idea to register now and make your hotel reservations as soon as you hear from us. We can, however, coordinate with local folks who opt to stay at home.
Because of the relatively late date, payment is full is due upon registration either by check or credit card. If the former, please e-mail us immediately so that we can save you a spot. If the latter, please call Jim or Jennifer during weekday business hours at 863-692-0906 with a credit card in hand to register. Your registration fee is non-refundable unless the IPT sells out with eight so please check your plans carefully before committing. You will receive a confirmation e-mail with detailed instructions and gear & clothing advice a fairly soon.
Please Remember to use my Affiliate Links and to Visit the New BAA Online Store 🙂
To show your appreciation for my continuing efforts here, we ask, as always, that you get in the habit of using my B&H affiliate links on the right side of the blog for all of your photo and electronics purchases. Please check the availability of all photographic accessories in the New BIRDS AS ART Online Store, especially the Mongoose M3.6 tripod head, Wimberley lens plates, Delkin flash cards and accessories, and LensCoat stuff.
As always, we sell only what I have used, have tested, and can depend on. We will not sell you junk. We know what you need to make creating great images easy and fun. And we are always glad to answer your gear questions via e-mail.
I would of course appreciate your using our B&H affiliate links for all of your major gear, video, and electronic purchases. For the photographic stuff mentioned in the paragraph above we, and for everything else in the new store, we, meaning BAA, would of course greatly appreciate your business. Here is a huge thank you to the many who have been using our links on a regular basis and those who will be visiting the New BIRDS AS ART Online Store as well.
Facebook
Be sure to like and follow BAA on Facebook by clicking on the logo link upper right. Tanks a stack!
Typos
In all blog posts and Bulletins, feel free to e-mail or to leave a comment regarding any typos or errors. Just be right 🙂